I partnered with Cost Plus World Market and Hallmark Channel to share this festive Holiday Movie Party. All opinions are mine.
Holiday Hallmark Channel Movie Party, Flavored Hot Cocoa Bar and holiday movie Bingo Game!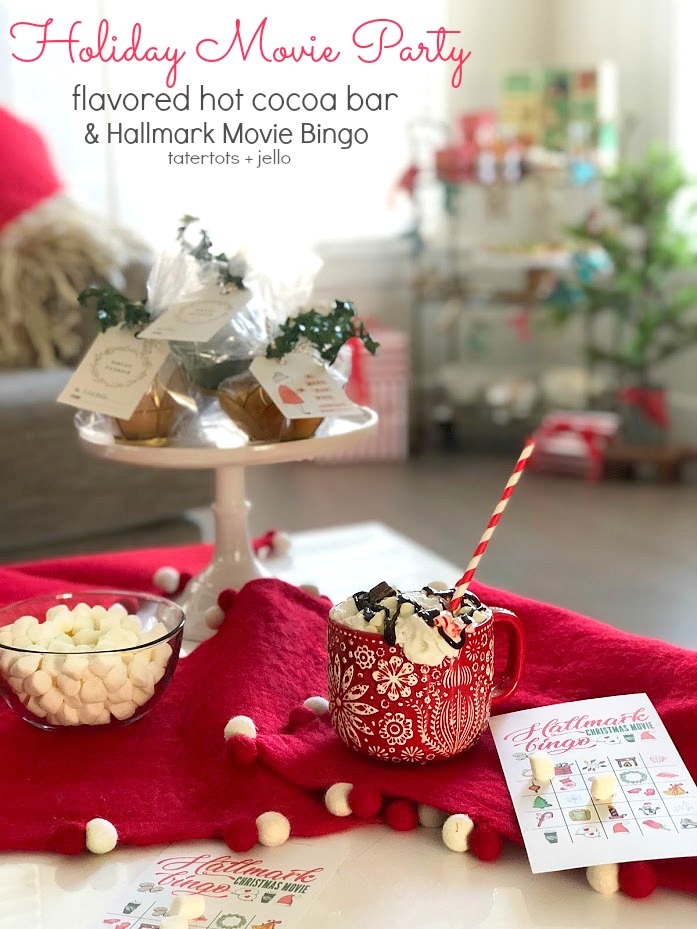 Invite your friends over for an epic holiday movie party! It's easy with all the fixings from Cost Plus World Market. Create a flavored hot cocoa bar, two different bruschetta appetizers, flavored popcorn and a free printable holiday movie bingo game.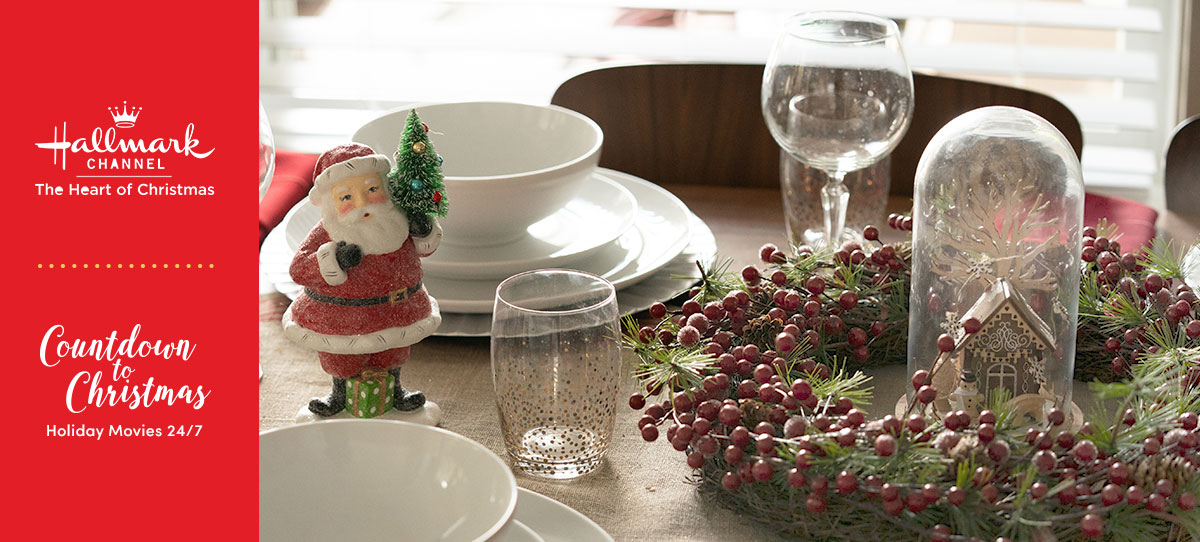 Cost Plus World Market has partnered with Hallmark Channel this holiday season to celebrate Countdown to Christmas!! There are 22 ALL NEW original Holiday movies on Hallmark Channel's Countdown to Christmas this year. I am SO excited!! They premiere every Saturday and Sunday night at 8pm eastern/7 central, with Hallmark Channel holiday movies running 24/7!
Hallmark Channel's original movie – Mingle All the Way is a new movie that has Cost Plus World Market's products and seasonal decor throughout the movie's set!
You can shop at Cost Plus World Market for amazing holiday items, including unique ornaments, imported traditional holiday food and beverages. We love getting all of the imported chocolates for our kids' stockings! We also love putting together gift baskets of gourmet food items from Cost Plus World Market as holiday gifts. There is so much to choose from!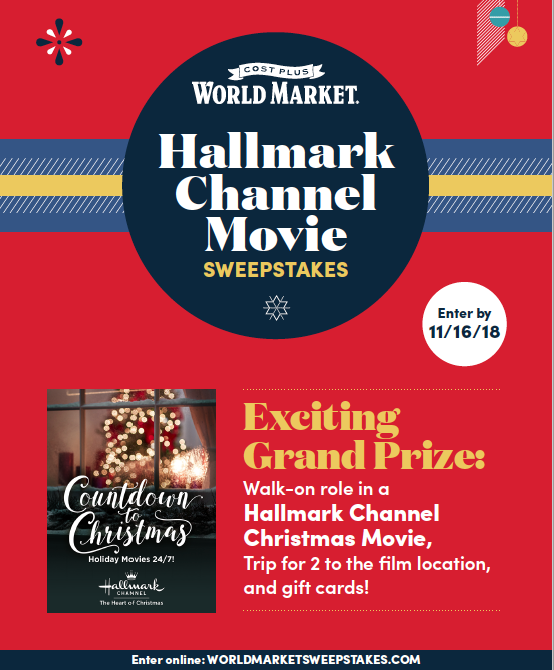 Cost Plus World Market and Hallmark Channel also have an incredible Hallmark Channel Movie Sweepstakes — where you can enter to win a walk-on role in a Hallmark Channel Movie and a $2,000 World Market gift card! SO fun!!
The holidays are a time to celebrate friends and family
And what better way to get in the holiday spirit than sitting down with a delicious cup of hot cocoa, a plate of appetizers and a Hallmark Channel movie? We threw a festive Holiday Hallmark Channel Movie Party and we even made a Hallmark Channel-theme bingo game you can play while you watch. The first person to get Bingo gets a prize!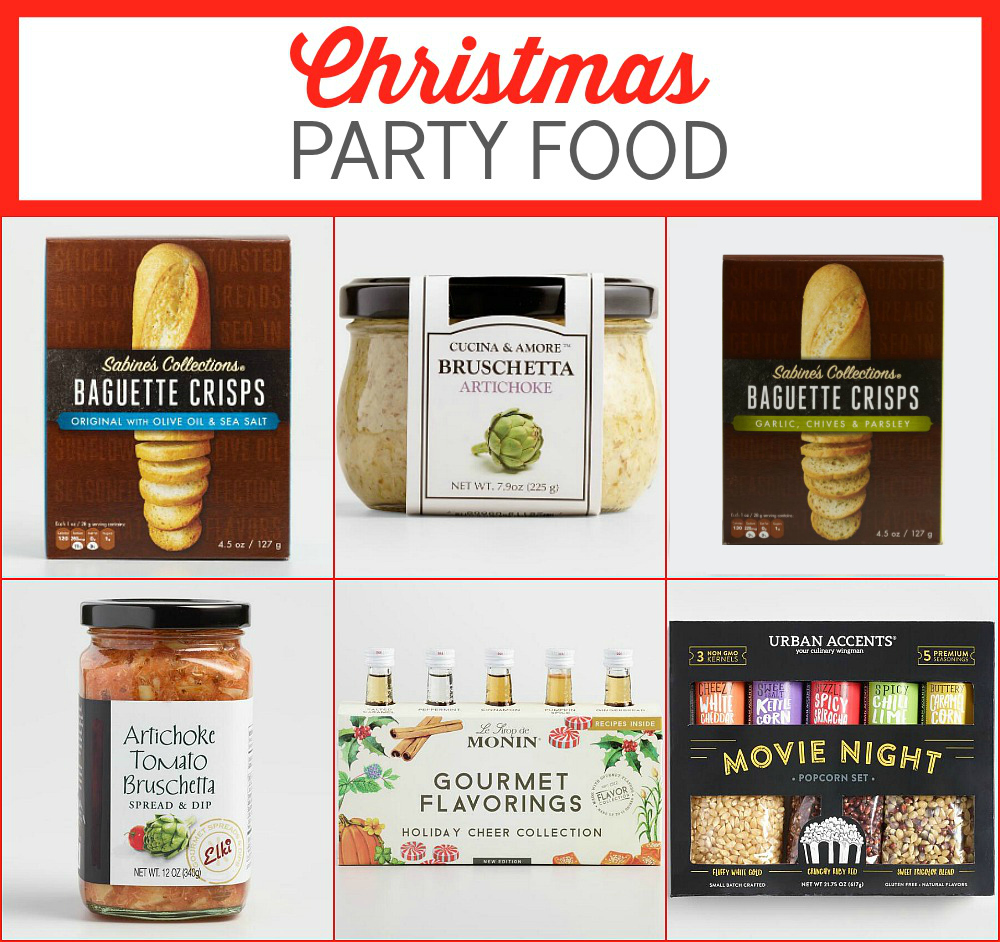 Olive Oil and Sea Salt Baguette Crisps || Amore Bruschetta Artichoke || Garlic, Chives and Parsley Baguette Crisps
Artichoke Tomato Bruschetta Spread & Dip || Syrup Holiday Cheer set || Movie Night Popcorn Set
Finger food is perfect for a Christmas party. Cost Plus World Market has an incredible selection of food – from traditional holiday food, to imported food, exotics chocolates and more! I picked out some delicious, easy food to create party appetizers. I put all of my food on a mobile bar cart which made getting things ready so easy. I prepared everything in the kitchen and then just rolled the cart over to the family room right before the party started! You can shop my party food and decor below!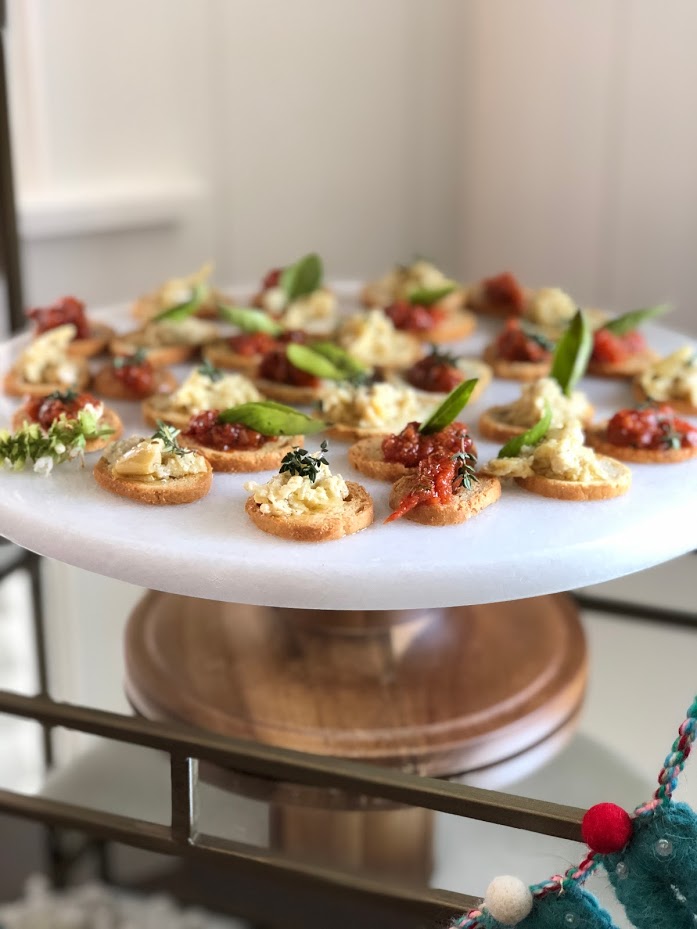 I bought two different baguette crisps — garlic, chives and parsley and also olive oil and sea salt. Then I topped them with the yummiest artichoke and tomato and basil bruschetta toppings. I sprinkled some fresh herbs on top. SO easy!
I also made fresh flavored gourmet popcorn with a World Market popcorn kit . I popped the corn, then added the topping. I put each flavor in a bowl and added a little tag.
There are so many cute holiday items at Cost Plus World Market. I thought a retro Christmas theme would be adorable for this party. The gold bar cart has a retro glam feel and is the perfect size for a party! I put my party food on the cart, The Red Flower Mugs are extra big and perfect for the guests to create their ultimate hot coca creation! The Retro Felted Merry Christmas banner from Cost Plus World Market was perfect to hang on the front of the cart. I continued the retro Christmas theme this Red Felted Wool Runner – it has pom poms!!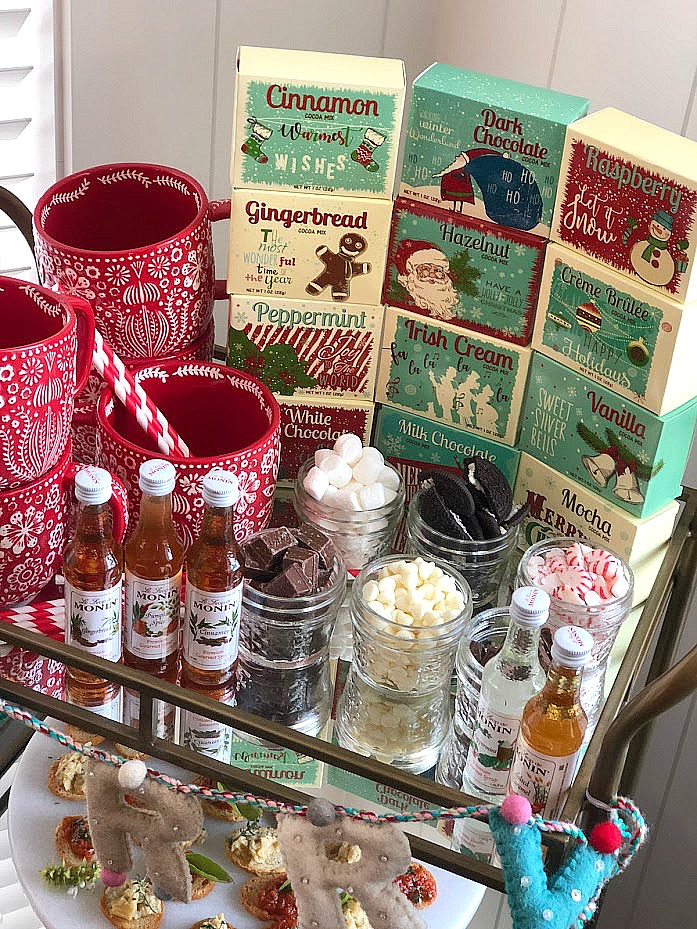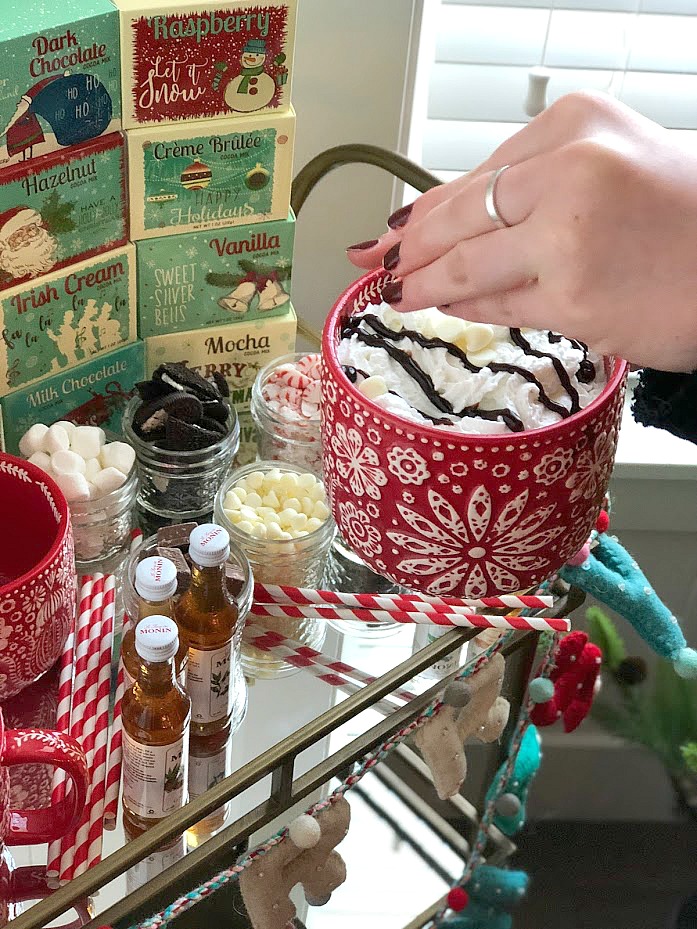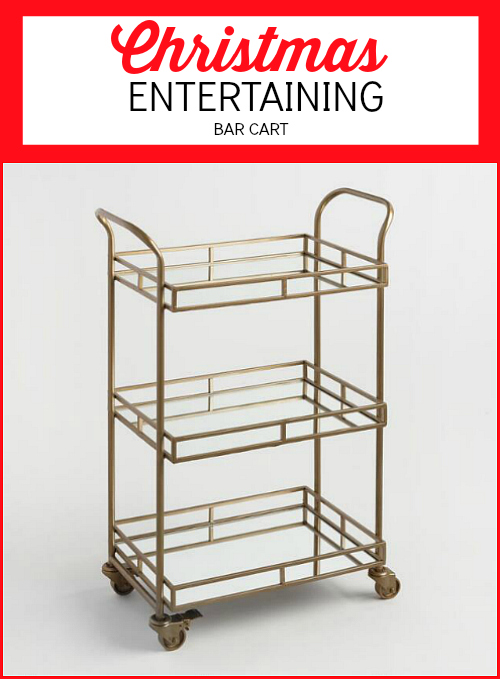 White Hot Chocolate Drink Bar
TO make things super easy I made a big batch of white hot chocolate in my crock pot. I put this on about 5 hours before my party was scheduled to start. While the hot chocolate cooked I decorated and got things ready. It made the party so easy to throw. I found this amazing set of Red Heart Mugs I arranged the hot cocoa bar up on the top shelf of the bar cart. I put each of the toppings in a separate container — marshmallows, cookies, white chocolate chips, candy, peppermints, etc. You can add basically any type of toppings you want. Then I set the flavors out in front. When the guests came they took a mug, added the white hot cocoa from the crock pot and then came over to the cart and added the flavor they wanted and toppings! That way everyone could make their own ultimate hot cocoa creation! And for those guests that wanted milk chocolate cocoa – I found individual flavored mixes.

Retro Holiday Dessert Plates II Red Felted Wool Runner
Retro Wool Felted Merry Christmas Garland II Retro Holiday Dessert Plates
Marble Wood Pedestal Stand II Red Jolly Mugs
Hallmark Channel Movie Bingo Game
We love Hallmark Channel holiday movies. So I decided to create a BINGO game you can play while you watch! Once everyone had their party food and sat down I handed out the movie bingo cards! We used marshmallows as game markers, While we watched the movie we marked off things we saw in the movie. Some of the markers are a tree, a kiss, a sled, etc. There are 8 different bingo cards and each one is different.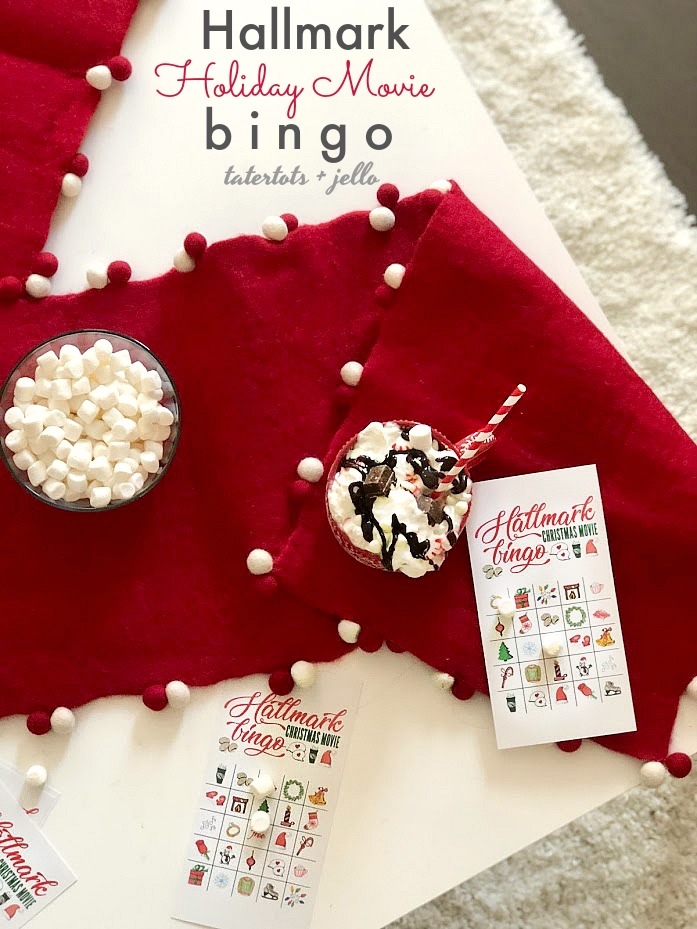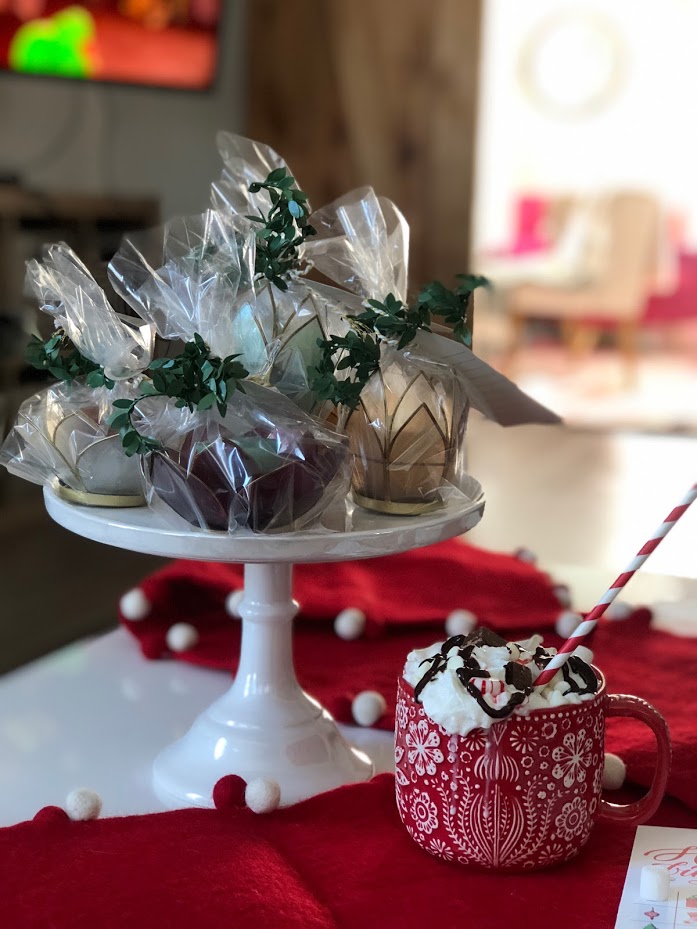 Bingo Prizes
I thought it would be fun to have bingo prizes. I found these beautiful Petal Lotus Capiz Candle holders at World Market. I wrapped each one in cellophane and added a tag. I decided to get one for each of my guests and we kept playing until everyone had scored a bingo! It was fun to send my friends home with a little memento from our holiday party. I loved giving them candles because it's something that they can use all holiday season!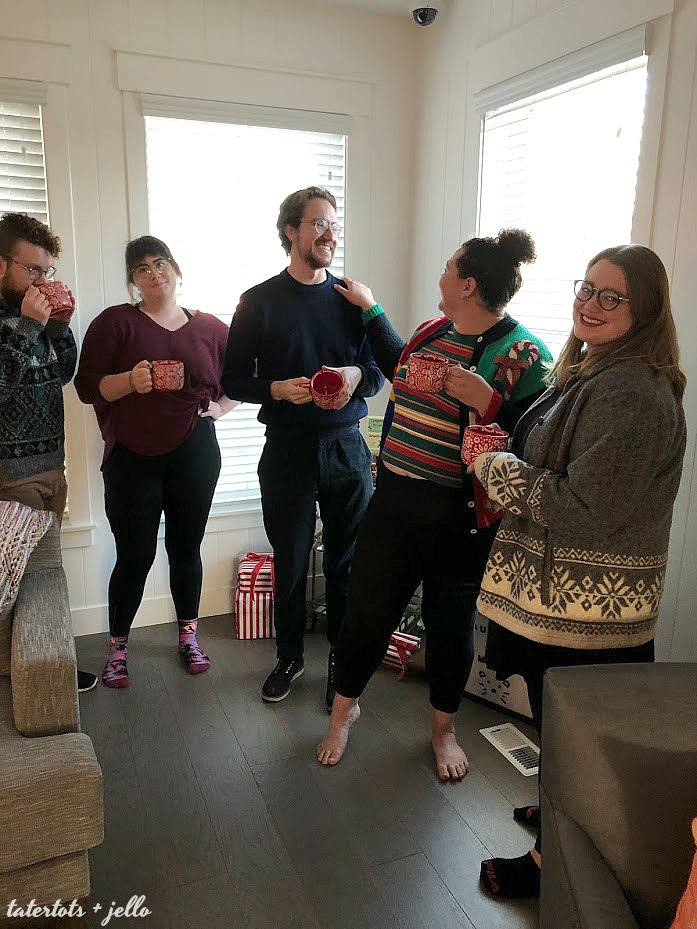 Get YOUR friends and family together and host a festive Hallmark Channel movie party with cute World Market decorations and food!
Do you have a favorite holiday Hallmark Movie?
I love them all!
Have a creative day!
xoxo