This post is sponsored by MacKenzie-Childs. I've partnered with them to bring you these fun ideas and hot cocoa printable!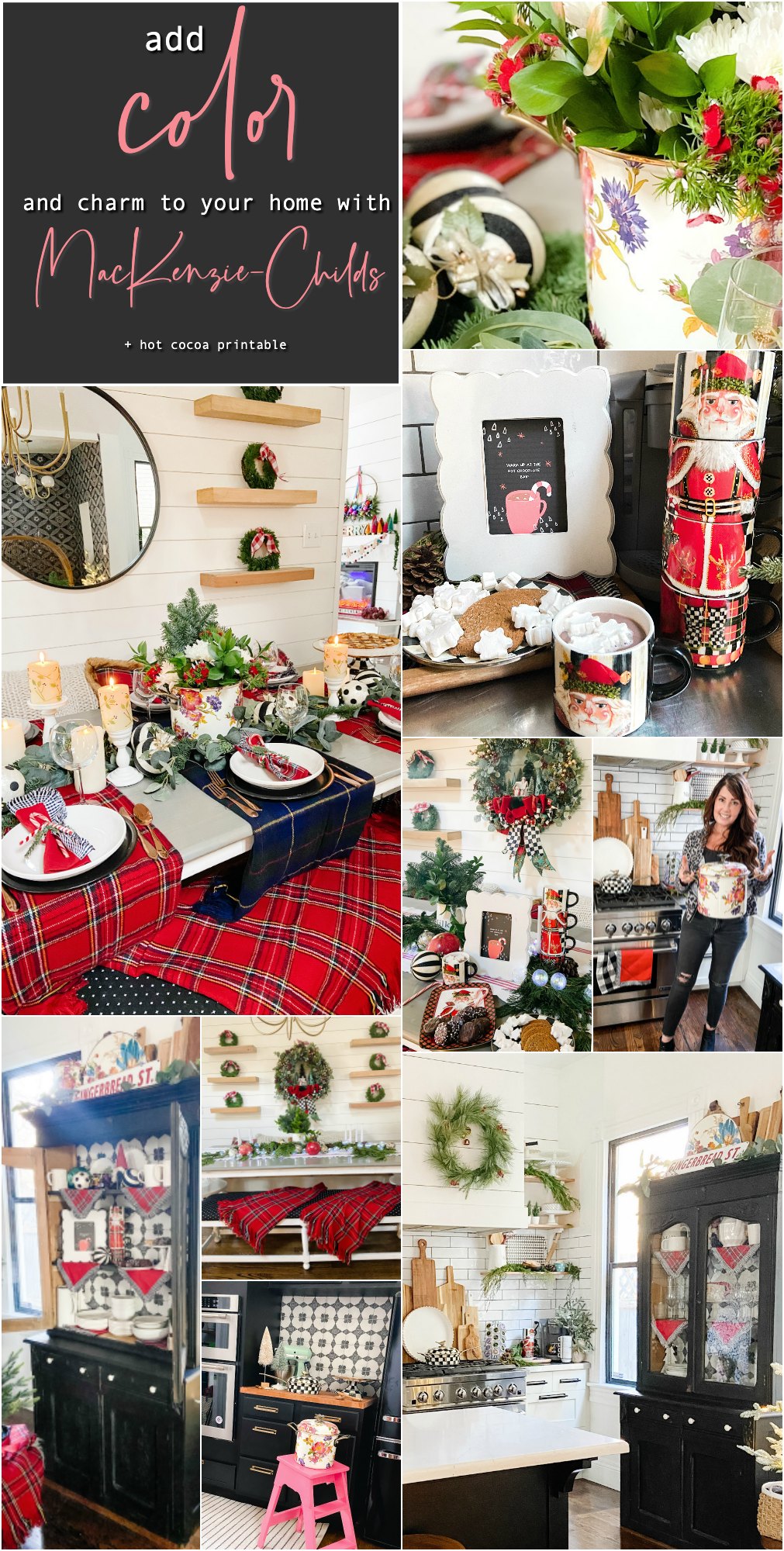 Add Color and Charm to Your Home with MacKenzie-Childs. Add color and charm to your home with MacKenzie-Childs and free hot cocoa printable.
Add Color and Charm to Your Home with MacKenzie-Childs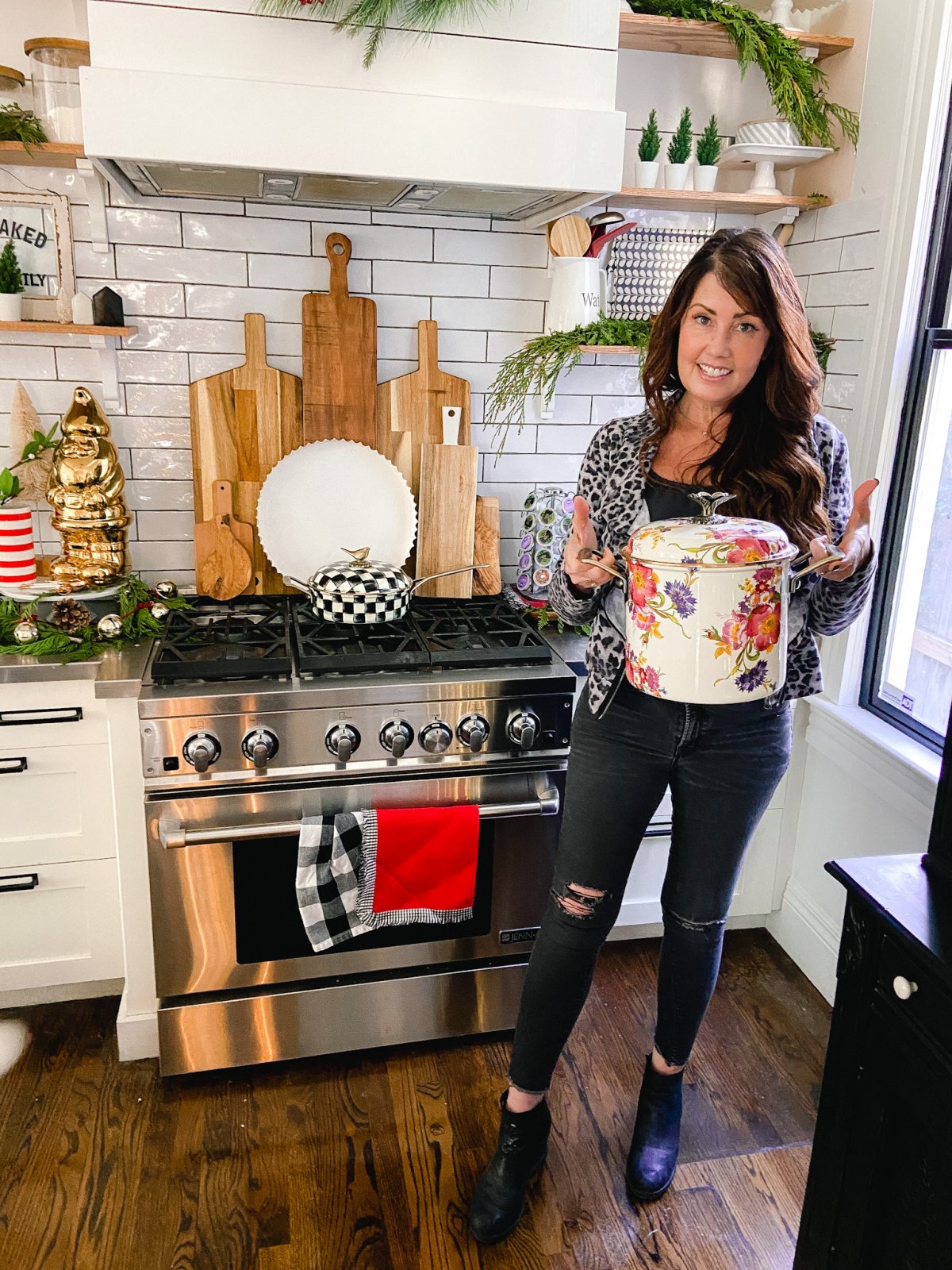 Have you heard of MacKenzie-Childs? They are one of my favorite brands! I love the way they pair patterns and colors to create the most beautiful accents for your home.
How to Add Color and Patterns to Your Home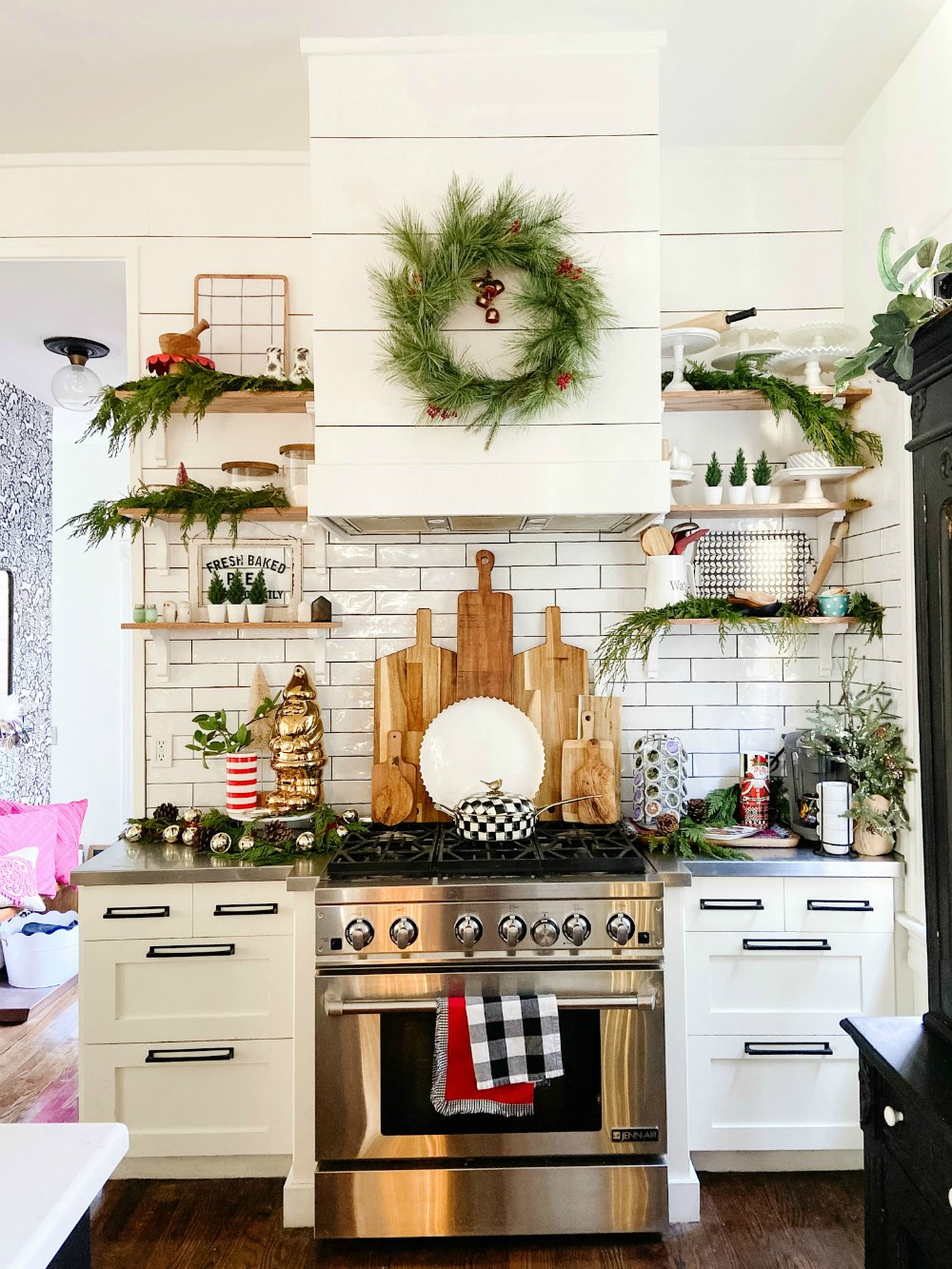 You know I LOVE color. I love adding MacKenzie-Childs items to my home. Their colors and patterns fit in with our new (old) vintage home so well! I was able to attend a virtual conference with their team in October. It was so fun! I met their team and some artisans. I was amazed at the time and talent that goes into EACH and every piece they create.
MacKenzie-Childs Pieces are Timeless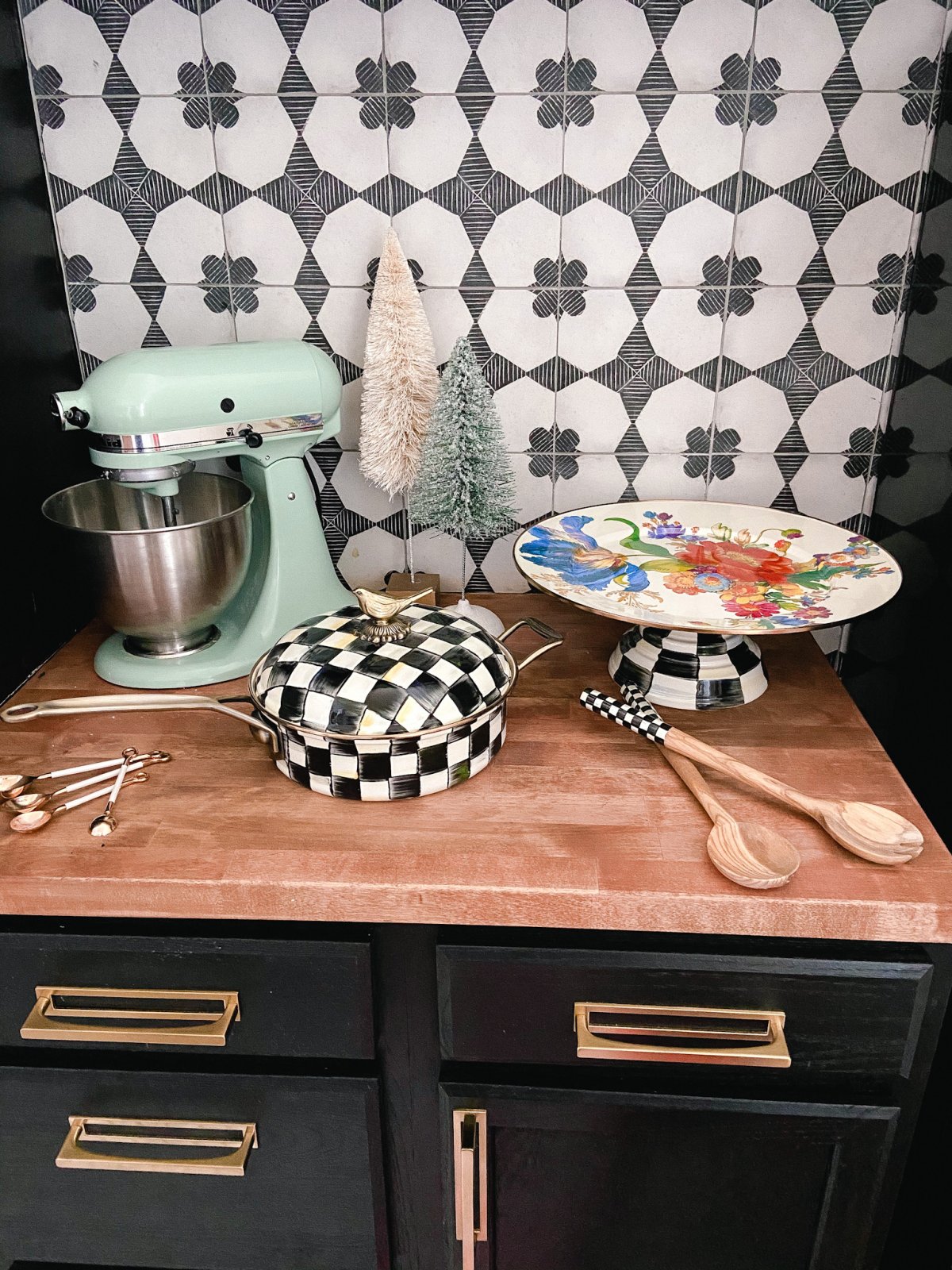 MacKenzie-Childs has an avid following, and for good reason. Each piece goes through a rigorous quality assuredness program. Since every item is handmade, each item is unique and of the utmost quality. I ordered the 7-Quart Flower Market Stockpot and the details are amazing. The lid has a beautiful finial on top. And the whole piece is heavy and so well made.
Beautiful Kitchenware that is Functional and Beautiful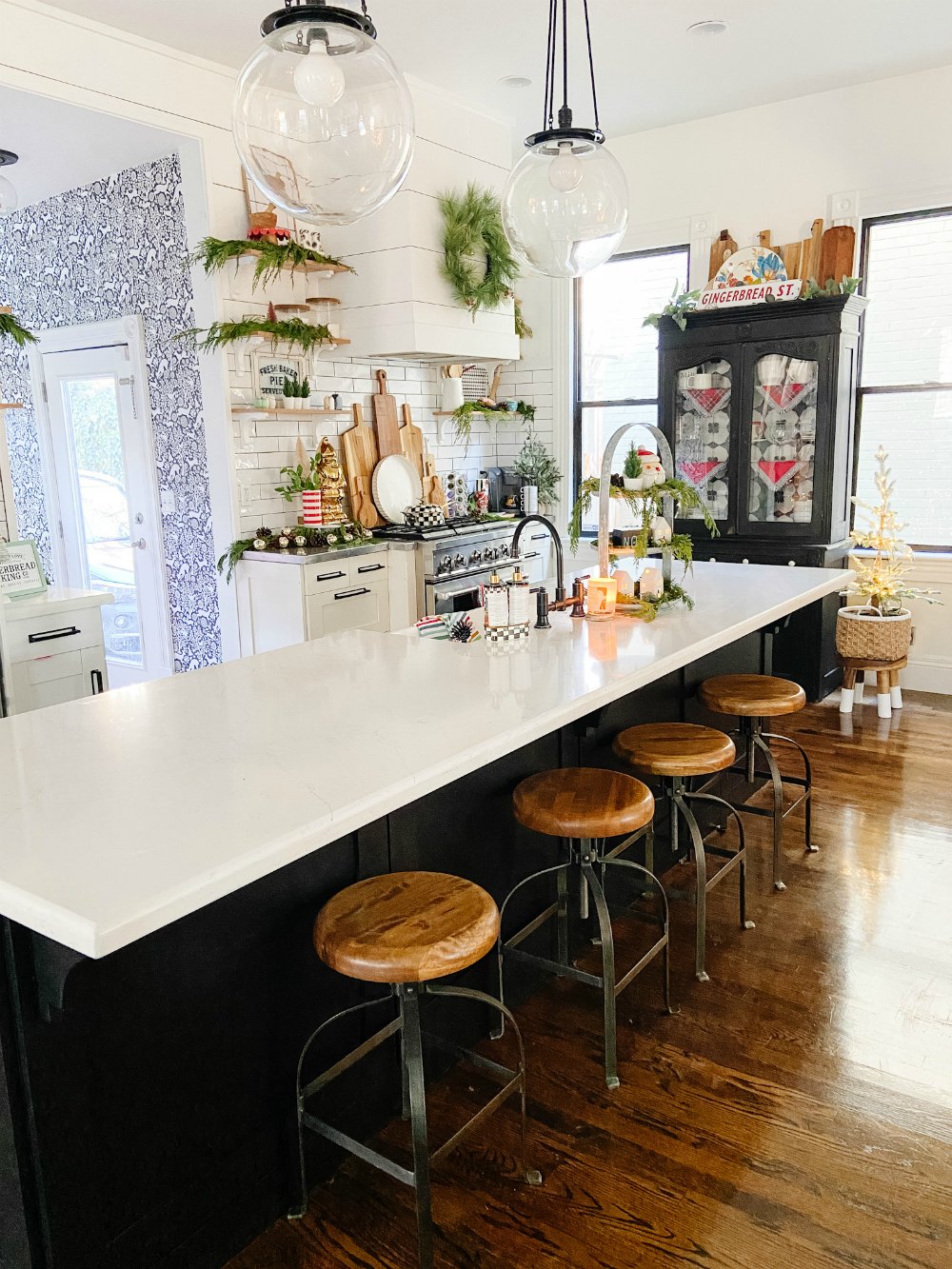 I love displaying my MacKenzie-Childs pieces in our newly remodeled kitchen. One of my favorite things to do is display flowers in my stockpot! I created a holiday centerpiece in the stockpot and I love the way it pairs with the plaids on our holiday table!
Mixing Patterns and Colors Create a Whimsical Home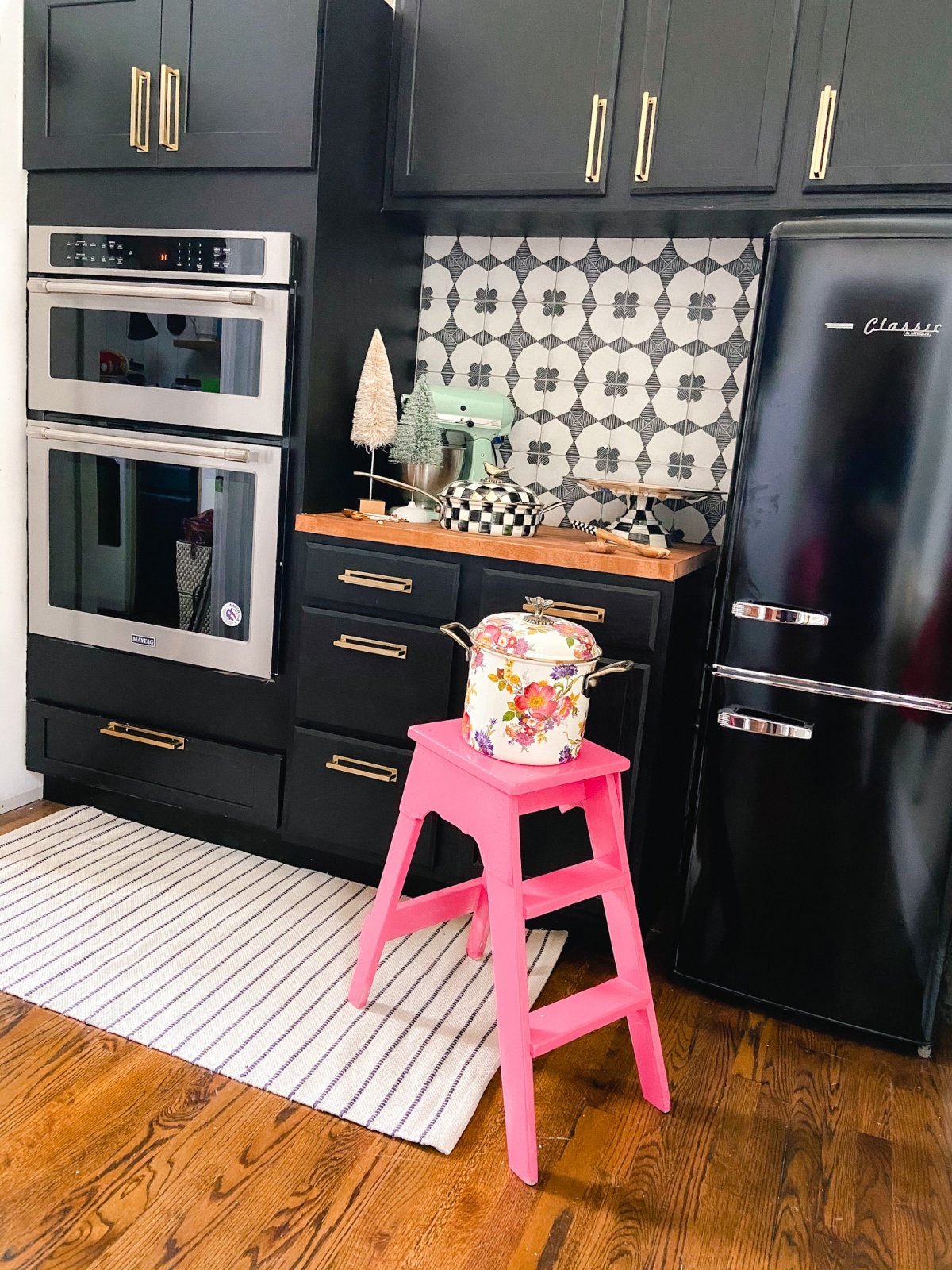 I love the patterns and styles of the items I ordered from MacKenzie-Childs. The classic Courtly Check looks gorgeous mixed with the white and black Flower Market items.
Create a Winter Hot Cocoa Station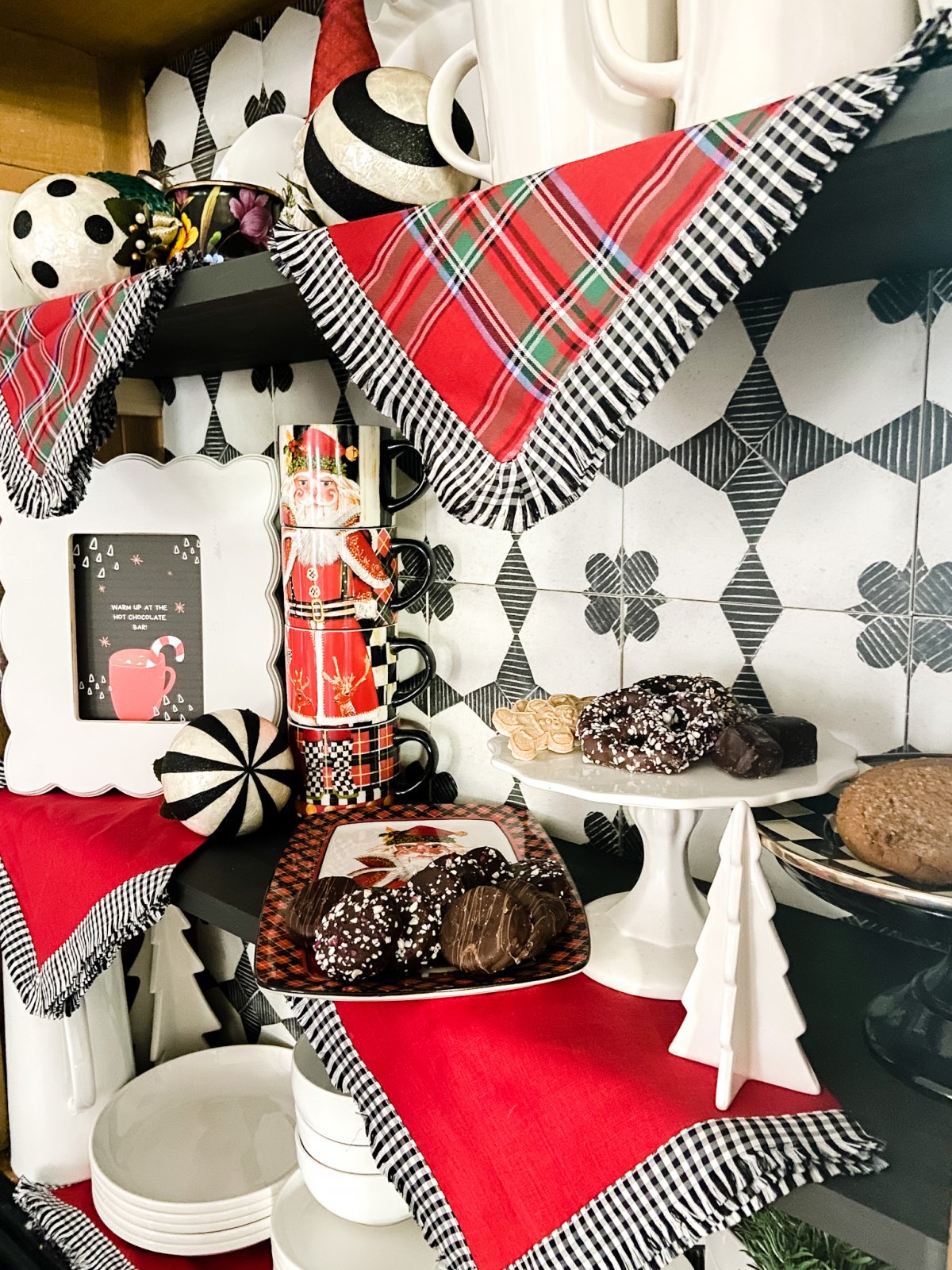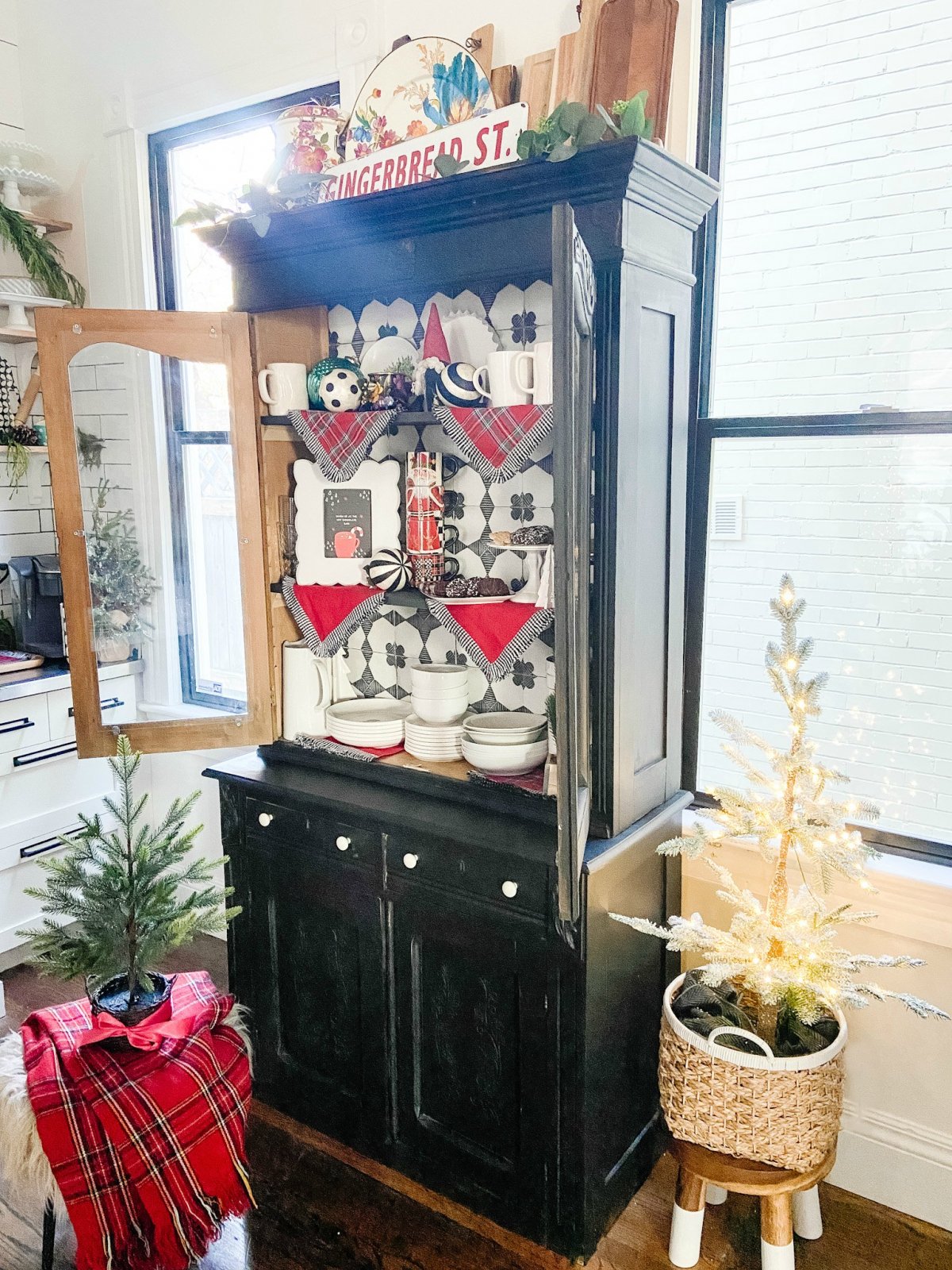 I used some of my Mackenzie-Childs items to create a little hot cocoa station for my daughter's 16th birthday! The Santa Nutcracker Mugs and Platter were perfect focal points for the station. We recently refinished a vintage gun cabinet with new tile as a place to store our everyday dishes. MacKenzie-Childs Tartan Napkins gave the cabinet to give it extra cheer! Guests help themselves to some treats and hot cocoa displayed in our new cabinet!
Hot Cocoa Printable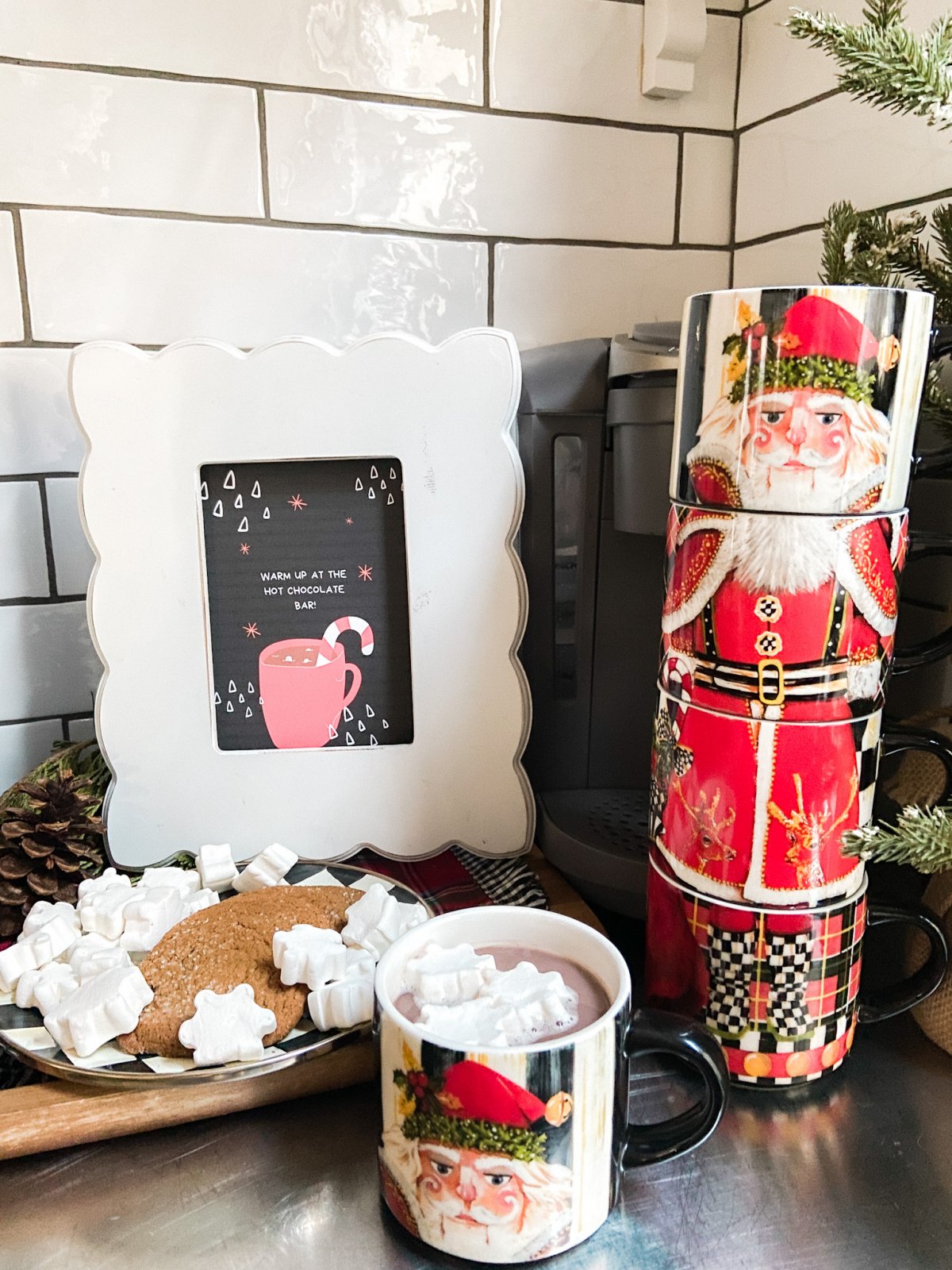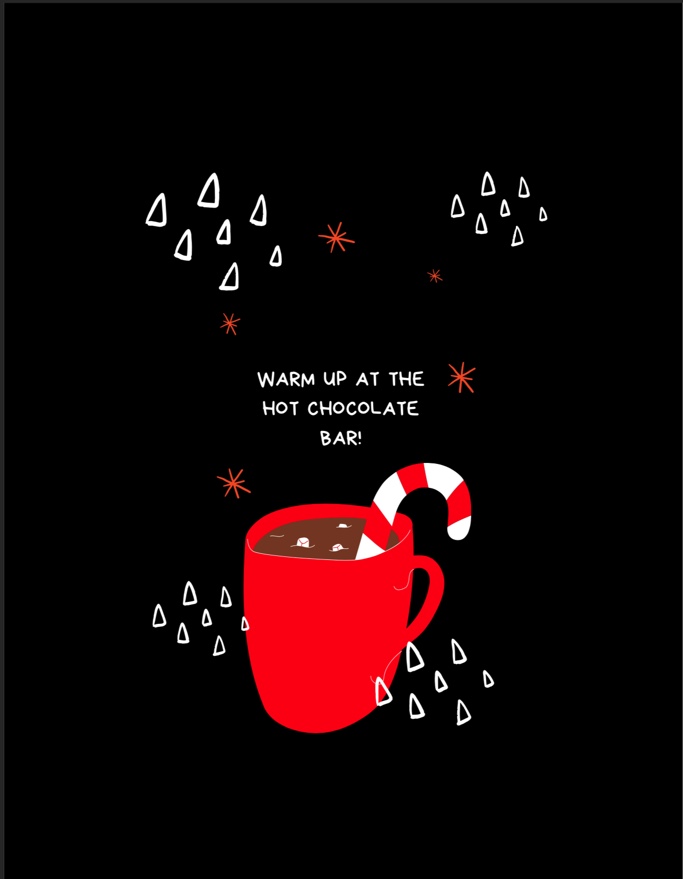 Hot cocoa stations are perfect for the holidays and all winter long! Here is a free printable you can use for YOUR home! Just right-click on the link and save it to your computer to print out!
Plaid Winter Dining Table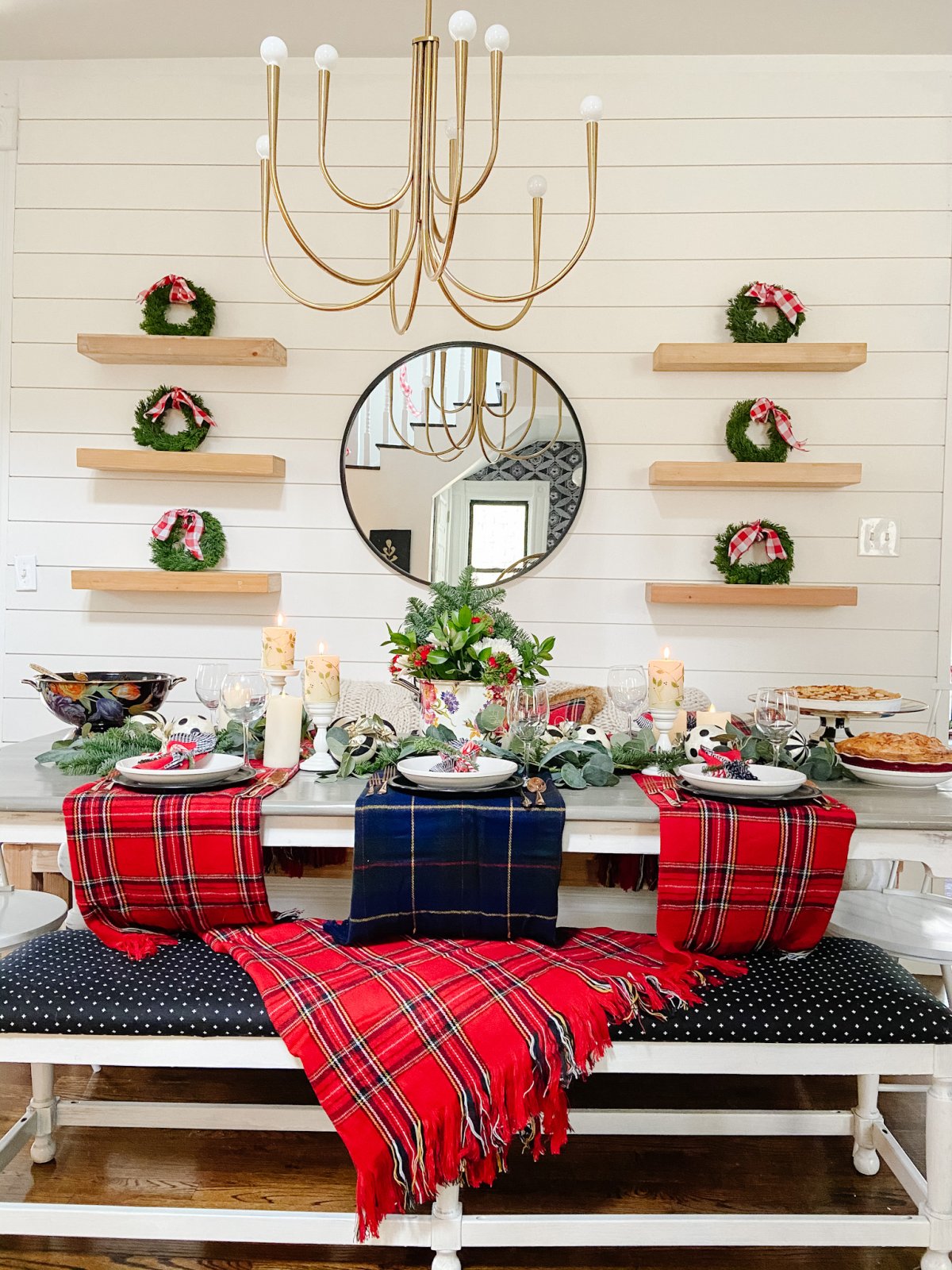 We also had a brunch to celebrate my daughter's birthday. I continued the plaid theme to the dining room table with cozy MacKenzie-Childs Tartan Throws. They are so soft!! I added some these whimsical huge black and white ornaments to the table. Above the table is my favorite holiday item – this fabulous MacKenzie-Childs Happy Holidays Wreath. It is a show-stopper and an item that I will treasure for years to come!
Add Color to Your Home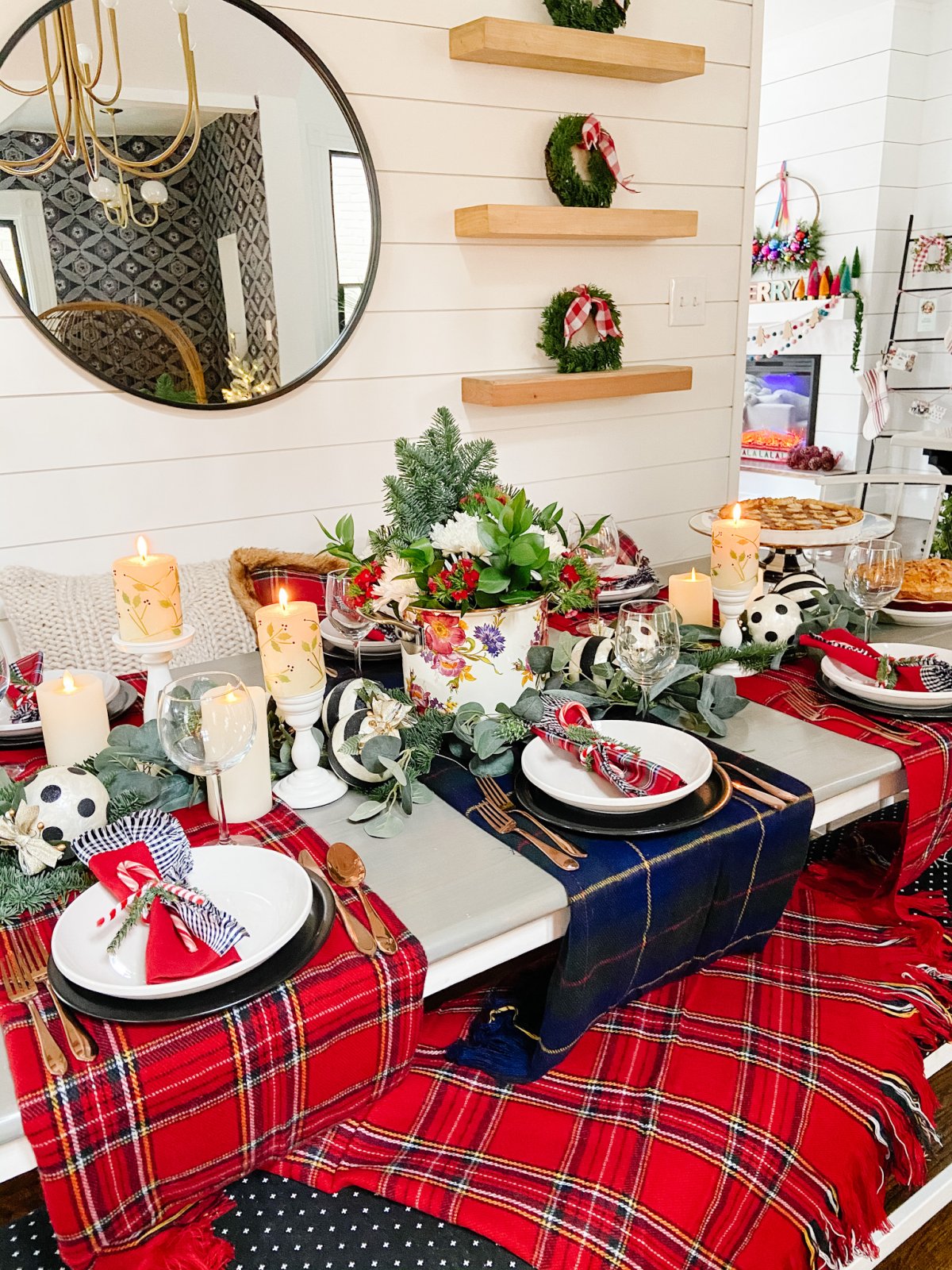 MacKenzie-Childs is my favorite way to bring color AND pattern into our home through items that we use everyday! I am excited to create family memories with their beautiful cookware, serving items and accessories. They are items that I plan to hand down to my kids one day!
Follow MacKenzie-Childs for Inspiration!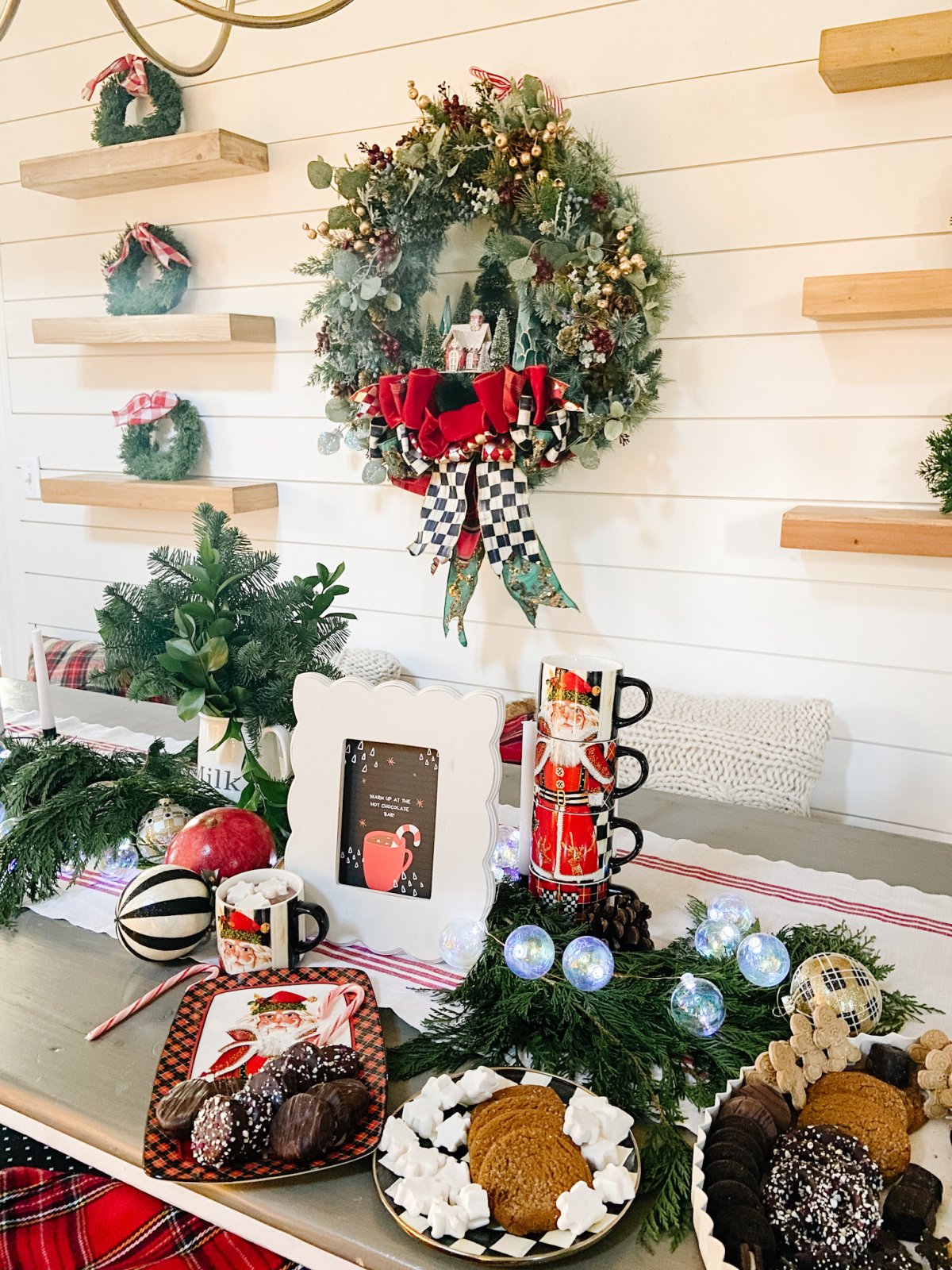 Be sure to follow along with MacKenzie-Childs for beautiful inspiration! And they have their barn sale every July in upstate New York. It's on my bucket list!! THANK YOU MacKenzie-Childs for bringing the perfect combination of whimsical colors and patterns to our 1891 home!!
xoxo