I love this time of the year!! Fun Holiday Idea Exchange!
Do you have some fabulous holiday ideas you would love to share???
Are you on the lookout for amazing holiday ideas for your home?
Come share YOUR ideas and see all of the holiday ideas that are going to be shared TOMORROW night — holiday home decor, handmade gift ideas, delicious recipes and more!
I wish I could meet you all in real life, but this is going to be the next best thing! A LIVE event where we share holiday ideas with each other. It's going to be so fun. I hope you can join in!!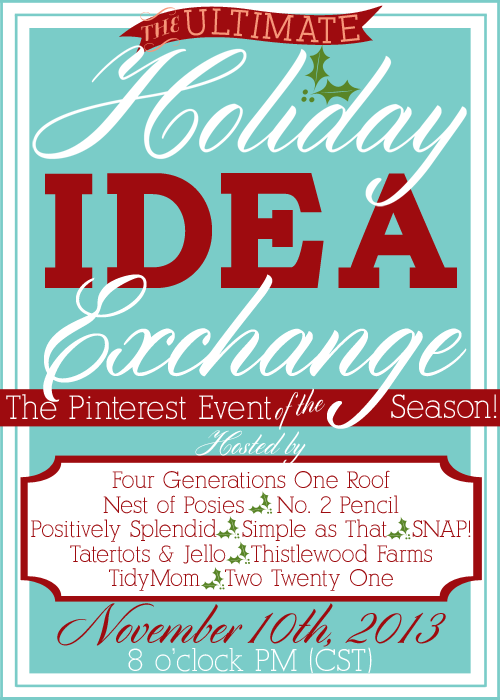 What: The ULTIMATE Holiday Idea Exchange
When: Sunday, November 10 at 8 PM CST
Why: To showcase and share the absolute BEST creative holiday projects of 2013!
Who: Anyone who wants access to the season's best ideas, or those who want to spread the word about their own terrific holiday creations!
Here's how you can take part:
Follow the Holiday Idea Exchange Board on Pinterest.
On November 10 at 8 PM Central, be sure to log on to Pinterest. As the party unfolds, each of the party hosts will be posting and pinning fabulous, never-before-seen holiday projects exclusively to the Holiday Idea Exchange Board. Followers of the board will be the very first to see these amazing projects!
Get your projects ready, because everyone who pins AND tweets their new holiday projects between 8-10 PM Central using the #HolidayIdeaExchange hash tag will see THEIR ideas re-pinned to the board as well! In order for us to ensure we can pin all the posts, we must have you ALSO TWEET your post using the hashtag #HolidayIdeaExchange. If you are a creative blogger wanting to spread the word about your phenomenal creations, this is your opportunity to share your best holiday ideas with thousands of creative enthusiasts!
Not a blogger? Tune in to watch the abundance of fabulous holiday ideas shared throughout the event and add a few projects to your holiday to-do list!
The event hosts will all be re-pinning and commenting as the party unfolds, so this event will essentially be a big virtual holiday party, and a great time to use Pinterest to get social and share some holiday spirit with other creative enthusiasts!
The guidelines:
Shared projects must be brand-new holiday projects for 2013 (created within the last 30 days).
Only those pinning with the #HolidayIdeaExchange hash tag will be re-pinned to the Holiday Idea Exchange Board.
Each participant will be limited to a total of 5 projects.
An inspirational cast of 10 top creative bloggers from across a variety of niches have teamed up to bring this idea to life, and we are so excited to see and repin YOUR amazing creations!
So get your projects ready to share!
I am excited to see you at the party TOMORROW night!
xox