While I love to tell you about contests and fun stuff YOU can win, at this time of year it's extra fun to give rather than receive.
And that's why I wanted to share this idea with you — a chance for you to help your hometown heroes get some recognition — and a new kitchen — from IKEA.
Working with The Family Handyman magazine (one of our family favorites – we've made so many projects from their magazines), IKEA will provide a deserving community organization with a complete kitchen makeover.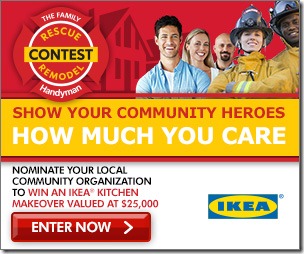 You can click on that big picture to get started … or let me explain more!
By December 15, you can nominate your local community heroes … just by telling a little about them. You'll need to upload a short (500 words or less) answer to these questions:
How would an IKEA kitchen makeover help your local organization and the community?
Why does your local community organization deserve an IKEA kitchen makeover?
What makes your local organization special and deserving?
I've nominated my local senior center that's just down the hill from my house.
We'd all love to do more to help our local charities and service organizations, and here's a way that won't cost a dime.
It'll only take a few minutes, and you could help a hometown hero win a $25,000 kitchen makeover from IKEA!
You can jump over to RescueRemodel.com to find out more.
xoxo