Hi, I'm Polly from Helping Little Hands. I'm a chemistry and math teacher turned stay-at-home mom to 3 wonderful kids. I super excited to be sharing a tutorial here today on Tatertots and Jello! Thanks, Jen!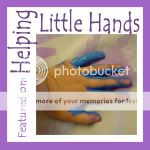 I've done a lot of different kinds of projects on my blog, but lately I've been
addicted to
experimenting with clothes refashioning, especially for my kiddos. One of my favorite techniques to dress-up a T-shirt or pants is with applique. I've liked applique for a long time, but have recently really fallen in love with appliquing knits onto knits. Since jersey knits (like T-shirts) don't fray, there is more flexibility in how you finish the edges, and they are SO easy. Today I'm going to share…
We're moving soon to a very rural farming town in central Washington for Hubby's new teaching job, and I thought some tractor shirts inspired by a vintage tractor from my Granddad would be a fun celebration.
Granddad's Tractor If tractors aren't your thing, here are a few examples of other applique patterns available on my blog. 1st Birthday Cupcake Onesie Applique and Very Hungry Caterpillar Applique