Hello Tatertots and Jello readers! My name is Aniko and I blog over at Place of My Taste.
I am so thrilled to be here again to share something pretty with you all today. Mother's day is only 2 days away and it's a BIG day as we celebrate the most important woman in our lives.
If you have not found the perfect gift for MOM yet, I will show you how you can make these pretty amazing wine bottle vases in no time for your MAMA.
Are you ready to see how I created this beautiful gift?
First you need to dig out 2 empty wine bottles from your recycling can ( or any other long neck bottles would be perfect )
Other things you will also need are:
– 2 different color spray paint
– rubber bands
– colorful ribbon to embellish
– fresh flowers
I chose white and ocean blue spray paints for my project. I really loved these colors together.
1. I spray painted both bottles, one with white, one with blue spray paint. I let it dry completely.
2. Once the paint was dry, I pulled on a handful of rubber bands for each bottles. The painted bottles looked great already but I wanted to create some sort of design on them to make them more unique. As you see on the picture below, there was no particular order that I followed with the rubber bands. They were randomly placed on the bottles. I sprayed the bottles again, but this time I chose the opposite color for each bottles.
3. I let the paint dry completely and once everything was super duper dry I slowly started pulling the rubber bands off of the bottles.
Easy enough, right?
I really loved how these bottles turned out.
For embellishment, I used pretty strawberry pink ribbons on the bottles.
I put fresh TULIPS (check out more gorgeous shot of these tulips HERE ) into the vases.
I created a super cute MOTHER'S DAY PRINTABLE CARD to go with these vases to get the look I wanted.
DOWNLOAD MOTHER'S DAY PRINTABLE HERE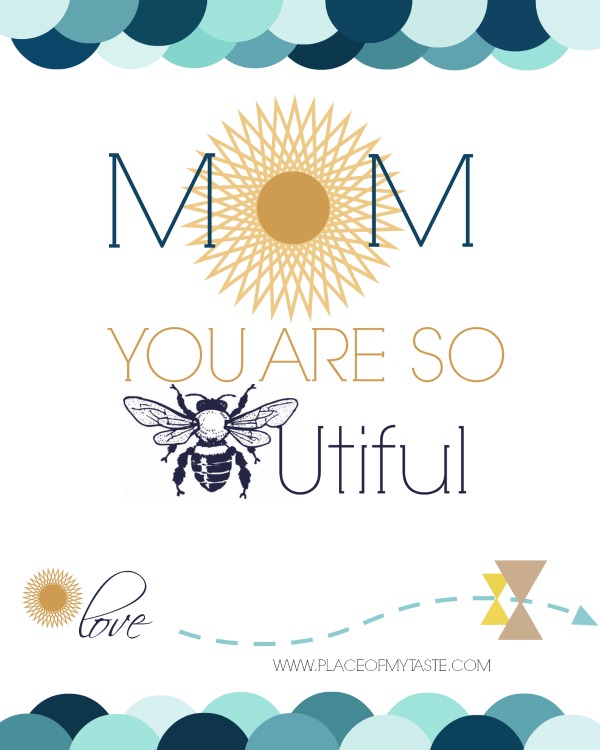 I really believe that homemade gifts are worth a thousand times more than the most expensive gifts!
They are made with LOVE and are given from the bottom of our hearts.
I hope I inspired you to dig out some wine bottles from the garage!
Thank you so much for reading
AND
a huge hug for Jen to share her space with me today!
Have a fabulous Spring to Everyone and Happy Mother's day to All the Awesome Moms out there!
Come and follow along! I would love to have you on board at Place Of My Taste.
FACEBOOK | PINTEREST | TWITTER| INSTAGRAM| GOOGLE+
Xoxo
Aniko
****************
Thanks Aniko! I love a good up-cycled project and those vases are just beautiful!! I'm sure that's a gift any mom would love. The printable is absolutely adorable too. Aniko has tons of great ideas on her blog, Place of My Taste. Check out these other ideas of hers:
If your mom likes jewelry, you can also make her an awesome jewelry box under $5.
Or DIY her a gorgeous Tray and present it with fresh flowers
I just love Aniko and her beautiful ideas! I'm so glad she was able to share her vases and printable with us today!
xoxo