The #1905Cottage expansion is nearing its end. I'll be sharing more over the summer, but thanks to my friends at Troy-Bilt, I have gotten a head start on the garage! So check out these garage makeover tips – and learn how you can win a Troy-Bilt FLEX system!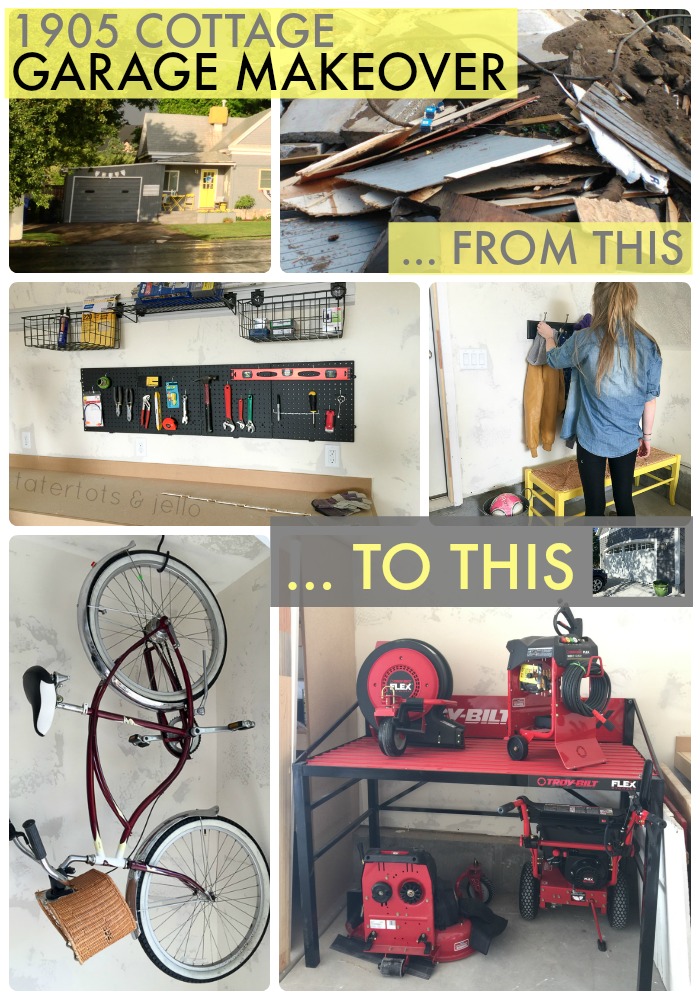 The garage is still in progress, but my DIY work couldn't wait! I was so excited when Troy-Bilt invited me to participate in the Troy-Bilt FLEX Face-Off! Here's what I got to try – not only a Lowe's gift card but also a full Troy-Bilt FLEX system. I have never, and I mean never, been this excited about yard care tools in my entire life.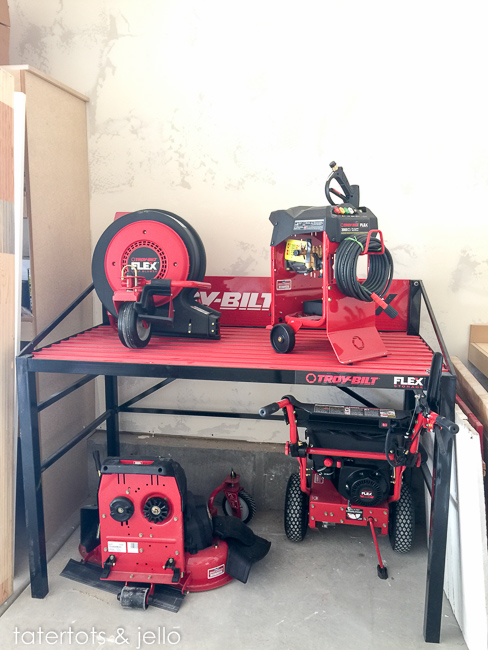 This is how it looks in my garage project in progress. I'll show you a little more later, but the Troy-Bilt FLEX system includes a power base – like the engine piece – and then attachments that snap on the front. In the picture you can see my power base next to the lawnmower. Then, on the shelf of my cool FLEX storage rack is my leaf blower and power washer attachments. (I have a snow blower that just arrived. I'm not anxious to put that to use — summer just got here!)
That mower made amazingly short work of my overgrown lawn – yes – the lawn with grass as high as my waist in a few places where I'd neglected it during construction. It just ate it up.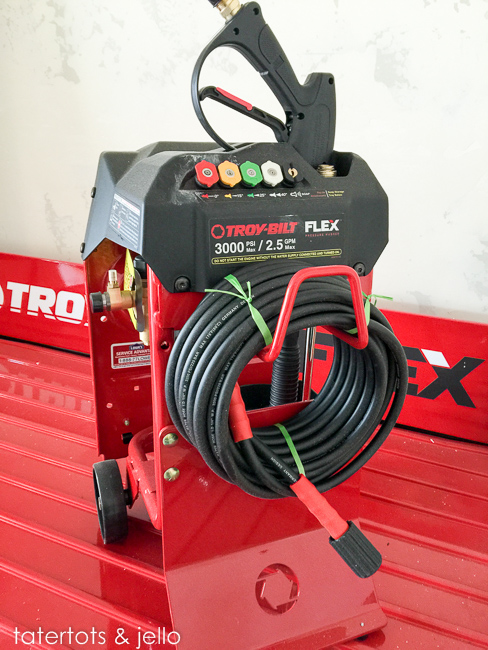 But here's the best part: You can win a full Troy-Bilt FLEX system, too! That's an over $1000 value!
I'll show you more about my garage makeover project below,
but here's how to enter to win RIGHT NOW: Just vote for me at the Troy-Bilt FLEX Face-Off site!
When you vote, you'll get a chance to win a Troy-Bilt FLEX power base, two attachments (your choice!) and the awesome FLEX storage rack. – and get another entry every time you vote!
Here's what I did in my garage so far: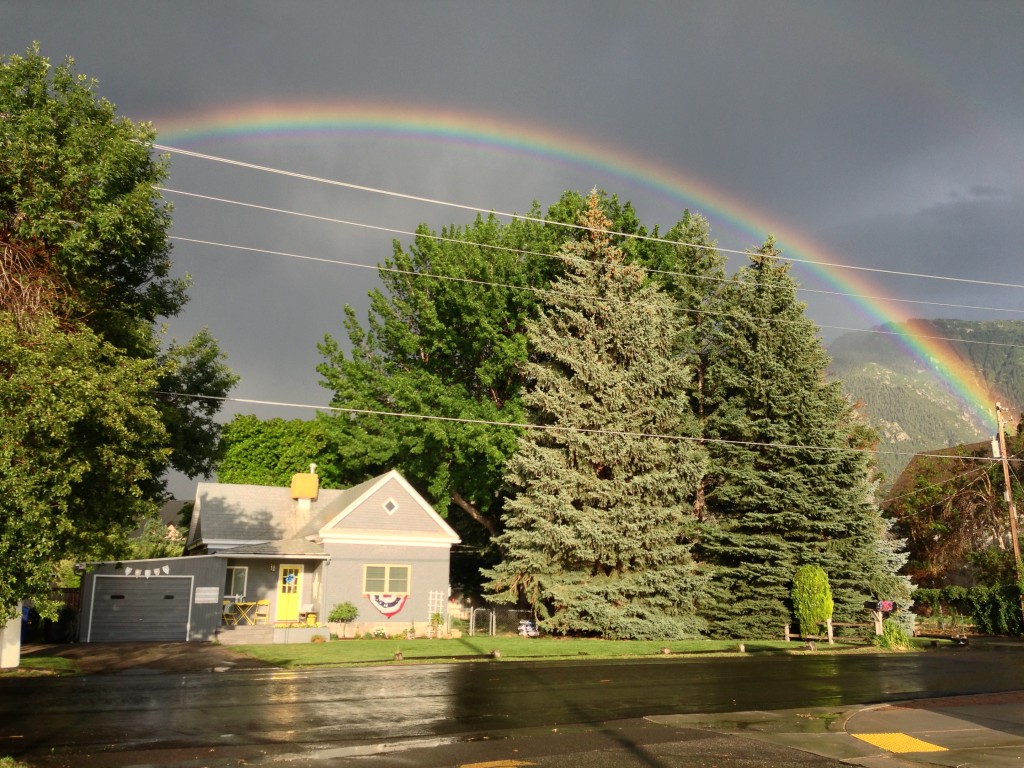 You might remember the little garage attached to the 1905 cottage. It was added on after the main house, obviously, and it was falling apart. When I started the cottage expansion, it had to be the first to go.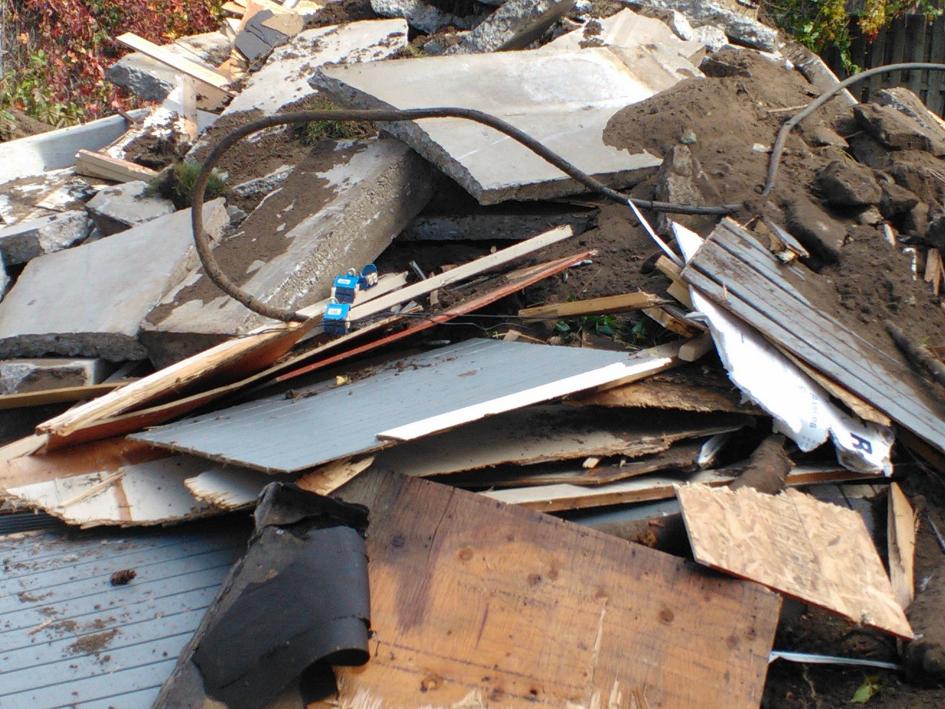 So when I started the garage makeover, the garage looked like this: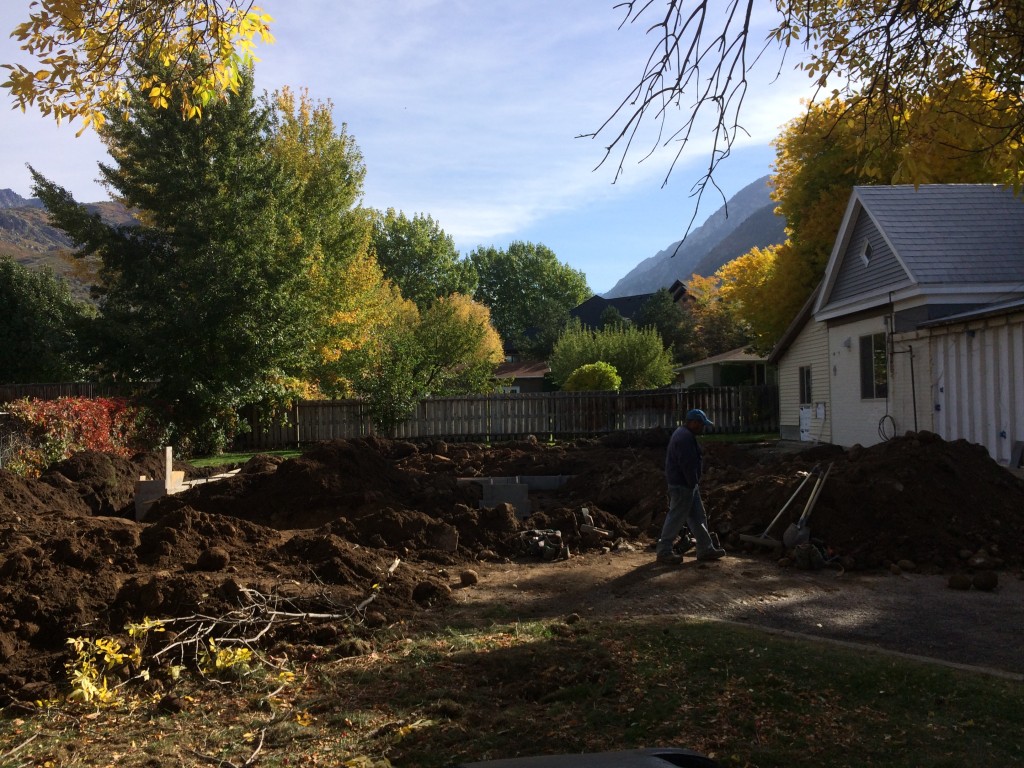 My addition is almost complete, but the garage was the last to be usable, and even now there's still more to be done. But I couldn't wait. I have too many projects to do to have the garage full of debris and with nowhere to work! So first, I cleaned the garage …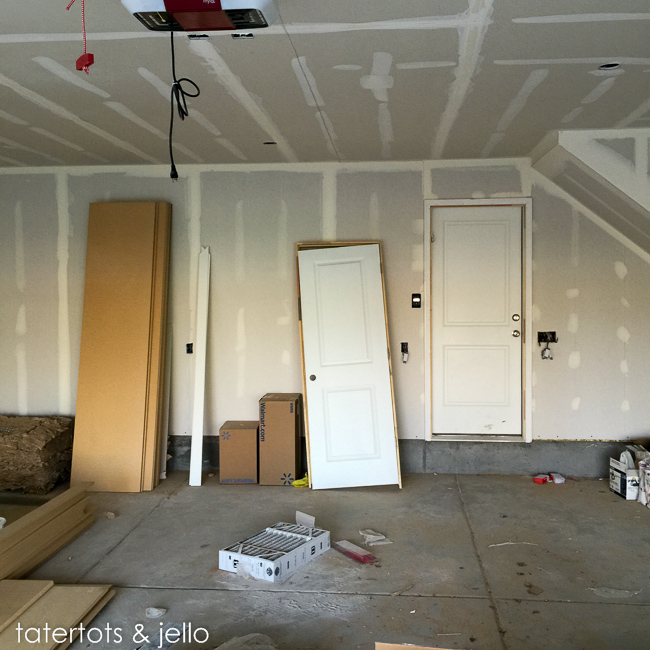 … and got the workbench going!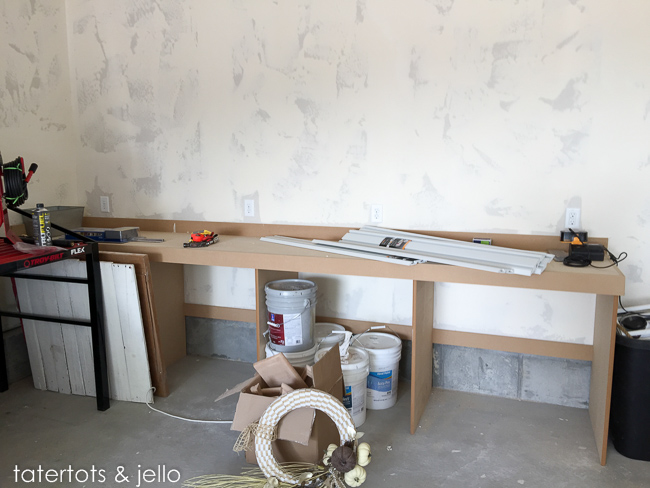 One of my favorite tricks is to get built-in shelves sized for my plastic storage containers – and then I buy them all the same size!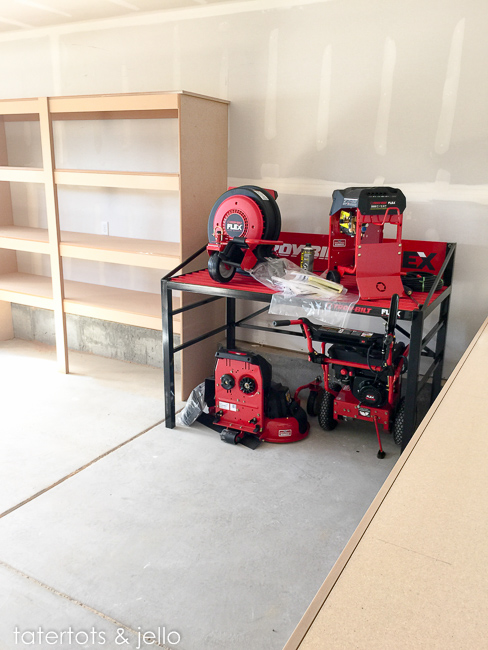 So I knew I'd need storage on the workbench, so while at Lowe's I picked up some of my favorite storage supplies: pegboard and adjustable slot storage.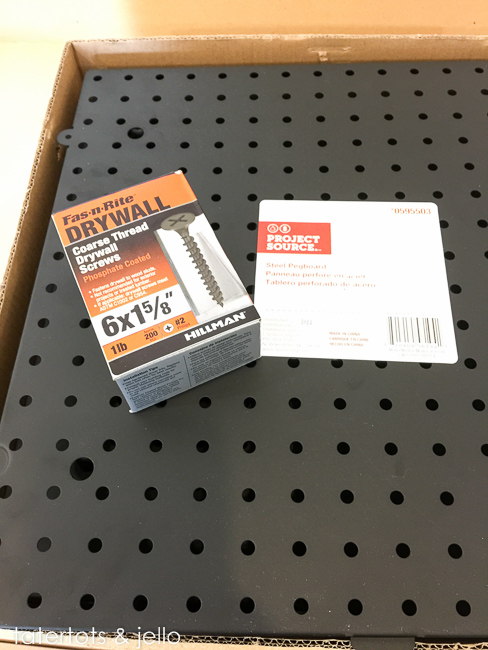 I love the metal pegboard – it's durable and looks industrial chic. Plus, the pieces are spaced perfectly to go right into the studs – and they interlock!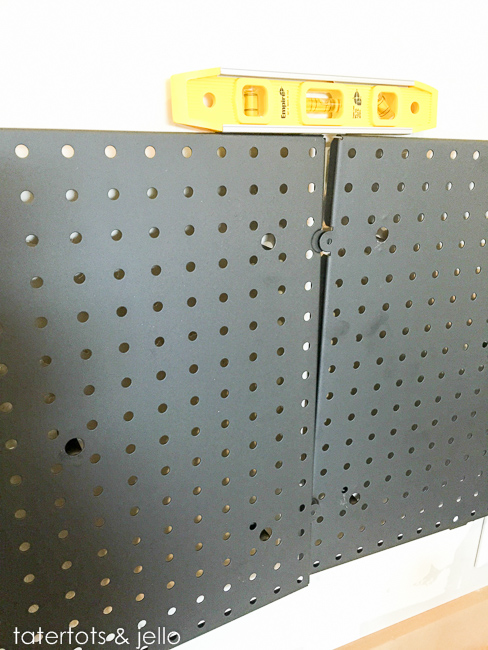 Once I'd assembled these above the workbench, I added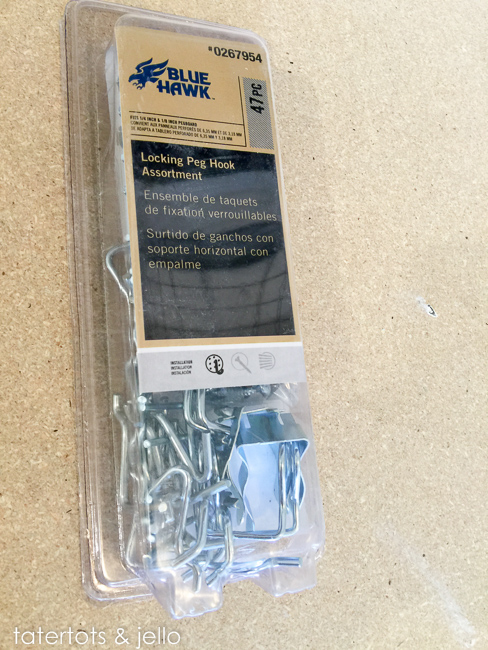 hooks onto the pegboard – so I can fit the tools I use most. I'm sure I'll end up moving them around as I use them! Some people even like to outline the proper tool on the pegboard. I'm not ready to commit (LOL).
Next, I added some reconfigurable shelves above the pegboard with this cool GearTrack system: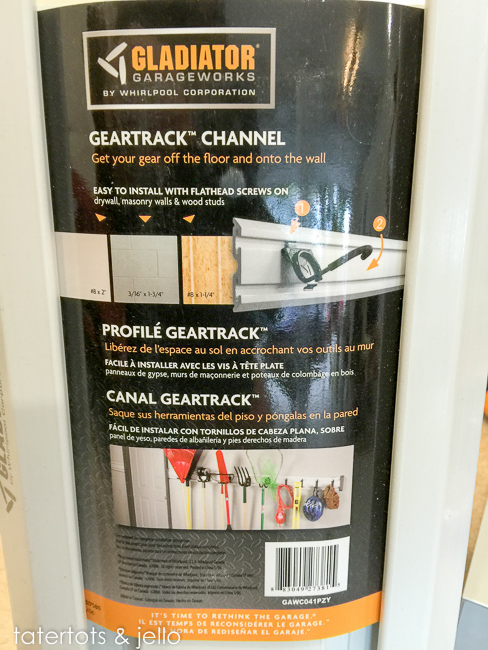 I'm still unpacking supplies, but I love the way it organizes my tools and the new workbench gives me somewhere to actually work!+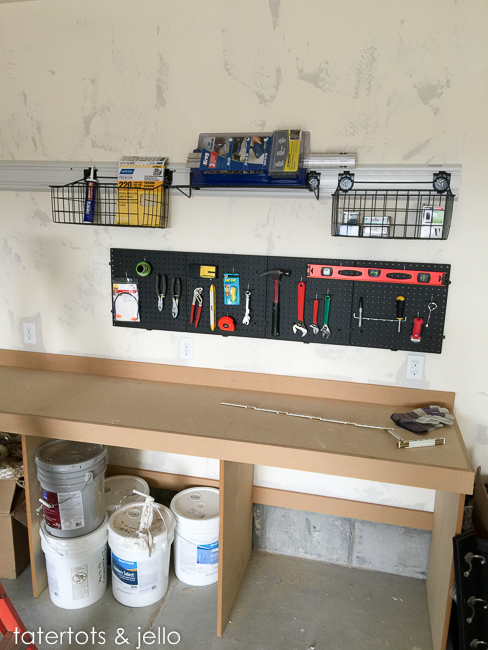 It doesn't take weeks of work to make a major change in your garage. From the renovation, I had tools scattered all around in tool bags and boxes. With sturdy metal pegboard and flexible shelving, I've organized my tools above the workbench so I can still finish DIY and décor projects without the mess. One thing I love about these flexible storage options – I don't have to commit to the exact way I want to store my tools until I've lived with it for a while and adjusted the storage to fit what works best!
Perhaps my favorite, fastest and least expensive addition: bike hooks.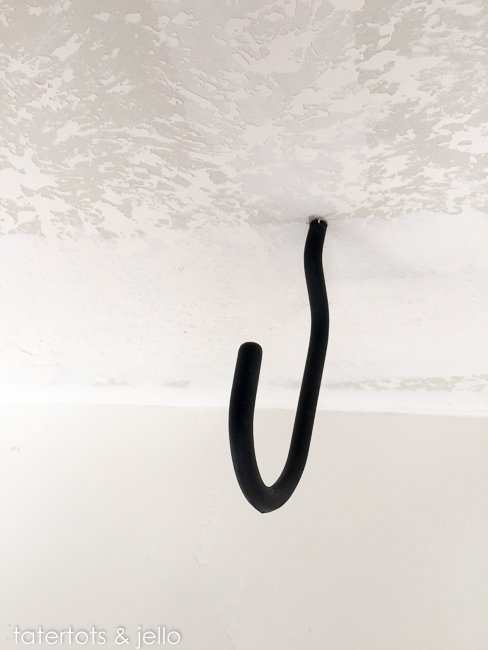 Just like yard equipment, bicycles can take up a LOT of room in your garage. Especially for adult bikes – like my cruiser – getting them off the ground makes a huge difference in storage. Lowe's has several options for bike storage, including a reasonably-priced pulley hoist, but my favorite is still the $2 large bike hook. Just pre-drill a hole into the rafter, screw the hook in and lift the bike up, rear wheel first! Suddenly I regained a bunch of garage floor space and made use of the "dead space" by the garage door.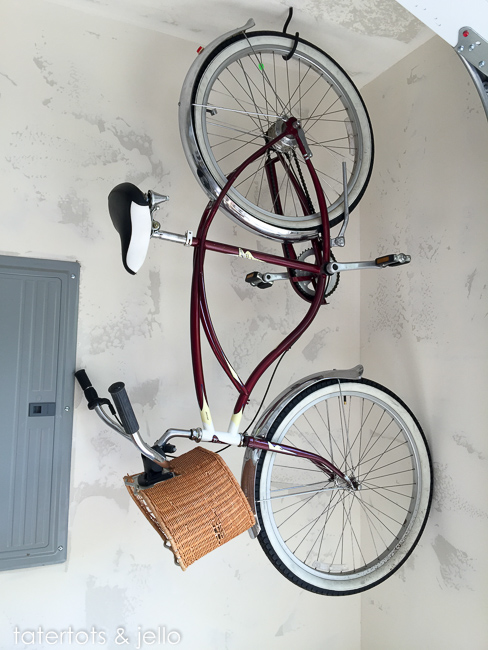 Then, even while we're getting things organized all around the cottage, we were finding piles of coats and shoes around the house. Even though something super complex and fancy would be fun, sometimes the best solution doesn't take a week of work! I got a sturdy coat rack from Lowe's and brought in a bench and galvanized bucket I already had.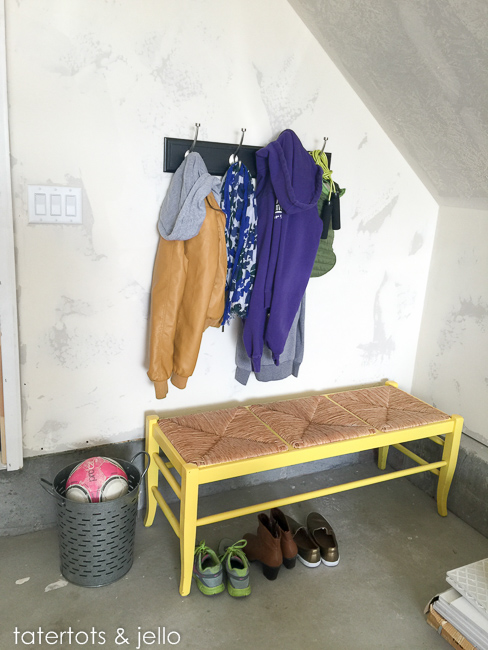 Voila! A right-next-to-the-door coat and shoe station to corral the clutter. Some houses are lucky enough to have a mudroom – but most don't! It's pretty easy to create a mudroom area by your back door to give you a landing place for things that would otherwise end up on the floor. Here, I rescued the bench that used to be on the porch, found a sturdy, stud-mounted set of hooks, and a nice galvanized container. Like the pegboard, I can live with this arrangement for a while and adapt it to what works best.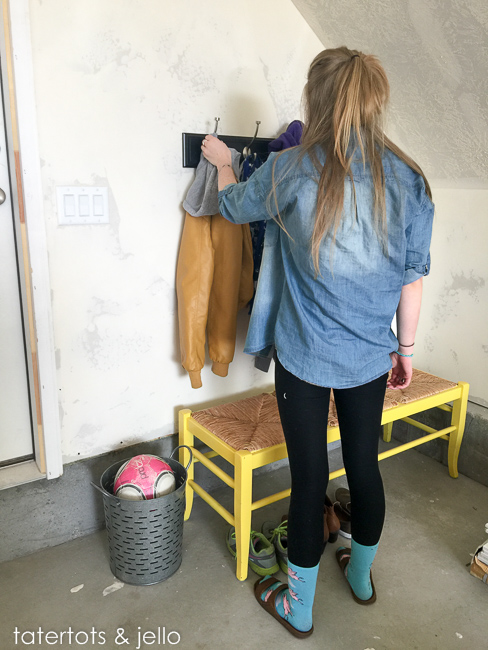 Finally, my favorite element of the garage makeover: the Troy-Bilt FLEX system. Yes, I know – they're seriously powerful. They're Troy-Bilt, so they're a cut above the equipment with which I was making do before.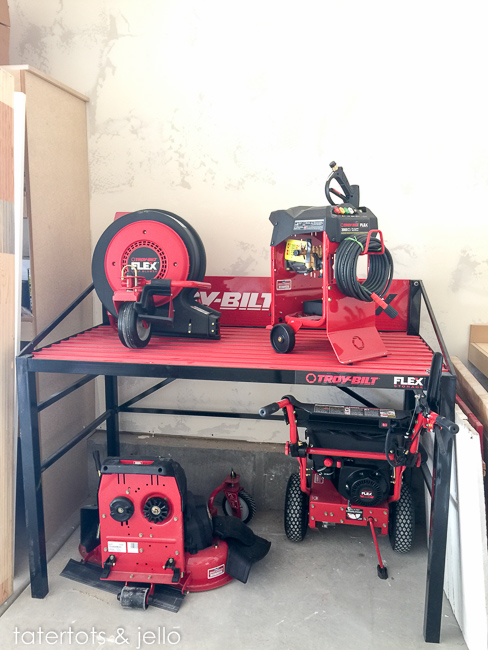 I love the new Troy-Bilt FLEX not only because it's nicely built and powerful, but with the storage shelf I can store my equipment in a fraction of the space. (Look at how nicely it fits between storage shelves and the workbench!)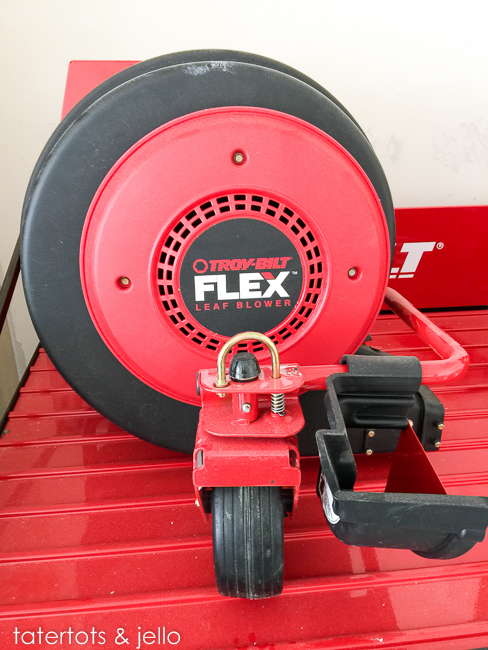 I'm still moving construction supplies around inside the garage – it was a mess! I think I've swept it out about 20 times. This last time, I even used my new Troy-Bilt FLEX with Leaf Blower attachment to sweep the sawdust and dust out. (Yes, I wore eye protection and a mask!)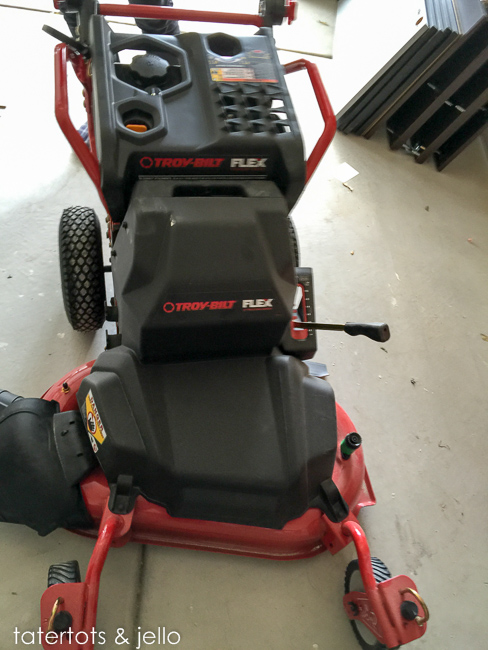 Each attachment just snaps on the power base – it's super easy. And as I said, the lawnmower was amazing. It not only tackled a seriously overgrown lawn, but did it without even flinching.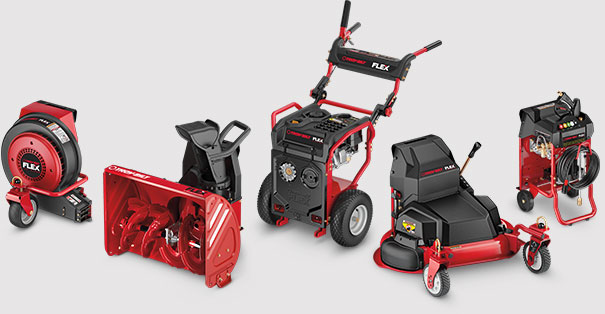 You can win your own Troy-Bilt FLEX System!
Here's how to enter for a chance to win:
Just vote for me at the Troy-Bilt FLEX Face-Off site!
When you vote, you'll get a chance to win a Troy-Bilt FLEX power base, two attachments (your choice!) and the awesome FLEX storage rack. – and get another entry every time you vote! (Check out the site for complete terms and conditions.)
And visit Troy-Bilt:
on the Web
on Instagram
on Twitter
on Pinterest
on Facebook
(and if you're sharing this be sure to use the #flexfaceoff hashtag!)
xoxo

This post was sponsored by Troy-Bilt. The content is all mine. See my disclosures.