Create a memorable Fourth of July wreath. The galvanized wreath base holds a wooden star surrounded by three flags, a painted 4 and beautiful red and blue flowers and draping greenery.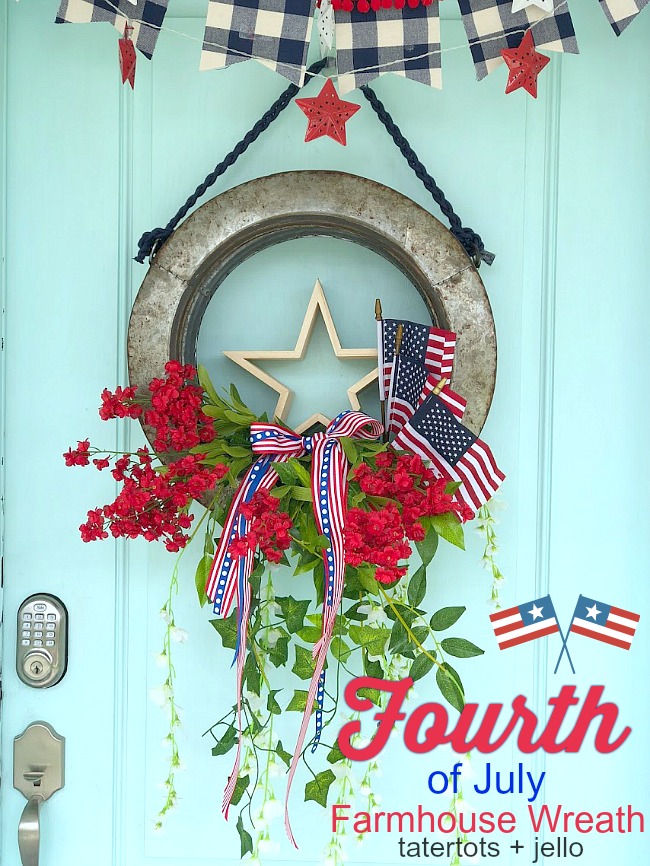 Red White and Blue is such a magical combination.
I LOVE working on my Fourth of July porch each year. This year I knew I wanted to re-use the galvanized wreath form from my Holiday Wreath. I love the galvanized material and I also love that it matches the galvanized planters on each side of my front door.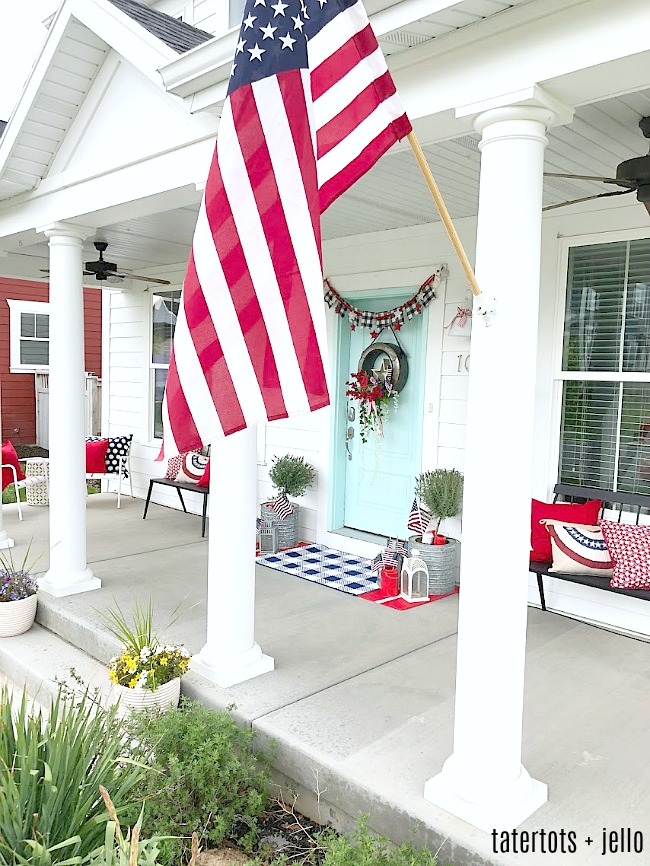 I also knew that I wanted to incorporate flags into the wreath too. I love symmetry. I have little flags all over my Fourth of July wreath and I wanted to bring the flags up into the wreath. Another element that I thought would be cool was a star. I wasn't sure if I wanted to use a metal star or a wood star. I ended up finding a really pretty unfinished star that I used in the wreath.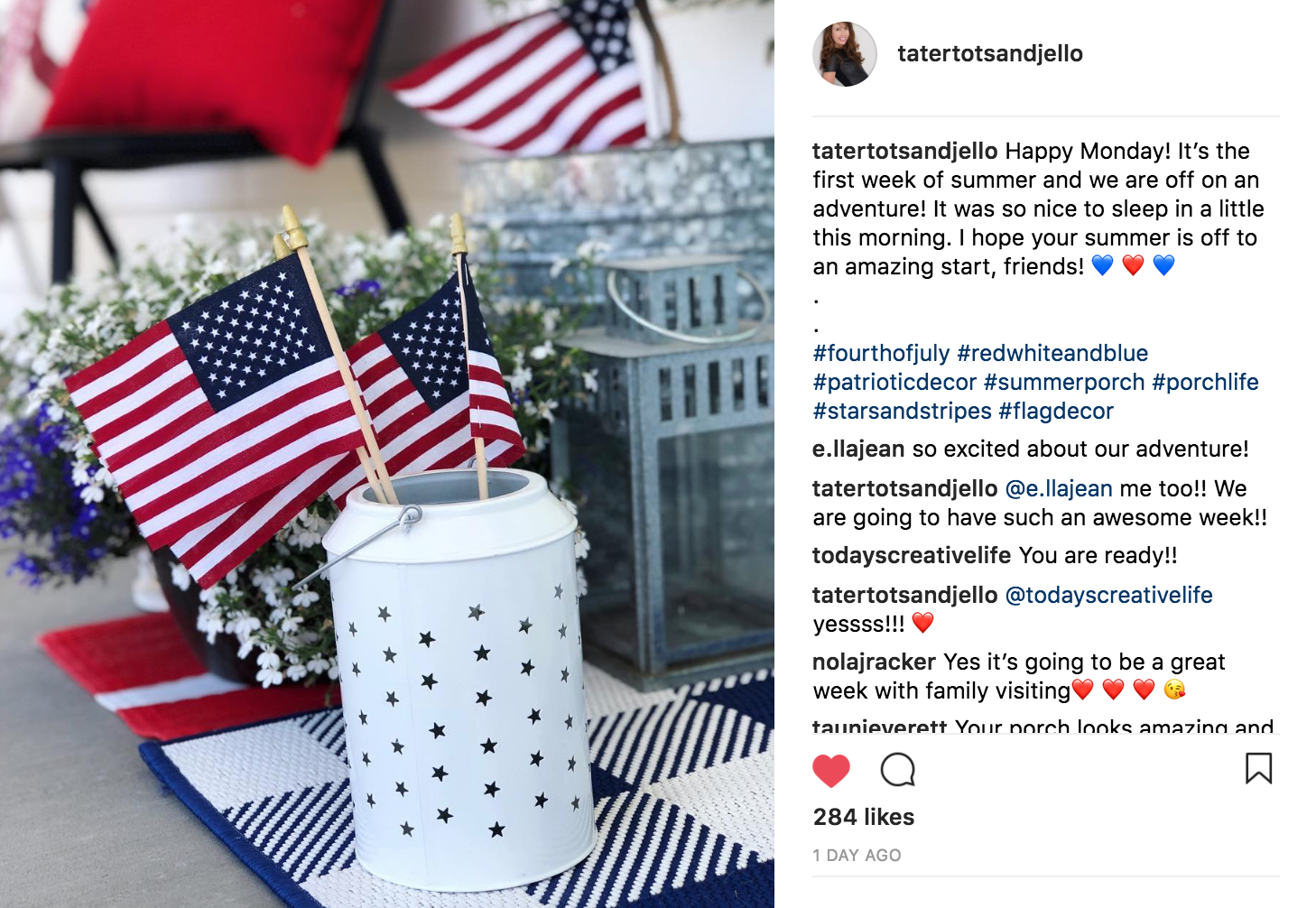 Here's how to make this Fourth of July Galvanized Farmhouse Wreath:
Supplies:
Galvanized wreath base
foam oasis or Styrofoam block
3 small flags
Wood star
ribbon
Red silk flowers
Draping greenery
Wood number 4
Red paint
Hot glue and glue gun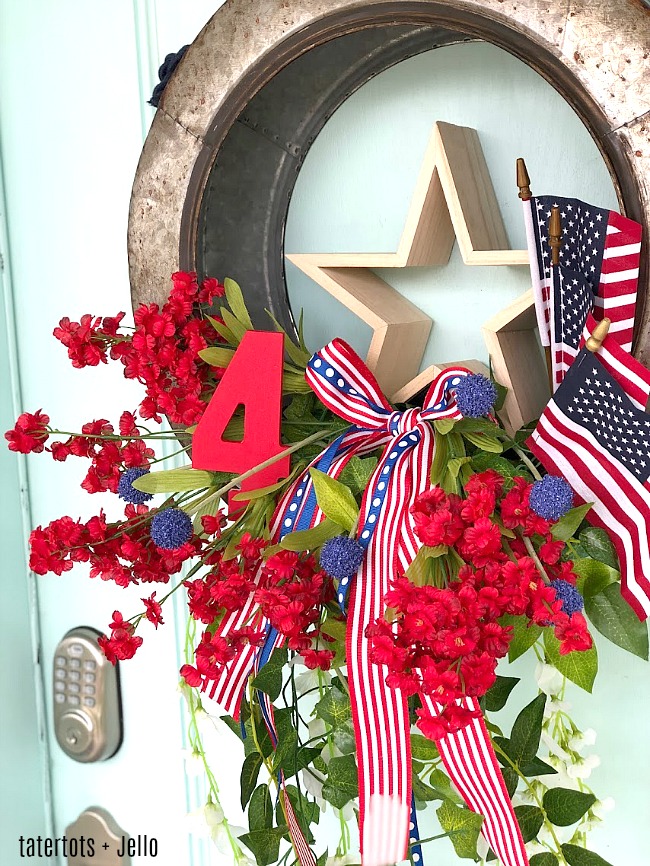 Directions:
Put foam oasis block in the bottom of the wreath base.
Center the block in the middle of each of the rope hooks at the top of the wreath. Hot glue the block to the bottom inside of the galvanized wreath.
Paint the number 4.
Set it aside to dry.
Cover the oasis brick with vines.
Hot glue the vines to the top of the oasis block. Trail the ends over the front of the galvanized wreath.
Set the wooden star on top of the block and vines.
Hot glue the star onto the oasis bock.
Attach the three flags.
On the right-hand side of the wreath, stick the bottoms of the three flags inside of the oasis block. Te flags should cascade down the side of the wreath.
Add the red and blue flowers to the front of the wreath.
Stick the ends of the flowers into the foam.
Make a ribbon bow
Cut a long length of each of the ribbons for the bow, tie it in a bow and hot glue it right under the wooden star.
Attach the wood number.
Hot glue the wood number to the left-hand side of the wreath.
Hang up your new wreath!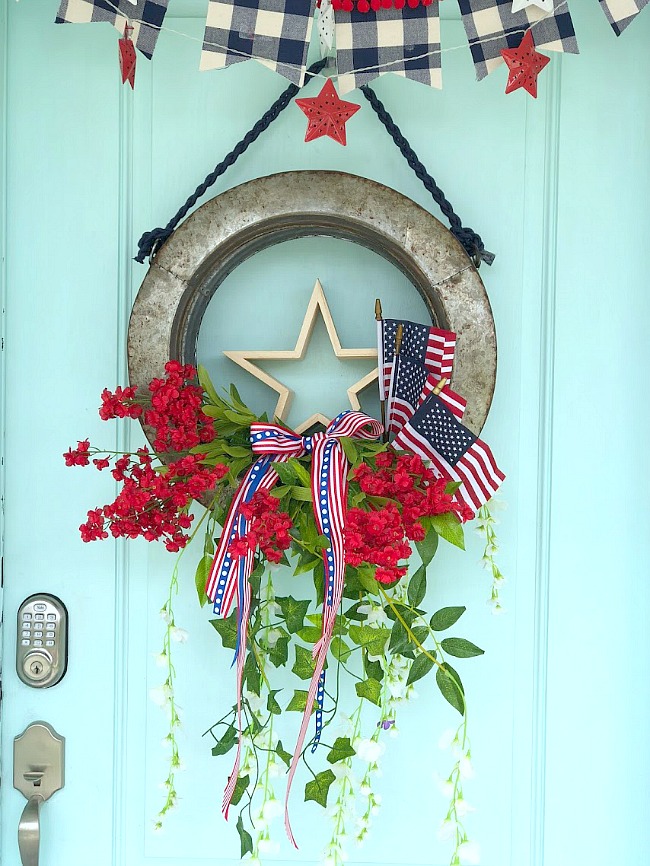 So Simple! I love that I can continue re-using the metal wreath form over and over again! The possibilities are endless!
How do YOU decorate for the Fourth of July?
Share YOUR ideas with us in the comments!
xoxo