Make an embroidery hoop wall hanging. A hand-stitched word is surrounded by vibrant paper flowers in an embroidery hoop. Make one for your home or to give as a gift!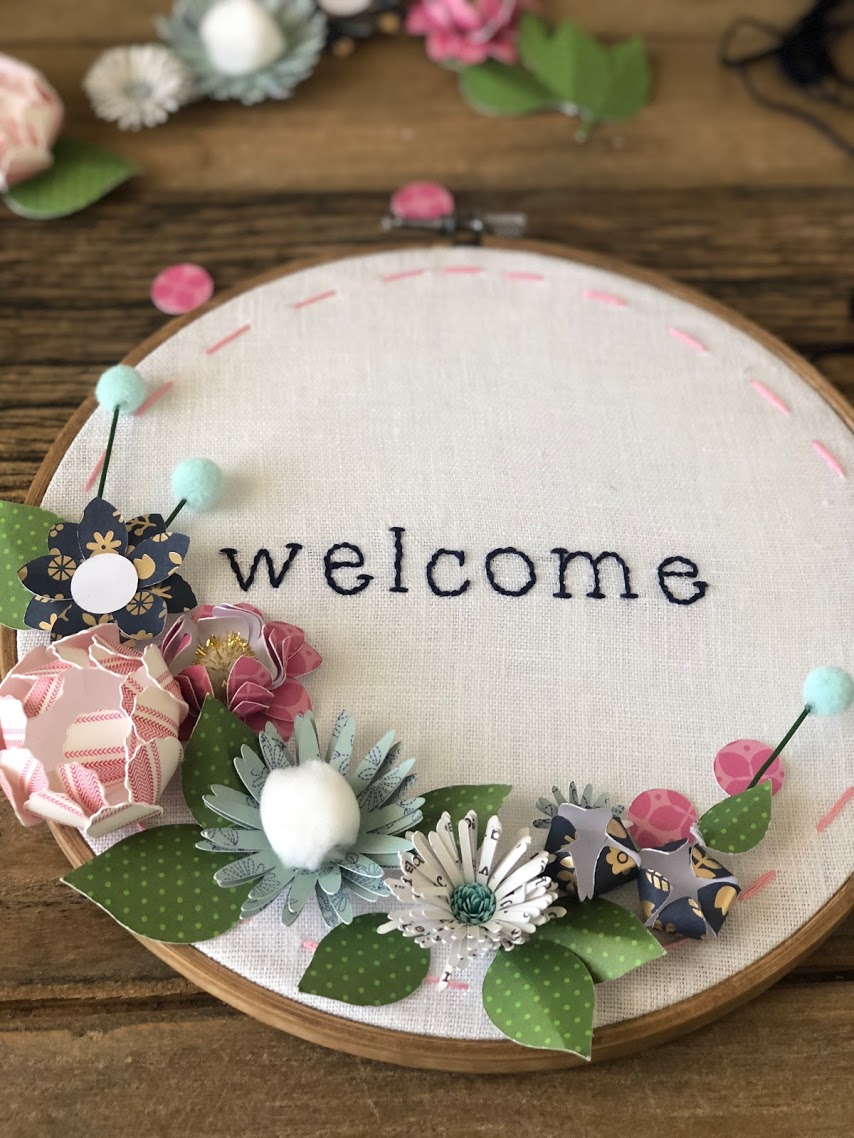 embroidery Hoop WELCOME Wall Hanging
Happy Monday! I have some really fun news and a CUTE embroidery hoop tutorial today. You can make so may creative projects with embroidery hoops. My daughter loves stitching words and images on hers. I added some gorgeous bright paper flowers to the edges and I love the way it looks!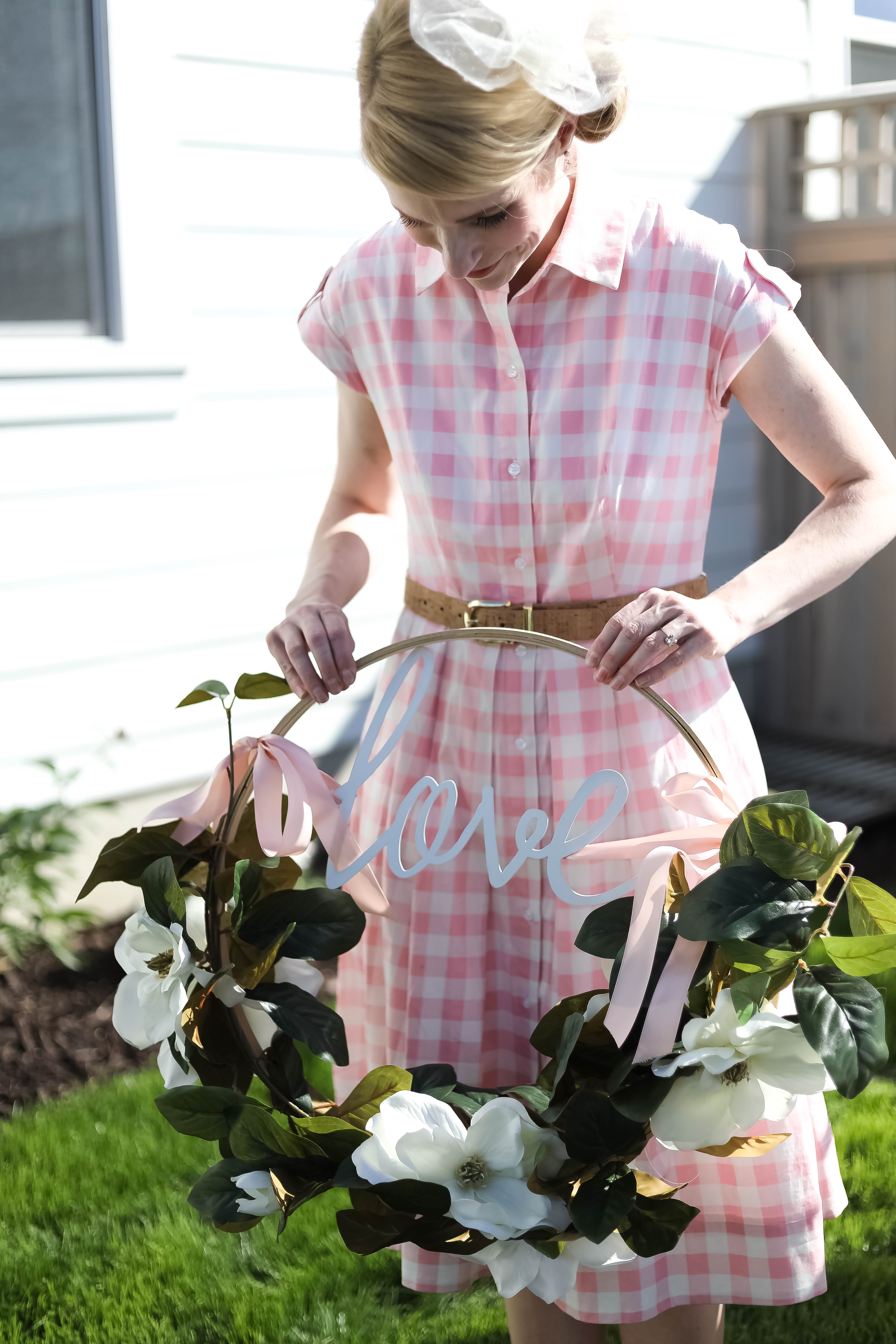 Last week I shared a Farmhouse Magnolia Embroidery Hoop Wreath. It was SO easy to make and only took a few minutes too!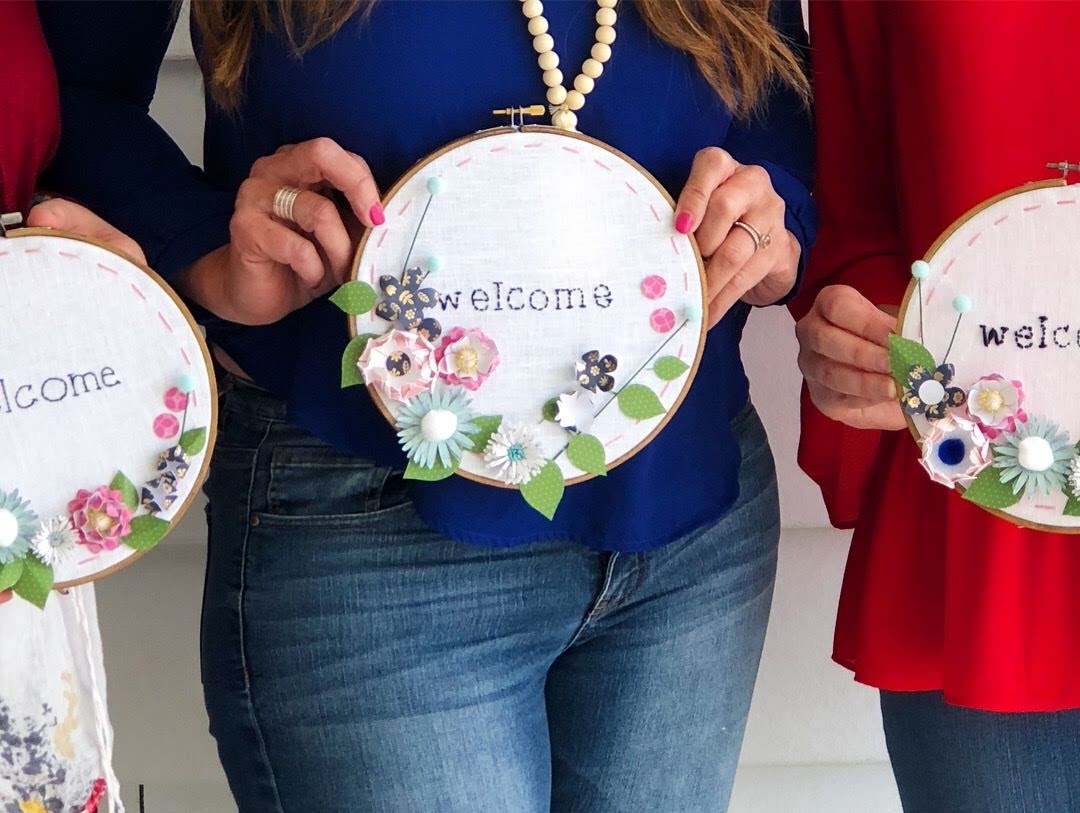 This is a welcome embroidery hoop wall hanging.
It would be so cute to hang on a gallery wall! And the fun thing is you can use ANY word. Use your last name. Stitch your word of the year. Or a saying even! The possibilities are endless! You could also make a larger version of this embroidery hoop wall hanging and hang it on your front door. I did this with the Sun Shine Embroidery Hoop Wall Hanging I made earlier this spring.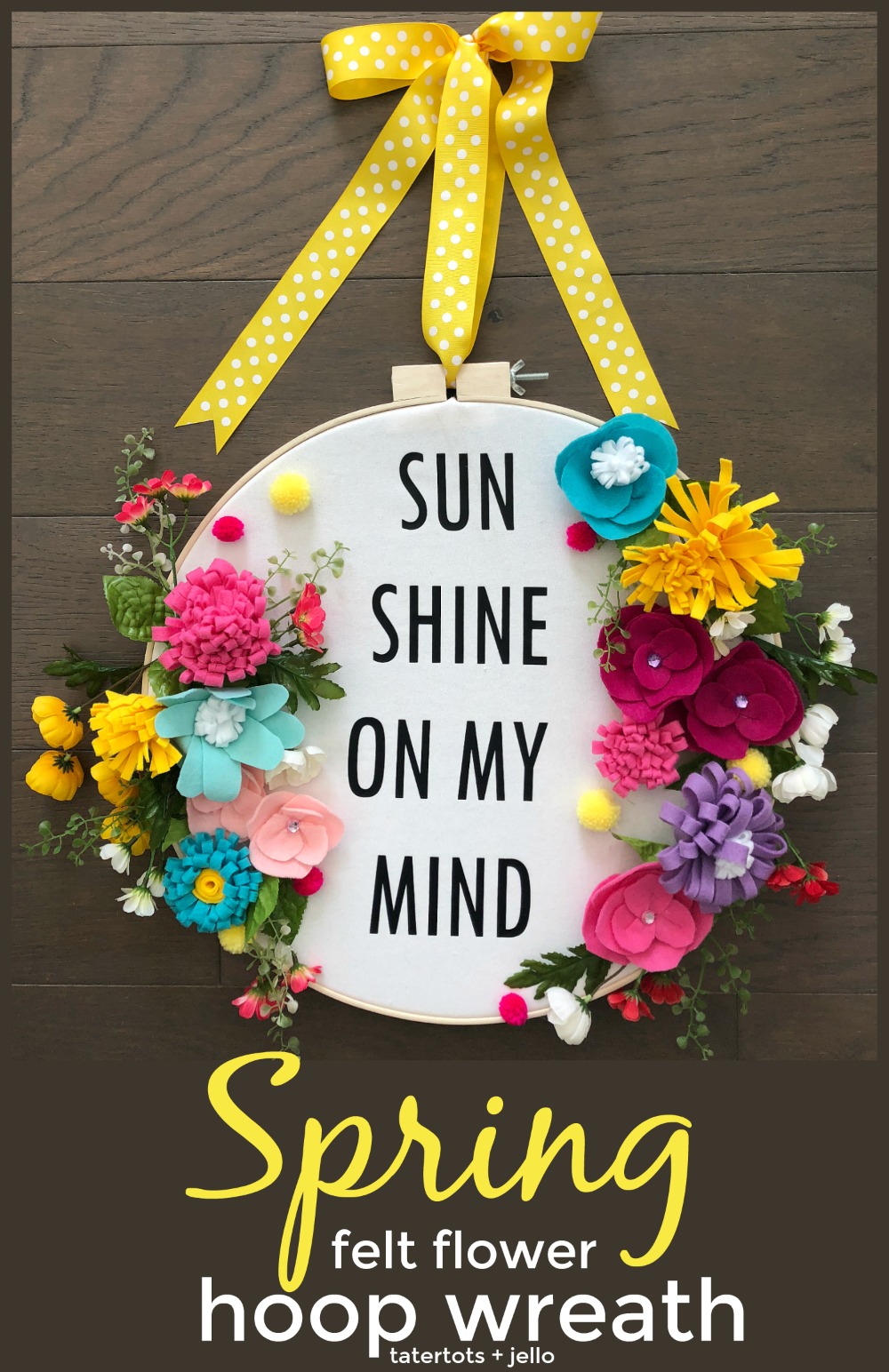 Here's how to make an Embroidery Hoop Welcome Wall Hanging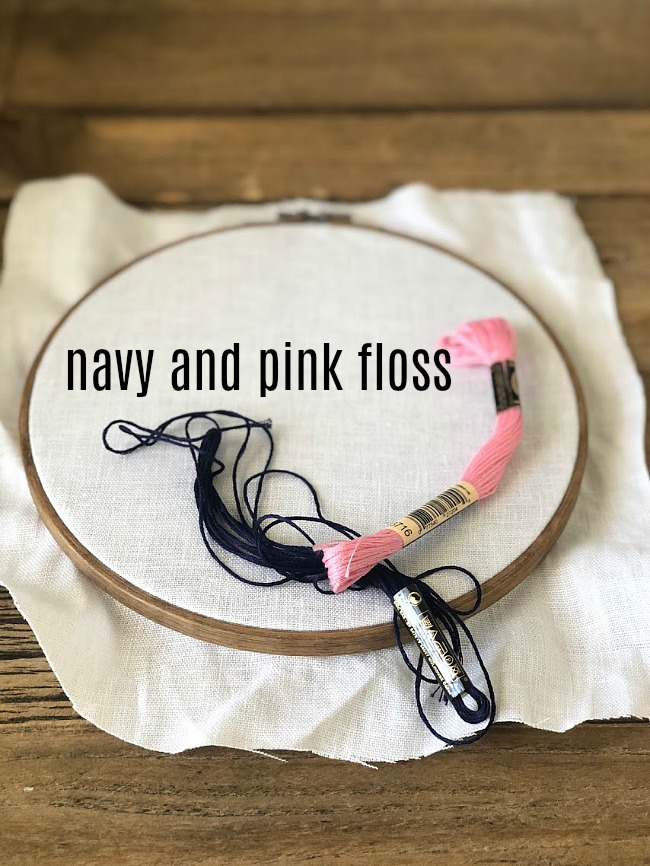 Supplies:
Embroidery hoop
Fabric
Embroidery floss – pink and blue are what I used
Pom poms
Wire
Paper (I used paper from my new My Bright Life line)
Felt
Hot glue and gun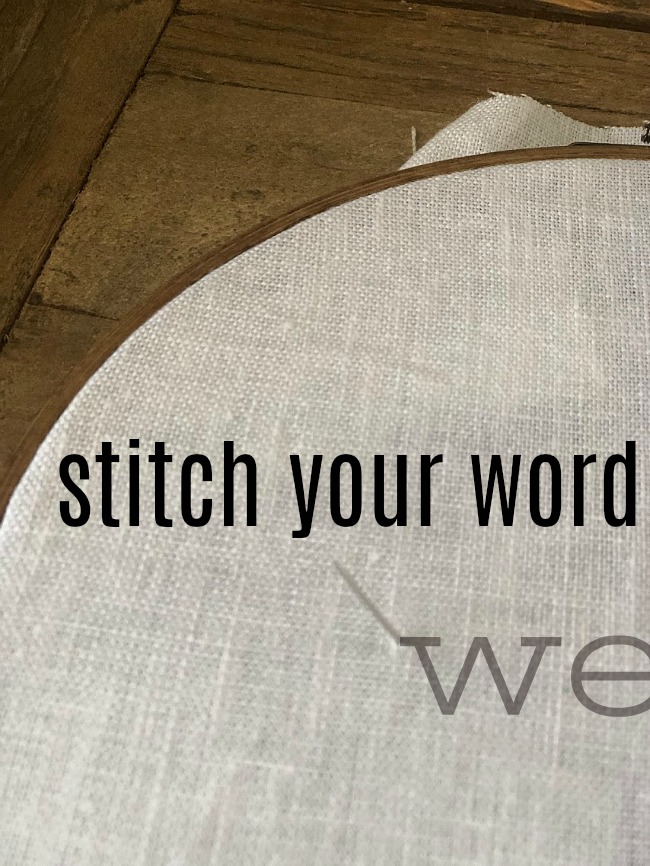 Using pink embroidery floss, slip stitch around the inside of the hoop.
Using navy embroidery floss, backstitch the word welcome. To put the word WELCOME on your fabric, type your word on your computer with the font you want. Print it in the size you want. Then hold the paper up to a window with the fabric over the top and trace the word on your fabric with a pencil.
Glue on pom pom stamins. Glue on flowers. Glue on leaves.
Trim the remaining fabric 1 1/2 inches away from the hoop. Using a slip stitch around the fabric. Pull tight to secure the fabric on the back of the hoop. Secure in place with a knot.
Hot glue or stitch the felt circle onto the back of the hoop. You're all finished.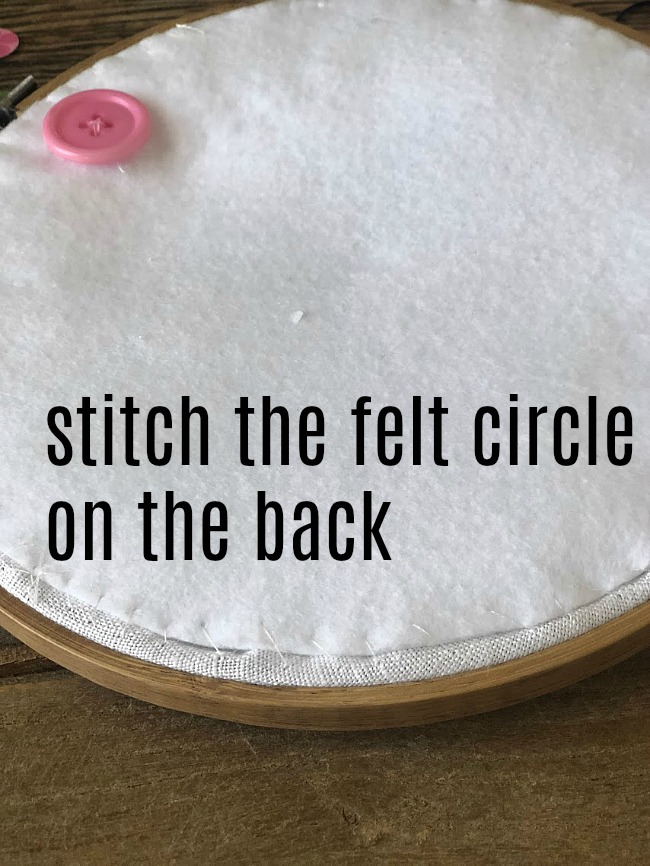 Then hang up your creation! I love seeing mine on my mantel!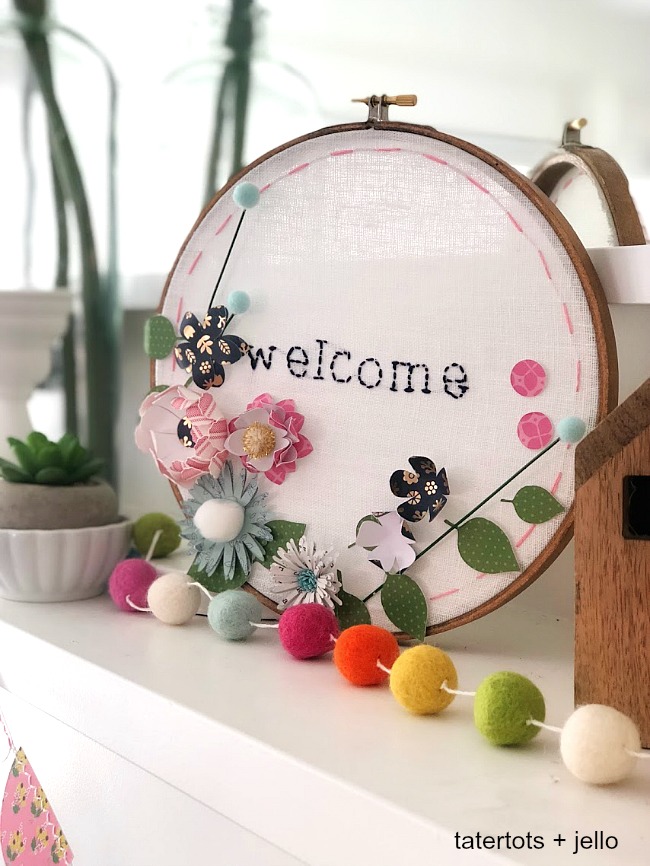 I am SO excited about my new My Bright Life line!
You can get it online through Pebbles in My Pocket!

Have a CREATIVE day!
xoxo