I've partnered with DecoPac to share FIVE ways to throw an easy and EPIC football party! All opinions are my own.
FIVE Easy Ways to Throw an EPIC Football Party! Kick off the NFL season by throwing an EPIC football party. From the seating, to decorations and food, here are FIVE easy ways to throw an EPIC football party!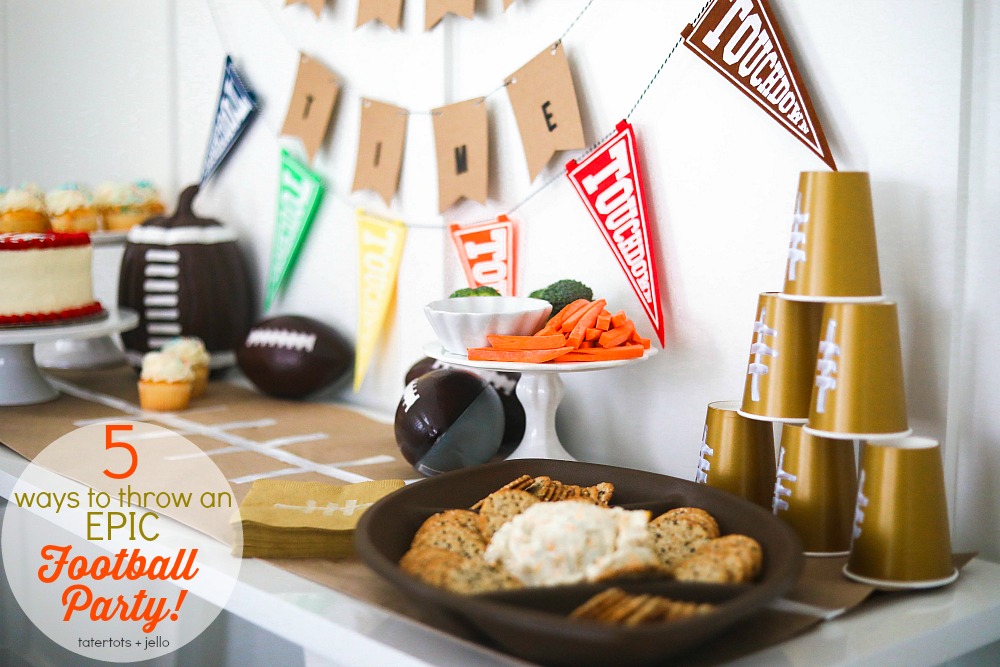 My husband LOVES football. He looks forward to Fall and the start of the NFL season all year. So the combination of his love of football and my love of throwing a fun party with delicious food is a match made in heaven!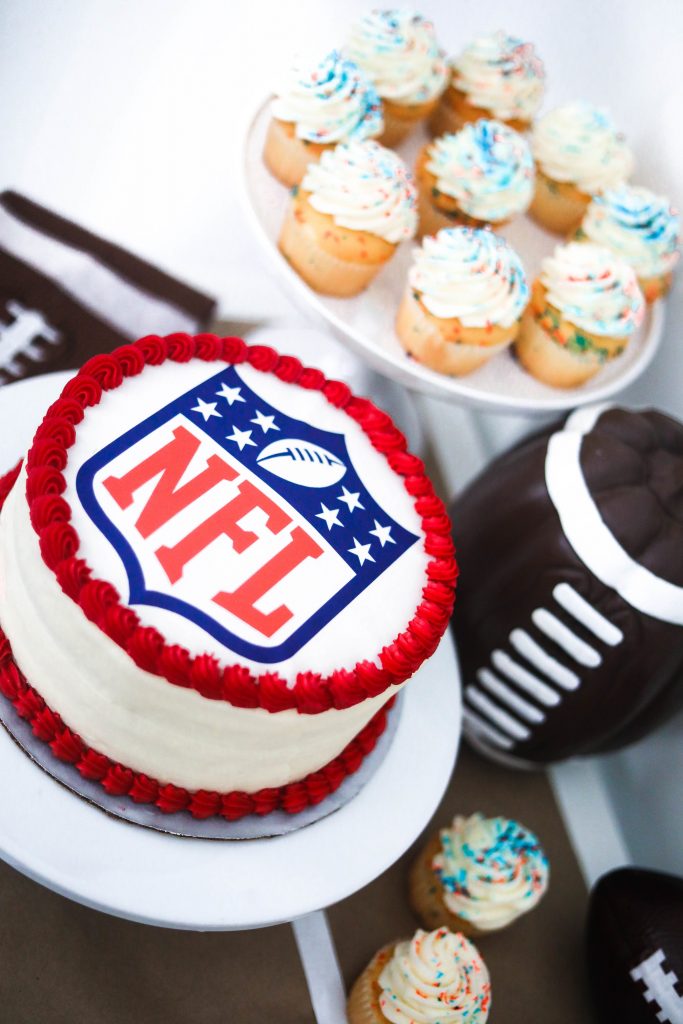 What could be the perfect centerpiece of an EPIC football party? CAKE! I discovered this beautiful cake at my local bakery. You too can get your own officially licensed NFL cake with YOUR favorite team logo in any state you may be located in!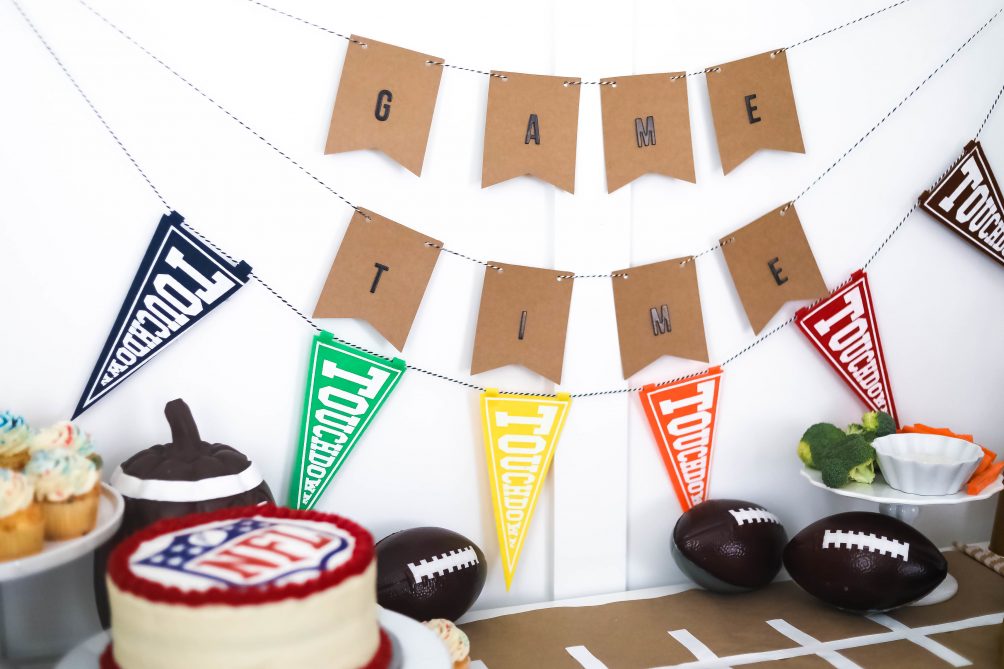 FIVE Easy Ways to Throw an EPIC Football Party
We are So excited to throw NFL football parties this season. Here are FIVE ways to throw an EPIC football party!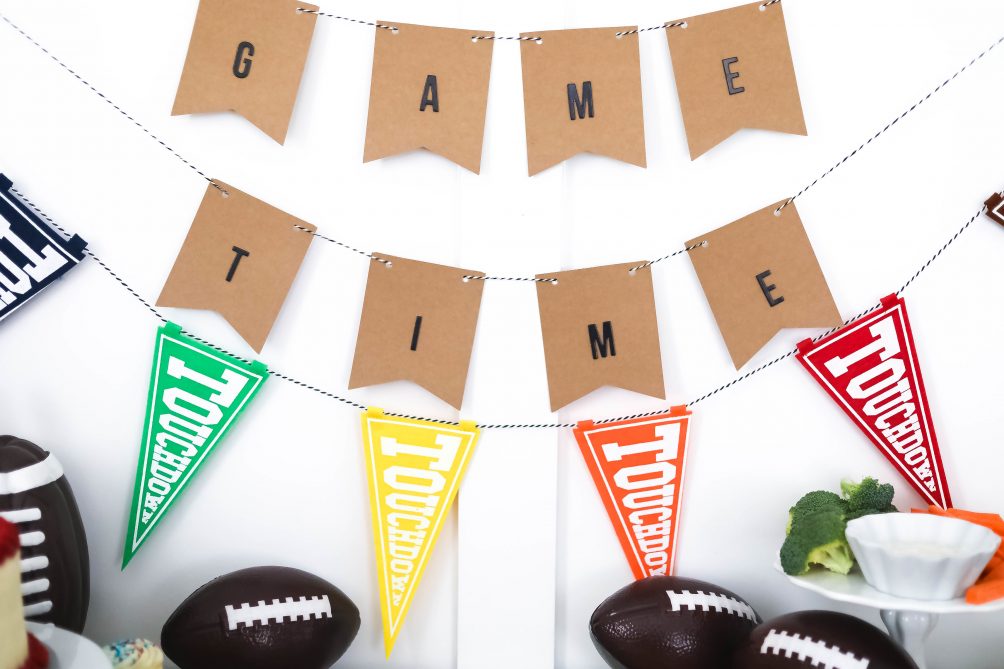 Add Some Festive Football Party Decorations
I made some simple paper banners. You can cut out paper pennants and then add sticker letters spelling out your favorite team's name, "Game Time", "Touchdown", etc. I also added a football pumpkin and some inflatable footballs I found at ta discount store.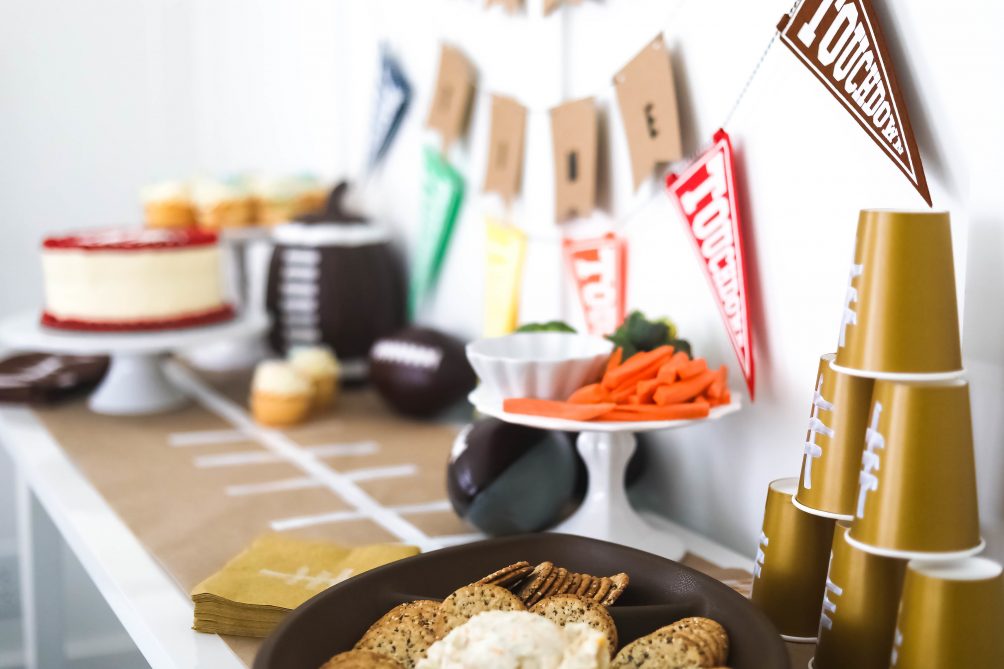 Create a Party Food Station
Serve your football party food buffet style. Make sure you have plenty of seating around your television. Add extra chairs. You can even put pillows on the floor and maximize your seating area. Clear off your coffee table so people have somewhere to put their food while they watch the game. Style all of your food dishes and the cake on your buffet table. Add plates, cups, napkins, silverware and let your guests get their food from the party station and then take it to their seats.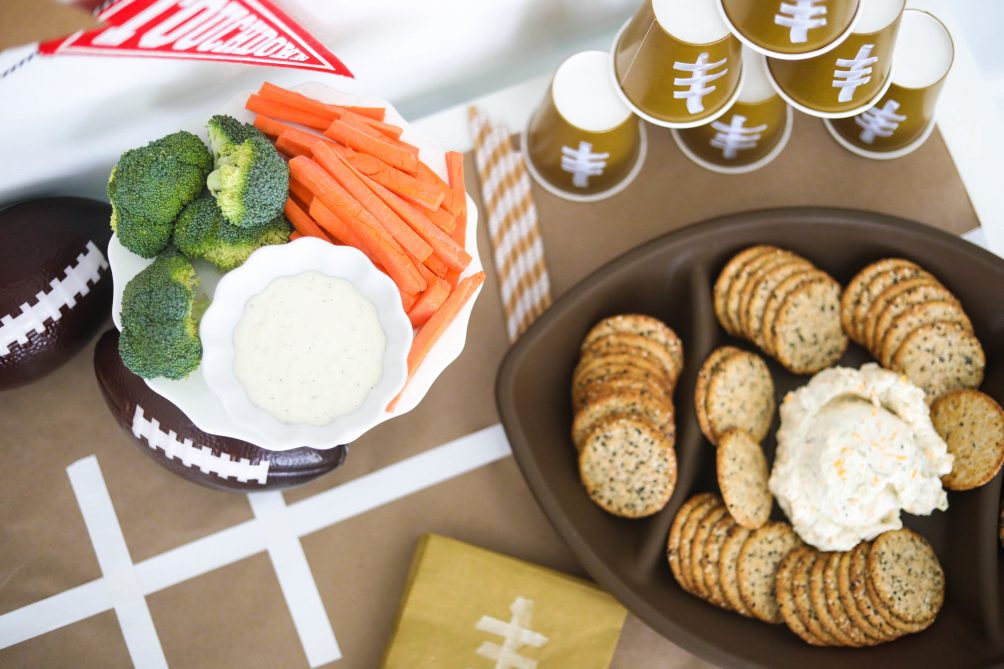 Add Pizzazz to Your Party Cups and Napkins
Take brown paper or plastic cups and napkins and add a simple football lace to them by drawing it on with a white paint pen. Then stack up your cups on one end of the table.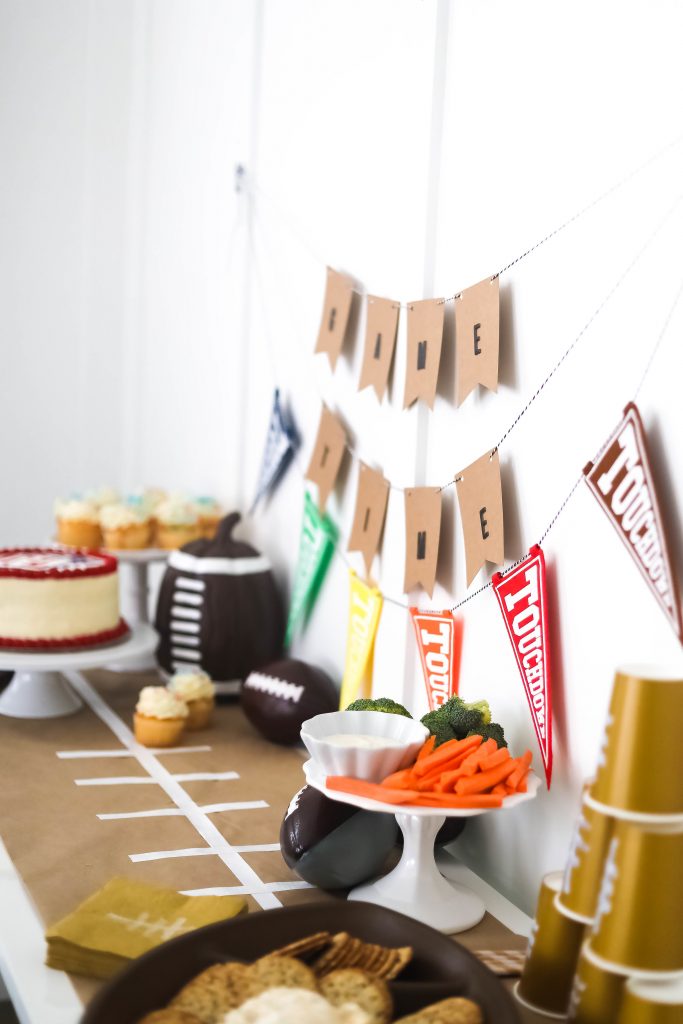 Make a DIY Football Runner
Make a simple runner that looks like a football with laces. All you need is brown wrapping paper and thin duct tape or washi tape! I got my wrapping paper from a discount store
Measure your table, make the runner about 4 inches less in width and height than the table.
Place the runner on the table and use tape to attach the ends to the table so they won't curl up.
Then place a piece of white duct tape or washi tape in the center of the table.
Put five smaller pieces of tape over the longer duct tape, creating the illusion of football laces.
Then put your football party food on the table.
Enjoy!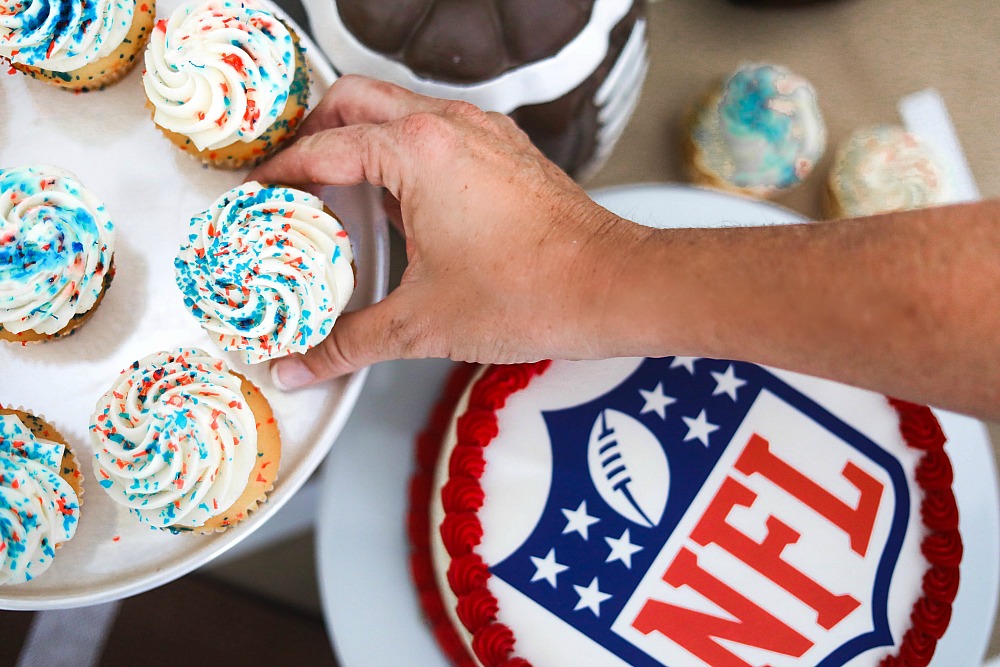 Add a Winning NFL Dessert to Your Party
Make your NFL football party easy and beautiful with an officially licensed NFL cake and cupcakes! You can get a cake with your favorite NFL team's logo as well as get matching cupcakes! This cake will be the centerpiece of your football party AND having it made takes the stress of throwing a party away. It's a Win-Win! Order yours today!
Visit www.cakes.com to find the nearest location to you!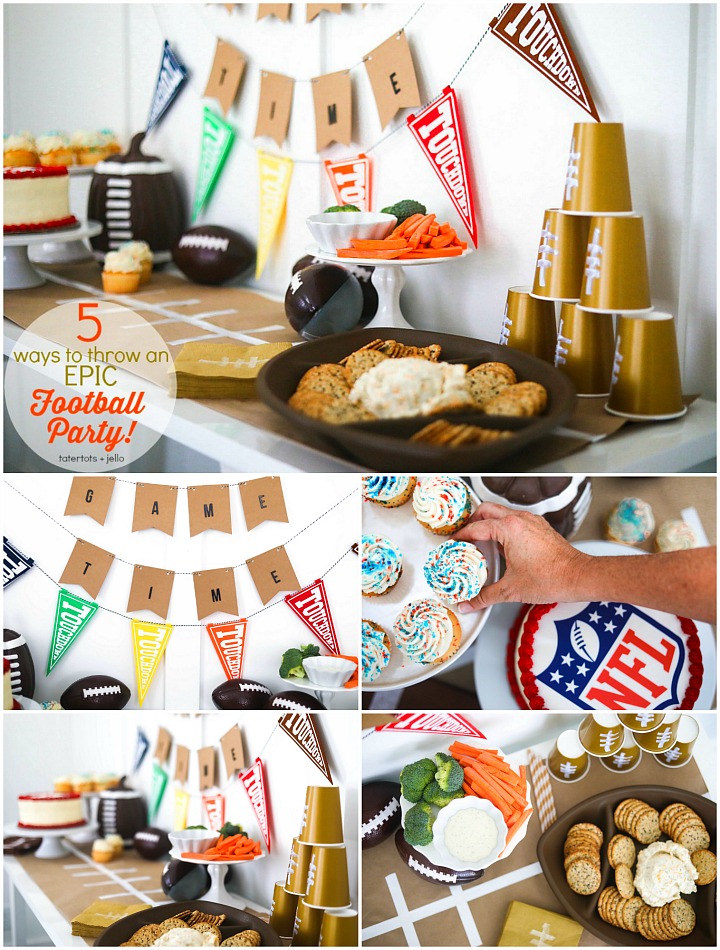 Who is YOUR favorite NFL team?
Share YOUR football party food ideas in the comments!
xoxo