I had such a great time on Team Shout® at the 5K Color Run in Salt Lake City!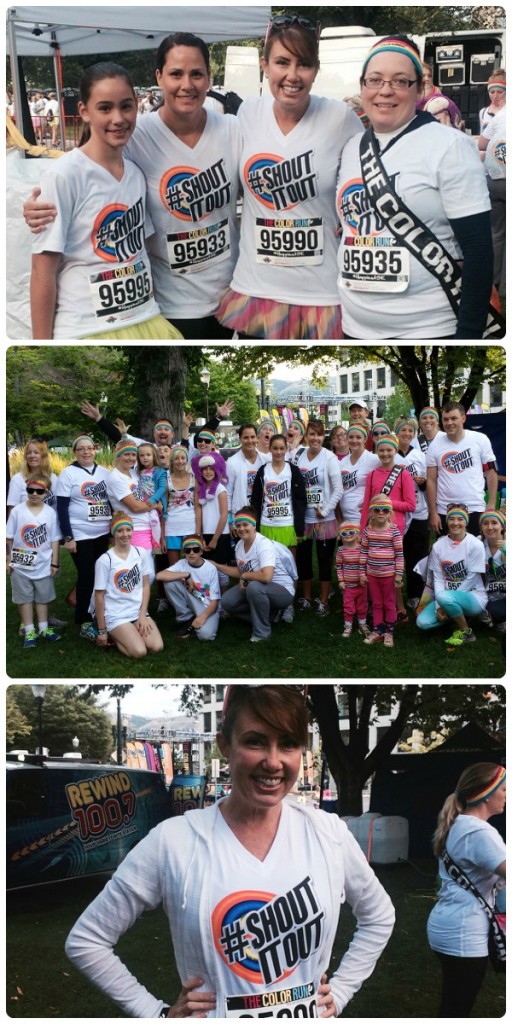 Ever since I took up running again this year, I've been looking forward to participating in my first 5K. Thanks to Shout®, I got the chance to accomplish my goal at "The Happiest 5K on the Planet" – I honestly couldn't think of a better race for a first time marathon runner. I had so much fun running through the colorful hues of pink, purple, blue and of course orange, with Team Shout® – and it really set the tone for the rest of this year. I was a happy, colorful rainbow when I got home and when my kids saw me, they immediately vowed that they are coming along with me next year!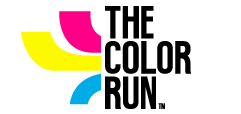 Our team shirts were nice and clean before the race and as we all stood front and center at the starting line and we couldn't wait to hit all the colorful stations up ahead. We were so excited that we didn't have a care in the world, not even about our nice, white outfits (uh oh!).
As it turned out, had a blast and I didn't worry about getting messy or dirty once. All I thought about all morning was what a great time I was having! Here's how we looked after the run: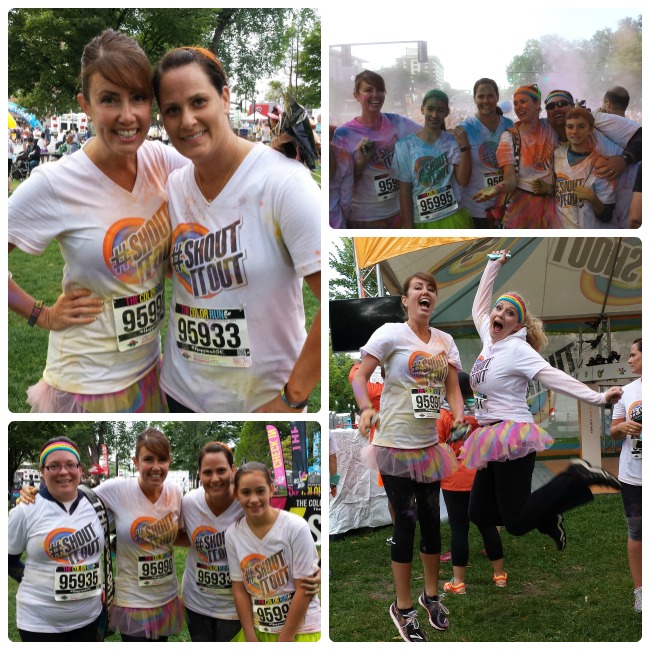 I had so much fun with new (and old) friends throughout the run and at the celebration after, yes there was an after-race party and Shout® brought us up on stage to announce the orange color throw!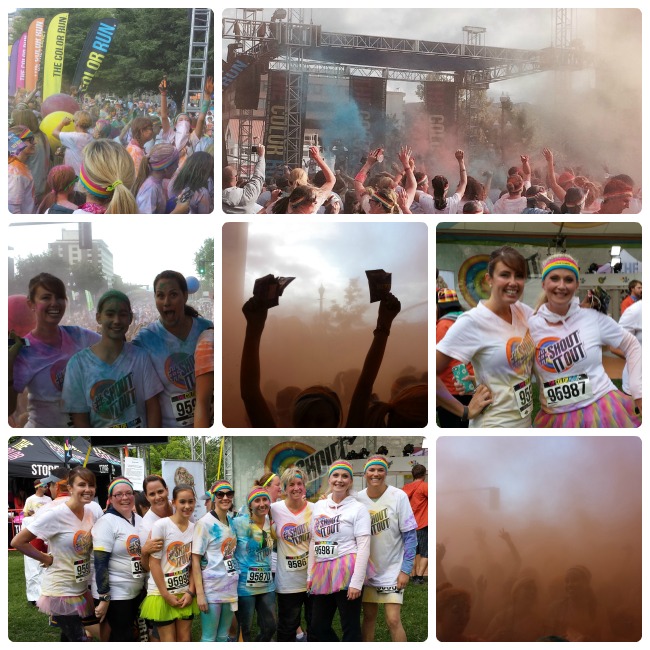 We also got to try out the Shout® 360 Color Cam, which caught us in mid-jump! Check out the video below:
After a day of running through bright colors and dancing around on-stage during the color throw, you would have never guessed that my previously messy clothes would end up looking like this: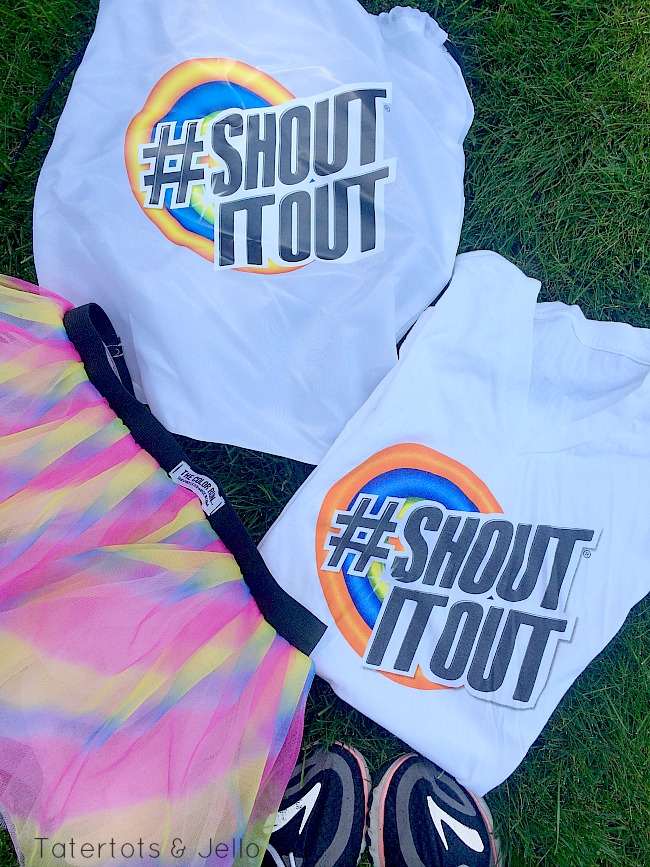 Thanks to Shout® my once colorfully tie-dyed shirt looks like a newbie (Stick around to win your very own Shout® prize pack – details below)! Even though the colorful hues are gone and the crisp white tee is back, it still reminds me of how much fun I had at The Color Run and how it fueled me to get out there and have some fun, without the worries!
* * * * *
Not everyone can go to The Color Run. So Shout has launched the Shout It Out Fun Finder to help you find some fun near you. It looks at your location and recommends fun activities — so get out and have some fun!

Plus, when you follow the Shout® mantra and live out loud (even if it's at home in your backyard), you could win a dream vacation to experience a Color Run in New Zealand. To enter, post a photo on Twitter or Instagram with the hashtag #ShoutItOut #enter. [Contest ends September 30, 2014.]
* * * * *
And now, the best part! Shout® is giving away a prize pack to one lucky TT&J reader, so that you can go out and have your own worry-free colorful day!

You could win a Shout® prize pack that includes:
Shout® Trigger, with stain-fighting ingredients and enzymes to quickly penetrate, break-up and remove tough stains. Safe for all colorfast washables and works in all water temperatures.
Shout® Color Catcher® sheets absorb and trap loose dyes in wash water, protecting clothes against color bleeds and helping preserve original colors. Sheets change color as they absorb loose dyes, and reduce the need for sorting laundry. Safe for all colorfast washables and works in all water temperatures.
Shout® Advanced Ultra Gel Brush combines powerful Shout®stain fighters in a thick gel formula with a convenient stain-lifting brush to penetrate and remove your toughest stain. The formula lets you treat stains now and wash up to a week later. Safe for all colorfast washables and works in all water temperatures.
Shout® Wipes can be used to remove stains on-the-go right when they happen and are easily disposable—just throw the used cloth away. They're perfect for clothing, carpet and auto interiors, and are safe for all colorfast washables.
To enter, simply leave a comment on this post: How do you make time for fun?
xoxo

This post sponsored by Shout. See my disclosures.