I don't often write posts focusing on non-decor topics. But when Special K approached me to let me know about their "Fight Fat Talk" campaign, the message resonated with me. Special K says that 93 percent of women "Fat Talk," which is making negative comments about your own body (or others').

Not only as a woman, but as a mom of three daughters, I have seen firsthand how this kind of negative talk can hurt. Instead, I want to encourage a positive self image.
Check out this 2-minute video. It's really great. Special K's pretend pop-up shop called "SHHHH" made the unsuspecting shoppers aware of how much this talk can hurt:
I think this is such an important topic. This type of negativity can do so much damage at any age, and especially in young girls.
As I've gotten older it's been harder and harder to maintain my weight and I have noticed that I was saying these negative things to myself. And this "fat talk" really does hurt self-esteem. A new Special K study says that all of the fat talk can make it harder to keep a healthy weight. I believe that it's important to spread positivity in the world, not negativity.
I know I am way harder on myself than I am on other people; I think everyone is their our own worst critics. But we can and should stop this kind of talk.
I think this negative self-talk is one of the biggest challenges facing young girls. Watching my girls go through middle school, I've seen a lot of negative things around body image. Anything we can do to address this is a good thing.
I had a discussion with my two teenage daughters about this because I think it's so important. My younger teenage daughter had already watched the YouTube video without me telling her to. One of her friends had pointed it out to her, which I thought was awesome.
Here are some ideas they shared with me on how to #FightFatTalk in their lives:
If your friends start putting themselves down about something, Hannah turns it around to a positive thing and starts talking about all of that person's great points instead to help them feel better about themselves.
If you find yourself surrounded by others who are putting themselves or other girls/women down, Hannah suggests that you may want to hang out with a more positive group.
If you're having a bad day — feeling like your butt looks big or something — but she suggests you think about your good qualities. Perhaps your hair looks great that day, or you have a pretty smile. Don't focus on the one you're feeling bad about.
Hayley suggests that we
Not compare yourself to models on TV or magazines — since they're often Photoshopped .
Act confident and the real confidence will follow.
Feel good about ourselves and be confident in our skin; be grateful that we have healthy bodies.
Turn negative comments from your friends into positive ones.
I was blown away by how often women put themselves down. These stats were shocking to me: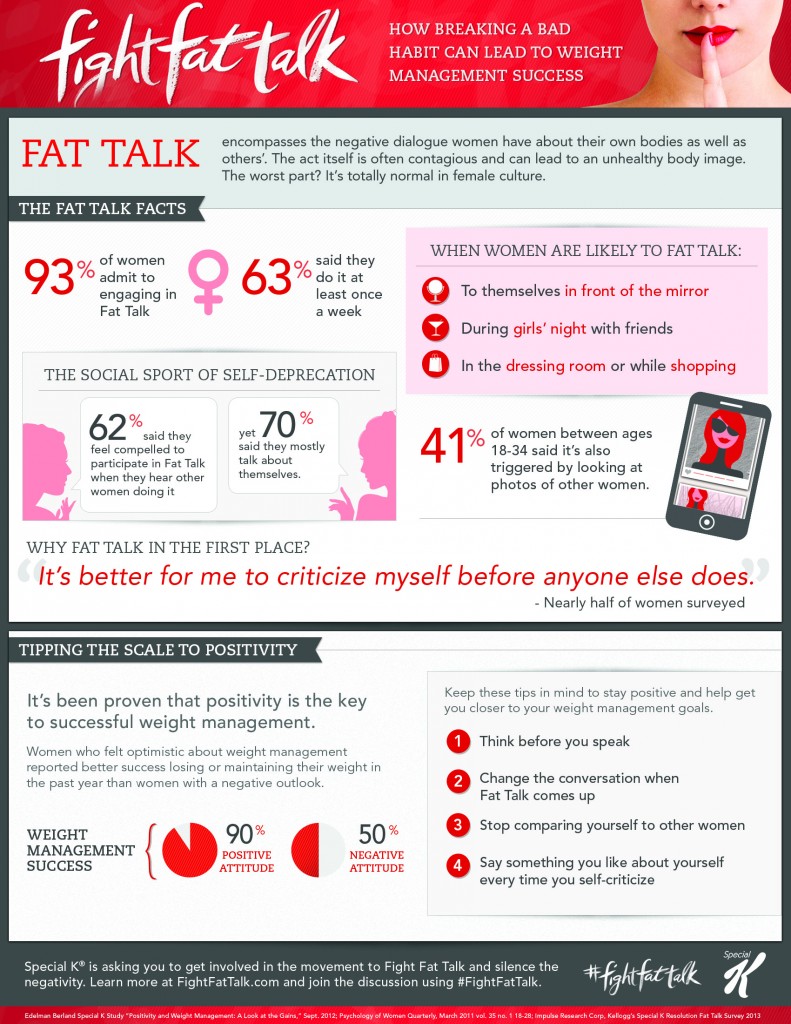 Share your ideas on how we can all Fight Fat Talk during the holidays (and beyond)!
I would love to hear your thoughts!
xoxo

This post was sponsored by Special K. The opinions are all mine. See my disclosures.