I am all about easy. And fast. And yummy.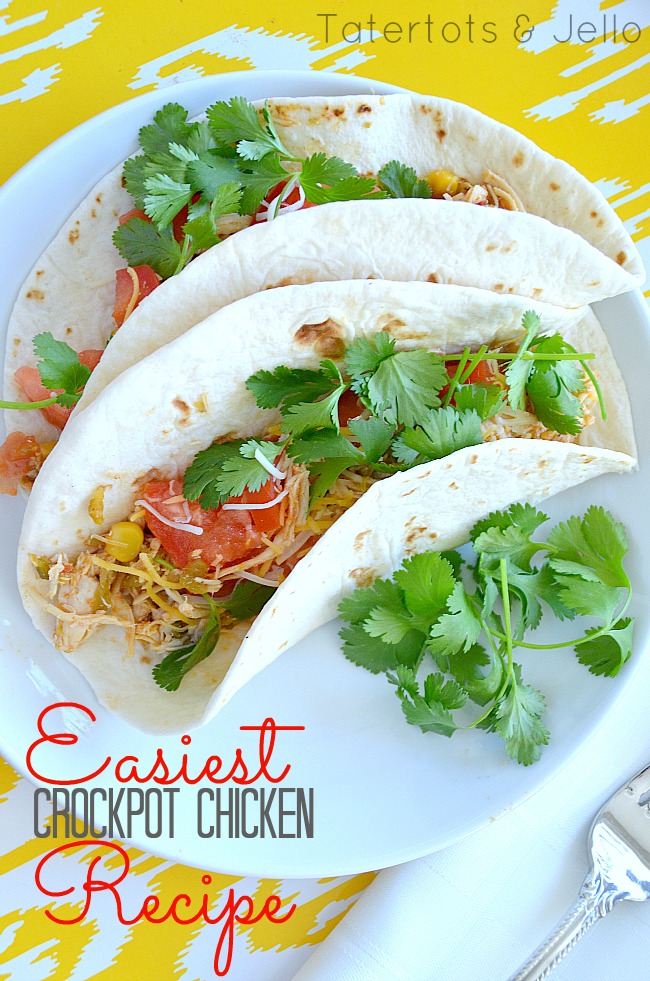 With four kids, a husband who travels during the week and a million projects happening all of the time, my crock pot is my best friend.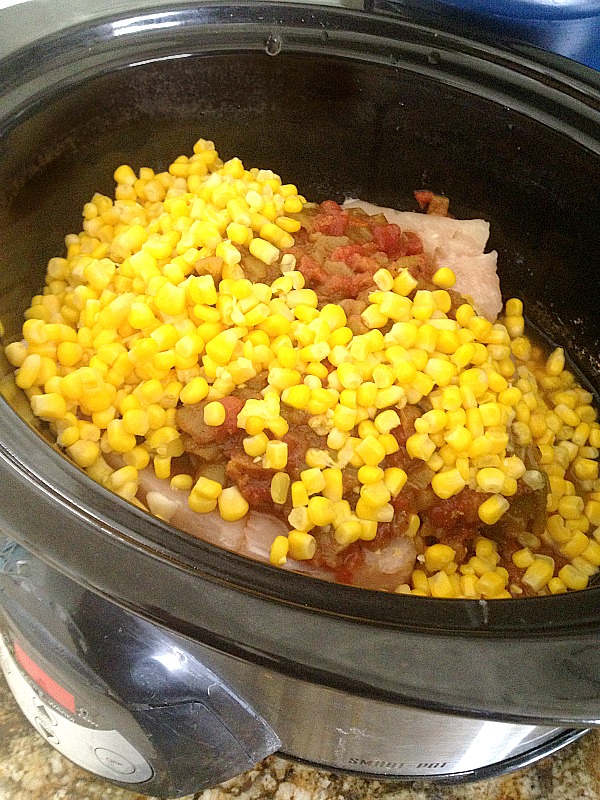 We've been experimenting with chicken recipes. The easier, the better.
So here is the easiest crockpot recipe we've created. It's my go-to recipe when I need something quick. I almost always have the ingredients.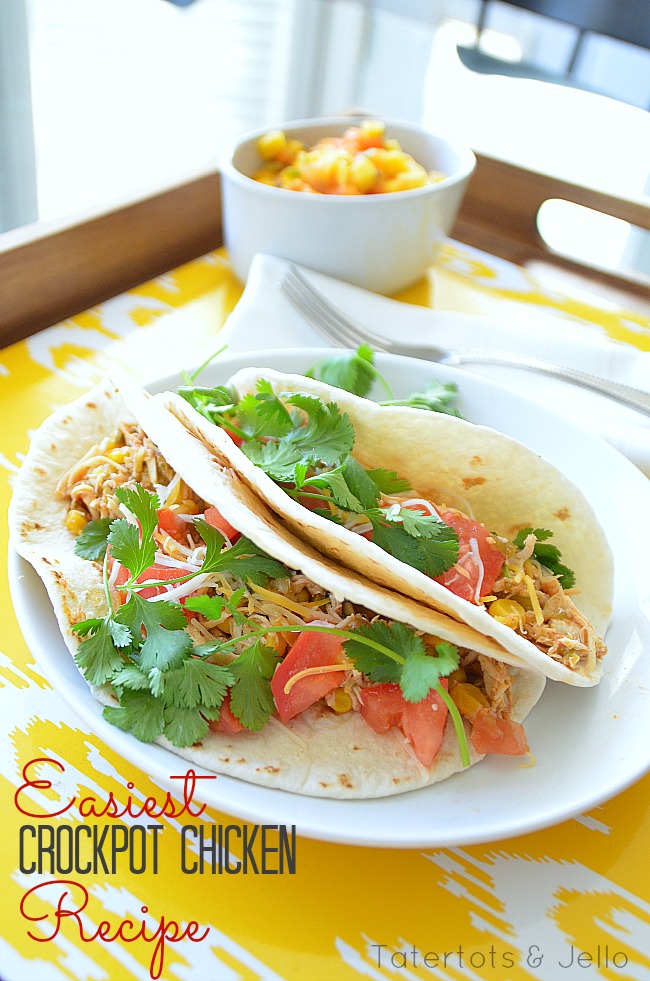 And it's something that can be used in so many different ways. You can use the chicken for delicious tacos, you can use it to make burrito bowls, you can put it on top of salad for a yummy Cafe-Rio-ish meal, add it to spaghetti for a heartier meal with a kick, you can use it to make enchiladas or burritos too. So many different meal ideas.
Our favoite way to make it is for chicken tacos. It's something every person in our family will eat – even my child who hates Mexican food.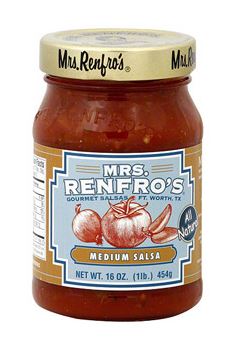 So here it is.
4 chicken breasts (frozen or fresh)
1 can of salsa (my favorite is Mrs. Renfro's) 16 oz.
1 can of sweet corn (drained)
2tsp. Mrs. Dash Fiesta Lime Seasoning
4 limes — 2 limes, freshly squeezed and 2 more for garnishing
1 can Green Chilis (4.5 ounces)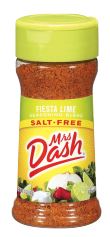 Place chicken in the crock pot on high, combine the other ingredients and pour over the chicken.
Cook on high 6-7 hours if the chicken breasts are frozen, 4-5 hours if the chicken breasts are fresh.
About an hour before serving, shred the chicken with two forks in the crockpot.
For chicken tacos, serve with warm tortillas, fresh chopped tomatoes, fresh cilantro, shredded cheese, sour cream and salsa.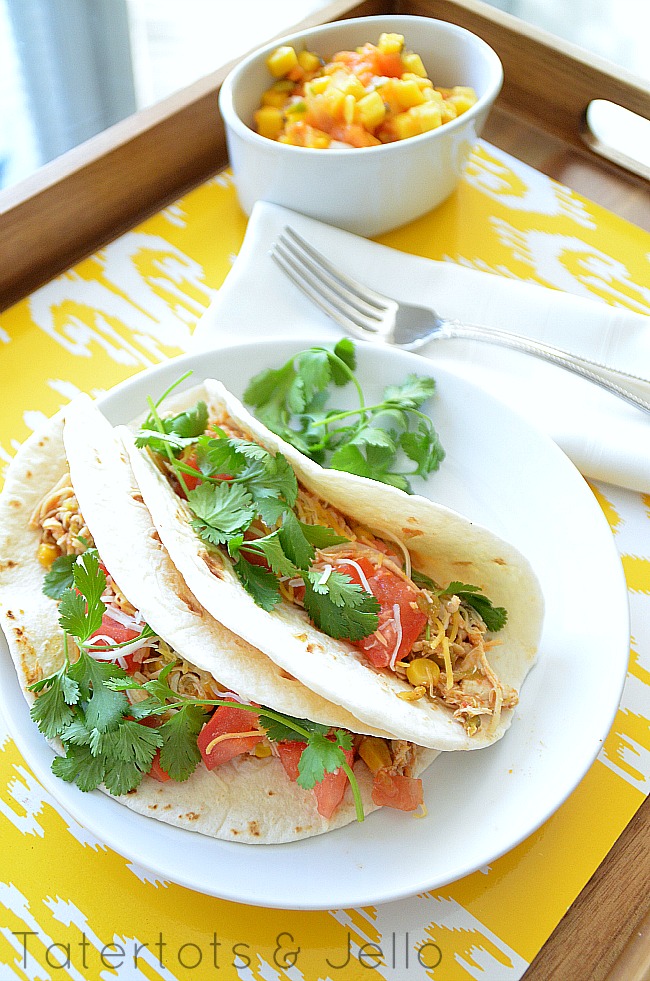 Yum!
Plus, it's even better the next day, warmed up. Yay!!
I really like the Mrs. Dash Fiesta Lime Seasoning – it has no salt or sodium. I also use it when I grill corn. I just put the cob in foil, add some olive oil, the Mrs. Dash seasoning and wrap it up and grill it. It's very good. Plus, it's great on popcorn too.
What is YOUR favorite easy meal to prepare??
Let us know in the comments. And if you have blogged about it, leave us a link – so we can come over and see YOUR recipe!!
Have a Delicious Day!
xoxo

PS — I am over at Riley Blake today – sharing some festive Patriotic Pillows!