DIY Concrete Candle Holder. Use quick-set concrete mix to create a tea light candle holder in whatever size and shape you want for your home.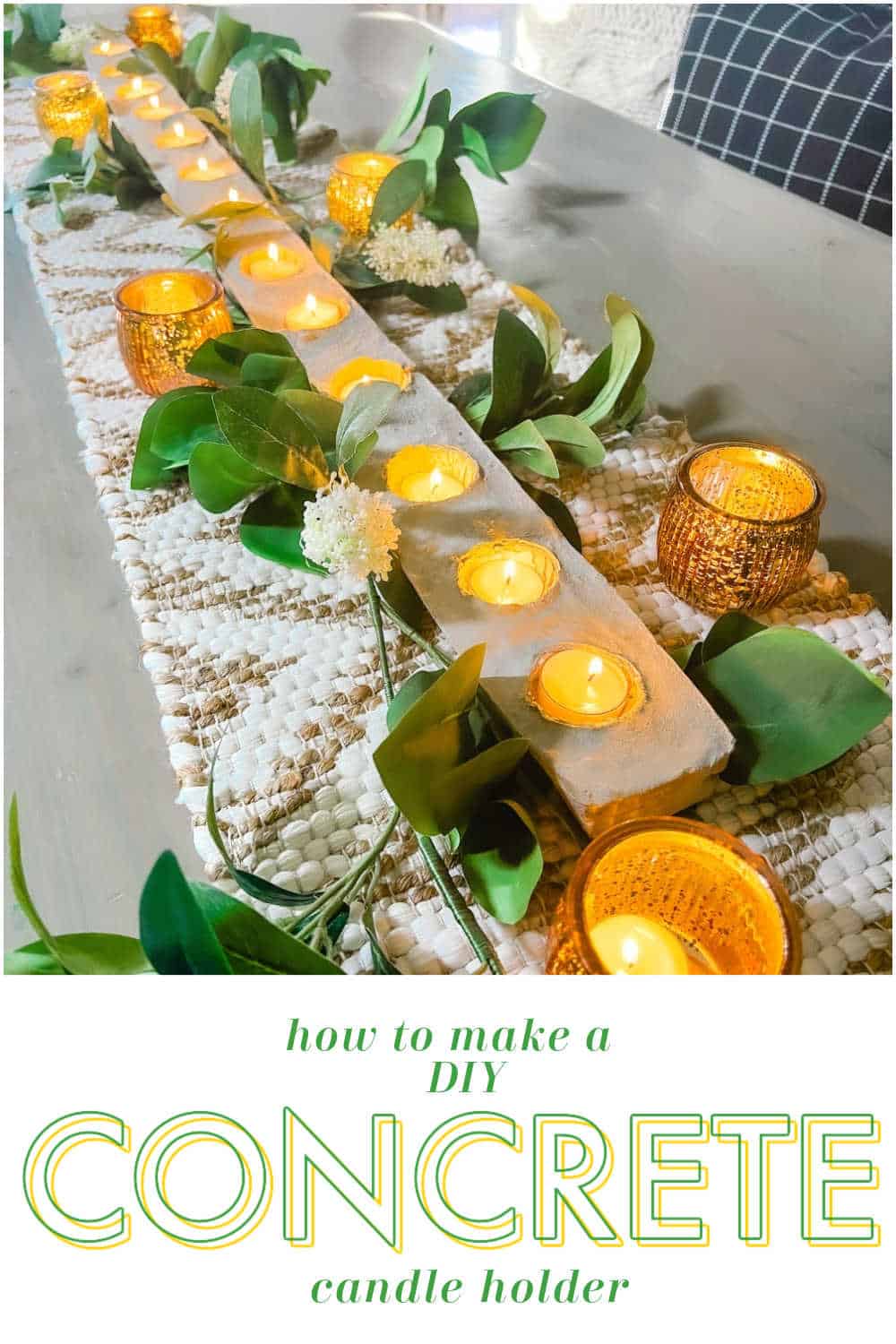 DIY Concrete Candle Holder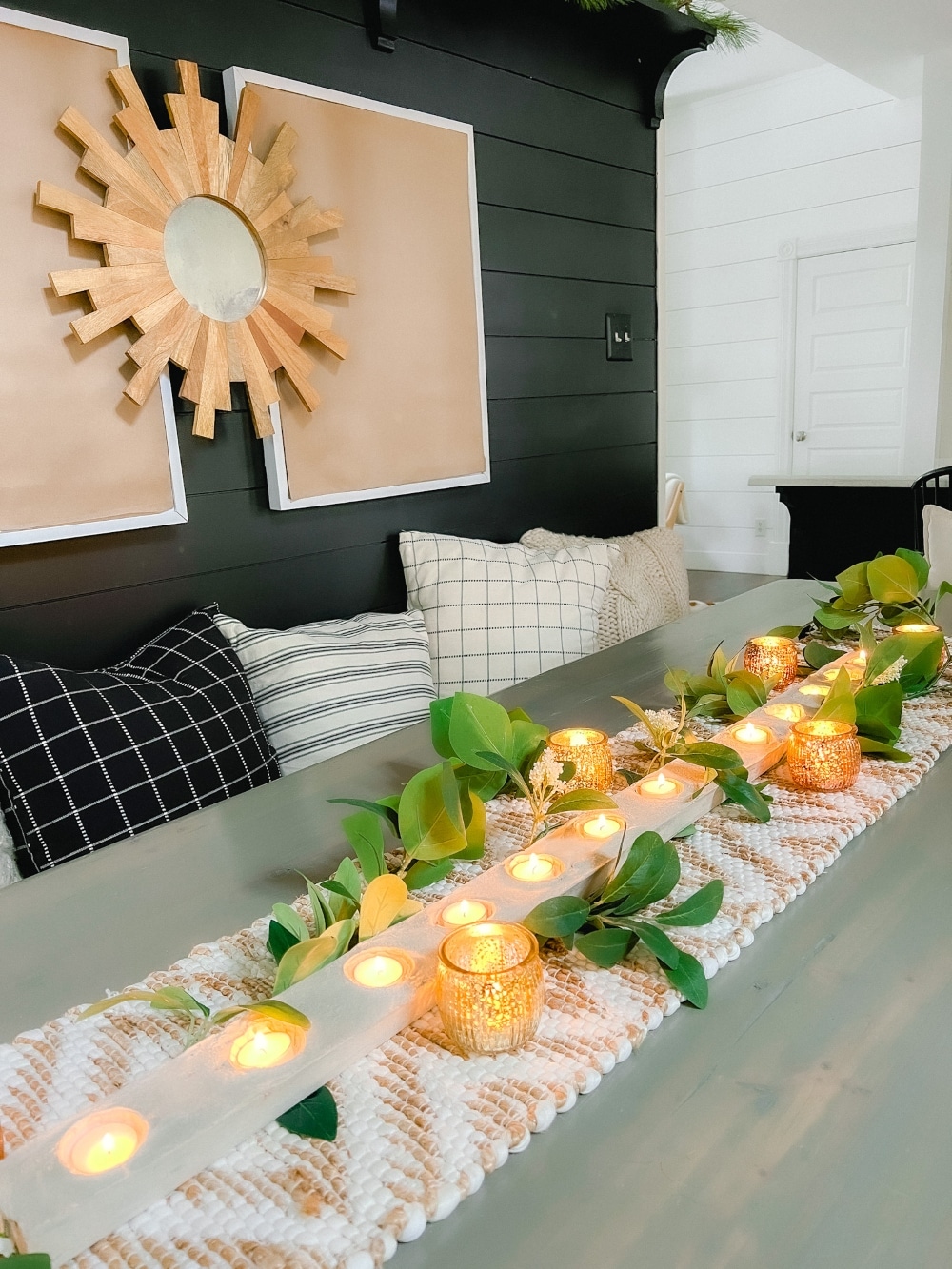 There's something so warm and cozy about the glow of candles during the Winter. I love lighting candles as we eat dinner. It feels so special. I have wanted to create a concrete candle holder for a long time. This tutorial shows you how to do it using any size container you want.
5 Winter DIY Ideas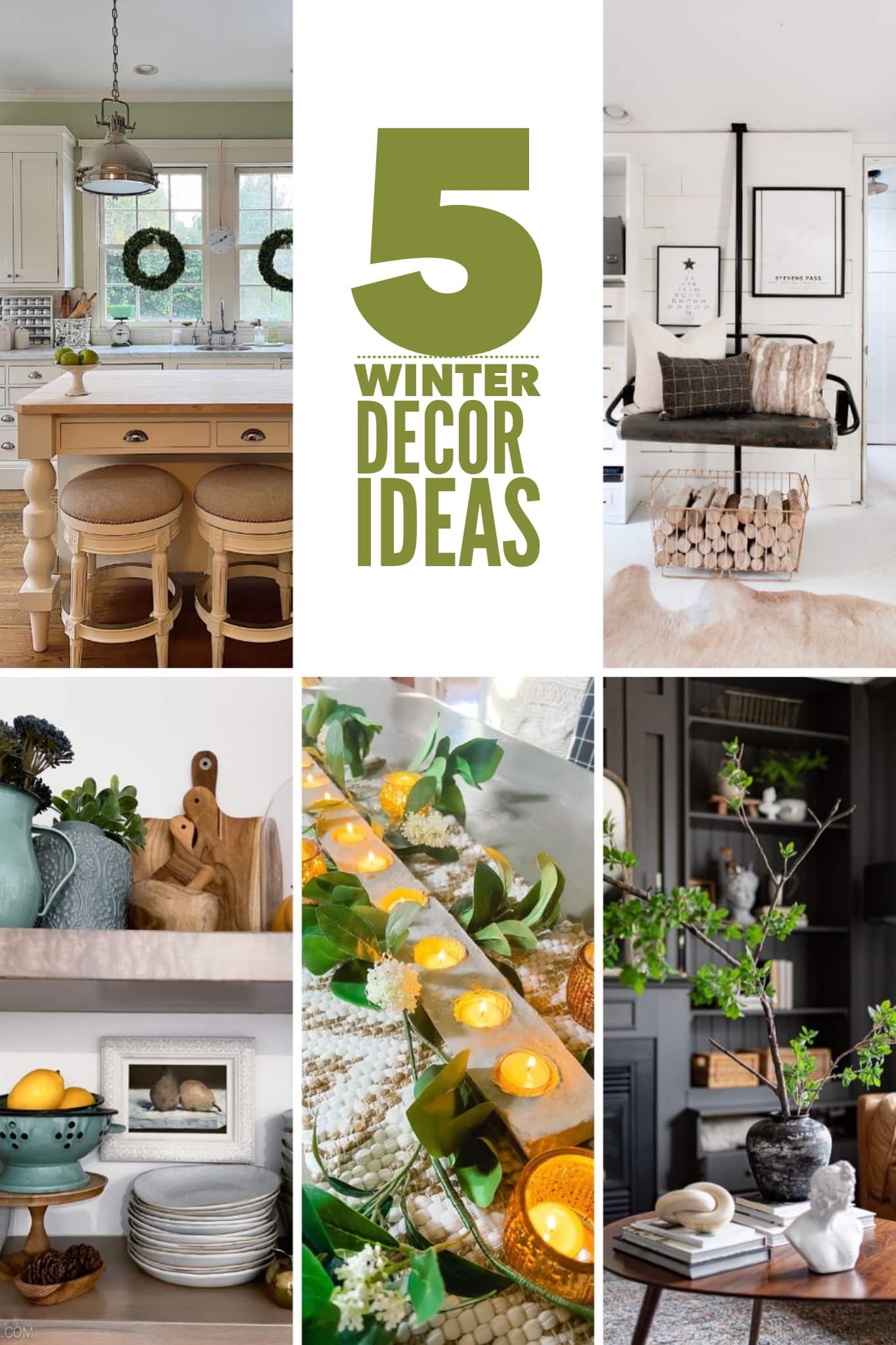 I am sharing my DIY concrete candle holder and I am joining some friends who are also share wonderful winter ideas! Be sure to scroll down and click on the links to see their beautiful winter ideas!
Concrete Candle Holders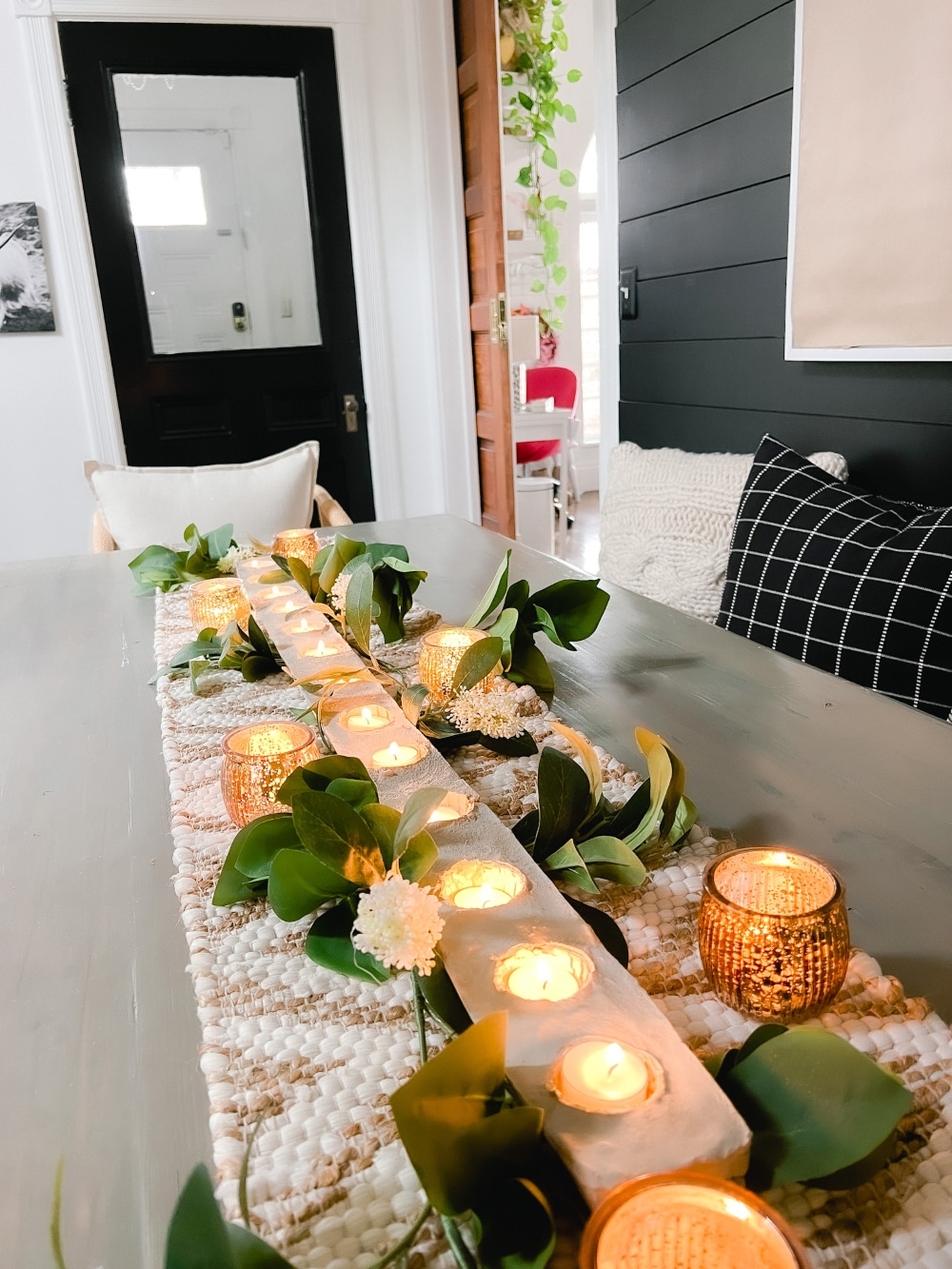 As I said, I've been wanting to try my hand at making a concrete candle holder for a long time! Here are some concrete candle holder tutorials that I inspired my project: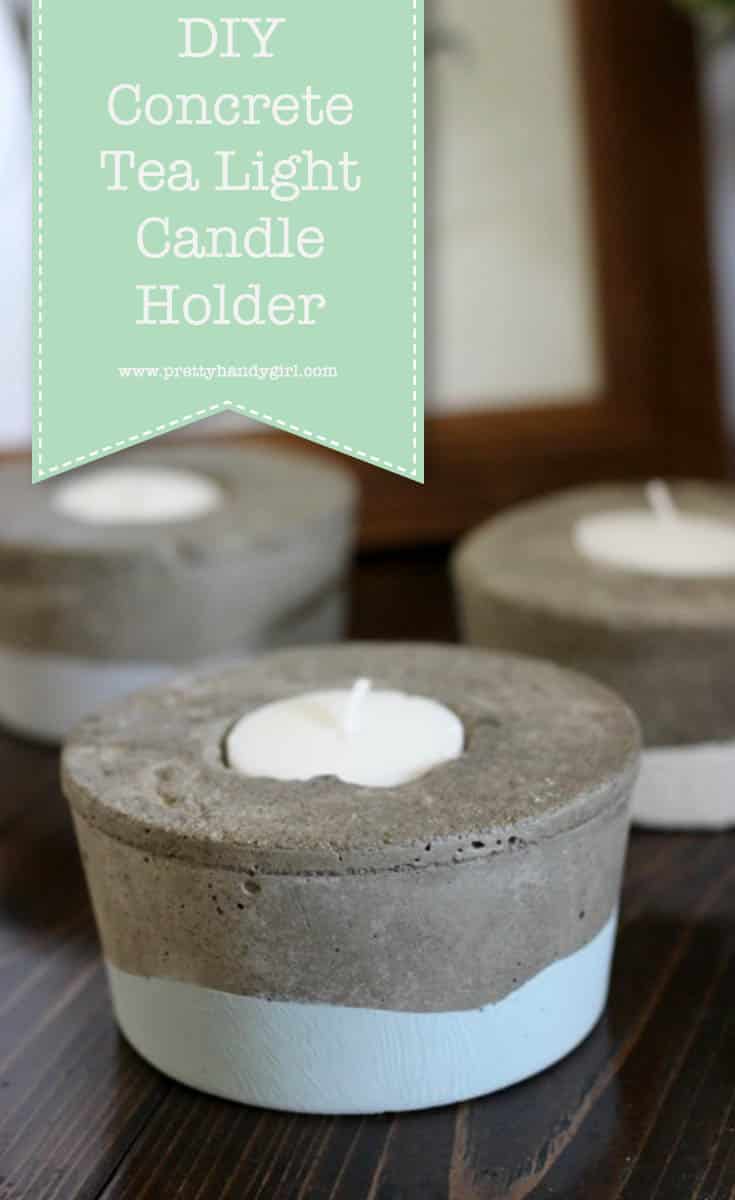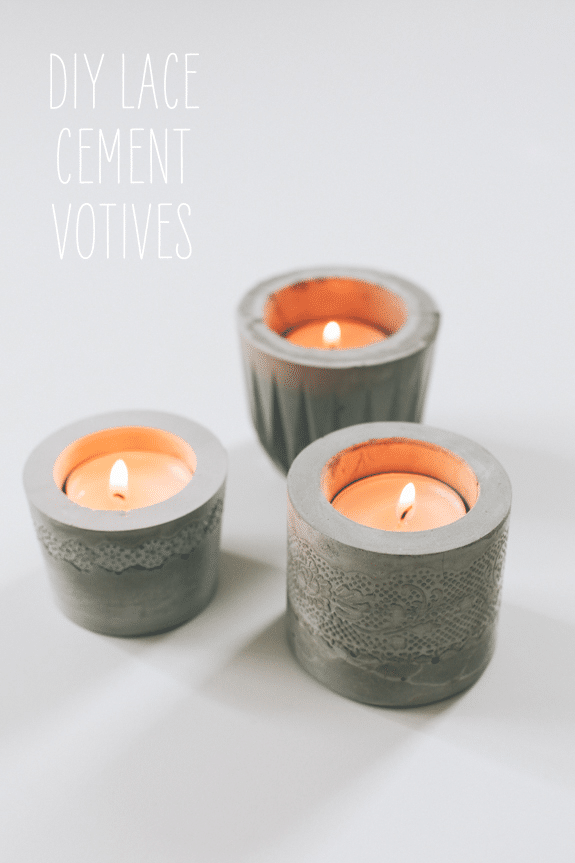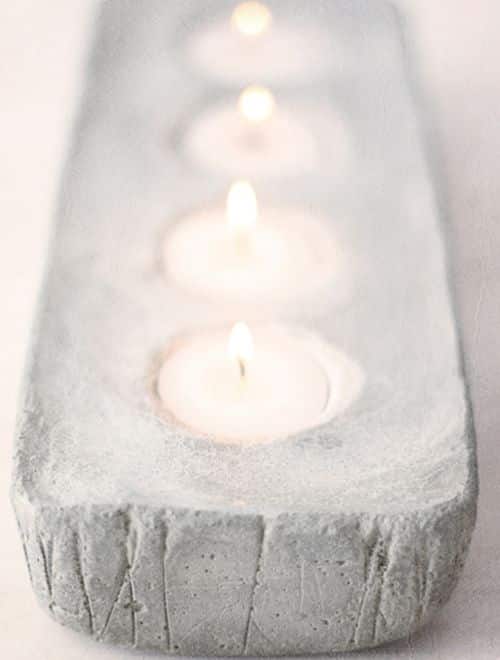 How to Make a Long Rectangular Concrete Votive Holder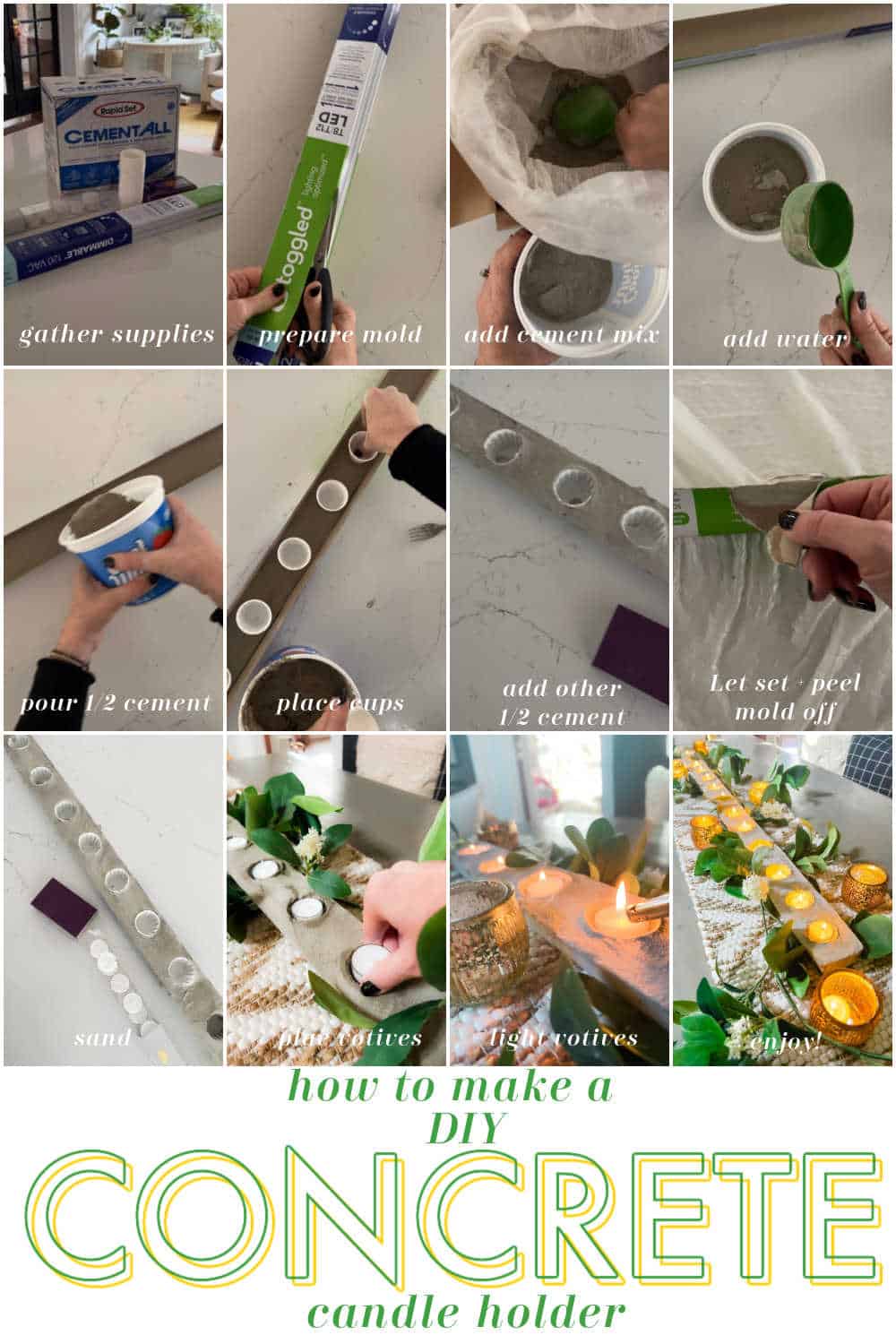 I have seen a lot of tutorials showing how to make round concrete candles using plastic containers, but I wanted to make a really long concrete candle holder to span the length of our dining room table. I spent awhile trying to figure out how to do it. The rectangular concrete holder above was made using a bread tin and lining it with plastic wrap. I searched for a long bread pan or planter that was the shape I was looking for. I couldn't find anything that was the right size.
Use a Cardboard Box as a Mold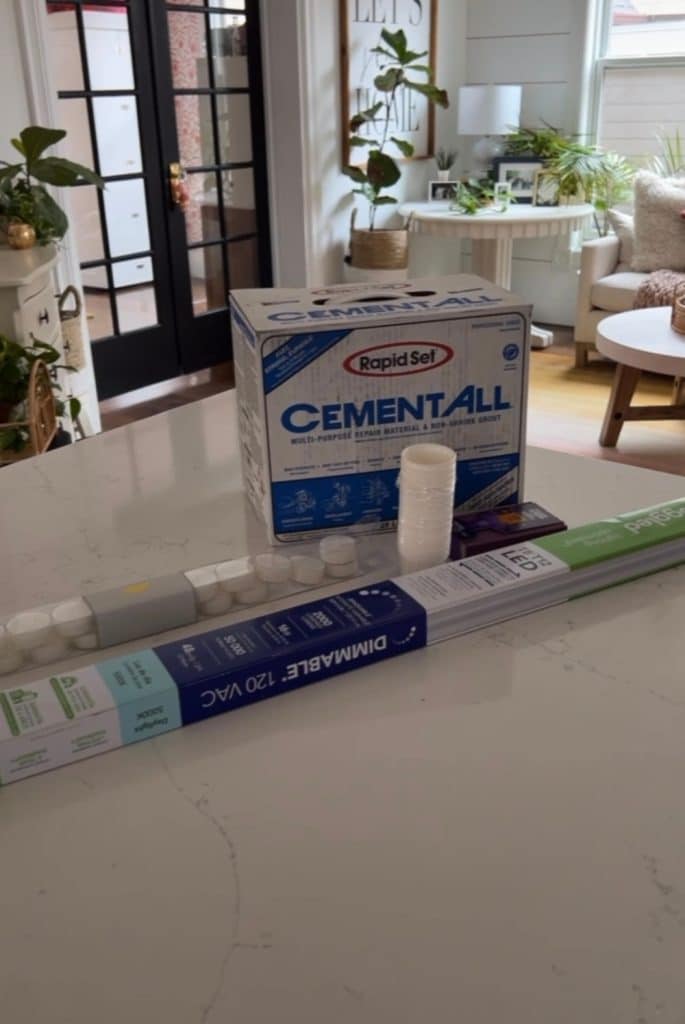 I found really long fluorescent lights at the hardware store that were the perfect shape. Luckily my husband's work uses these lights and they had some empty boxes. I taped the ends of the boxes with packing tape to patch the holes there. Then I cut the box's top open and it was a great mold shape.
What Kind of Cement Do You Use to Make Concrete Candle Holders?
I used quick-set cement to create this candle holder. You can buy a pretty small bag for about $15 and you can make two of these candle holders with the cement. The cement bag directions are 1 part water to 4 parts cement mix. I found that the mixture was too dry to pour into the mold, so I experimented with 1 part water to 3 parts cement mix and it was the perfect consistency and it sets up hard. The nice thing about quick-set cement is that it sets up much quicker than regular cement mix. Instead of having to wait 24 hours, it sets up in 1 hour. I did wait about 5 hours to take the mold off just to be safe. And I can say that it is really hard and strong!
Use Paper Cups to Make the Candle Holes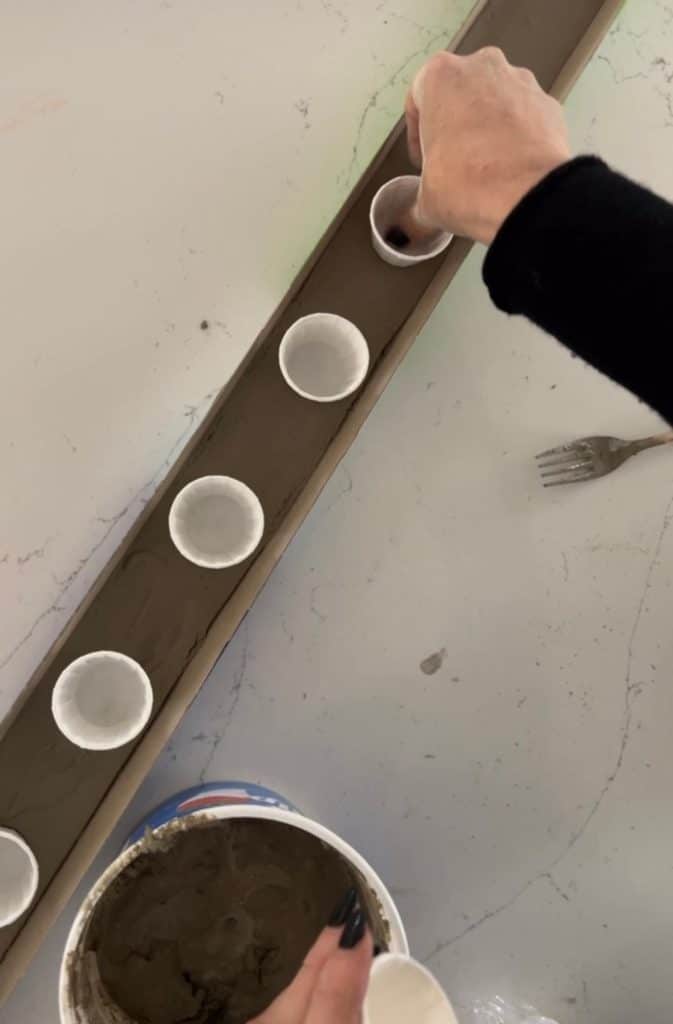 Small paper cups to make the indentations for the candles. I bought them at the grocery store. I thought I would need to weigh them down but the cement was sticky enough that they stayed down just find when I pressed them into the cement.
Pour the Mold Halfway with Cement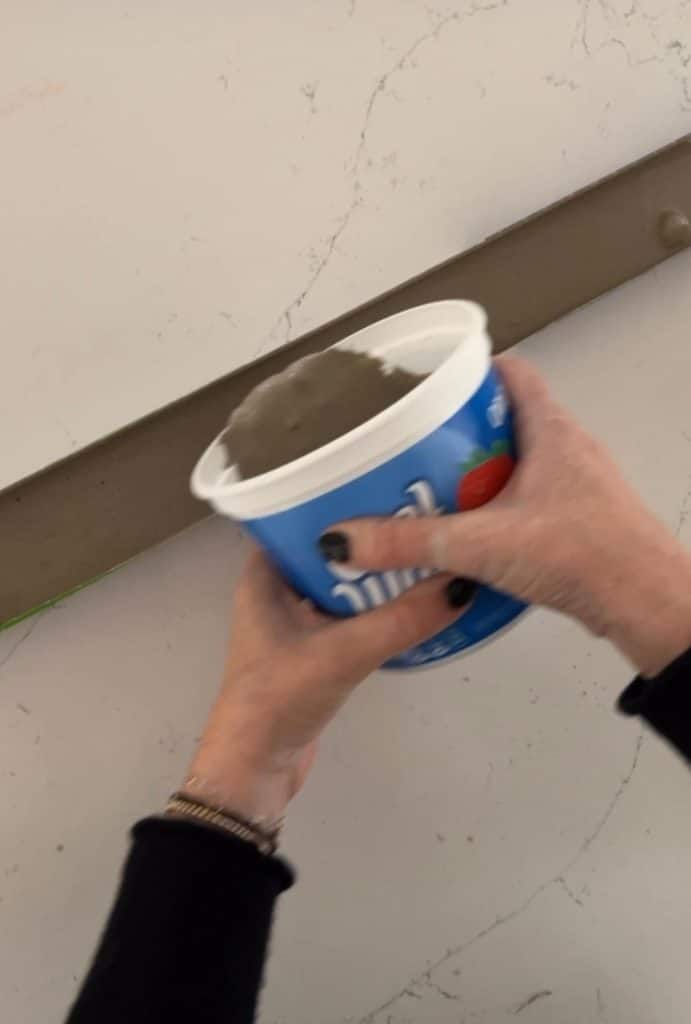 I made up 4 cups of cement and poured that into the box which filled it up half way. Then I placed the cups on top of that cement and pressed them down into the cement. Don't press all the way down to the bottom of the box because you want there to be a layer of cement under the cup to hold the shape together.
Pour More Cement to the Top Edge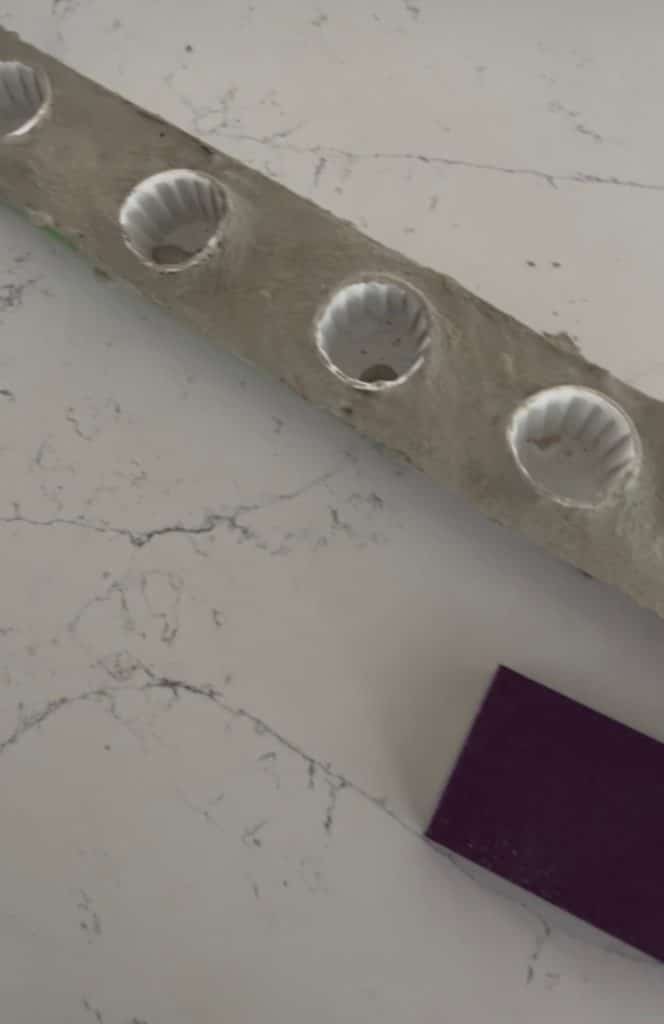 Then I mixed up another batch of cement and poured that around the cups, smoothing the cement around the cups to make it even with the top edge of the box.
Prop the Box with Boards
Since the cement mixture is pretty heavy, it will push the shape of the cardboard box. I propped the box on both lengths with boards to keep the straight lines of the box.
Remove the Cardboard Mold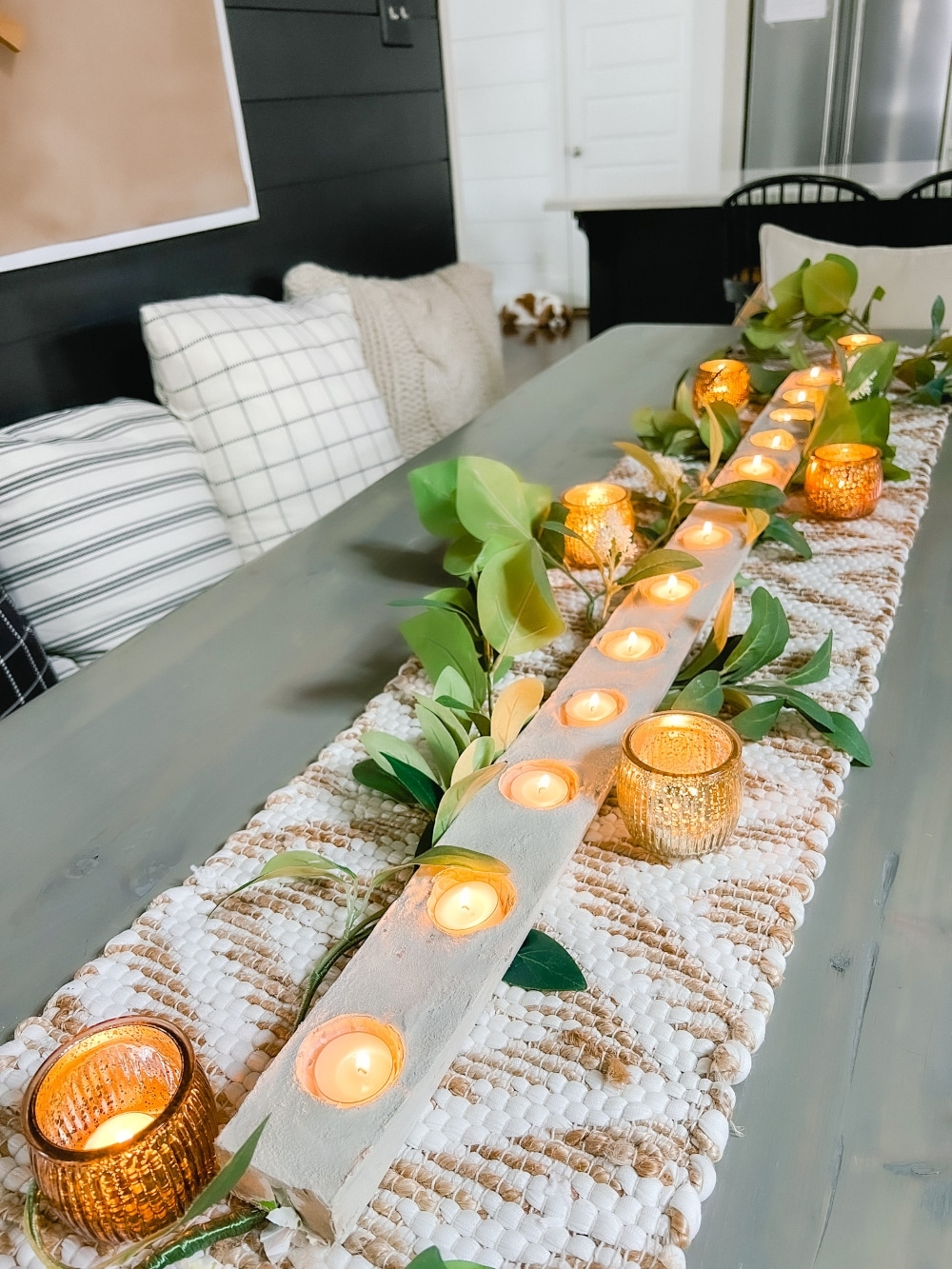 After the cement was set I removed the cardboard. The downside to using a cheap cardboard box as a mold is that the cement sticks to the cardboard box. So I had to wet the box and scape it off. This took about an hour. If you use a plastic container you can cut the plastic away and it will be much easier. I also scrubbed the paper cups out of the indentations. If you use plastic cups then it will also be easier to cut them out of the concrete. I couldn't find plastic cups that were small enough to fit inside of the box I was using and still have an edge of concrete on the sides. You want to have cups that are small enough that conrete can be poured around them to make your candle holder strong and to retain the shape.
Sand the Concrete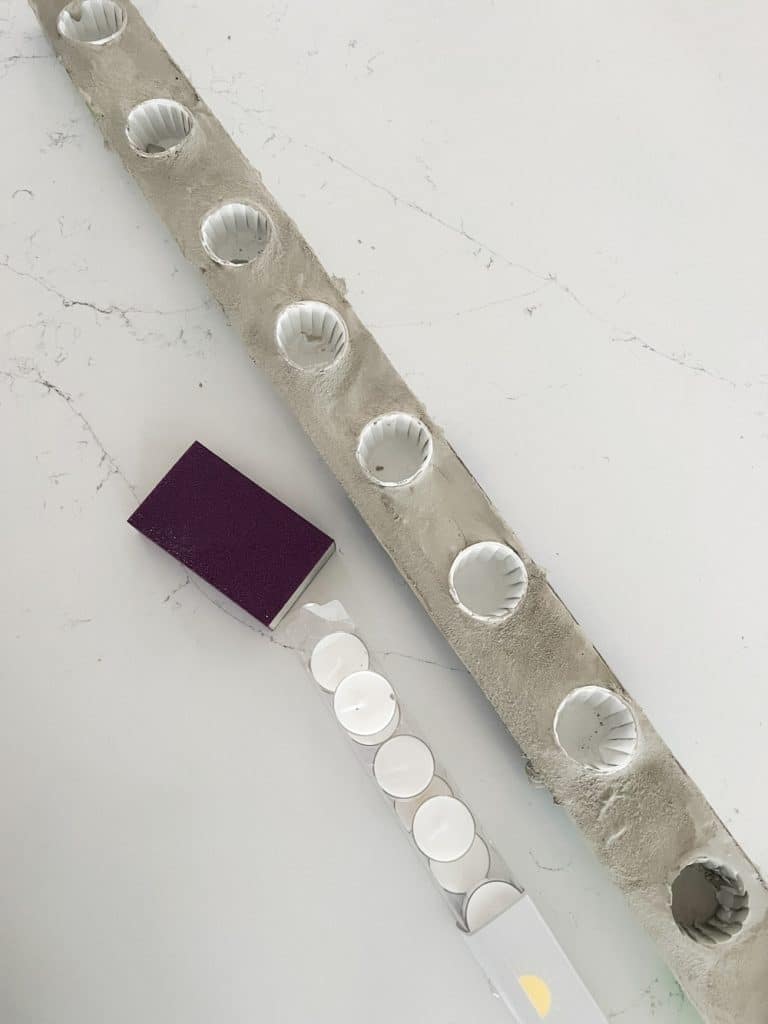 You can sand the concrete to make it as smooth as you want. I kind of like the rough look of the concrete so I just sanded it a little.
Add Votive and Enjoy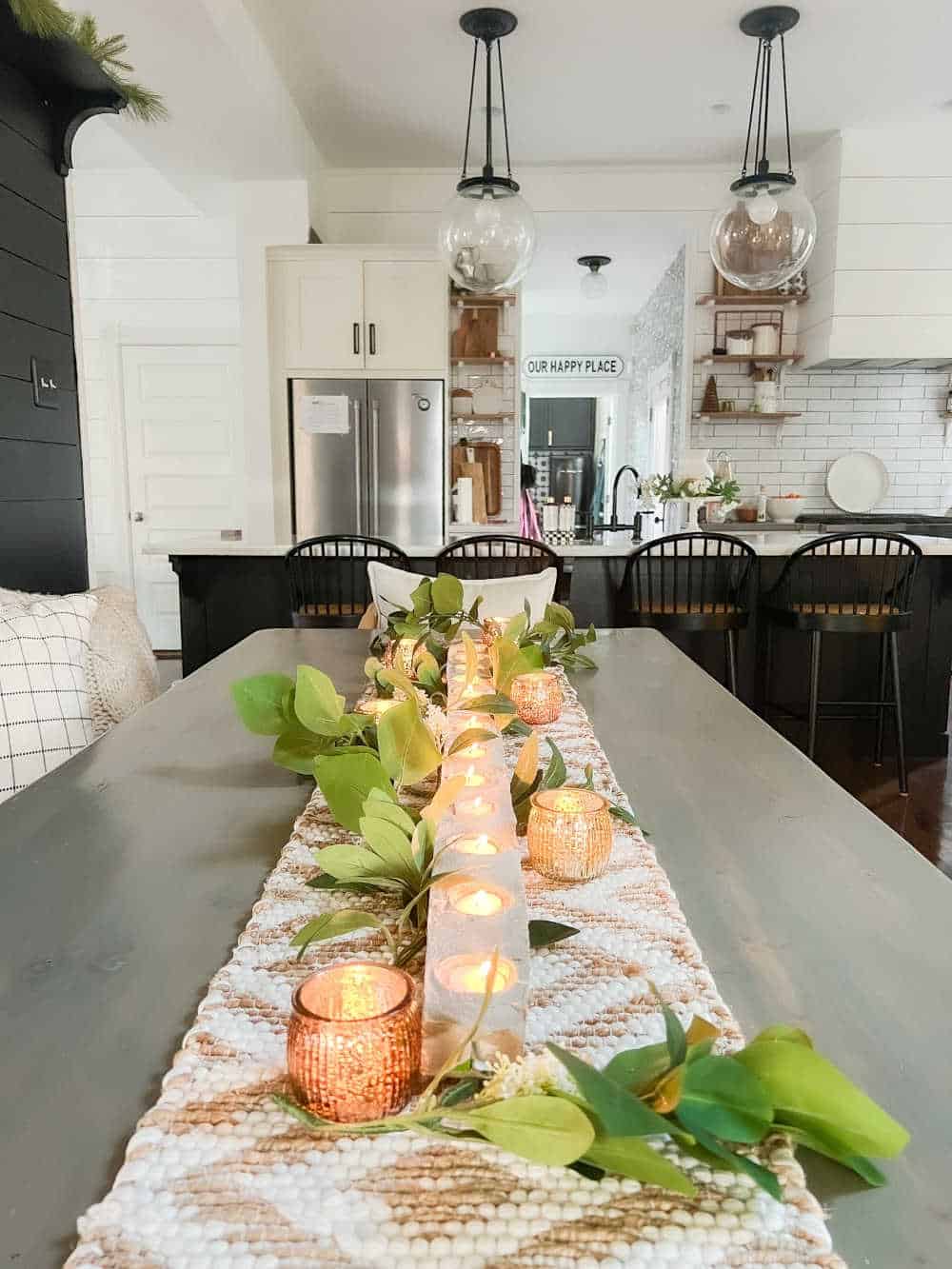 It was so satisfying adding the votive candles to the candle holder that I made. I love the way it fits our table and the candlelight is so cozy, especially in the winter!
5 Winter Decor Ideas
5 Winter Decorating Ideas You Will Love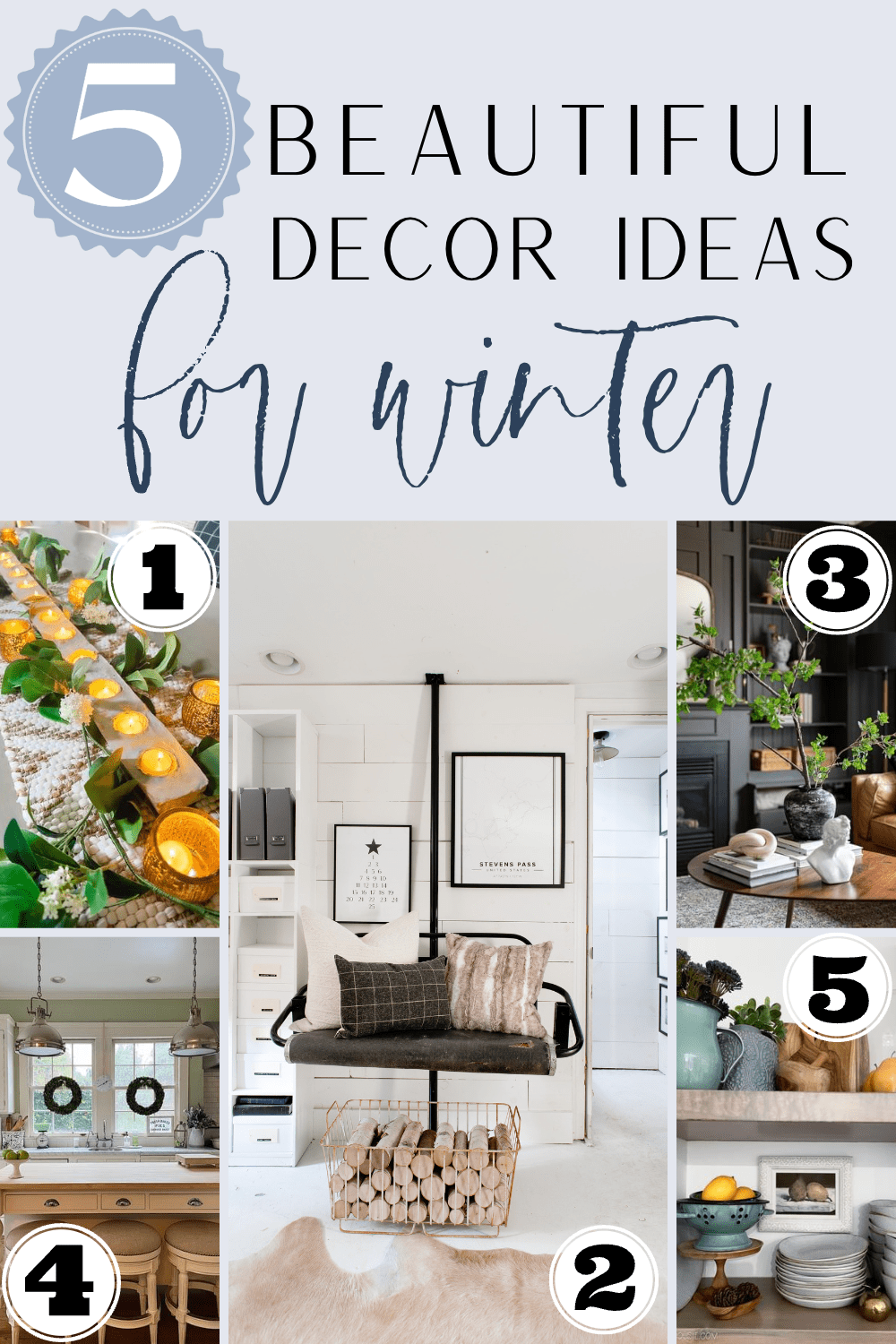 More Cozy Winter Ideas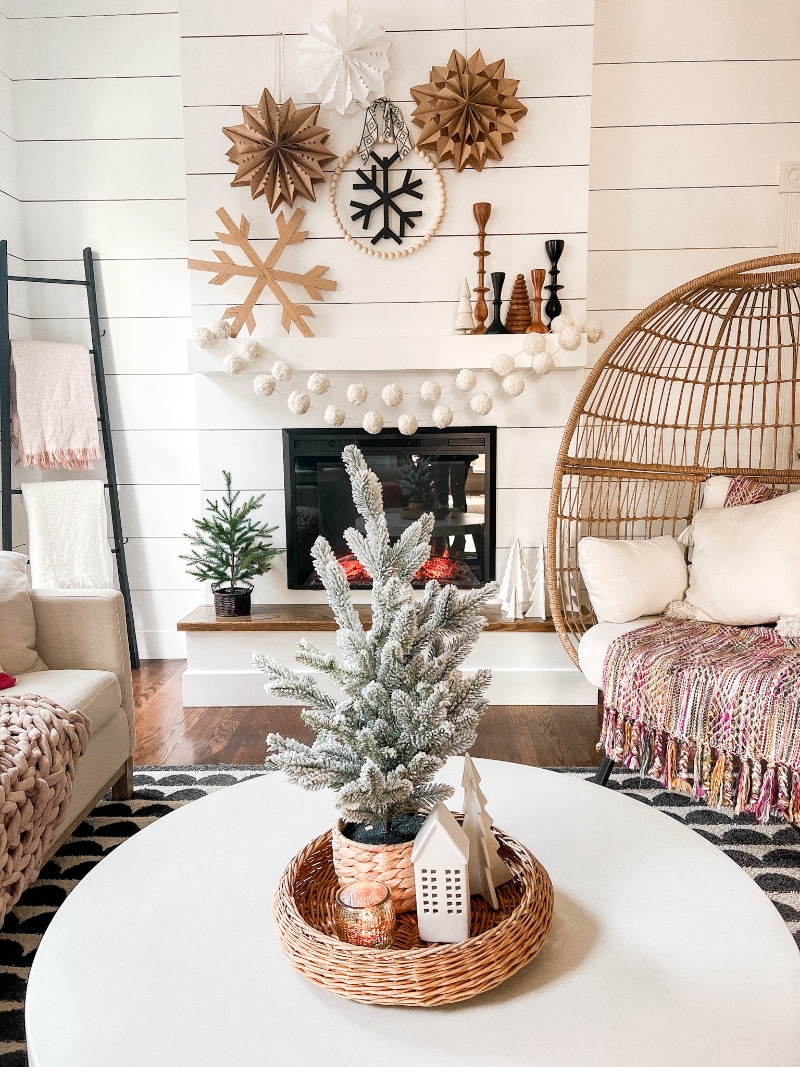 Cozy Winter Decorating Ideas. Easy DIY ideas and decorating ideas to make your home super warm and cozy this winter!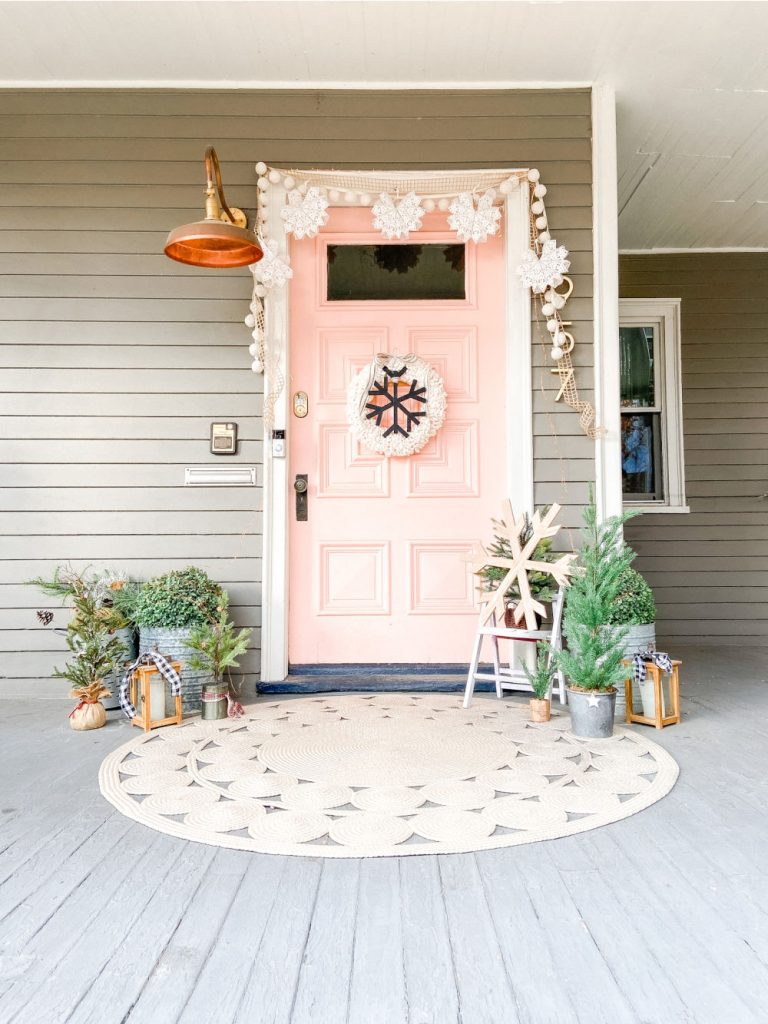 Snowflake Winter Wreath – Three Ways! I took my favorite wood DIY snowflake and showed how to use it to create THREE easy winter wreaths!
Have a Cozy Day!
xoxo