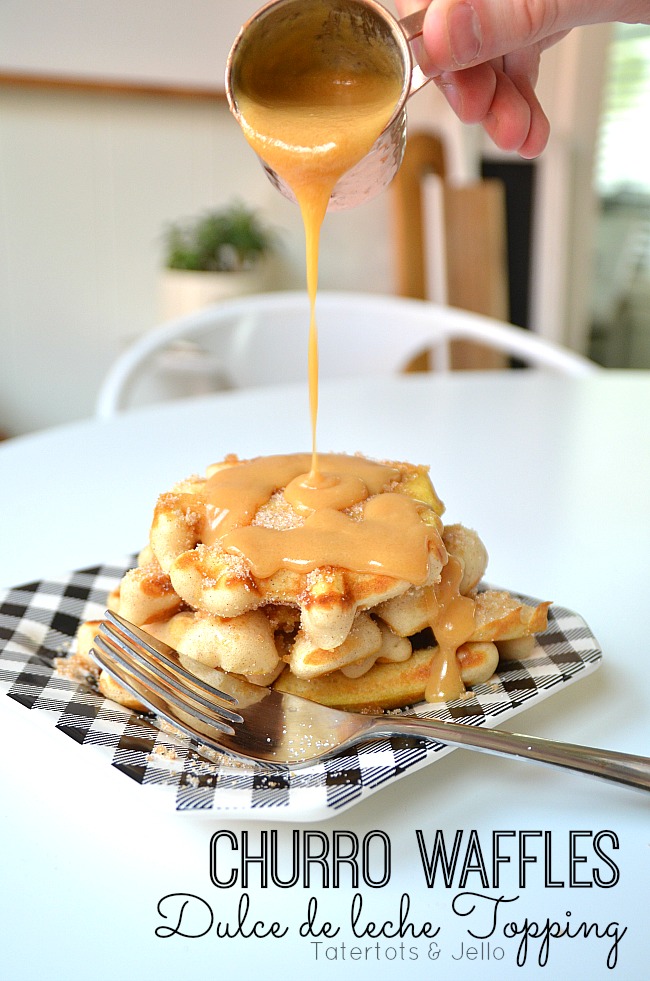 Churro Waffles with Dulce de leche Topping. It's Waffle Week!! We are celebrating all week long with some delicious and surprisingly yummy recipes in the waffle maker. PLUS, a fun giveaway!! Find out more about the giveaway at the end of the post!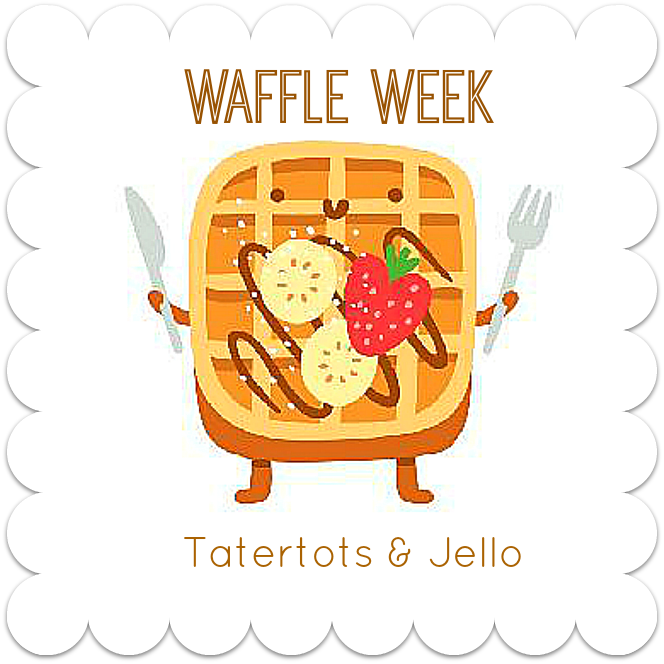 We love waffles at our house. And with the kids home for the summer, we thought it would be fun to experiment with some different ways to make waffles. It turns out that you can make almost anything yummier by putting it inside your waffle maker LOL. This recipe is a contender for our favorite waffle recipe – Churro Waffles with Dulce de leche topping. YUM!!! What screams summer more than churros at the fair? We just had to try making Churro Waffles. And to make them even better – we made a buttery Dulce de leche topping. It is an amazing brunch dish OR the most amazing dessert – you can add ice cream and top it with the Dulce de leche topping and be in heaven!!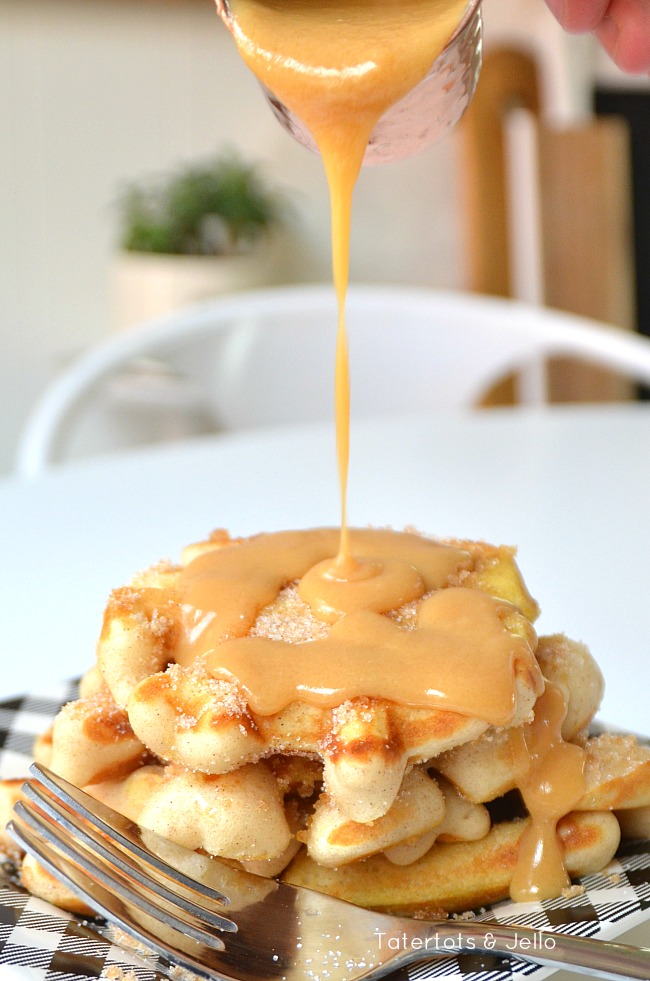 Dulce de leche is a rich and decadent sauce or syrup, similar in flavor to caramel. Unlike caramel, however, which is made by heating sugar, dulce de leche is prepared by heating sweetened condensed milk or evaporated milk. Dulce de leche is especially common in the desserts of various South American countries, including Argentina and Uruguay. It's traditionally made by simmering a pot of milk and sugar, stirring as you go, for hours and hours. This is an easier way to make this sauce. It only takes a fraction of the time.

Here is the recipe for Churro Waffles with Dulce de leche Topping.
Use a basic waffle mix to make this waffle super fast.
Churro Waffles with Dulce de leche Topping
Recipe Type: Breakfast
Cuisine: American
Author:
Prep time:
Cook time:
Total time:
Serves: 8
Create the ultimate summer food with churro waffles and top them with delicious dulce de leche sauce. Brunch or dessert recipe.
Ingredients
Waffle Mix – make according to directions
1/2 cup butter, melted
1/2 cup white sugar
1/2 cup brown sugar
2 Tbs. cinnamon
Dulce de leche Topping:
1 cup evaporated milk
1/3 cup butter
1/2 cup brown sugar
Instructions
Before making waffles, start the Dulce de leche sauce. It takes about 30 minutes to be done.
Combine evaporated milk, brown sugar and butter in a heavy saucepan.
Cook over very low heat for about 30 minutes, stirring constantly. It will bubble and the longer it bubbles, the thicker it will become. It will be done when the mixture resembles caramel sauce.
Make waffle mix according to instructions.
Melt butter in a small bowl.
Put sugar, brown sugar and cinnamon in a bowl and mix together.
Brush both sides of each waffle with butter.
Dip both sides of each waffle i nthe sugar mixture.
Keep waffles in the oven until you have all of the waffles cooked and the sauce is done.
Pour sauce over the churro waffles.
You can top them with strawberries too!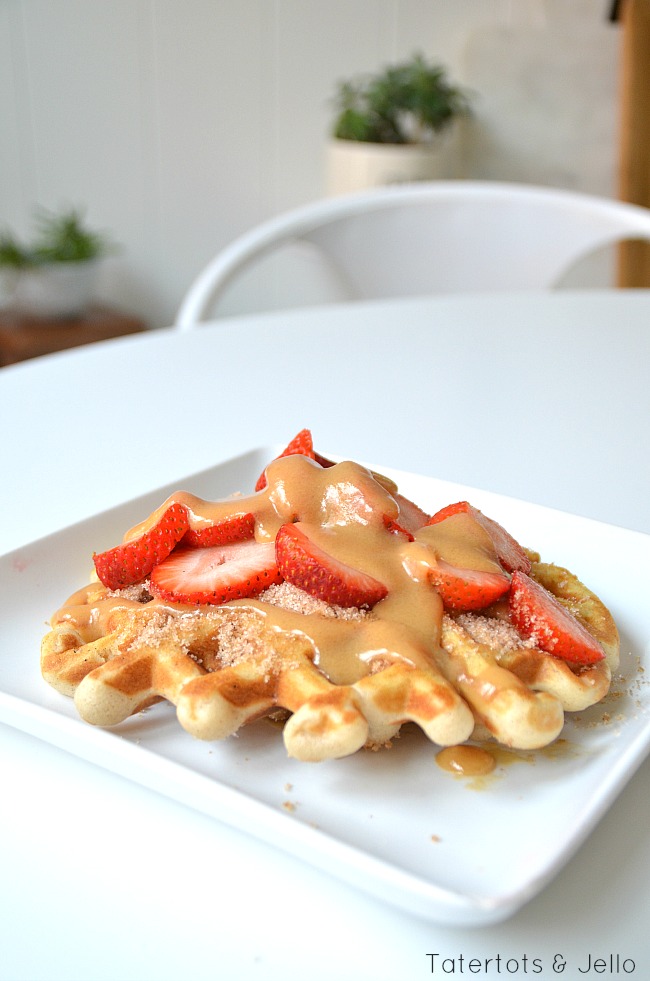 And now the giveaway!! I am giving away a fabulous waffle maker and two copies of the yummy Will It Waffle cookbook – one for someone in the United States and another for someone in Canada!!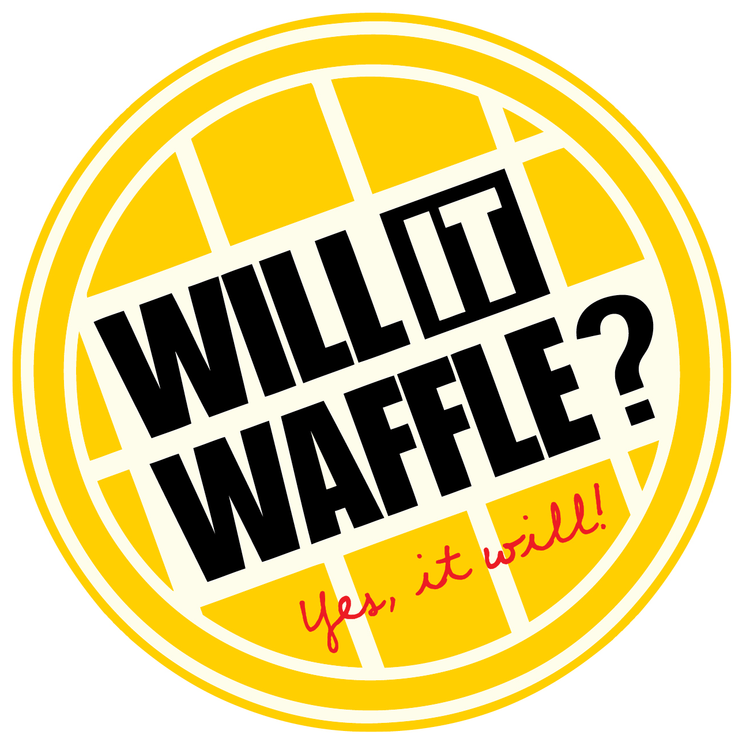 "Will It Waffle?" is the waffle-iron cookbook with creative non-waffle recipes. We're talking pizza, chocolate chip cookies, bacon and eggs, falafel, s'mores, and more — all in your waffle iron.
Buy "Will It Waffle?" at your local bookstore, or …
The New York Times includes "Will It Waffle?" among the year's best cookbooks.
Be sure to check out all about Will It Waffle here.
What is YOUR favorite thing to make in your waffle maker?
Let us know in the comments!
xoxo