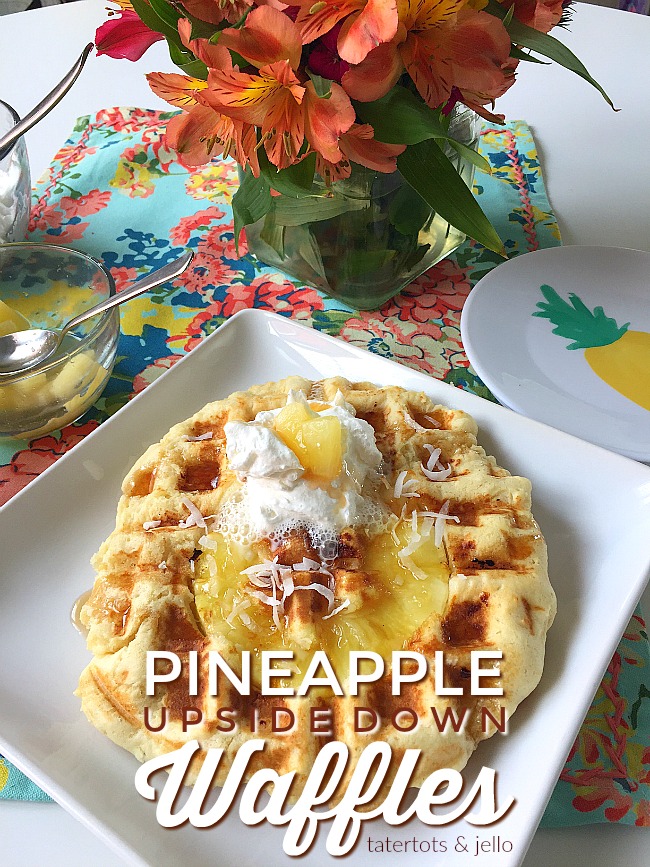 Pineapple Upside Down Waffles
Welcome to Pineapple Week! There are so many fun pineapple ideas floating around! Here's one that is SUPER easy – Pineapple Upside Down Waffles. Since we love waffles at our house and I make them ALL the time, I thought it would be fun to create a pineapple/waffle recipe. This one is SO good.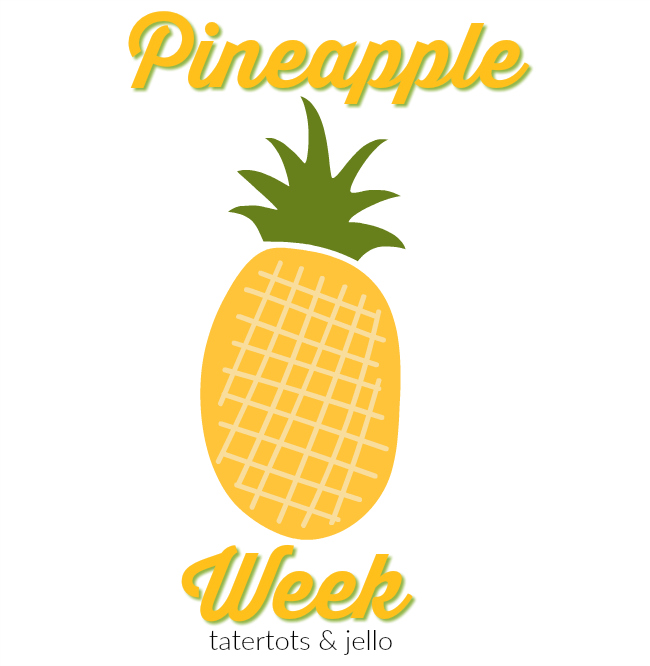 I have two different waffles makers – a traditional round one and a smaller heart one. I tried making this recipe with both waffle makers. With the larger waffle maker I made the batter, put it in the center of the waffle maker and then I put a pineapple ring in the middle of the batter and topped it with a little brown sugar and coconut flakes. YUM!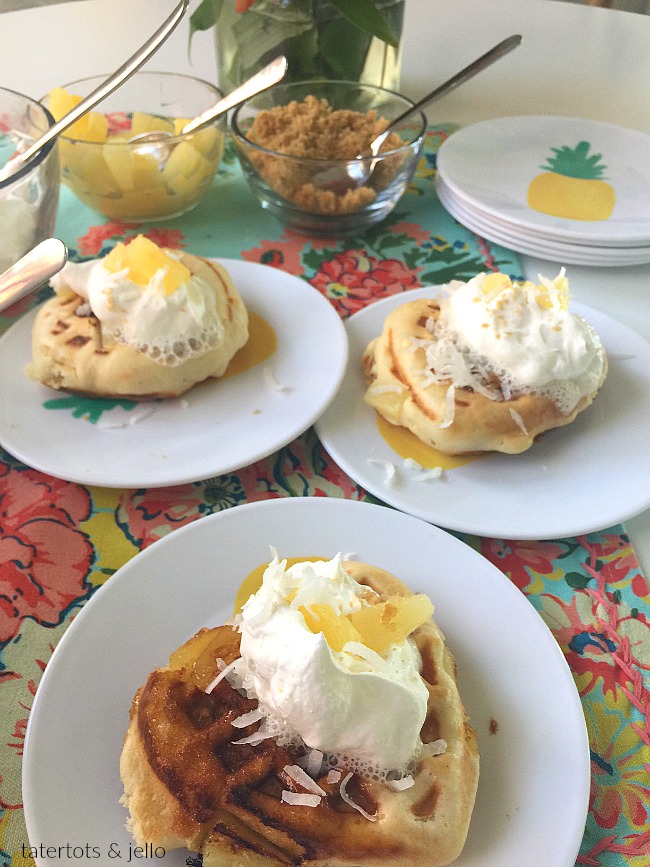 For the smaller waffle maker, I cut up some pineapple and sprinkled the pieces on top of batter and I also sprinkled the batter with brown sugar and coconut flakes. This is my FAVORITE waffle maker!
I used the recipe for the Fluffiest Waffles for the batter. I cut the butter in half and they were just as good!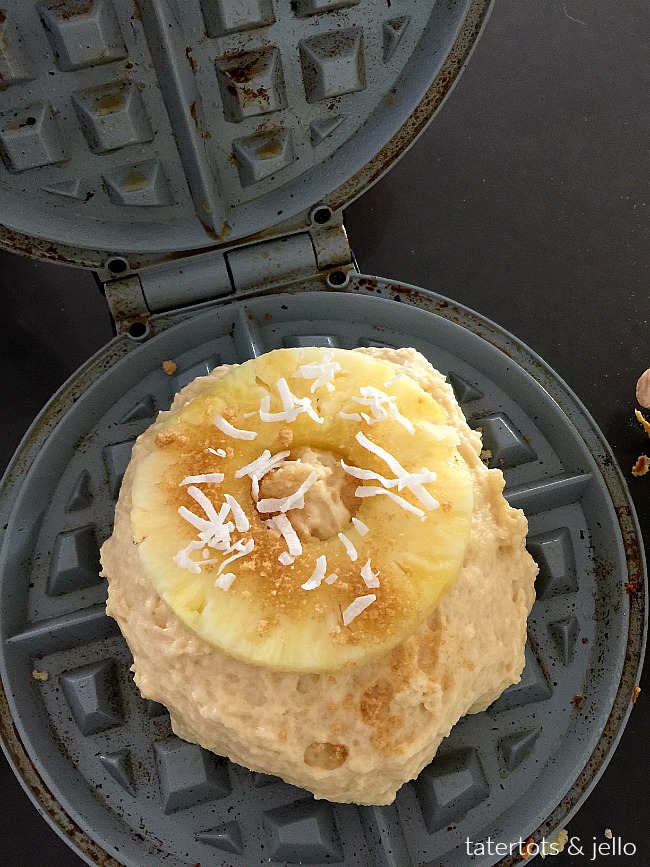 After I made all of the waffles, I served them with a few different toppings:
Pineapple pieces
Brown sugar
Coconut flakes
Whipped topping
Syrup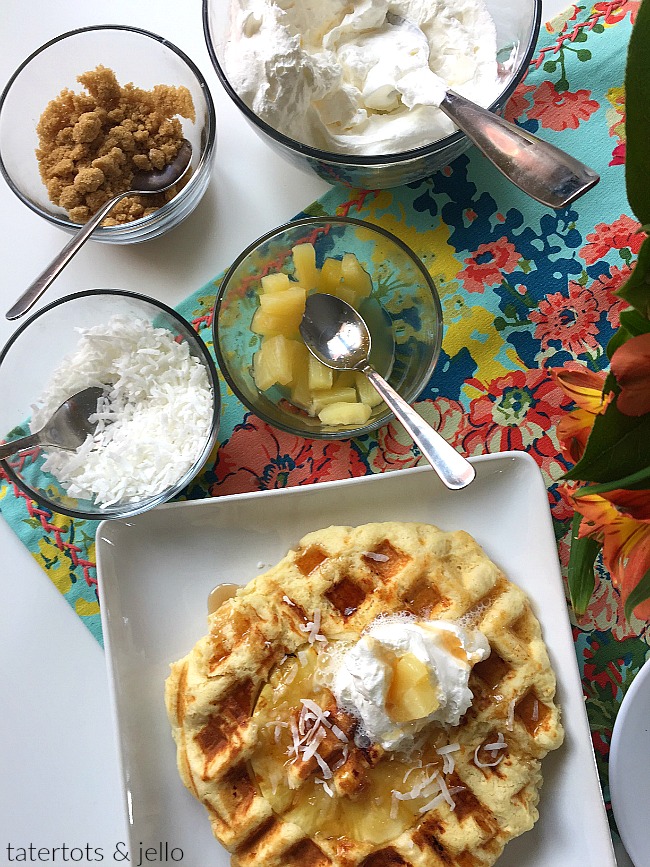 Pineapple Upside Down Waffles
These Pineapple Upside Down Waffles are fun for brunch or also for a party! If you use a waffle maker that makes smaller-sized waffles, they are perfect as party food!
Here's the simple recipe for Pineapple Upside Down Waffles:
Pineapple Upside Down Waffles
Recipe Type: Waffles
Cuisine: Breakfast
Author:
Prep time:
Cook time:
Total time:
Serves: 10
Pineapple Upside Down Waffles. Pineapple Upside Down Waffles are light and fluffy on the inside with a crisp caramelized pineapple crust. Top them with whipped cream, coconut and syrup!
Ingredients
Batter from [url href="https://tatertotsandjello.com/2017/04/make-fluffiest-waffles-ever.html" target="_blank"]The Fluffiest Waffles Ever[/url]
Pineapple Rings or Chunks
Coconut Flakes
Brown Sugar
Syrup
Other Toppings
Instructions
Grease you waffle maker.
Add pineapple ring or chunks of pineapple to the top of the batter.
Sprinkle brown sugar on top of the batter.
Cook the waffles until they are done. Serve immediately or put them on a baking sheet in the oven at 225-degrees until all of the waffles are cooked.
Serve with toppings.
Enjoy!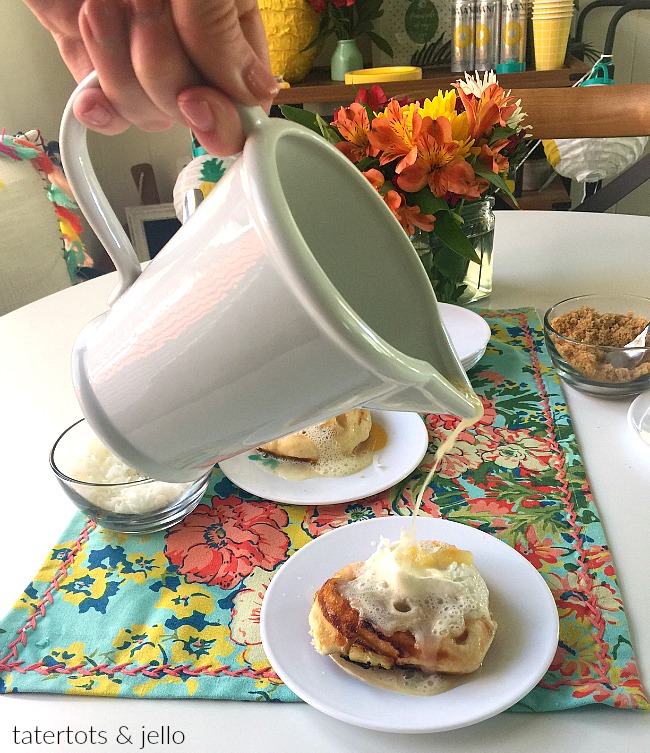 Stay tuned for MORE fun pineapple projects, recipes, printables and more as part of Pineapple Week this week on Tatertots and Jello!
And if you love waffles as much as we do — check out some of our favorite waffles recipes: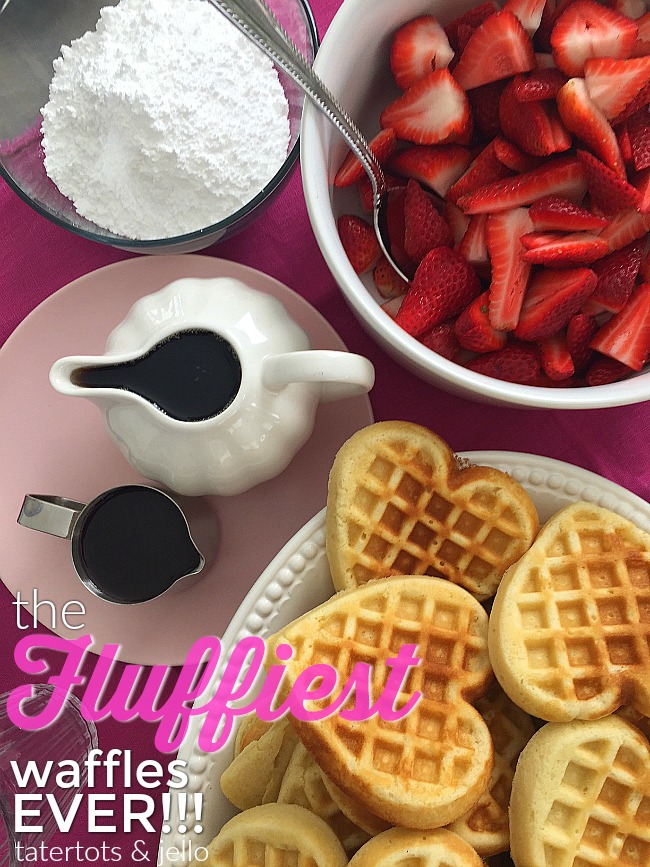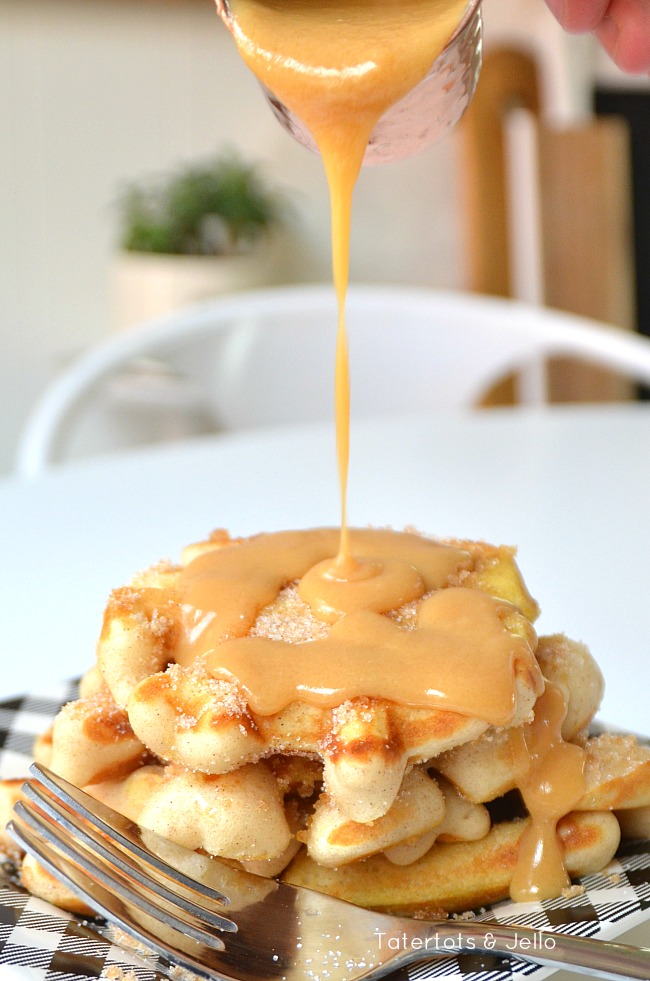 Churro Waffles with Dulce de Leche Topping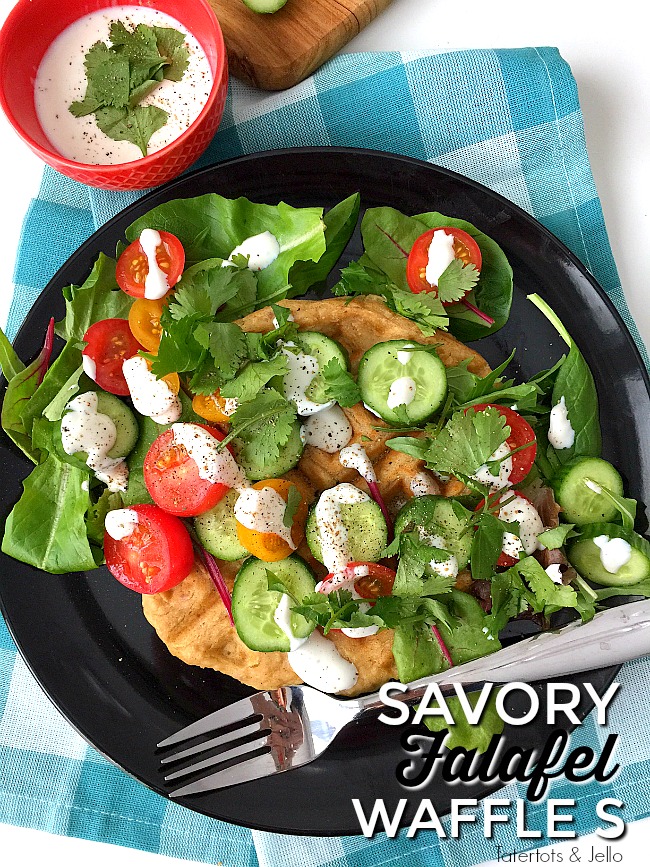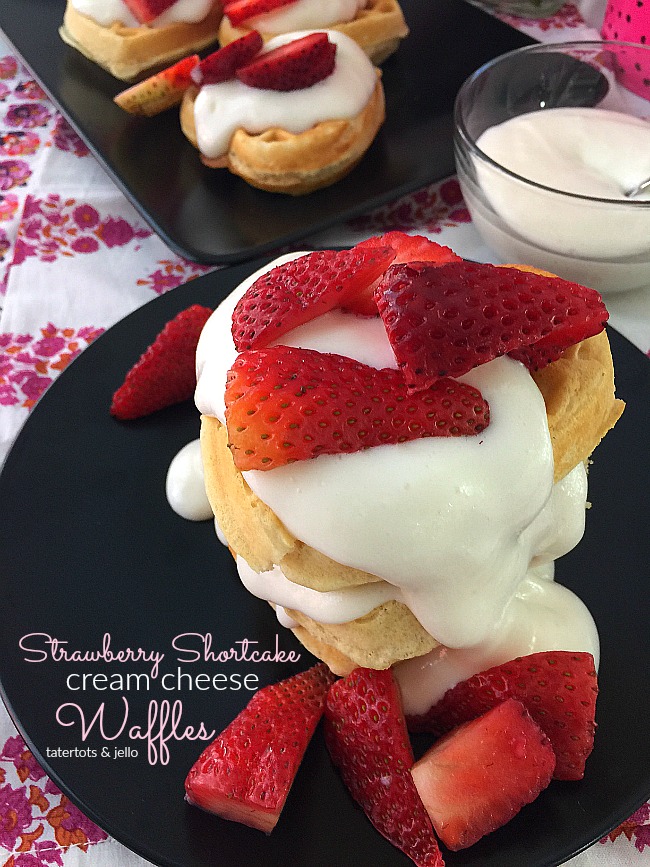 Strawberry Shortcake Cream Cheese Waffles
Have a Delicious Day!
xoxo