I love a themed Christmas tree — I do a new theme every year. It's one of my favorite holiday activities with the family! #MichaelsMakers asked me to share some of my favorite tree decorating tips as part of the #TagATree campaign this holiday season!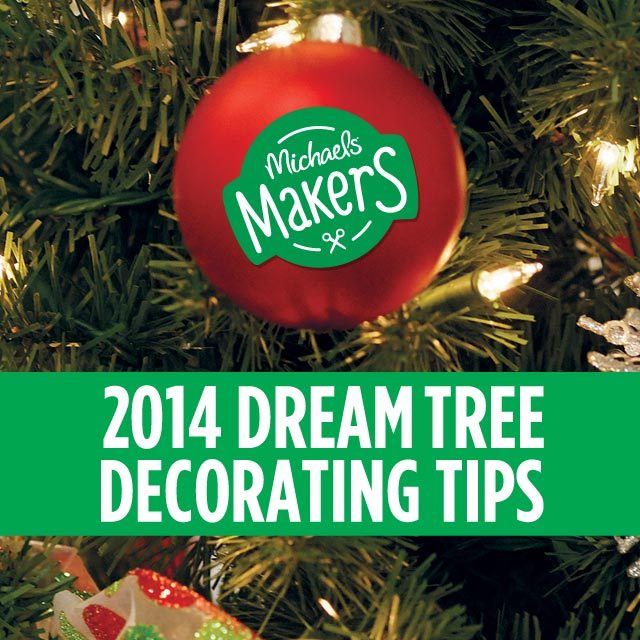 (Did you see all of the Michaels Makers Dream Trees? You can check out Michaels The Glue String blog to see all 30!)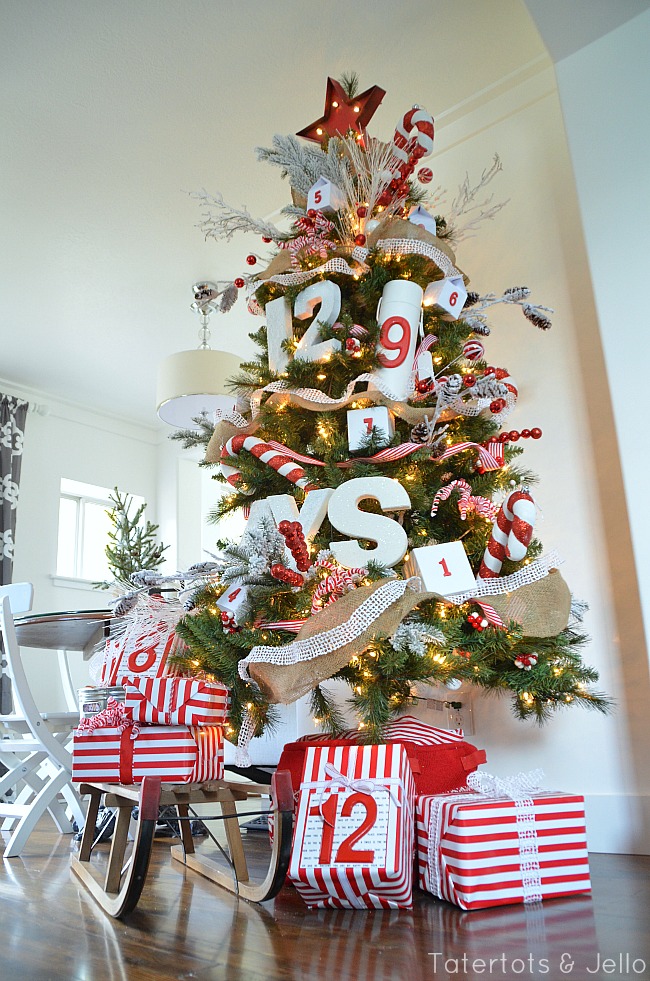 Let's start with this year's tree — an advent-calendar-style 12 days of Christmas tree!
One of my favorite tips for Christmas tree decor is this: choose only one or two colors and stick with those. Don't be tempted by other complementary colors — a red and white theme, for example, with this tree, made the decor pop. Of course, I backed some of the white garland with burlap for texture, but the red and white colors dominate.
Let your decor include areas that complement the tree. For example, with this tree I created red-and-white-patterned boxes to carry out the "advent calendar" idea, and used them around the base of the tree. I also created a red-and-white tree base to anchor and complement.
Also, don't be afraid to use very bold decor choices, like the large "12 DAYS" lettering and the large, bold numbers on the various boxes. This tree is pretty small. About 6.5 feet tall. So it was a fun contrast to add big elements to a small tree. That way the big things really stand out. So adding the big letters to the small tree really emphasized the letters. So don't be afraid to use big elements.
Last year, I created a mirror sunburst tree.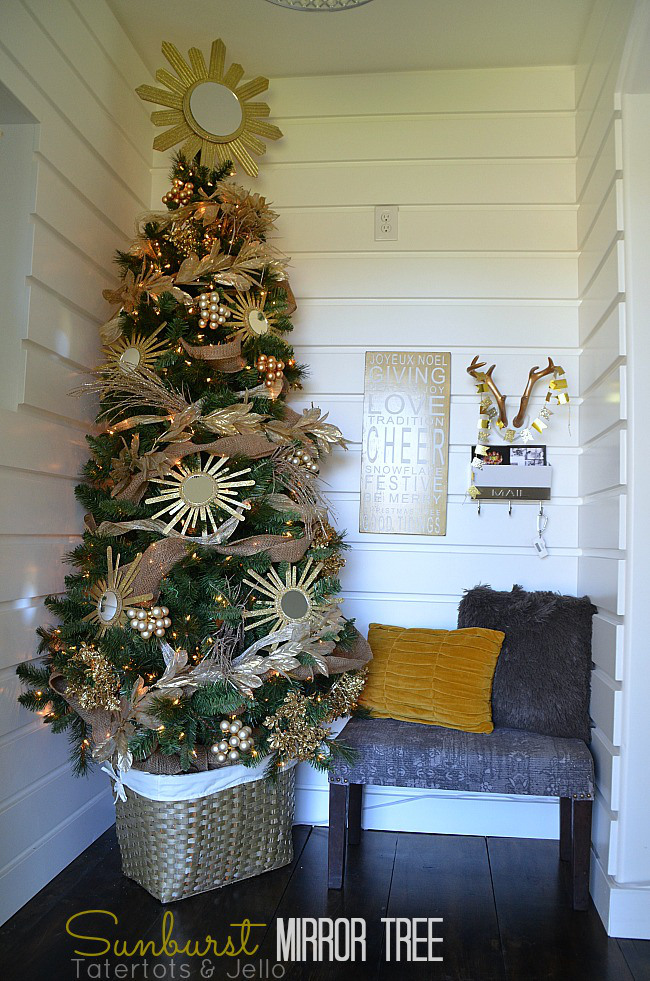 A few great tips from this tree. First, as with the last tree, don't be afraid to try something different instead of a tree skirt and stand. I used a basket, spray-painted gold, and surrounded the base inside the basket with bricks (left over from some of the #1905Cottage demolition work!). For an extra measure of safety I added fishing line safety strings near the top … that you can't even see!
Don't be afraid to go with different textures and hues in the same color. For this tree, I used mostly gold tones … for maximum sparkle. You could do the same with other metallics or even colors like white. (Red's a hard color to do multiple hues in, though.)
Also, you can use unexpected objects to create custom ornaments and tree toppers. You can check out the original post for details, but I used popsicle sticks with mirrors from Michaels to create the custom sunburst ornaments, and used custom-cut shims with a mirror and a circular piece of decorative wood to create the star/sun-burst tree topper. Amazing what a saw and a glue gun can do!
Finally, in 2012 I decorated my Winter White Family Photo Christmas Tree.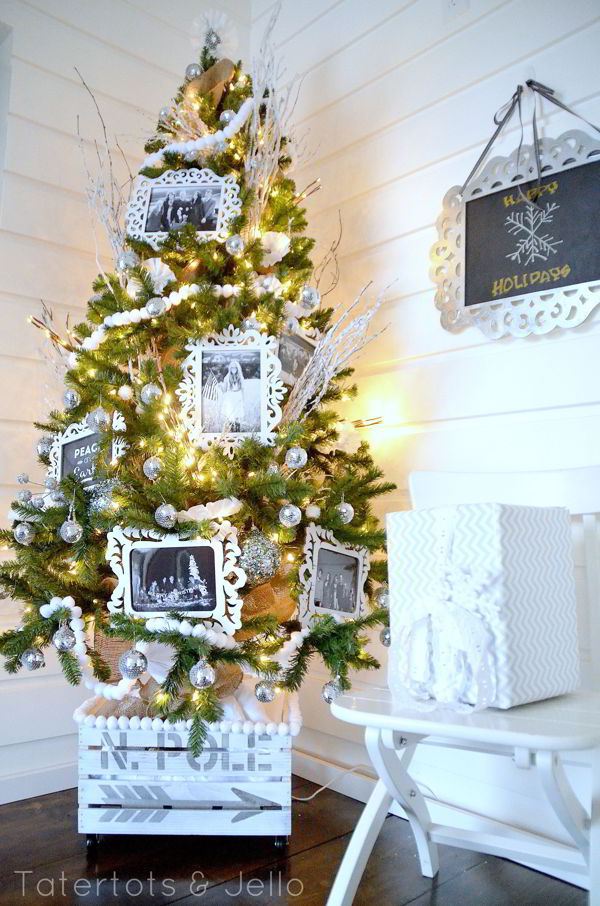 Inspired by some cool frames I saw at Michaels, I reworked black-and-white prints of my family – that my amazing sister Wendy took – that year into this family picture tree. You don't have to have a theme in mind before you go shopping … leave yourself open to inspiration!
Based on those frames, I decided to mix textures of white … and add a bit of sparkle with the mini-disco-ball ornaments! These were all inexpensive elements that gave the tree a distinct character. You can also mix in more nature textures, as you've seen in this and other trees — the twig sprays, also white, add depth and splashes of color.
And as in the other trees, I used an unusual tree base, this time a crate that I spray-painted, added a stencil to, and added wheels to. I also added a complementary decor element in the frame I spray-painted silver (instead of white), and added a chalkboard seasonal greeting to — complementing the colors and elements in the tree. And the white chair and white package add more visual interest.
Thanks to Michaels for the inspiration for this post. (Check out Michaels Make It Merry projects for some fun family holiday activities.)
And don't miss tomorrow's special Michaels Holiday Pinterest Party — Saturday, November 15, from 1-4 PM. Come in to your Michaels store and create a fun holiday project with the help of a Michaels associate!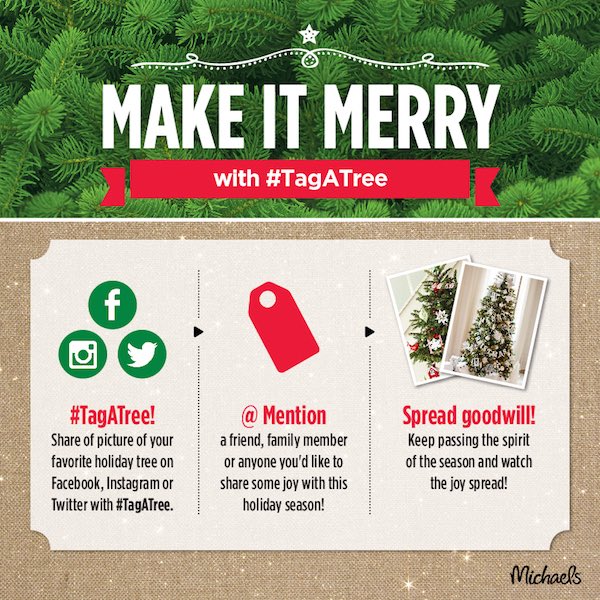 Are you inspired by a Christmas tree? Spread some holiday cheer! Share a photo of my dream tree or any trees that inspire you this year on Facebook, Twitter or Instagram, tag your friends, use the hashtag #TagATree and encourage them to do the same!
xoxo

thanks to Michaels for sponsoring this post; however, the content and ideas are all mine. See my disclosures.
[inlinkz_linkup id= 464738 mode=1]