Dollar Store Magnolia Farmhouse Wreath. Make a gorgeous farmhouse-style wreath for a few dollars with items from the dollar store!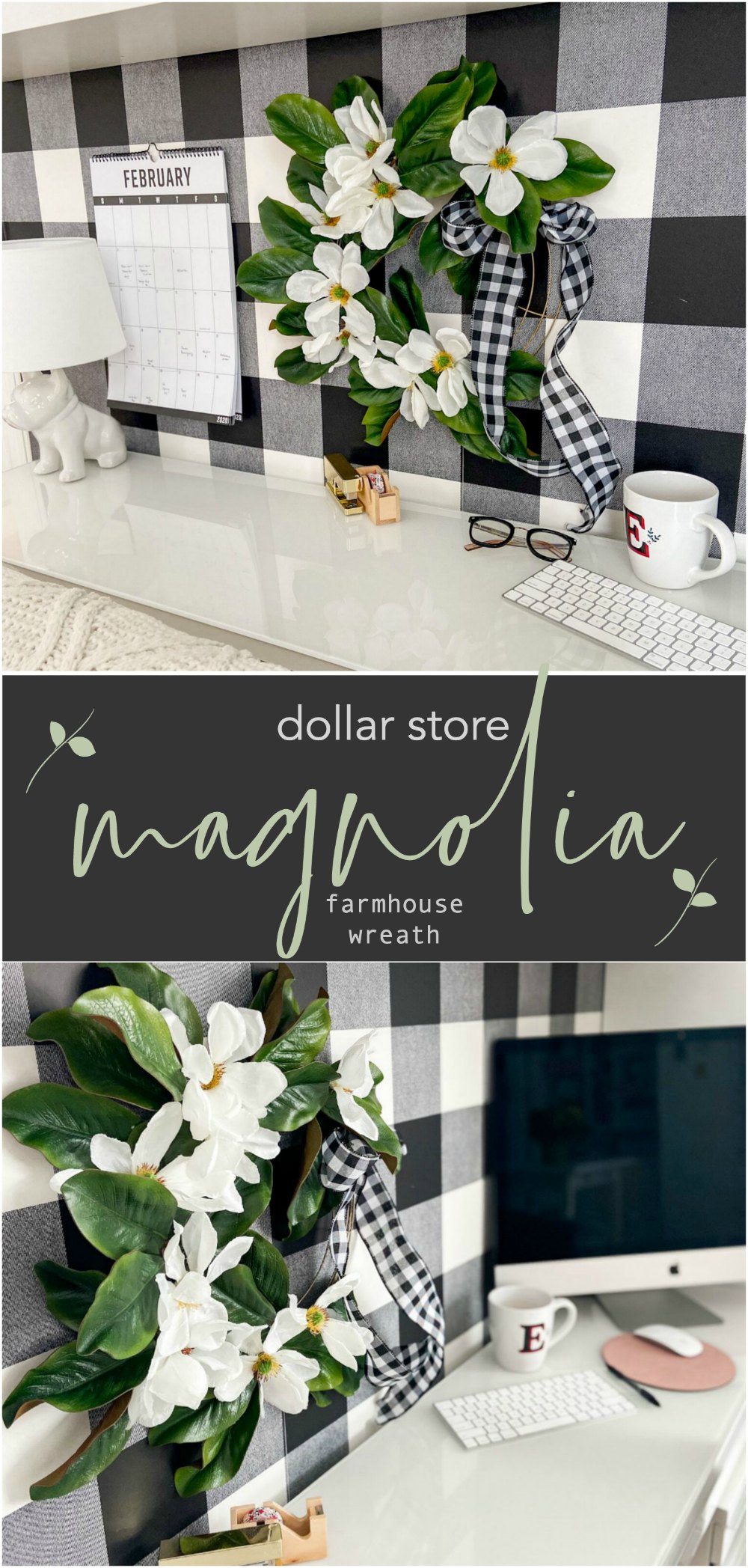 18 Gorgeous Wreath Ideas
I am joining 2 some friends who are sharing the most beautiful wreaths! Scroll down to see all of the beautiful wreaths!
Modern Farmhouse-Style Decor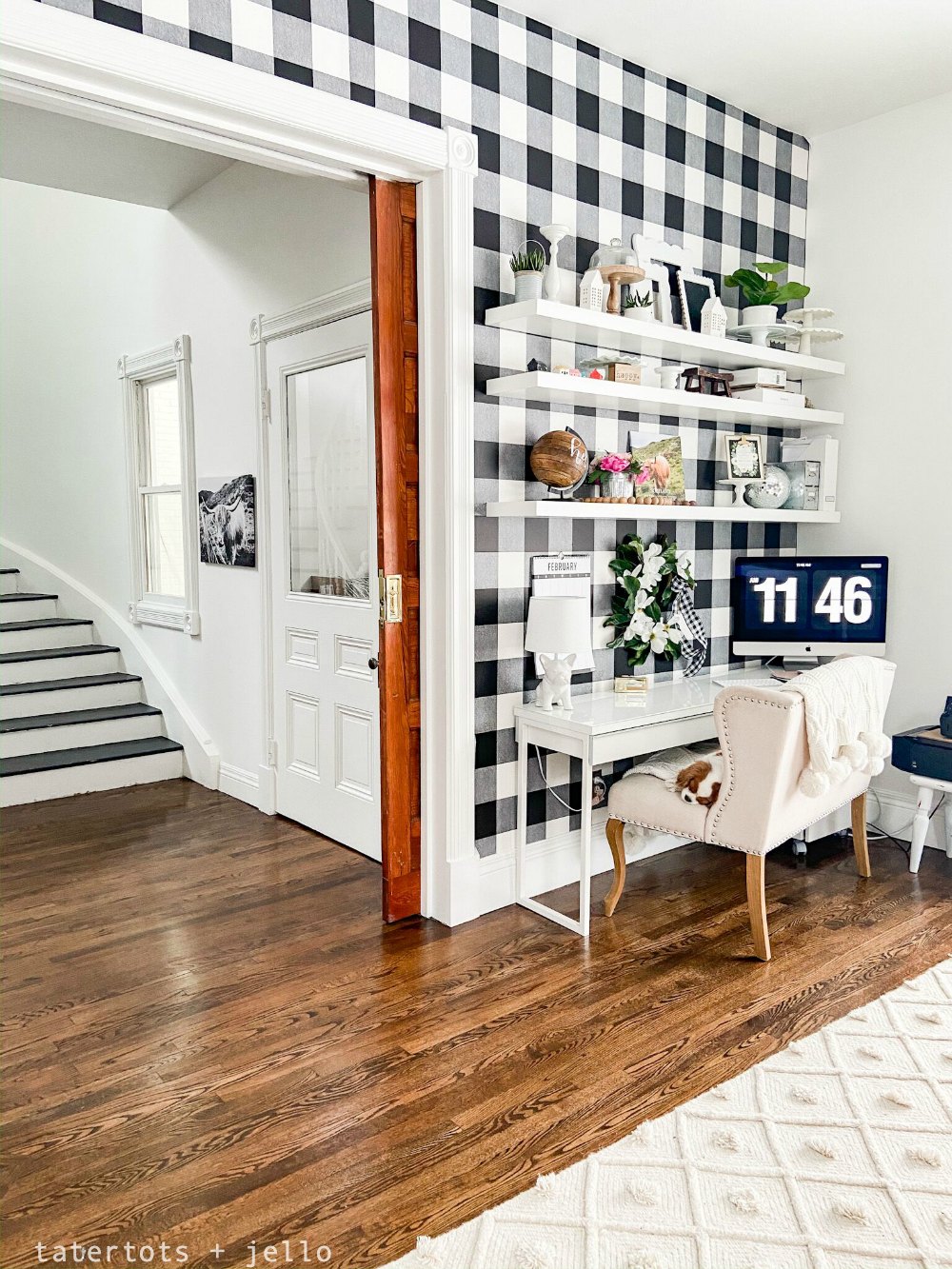 I love a modern spin on the farmhouse/cottage trend. I recently wallpapered my office/craft room with beautiful plaid removable wallpaper. The pattern really updates our home. The black and white pattern is simple but creates a warm, welcoming feeling.
Sleek Office Nook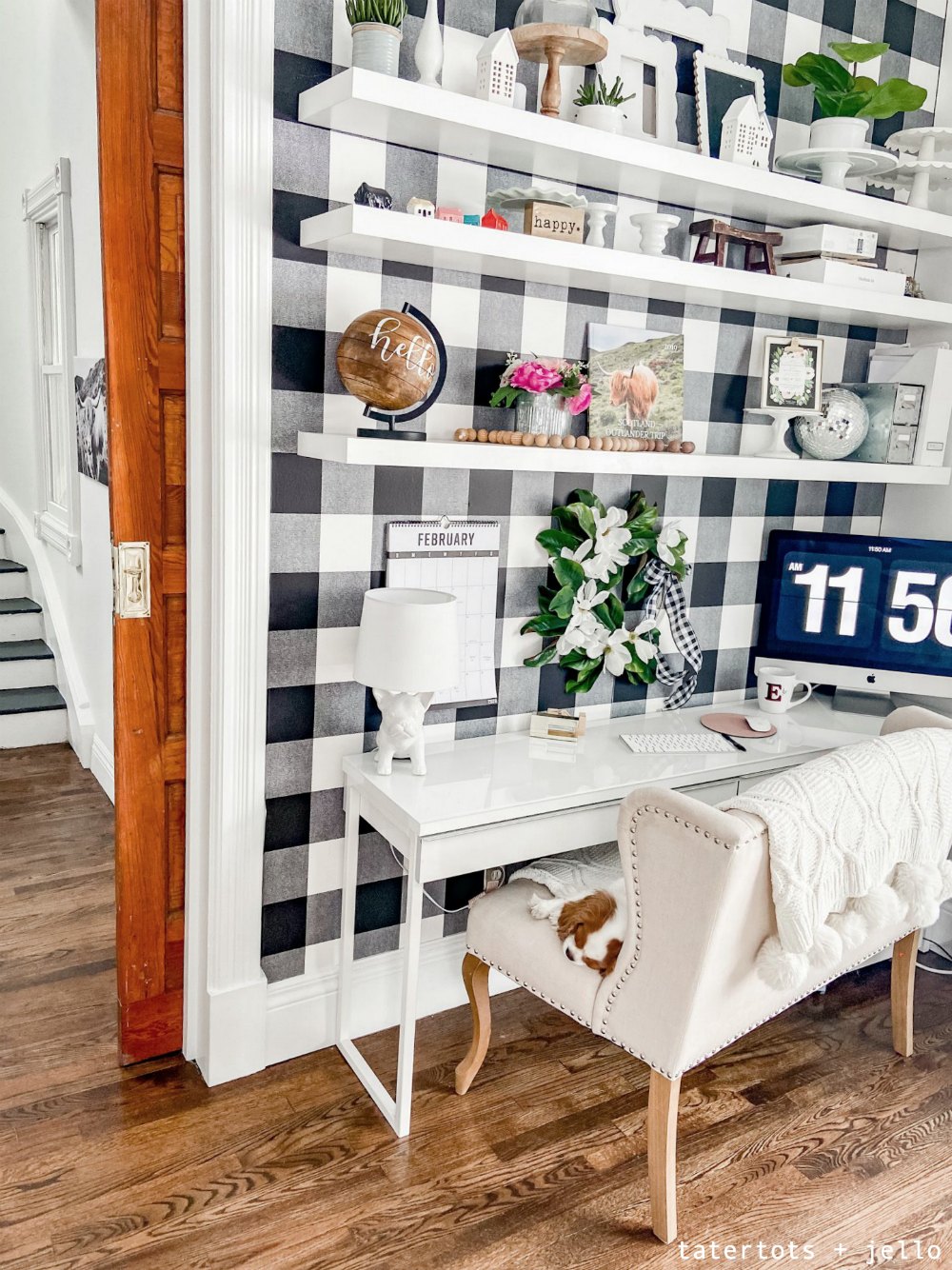 In one corner of my office I created a little computer work station. This is where I respond to emails, edit photos and blog at tatertots and jello. I installed a long, narrow desk with clean floating shelves above. It's fun decorating these shelves for different seasons.
Modern Magnolia Farmhouse Wreath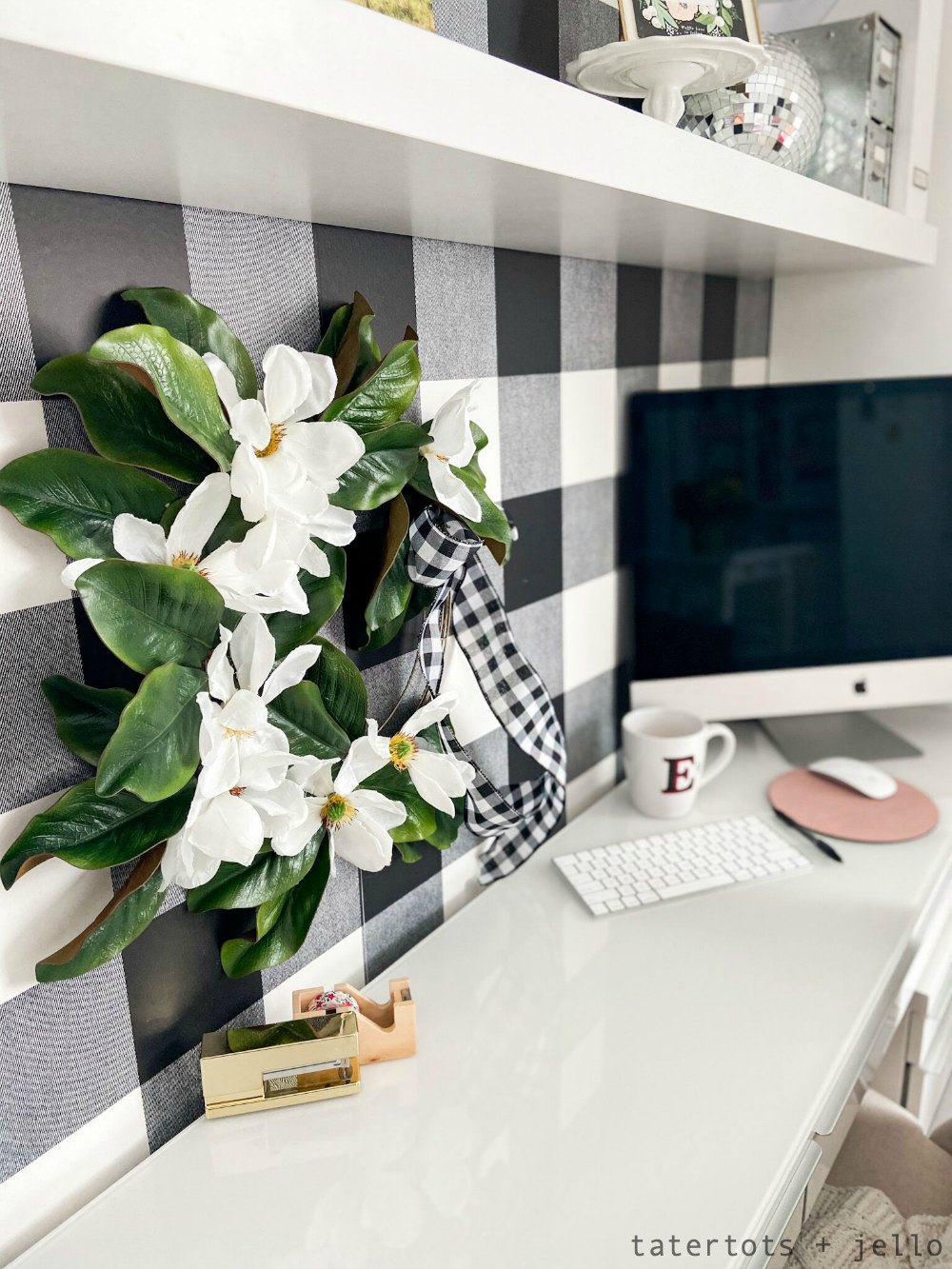 I wanted to hang something on the wall in front of my desk. I thought a fresh green and white wreath would be the perfect addition. When I was in the Dollar Tree near our new home looking for more felt hearts for our Valentine's Day porch, I spied some faux magnolia flowers. Did you know that the Dollar Tree has faux florals? And for $1?? Such a great deal!
Magnolia Flowers and Wreath Forms for $1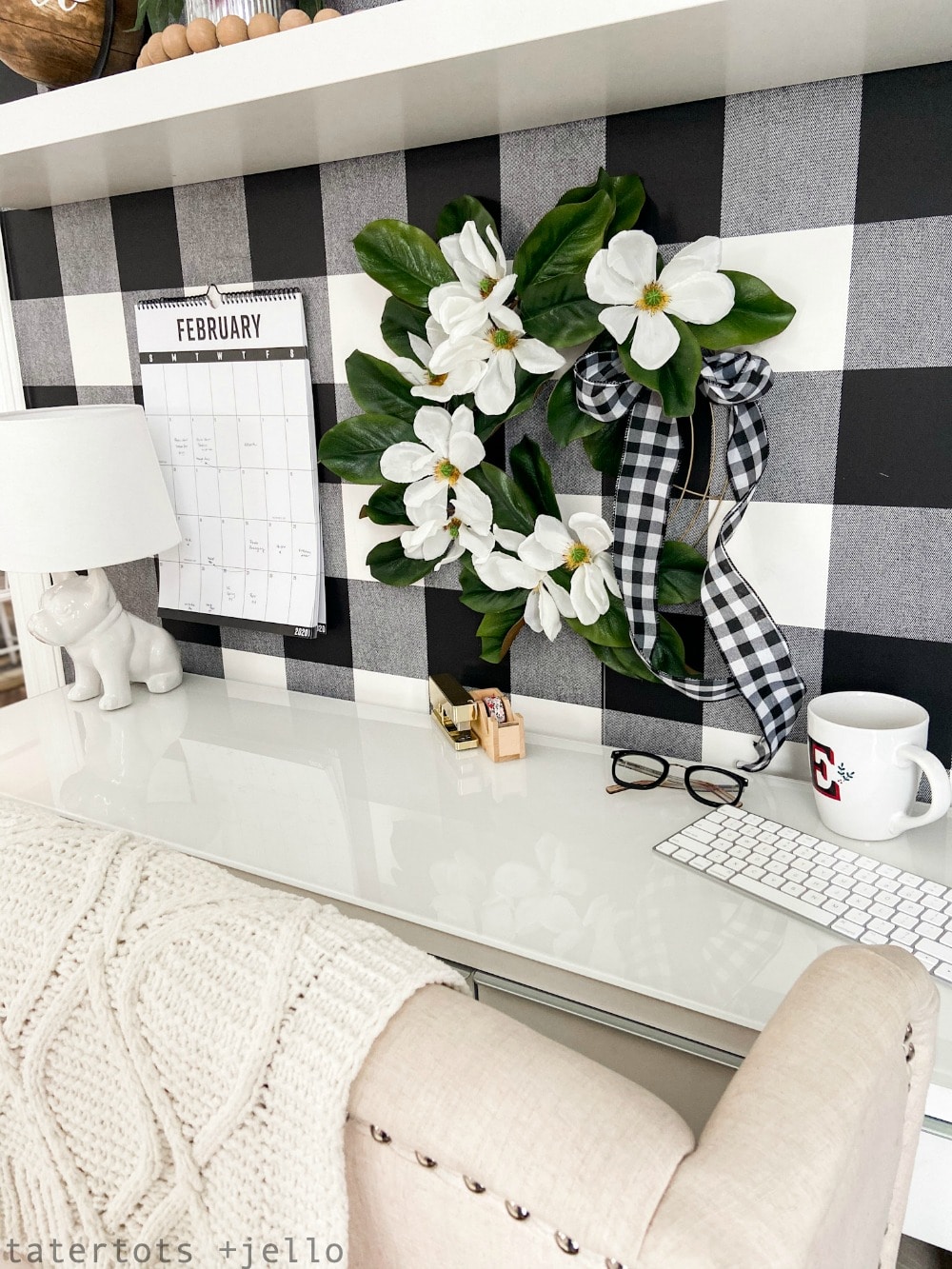 The Dollar Tree also has wreath forms for $1. I picked up a couple bunches of magnolia flowers and a wire wreath form and headed home to create a sweet wreath for my new office. Each magnolia bunch has FOUR flowers on it – so .25 per flower. This is such a great price.
Leaving Part of the Metal Frames Gives this Magnolia Wreath a Modern Vibe
I decided that I wanted part of the metal wreath form to show through on the wreath. Showing the wire frame gives the wreath a more modern feel. I spray painted the wreath form gold so it has a little bit of SHINE.
Make a Farmhouse Magnolia Wreath in Minutes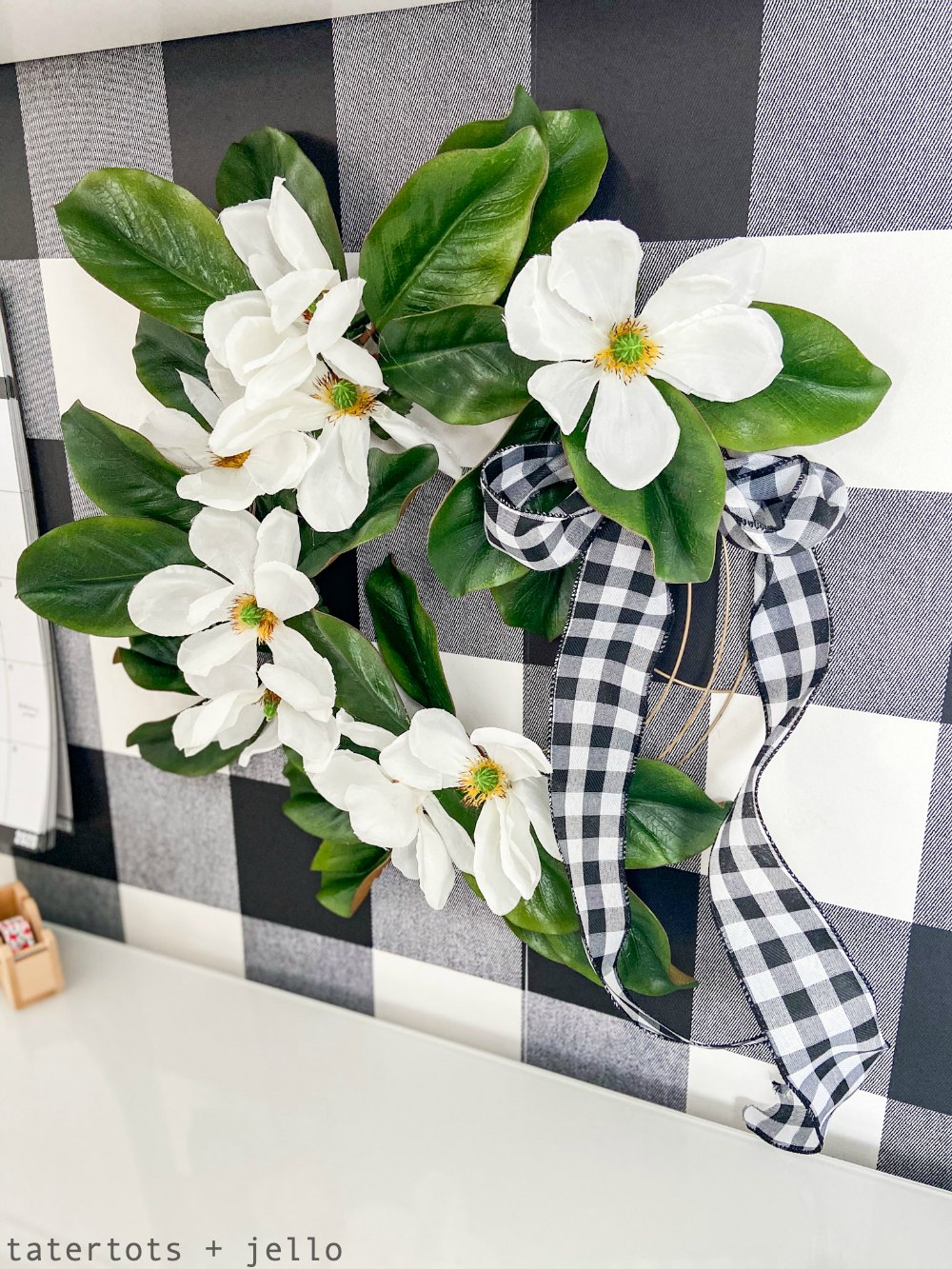 This wreath is seriously so easy to make. There are basically 5 steps. You spray paint the wreath form, cut the magnolia flowers apart, add them to the wreath form, add leaves and then tie a bow on one side. That's it!! And you don't have to add a hook to the back because the wire frame is exposed and the wire will hang on any hook or nail.
How Big is the Dollar Tree Wire Wreath Form?
The wire wreath forms at Dollar Tree are a great size – 14 inches across. Once the flowers and leaves are attached the wreath is about 20 inches in diameter which is the perfect size to hang on a wall or on your front door. And all of the items on the wreath can be used outside so you can hang this wreath on a front door as well.
What Makes a Wreath Farmhouse-Style?
If you are familiar with JoAnna Gaines and the Fixer Upper show, you probably know that she loves magnolia trees. Since Fixer Upper came onto the scene magnolia flowers and leaves are a very trendy farmhouse theme. I think magnolia flowers and leaves are gorgeous with the glossy leaves and creamy flowers with yellow centers. So even if you aren't a big fixer upper or farmhouse fan, a magnolia wreath is a great spring addition to ANY decor!
Buffalo Check Farmhouse Ribbon
Another trending "farmhouse" item is buffalo check. I chose check wallpaper for my office, not necessarily because it's "farmhouse" but because I love the graphic pattern. I added a similar ribbon to the wreath that is smaller in scale and echoes the black and white checked wallpaper in my office. Also a black and white ribbon is very neutral and goes with most home decor. But you can use ANY ribbon that you want. This ribbon was some ribbon left over from my Holiday Porch, but Dollar Tree also sells ribbon for $1!
Dollar Store Magnolia Wreath Supplies
2 bunches magnolia flowers
1 bunch magnolia leaves (these leaves are not from Dollar Tree, they are from Hobby Lobby – use your 40% off coupon)
1 metal wreath form (spray painted gold – optional)
Hot glue gun
4 feet of ribbon
How to Make a Dollar Store Magnolia Farmhouse Wreath

Spray Paint the Wreath Form Gold
This is optional. I chose to leave part of the wreath form exposed to give the wreath a more modern feel. You can completely cover the wreath form with flowers and leaves if you want. And yo can also leave the frame as is and expose it as a more steel grey farmhouse look.
Cut the Magnolia Bunches Apart
Use heavy scissors or wire cutters to cut each flower apart. Each bunch has 4 flowers. I used all 8 flowers on my wreath. Leave about 4 inches of stem on each flower.
Arrange the Magnolia Flowers
Decide on the placement of the flowers. Then bend the stem of the flowers, wrap each one around the metal of the wreath form and hot glue in place.
Add Magnolia Leaves
The bunch of magnolia leaves I bought are not from Dollar Tree. I found them at Hobby Lobby. Dollar Tree does have some bunches of leaves but I didn't see magnolia leaves at mine. You can use whatever type of leaves you want, or you can add more flowers to your wreath by adding more $1 bunches of magnolia flowers. Hot glue them around each of the flowers, covering the wire wreath form. I left about 8 inches of the wreath form exposed on one side.
Tie Ribbon Bow
I added a black and white checked ribbon that echoes the black and white plaid wallpaper in my office. You can use any ribbon you want that matches your decor. Dollar Tree also sells some beautiful ribbon.
18 Gorgeous Wreath DIY's


Magnolia Wreath - The Happy Housie // DIY Orange Wreath - The Handmade Home // Magnolia Farmhouse Wreath - Tatertots & Jello // Driftwood Welcome Wreath - My Sweet Savannah 



Front Door Decorating Ideas - Sanctuary Home Decor // Book Page Wreath - The DIY Mommy // Moss Ball Floral Wreath - Lolly Jane // Floral Winter Wreath - A Blue Nest // Spring Floral Wreath - Jennifer Maune



Heart Emoji Wreath - Cassie Bustamante // How To Make A Spring Wreath - My 100 Year Old Home // Strawflower Heart Wreath - Finding Lovely // Felt Flowers Wreath - Happy Happy Nester



Simple Spring Wreath - Art of Everyday Living // Coffee Filter Wreath - She Gave It A Go // Minimalistic Spring Wreath - Taryn Whiteaker Designs // How To Make A Spring Wreath - Hallstrom Home // Eucalyptus Wreath - Twelve on Main

 


Show Me YOUR Projects
Tag me at @tatertotsandjello on Instagram! I would love to see YOUR projects!
More DIY Wreath Ideas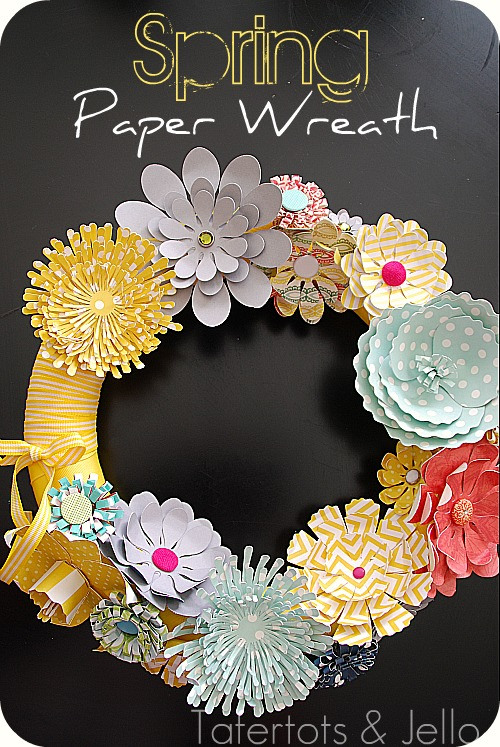 Have a Beautiful Day!
xoxo