I love nearly everything about autumn. But what I don't enjoy is what the colder weather can bring into my house: critters and pests. Over the years I've fought all kinds, at least the kinds we get in the western US. Nothing particularly exotic, but still annoying: mice, spiders, ants, and hornets. Like in our (still underway) 1905 house renovation — where it's full of great places for spiders to live, like this: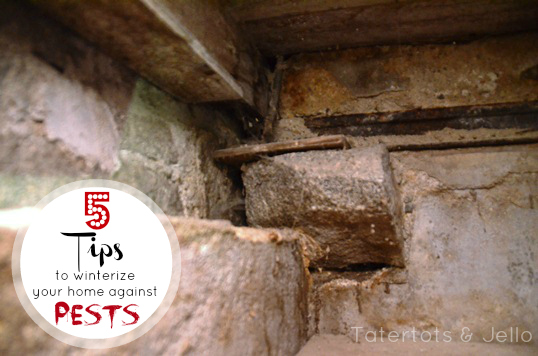 I've had fewer problems in recent years, however, now that we've learned how to prep the house better — and when we should call a professional. And with my latest renovation project — a 1905 house — I got extra smart and did some more in-depth preparation. I'll tell you what I did, what I called the pros for — and I'll share five tips for winterizing your home against pests — and show you a great resource (pestworld.org) for learning more about preventing pests in your home — after the break!
During my 1905 house renovation, I found a lot of issues I couldn't see until I had the walls off (yes, we stripped the walls to the plaster and brick). And here's my story for this renovation: luckily it's not too disgusting! We found mud and paper wasps' nests in nearly every nook and cranny — in the laundry room, in the back room walls, and throughout the attic. I mean, along the back wall there were old wasps; nests about every 8 inches. And the attic rafters probably held about 50 old nests as well. When my husband was doing the wiring, he kept bumping into them — and finally knocked them down into the loose insulation. We went through a LOT of cans of expanding foam (even along the eaves from the attic). The house was built in at least three phases — so there were a lot of cracks to be filled!
So here's just an example of what we did: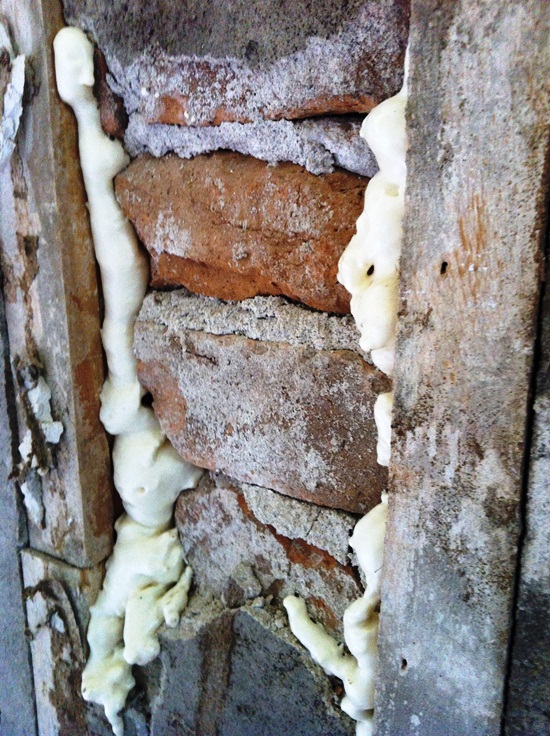 Tip #1: Fill in all the tiny cracks in your home — no matter how small
It's not just wasps in the warm months looking for cracks in the house. We could tell by the mouse traps (although luckily no damage) in this house renovation that they'd had to fight some field mice infestations as well. We live in a neighborhood where there is some open space … and when the weather turns cold, the little furry folks like to go where it's warm. You wouldn't believe the small cracks and spaces that mice can get in through!
We had to replace the sewer and water lines into this house, and while we were digging a new hole through the granite foundation, we sealed all open spots in the foundation — and then poured quickset concrete around where we had run the new sewer pipe into the foundation to make sure they couldn't burrow in.
In our house, we found the mice tried to get in through bathroom and dryer vents, so we bought a screen like these or these to put over our vents — I can't recommend them enough. I've had friends who have had problems with birds trying to get in the vents no matter how far above ground they are — so these may be wise for you regardless. Therefore,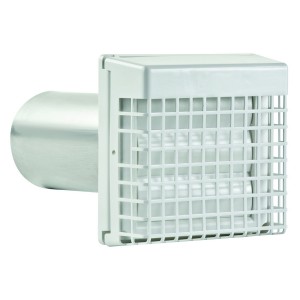 Tip #2: Make sure all vents are covered with screens to keep the smaller critters out
The other important thing we learned — and we took advantage of with this renovation — is to call the professionals and have them come regularly. Spiderwebs coated the corners throughout the cellar of this 1905 house, and we knew we couldn't get them all. So the first thing we did once we got all of the demolition done is to call our pest control company — they spray the exterior of our house regularly — and have them spray the house heavily while there was easy access to the inside and outside.
I mean, look at these crevices in the cellar — just calling out for spiders to live there!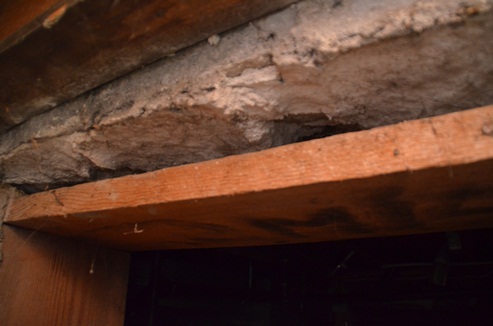 Tip #3: Don't be afraid to call the pros – and get references and referrals!
We found that we have only the occasional spider in our house — and nowhere near the massive swarms of summer ants we used to get — once we have our pest control company spray regularly. (And yes, we believe it's important to get a qualified company with a good environmental reputation, and we keep kids and pets away.)
It's also important to remember that the things you do for keeping the winter weather out are important for keeping unwanted visitors out as well. We annually inspect the weatherstripping around our doors to see if any needs replacing. Strangely, most don't, but the one back door to the garage seems to need annual replacement. It's inexpensive and easy to replace — just visit your local hardware store.
Tip #4: Don't forget to check door and window weatherstripping
If you are cleaning up around your yard, too, don't forget to check for damp areas, clogged drains and so forth. We've cleaned both our yard and the yard in the renovation house to avoid clogged drains — mulchy areas, food, and storage containers can harbor insects — most of which you won't want in your house!
I mean, look at all of the spider nests we found on the porch of this renovation house when we removed the siding. That's why it's important to seal things!
Tip #5: Check the outside of your home including storage areas and drainage areas
I found some great resources for this from not only my own experience but from this article at pestworld.org.
What's YOUR best — or worst — household pest story?
Let me know in the comments – I would love to hear YOUR story!
xoxo

PS — It's Friday! My favorite day of the week.
I love seeing your ideas and featuring YOU!!
I hope you can stop by for the fun.
The party starts at 6 pm MST 🙂
Pestworld.org sponsored this post, it's a great place for information on understanding, avoiding and preventing household pests (the non-human kind).