15 Bright and Colorful Fall Porch Ideas! Fall is the perfect time of year to bring bright POPS of color to your front door.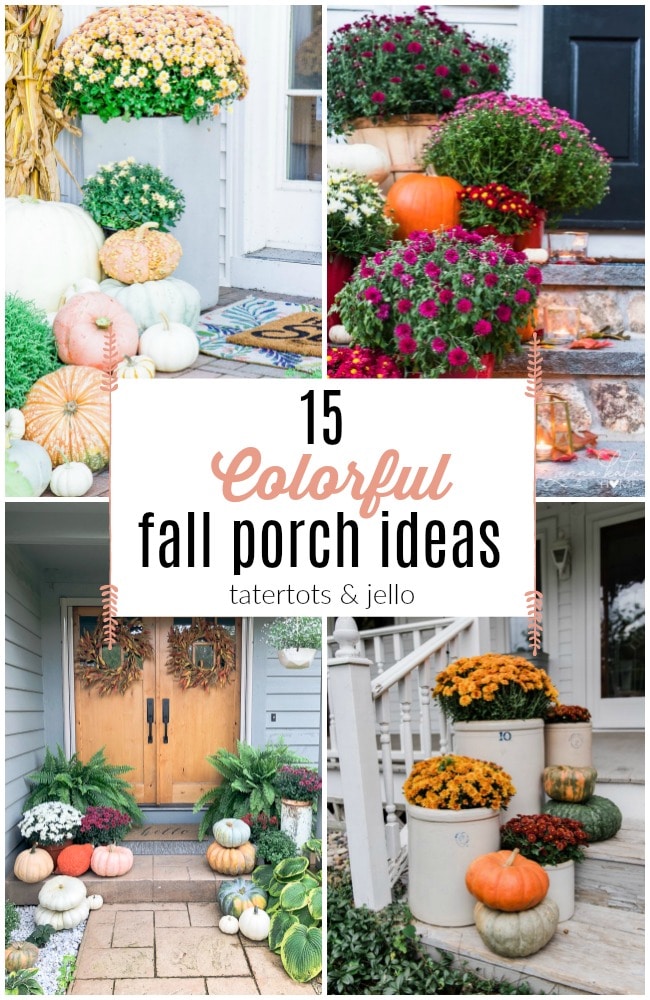 12 Bright and Colorful Fall Porch Ideas!
Fall is one of my favorite seasons for home decor! You know I love COLOR – so I thought I would share some bright and colorful Fall porch ideas! Use these ideas to add bright POPS to your front door this Autumn! 15 Bright and Colorful Fall Porch Ideas!
***
These pastel pumpkins are beautiful shades of orange and I love the way they contrast with the fresh green foliage on this porch.
Shades of orange and green or gorgeous against a background of ferns and leafy plants. This is a great fall porch for climates that are warmer in the fall.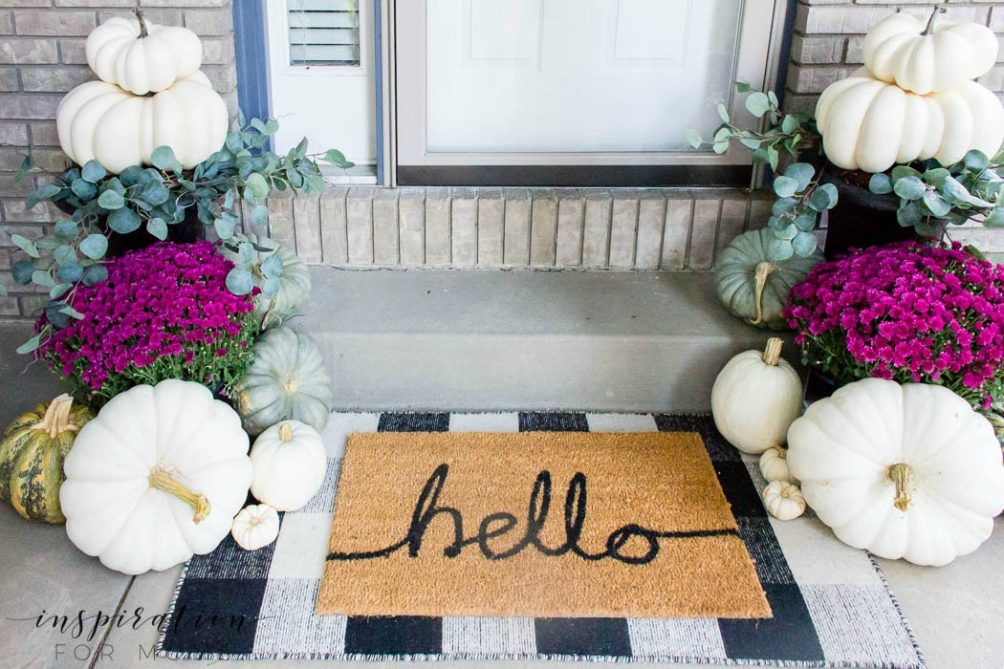 One of my favorite porches. I love the black and white colors matched with bright POPS of hot pink. So cute!
Liz always has a gorgeous Fall porch on her farmhouse. I love the way she placed her mums in rustic pots and paired them with colorful pumpkins. Beautiful!
Jo-Anna's porch is so pretty with these purple hues of cabbages placed within her planters. I love the texture that the cabbages bring to the porch too!
More great container ideas are found on this pretty porch. Yvonne also added bright plaid throws to her porch which bring color but are also perfect for snuggling up on a crisp fall afternoon!
Potted mums and a bright wreath look great on this beautiful porch. I love the green corn stalks tied on the sides too for extra color.
Jennifer always has bright and colorful projects on her blog. This ombre pallet is a great background for the colors and textures she layered on this gorgeous fall porch!
Of course I had to include a couple of Beth's porches. I love the color of her door and it coordinates so well with the bright yellows and greens of her pumpkins and gourds. The result is a fresh and clean colorful porch.
Another gorgeous porch from Beth in her new home. This time she used white pumpkins as a neutral background with bright pink mums.
Ashley used pretty pink flowers as a focal point and potted them in galvanized pots. I also love her rustic welcome sign.
Pastel colors are a great way to add a subtle dash of color to your porch. There are so many different shades of colors you can find in pumpkins and gourds.
Jenna Kate's fall porch is a gorgeous mix of shades of bright pinks and oranges and I love the candles that she added to her steps.
Another great idea when decorating for fall is using different heights to display pumpkins and flowers. I love the tree stump that elevates the pumpkins and the bright yellow boots add a sense of whimsy to this fabulous fall porch.
Galvanized baskets and buckets are perfect for displaying fall flowers and pumpkin topiaries.
***
Here are some COLORFUL fall porch ideas I've created!
I used a large plaid rug to ground my fall porch last year. Then I added colorful pumpkins, mums and a giant autumn sign.
This was one of my favorite fall porches. I spray painted foam dollar store pumpkins and created a garland that I hung over our door. I also spray painted real pumpkins and stacked them for topiaries on the sides of our porch.
This was a sweet and simple navy and orange porch from a few years ago. I love being able to take some elements and use them over and over each year. The giant AUTUMN sign is an element that I enjoy getting out each year and using in different ways.
***
Show me some of your fall front porch ideas!
Share them with us!
xoxo