Halloween Straw Wreath!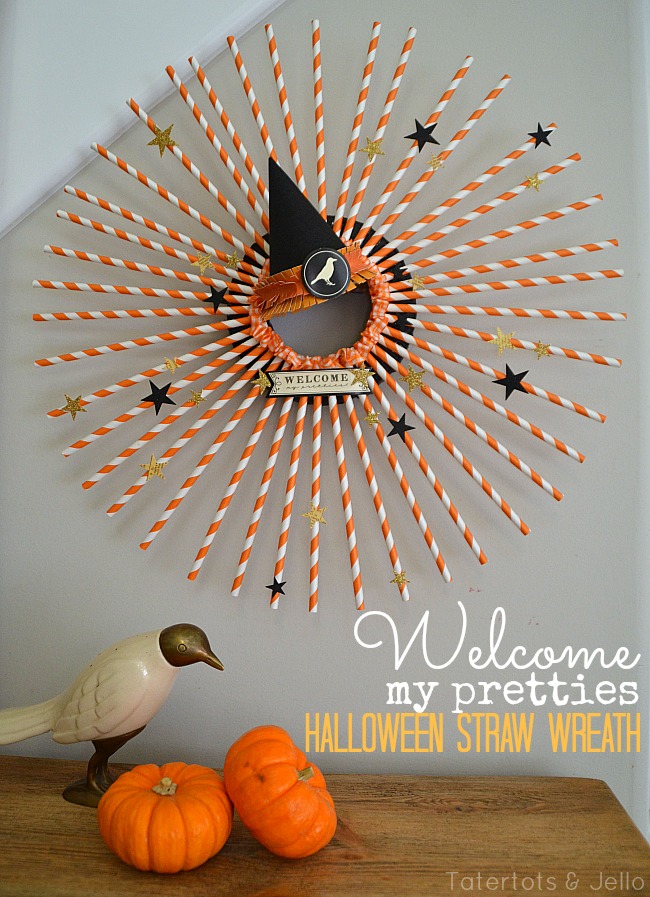 I love Halloween! It's so much fun to decorate. So when American Crafts told me about their super cute Halloween kits at Target, I was so excited to play with them! There are three full project kits plus lots of embellishments that you can use on their own, or in addition to the kits. I love that you can take the kits and make up something really festive in no time — and everything that you need comes in the kit. Easy and cute!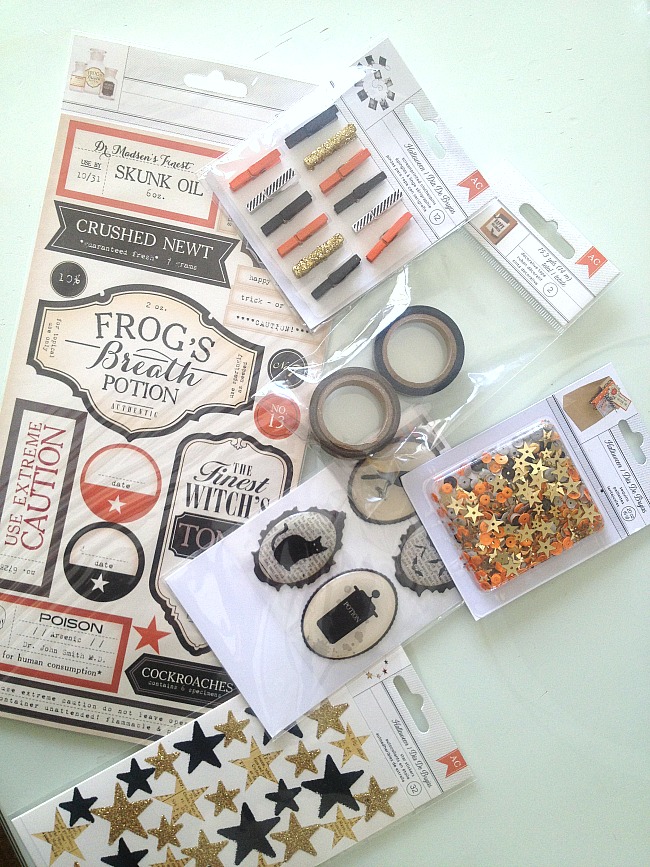 Ella, my 8 year old, put the Halloween Banner together and hung it up all by herself. (she might even love Halloween more than I do – if that's possible LOL!!)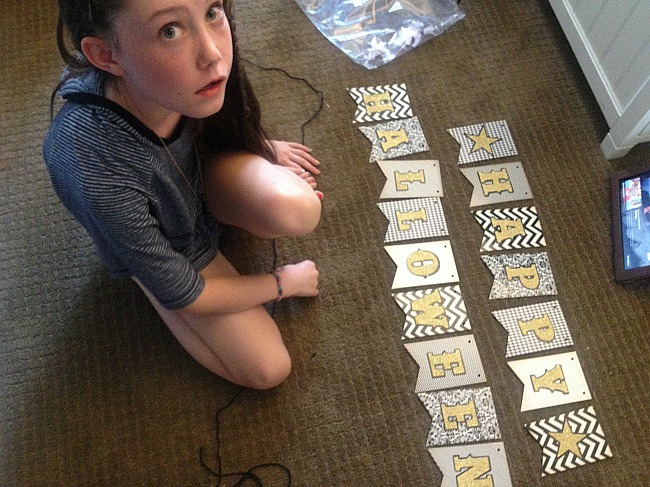 I thought it would be perfect, paired with my black and white Halloween plates.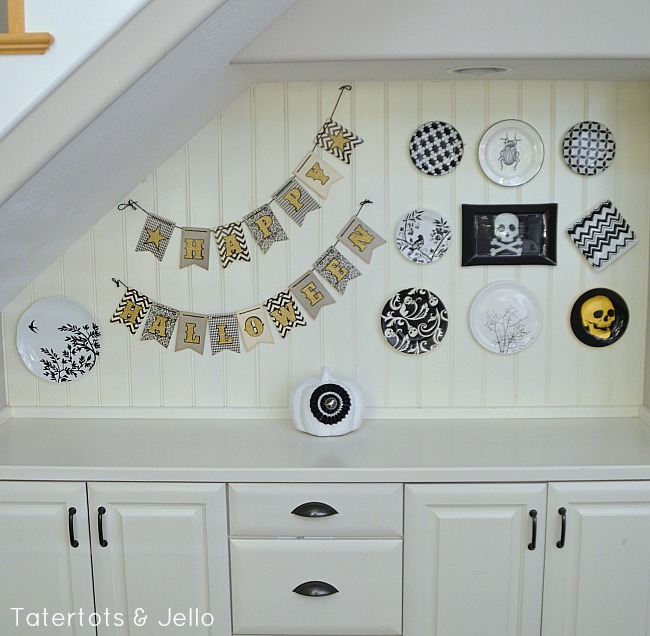 And I love that the banner comes with glittery GOLD letters – kind of glam Halloween.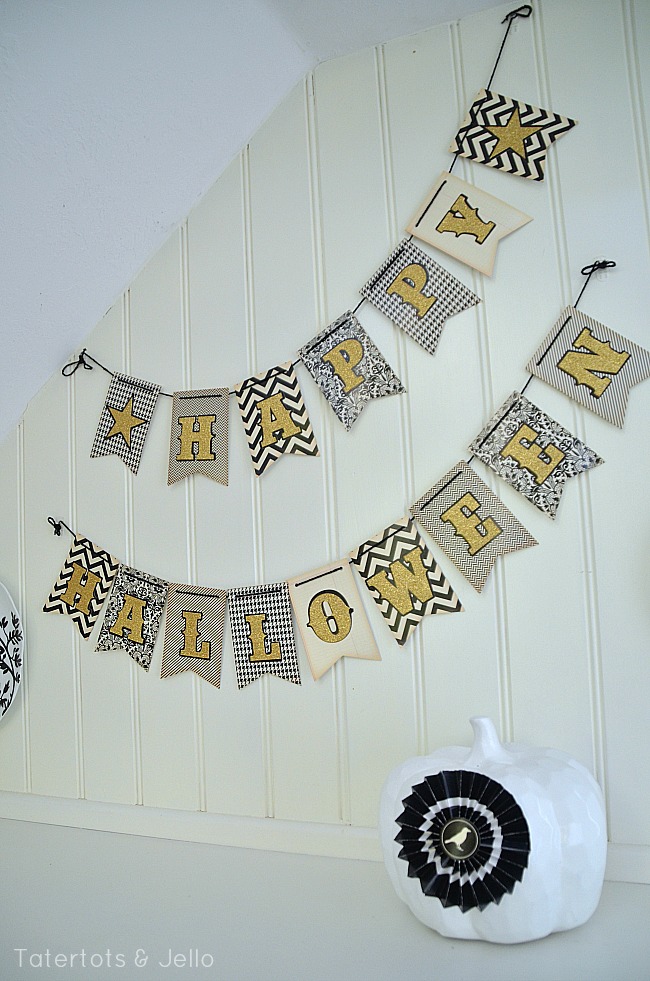 And I loved the witch party favor hats. I thought it might be fun to make a witchy Halloween wreath with one.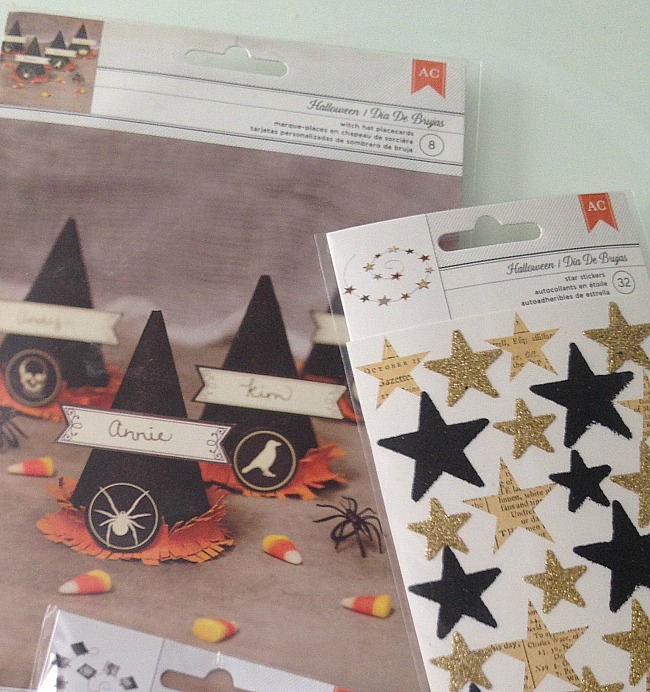 And I loved making my Christmas Striped Straw Wreath a couple of years ago, I have been meaning to make a Halloween straw wreath ever since. This was the perfect opportunity. I had picked up a pack of orange striped straws a couple of months ago in the hopes that I would have time to make one. So it was great – I already had all of the supplies that I needed!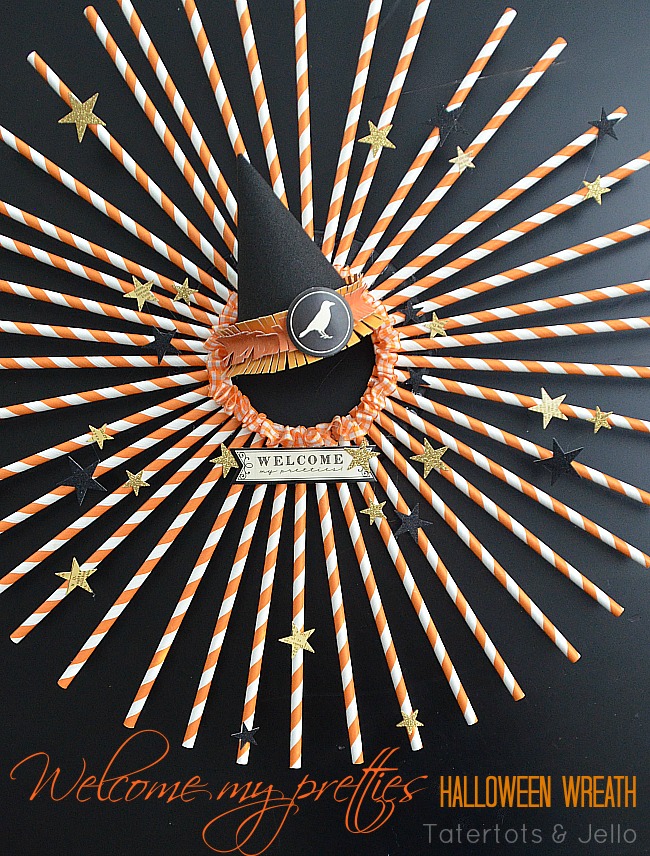 Here's how I made the Welcome My Pretties Halloween Straw Wreath:
Supplies:
Small Wreath Form (if you don't have one you can take a couple paper plates and cut a hole in the middle. You might need a couple to give it a little more firmness)
Ribbon to wrap the wreath form
Striped Straws (the number you need depends on the width of your wreath form. Mine was 6 inches across and I used 36 straws)
Glue and Glue Gun
Witch Hat Party Favor Kit (you can buy it at Target)
Glitter Star Embellishment (you can buy it at Target)
Clear Printer Labels (optional)
Ribbon to gather and add to the opening of the wreath (optional)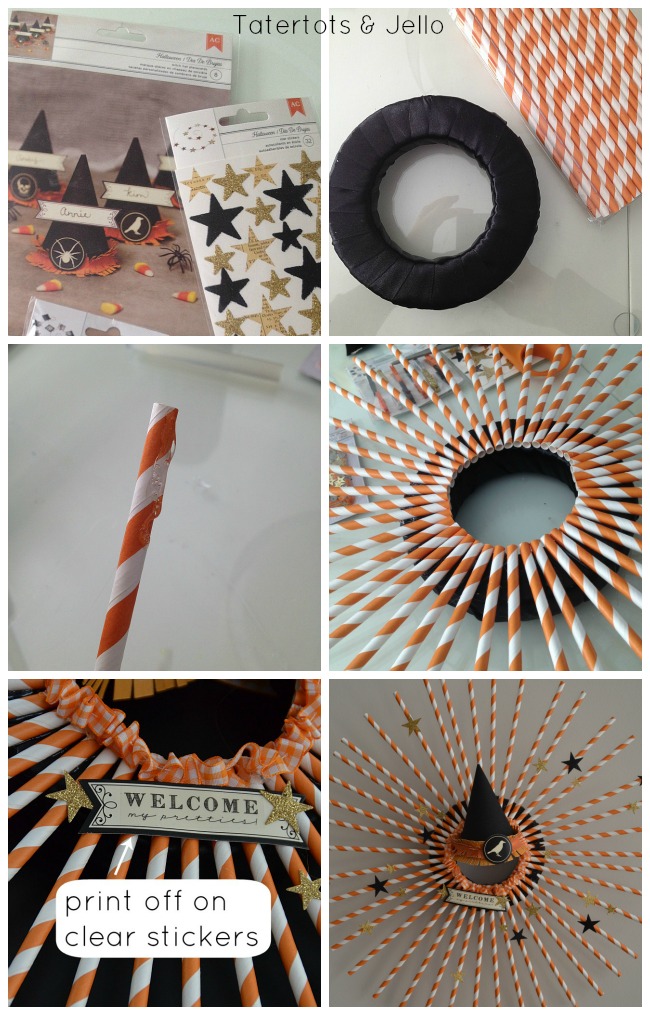 Directions:
Take the wreath form and wrap it in ribbon. Hot glue the end of the ribbon down to the back.
Then attach the straws to the wreath form. Add straws, one at a time and hold each for a second so they are flat against the wreath form.
Add the witch hat. Make up the hat according to directions and embellish with whatever emblem you want (there are 4 different ones to choose from)
If you want to add ribbon to the inside of the wreath, take the ribbon and gather the ribbon using a needle and thread until it is gathered. Then hot glue it to the inside of the wreath opening.
Hot glue the witch hat on the wreath.
Then you can write the "Welcome my pretties" with a sharpie, or if you are like me and don't have great handwriting, you can create a label with cute fonts and print it out on a clear label. Then stick the label on the name tag and attach it to the wreath.
I think it's kind of a fun and whimsical little wreath. You can find these Halloween kits and embellishments only at Target. Most of them sell for about $5 per kit. So fun!!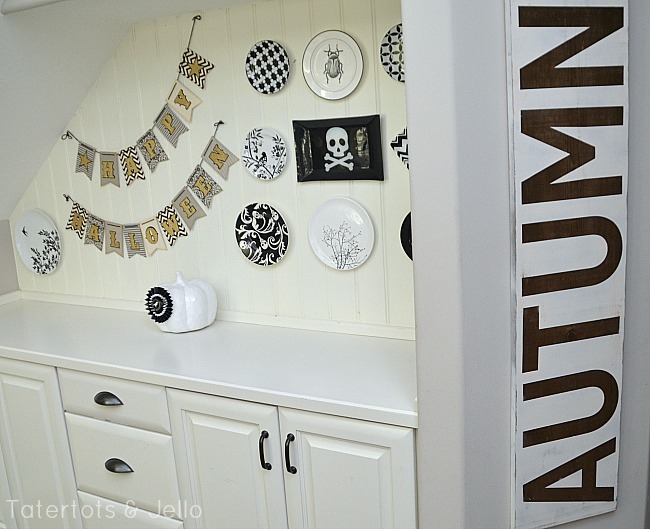 What have YOU been making for Halloween??
Let me know in the comments. I would love to come over and see YOUR idea!!
Have a Creative Day!
xoxo

Disclosure: American Crafts provided me with product and compensation for this post. Regardless, I only post about products or companies I love. All ideas are 100% my own. See my disclosures for more information.