My desk is always littered with Post-it Notes listing ideas, things to do, and sketches for projects. I love Post-it Notes for getting my ideas down on paper, but I'm always forgetting to bring them along when I need them!
Thanks to Post-it Brand, who sponsored this post, I had the chance last week to visit San Francisco and the Evernote Conference to learn about the new partnership between Post-it Brand and Evernote. Both brands want to help people be more productive. They want to make people's daily lives easier. And you know how much I love Post-it Notes — so this will take my obsession to the next level!

I had a great time in San Francisco at the Evernote Conference — and got to meet some fantastic people, like: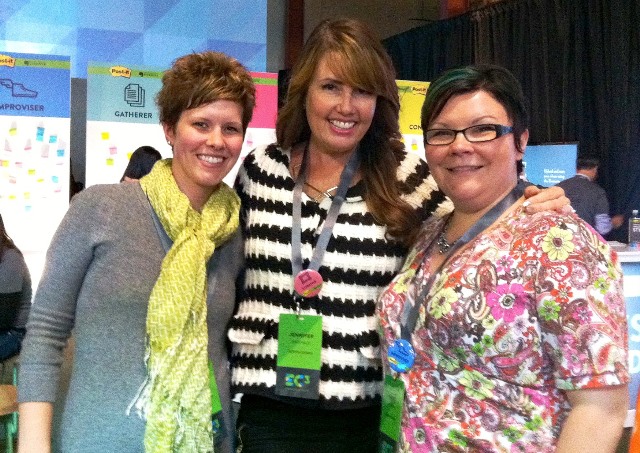 Andrea of the fabulous AndreaDekker.com, me, and Krissy from B-Inspired Mama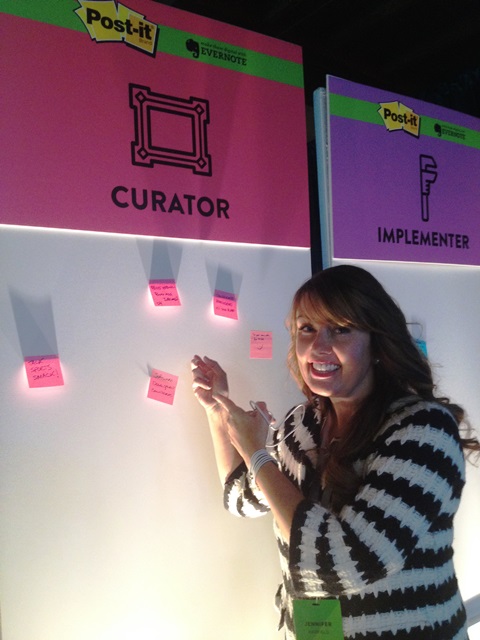 There was a cool organizational quiz I took at the Post-it Brand booth to find out my organization style. Turns out, I'm a curator. This will help me understand how I organize best!
UPDATE: You can take the quiz, too! Take the Organizational Style quiz at Post-it.com.
What excited me most is how I learned that I can bring my Post-it Note obsession together with the digital tool I've been starting to use — Evernote.
Here's what I learned — and how you might want to try Post-it Notes and Evernote to organize your life: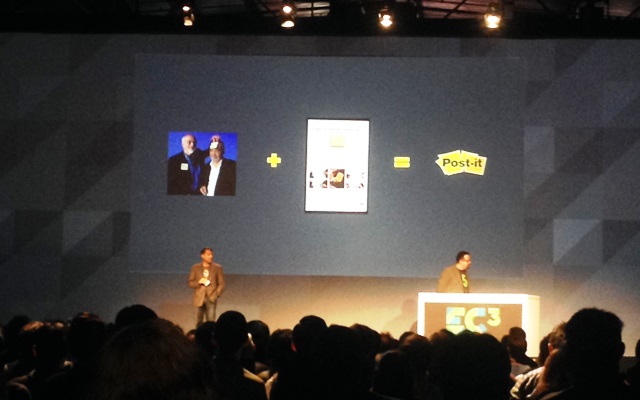 In the keynote presentation, I learned that Evernote's goal is to make everyone's life easier. They call themselves a "100-year startup" because they want to be around that long, and help even more than the 75 million people who already use it. I love that company mission — it's more than just "making money," and it is so similar to why I love Post-it Notes: they're easy to use and they make my life easier (and more colorful!).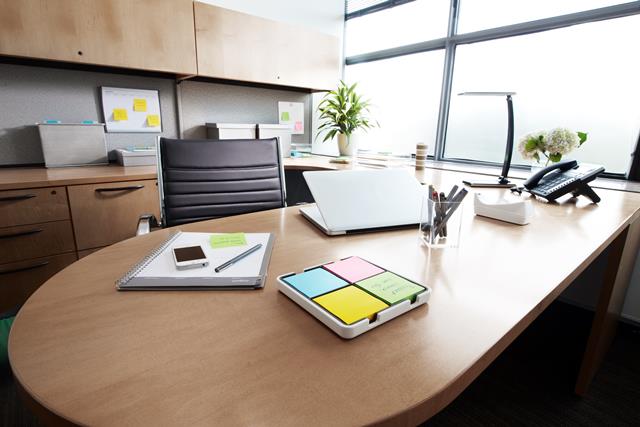 With this Post-it Brand and Evernote partnership, you can take your Post-it Notes wherever you go: no more leaving your to-do list at home! You can write, draw, jot on your Post-it Notes (any Post-it Notes and Post-it Big Pads) Then just open Evernote on your smartphone or tablet and take a picture with the camera in Post-it Note mode. Once it's in Evernote, all of your notes are searchable – it even reads your handwriting — and you can share your notes with anyone.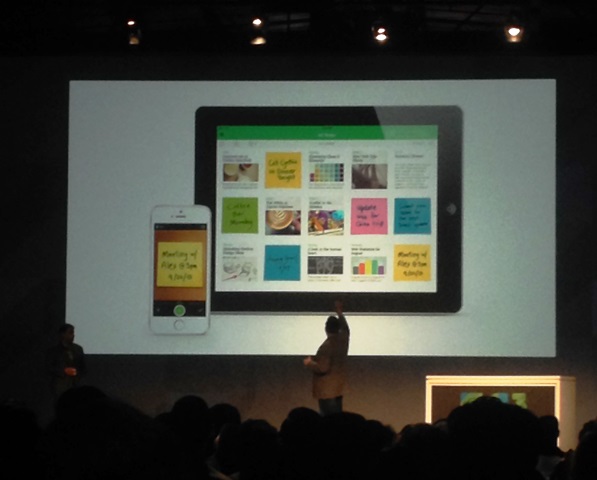 (In case you haven't seen it, Evernote is an app that works on your smartphone (iPhone, Android, etc.) and your computer, syncing all of your notes, ideas, Web bookmarks, pictures, and more. It's free, although there's a paid premium edition that adds more features. (If you want to try the premium Evernote, look for specially marked packages of Post-it Notes for a free trial offer.))
I love the clean design of the new Post-it Notes dispensers designed with Evernote, too: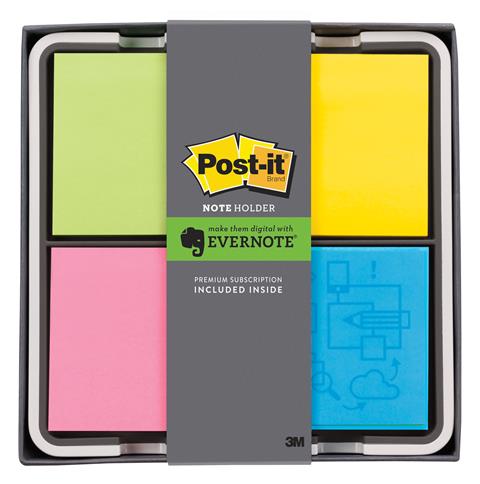 I especially liked the Post-it Notes camera mode in Evernote: you can tell it what you want it to do with each of the four colors. You can color-code your Post-it Notes so that a particular color automatically gets categorized in a certain way, like yellow for "to do," and blue for "ideas."
Here's how it works: you click the camera icon at the bottom left of the "Type a quick note" section in the Evernote app on your iPhone or iPad:

(Remember, Evernote works on PCs and many devices — it's just this photo feature that's unique to the iOS7 app right now.)
Then, in the camera mode, you can take a quick snapshot of your Post-it Notes — you just choose Post-it Note mode from the bottom menu. You can also customize your note colors to be categorized however you like – it's easy, as you can see below.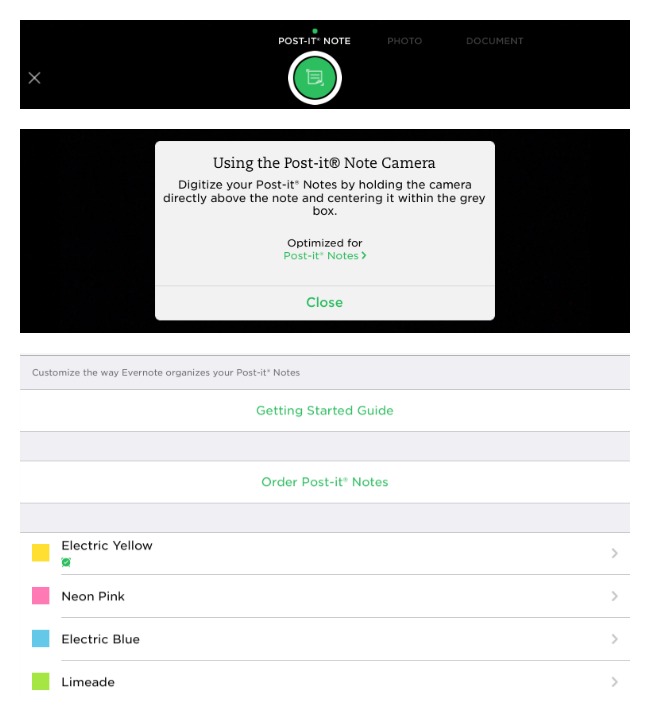 The coolest thing to me is that I can put my digital and "analog" worlds together — I can have all of my Post-it Notes backed up and saved on my computer and on my phone. They're searchable and always with me — and I can organize those little scraps of my life into one place!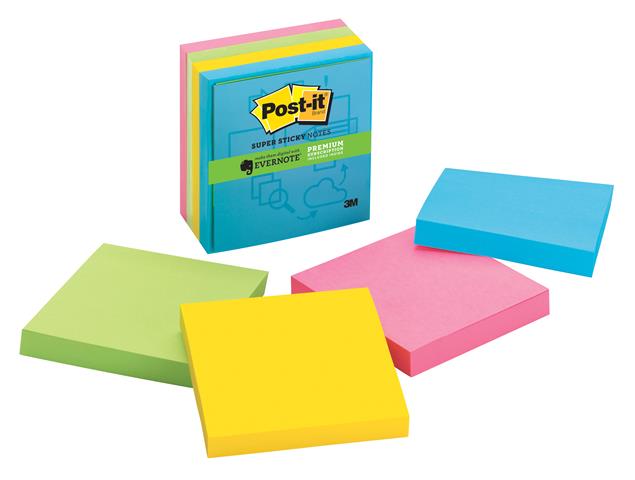 Learn more about Post-it Brand and Evernote by visiting your local office supply store or by visiting Postit.com/Evernote, Post-it Brand on Twitter (@postitproducts) or Facebook (http://facebook.com/postit).
The site even has some great ideas for using Post-it Notes and Evernote to get organized with meals, projects, and more.
You can find the packs of Post-it® Notes with the green Evernote stripe at Staples stores and online through Staples.com, Officemax.com, Officedepot.com, and Quill.com. (These Evernote packs and the limeade-colored Post-It Big Pad packs also come with one month of Evernote Premium. You can pre-order Evernote Note Holders through the Evernote Market; they're supposed to be available by the end of October 2013.)
It was such fun to attend the Evernote Conference in San Francisco — thanks to Post-it Brand for the chance to learn how to better organize my life and my family's schedule! There are so many ways I'm going to use these new Post-it Notes in our busy schedules to keep me and my family more organized. I'll share these ideas with you soon!
Check out the new Post-it Brand and Evernote partnership, Have you tried Evernote? Have you tried the new Post-it Notes features? Let me know!
xoxo

This is a sponsored post on behalf of Post-it Brand. Regardless, content and opinions are mine. See my disclosures.