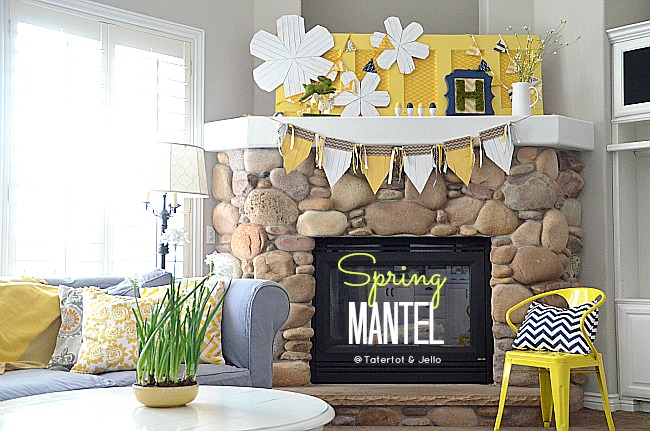 I love updating my mantels for different holidays and seasons.
The one in our living room is a little more formal — this year I went with a blue and green theme with succulents.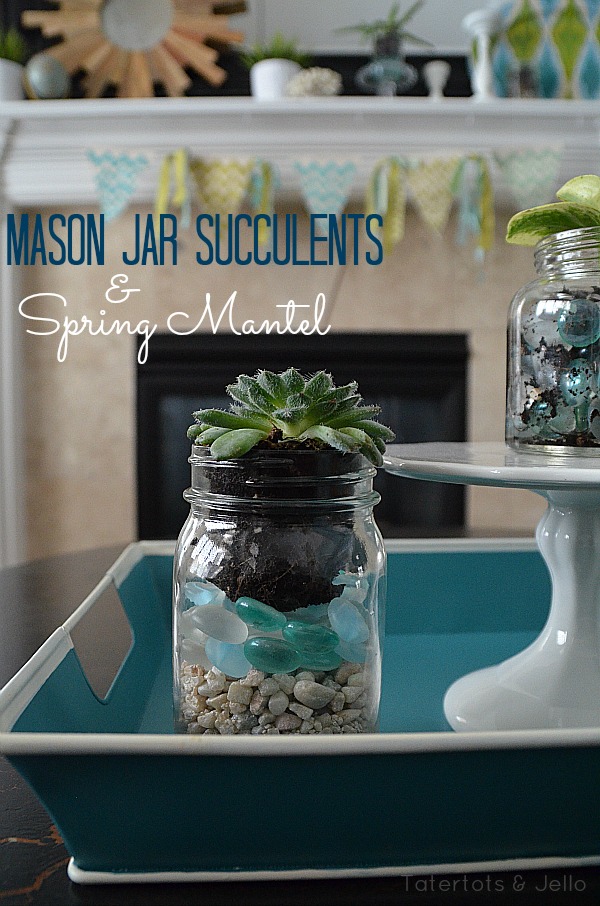 For my family room, I love to go with a more casual, bright mantel. And since I just updated my kitchen open nook in yellow and navy, I thought it would be fun to make my mantel kind of coordinate with that theme since the two rooms are open to each other.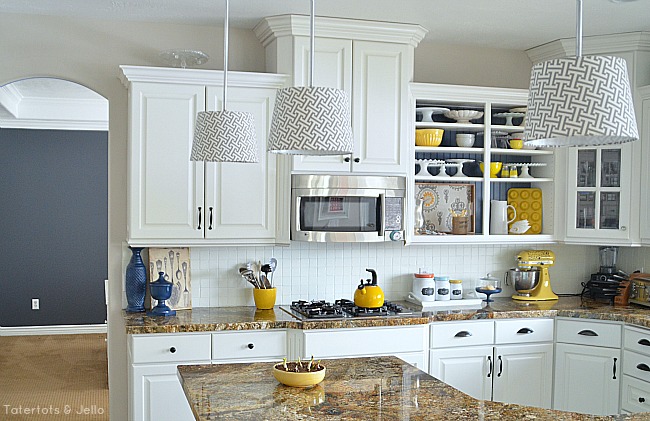 And I love yellow for Spring.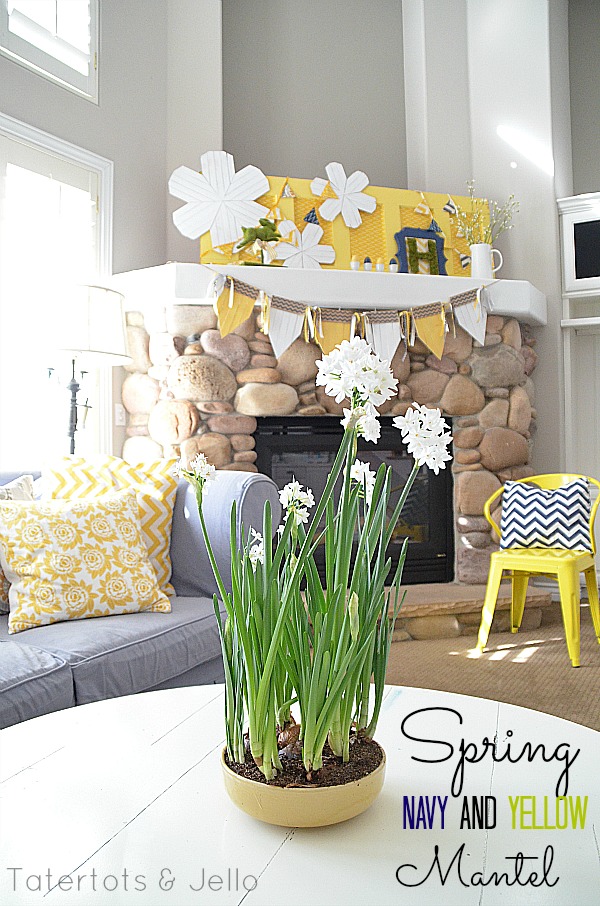 I bought some wood shims a couple weeks ago and I wanted to experiment to see what I could make with the shims. I ended up making some pennants for a bunting. And when I was playing around with them, I fitted the angled ends together and thought I could make them into a flower. So with my sweet husband's help, we did.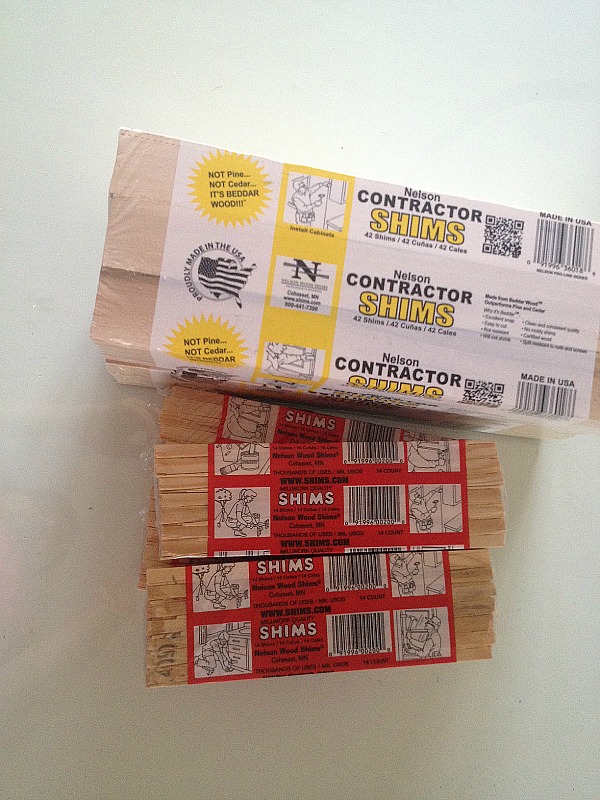 Did you know you an buy TWO different sizes of shims?? We made a large flower out of ther bigger shims and a couple of smaller flowers out of the smaller shims. The pennant bunting we made out of the larger shims.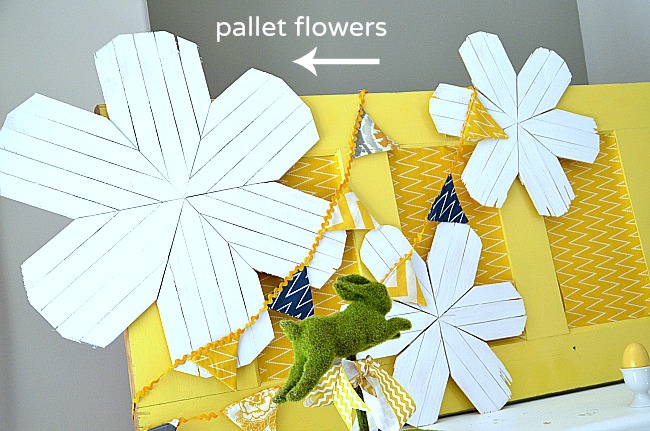 I will post a more detailed tutorial on how to make the wood shim flowers and bunting soon. But in the meantime, here is how I made the Spring Mantel.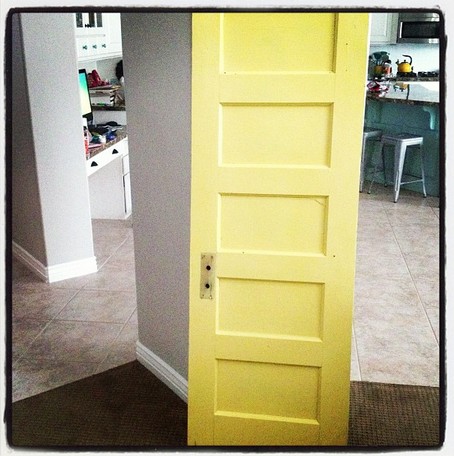 I took the old vintage door I have used for my Spring mantel last year and also for my Christmas mantel and I spraypainted one side yellow. Then I cut out panels to go in the panels of the door with fabric. I attached the fabric to the painted door with glue dots.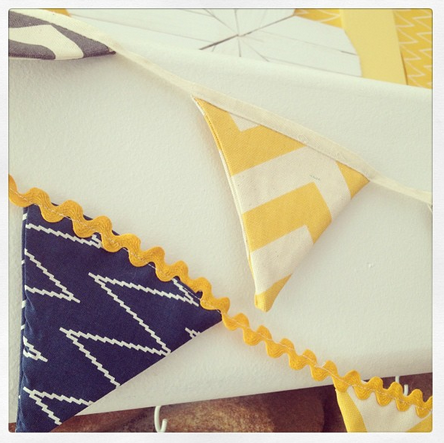 I also made a couple of fabric pennants with fabric from fabric I also had made into throw pillows for my couch. And then I took a frame and framed in some yellow chevron material and took a chipboard letter H and cut some moss to fo on top of it.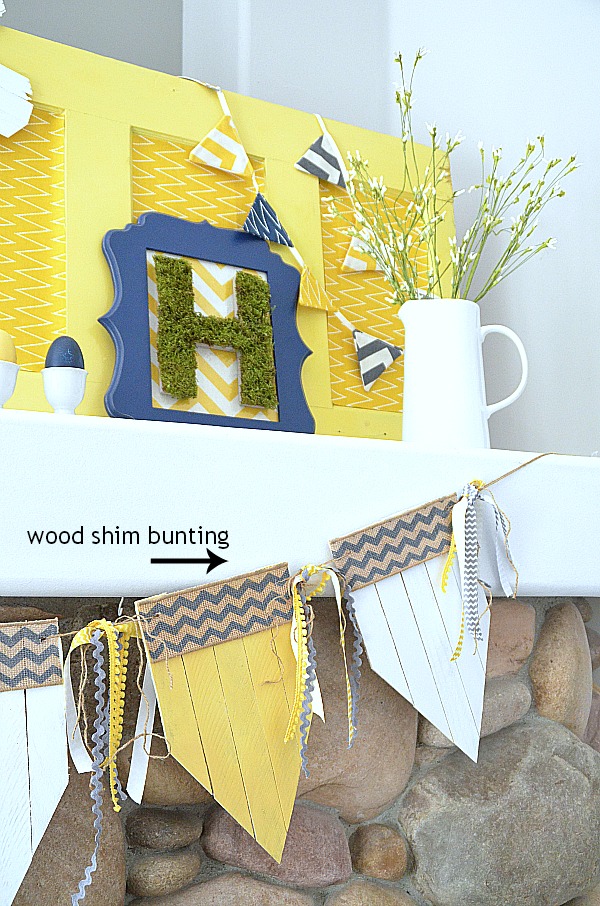 Another thing I did was I spray painted some resin eggs yellow and navy to match the decor.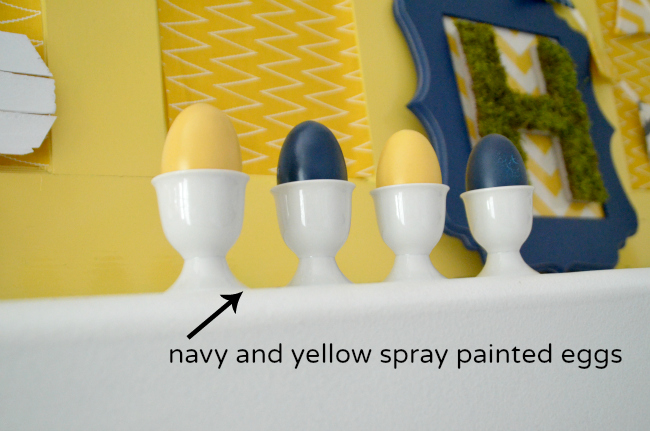 I added a colorful bow to a little moss bunny.
And I added some pretty greens to a classic white pitcher.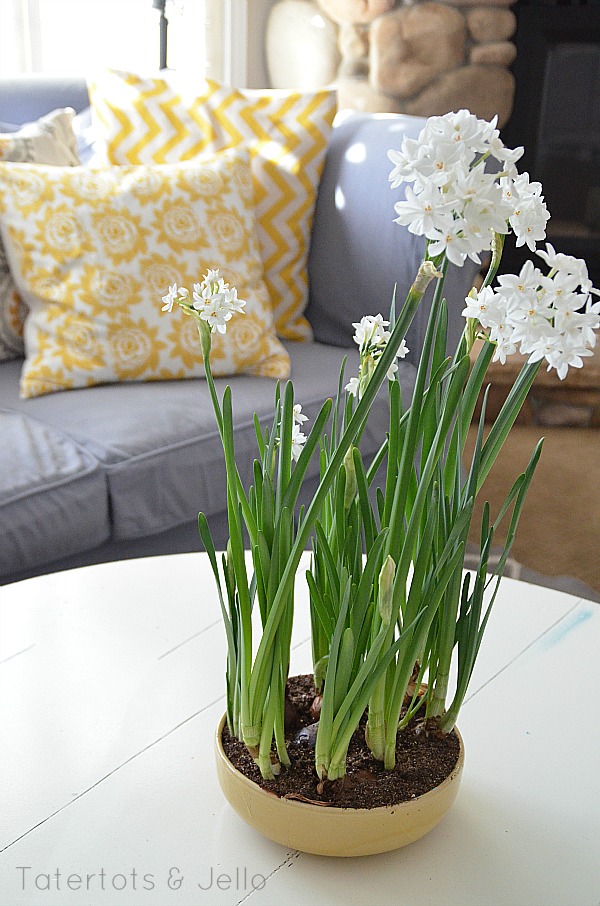 And look at my bulbs!! They finally bloomed – yay!! I absolutely love looking at them. They make me think that Spring is right around the corner. And I love having them on my little coffee table — they smell so good!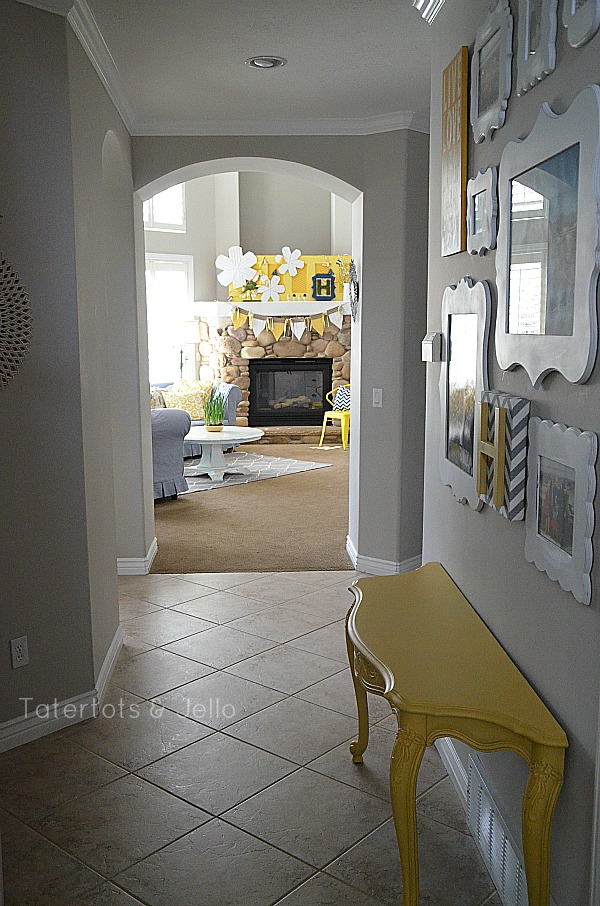 Seeing my little yellow and navy space down the hall from my front door makes me so happy. I love that the mantel echoes the happy yellow of the little yellow table I spray painted that I inherited from my grandmother.
And here's what it looks like going into the kitchen.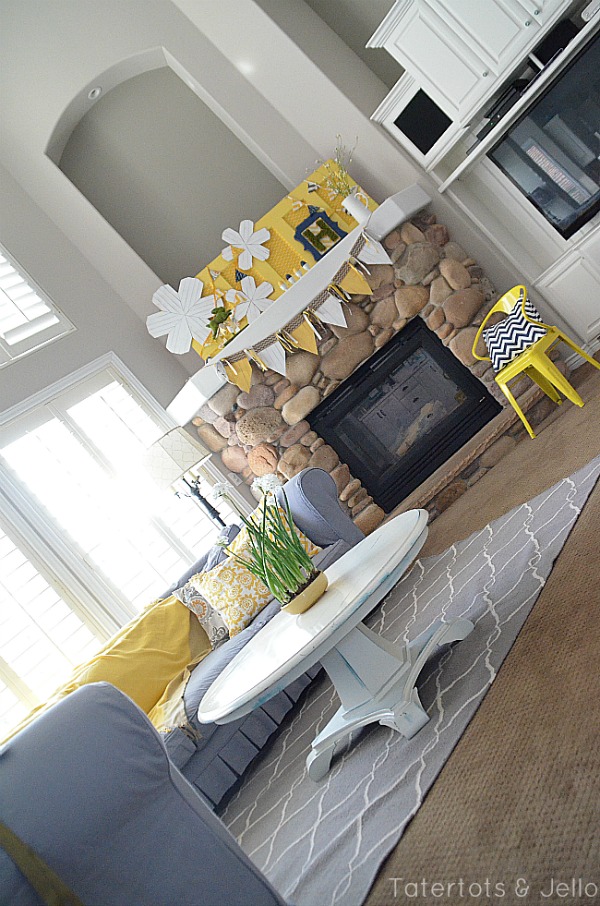 What is making YOU happy this Spring??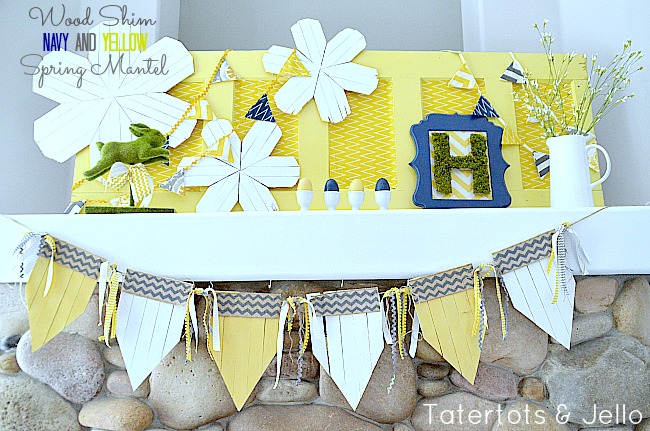 Have you made any SPRING projects, or is there a project that YOU are excited to make for YOUR home??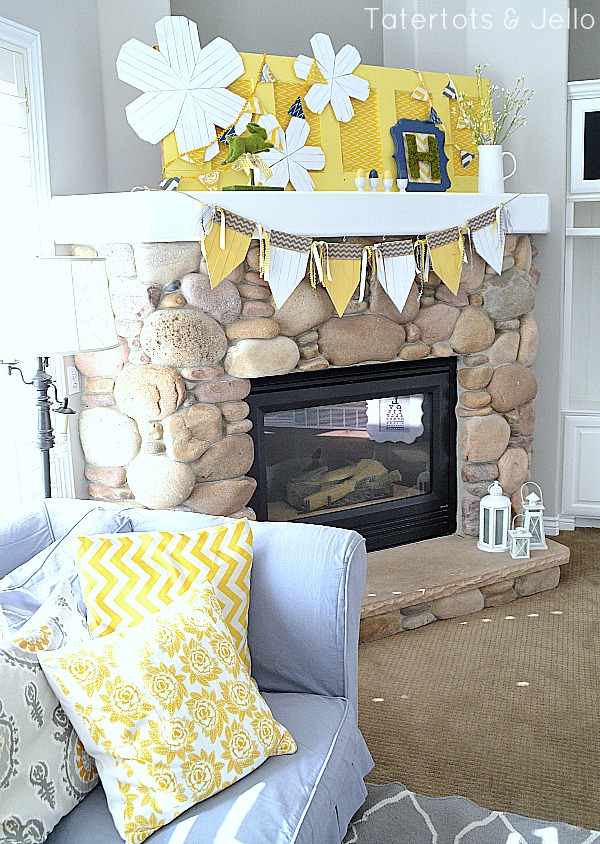 Share YOUR ideas with us in the comments – we would LOVE to know what inspired you!!
HAPPY SPRING!!
xoxo