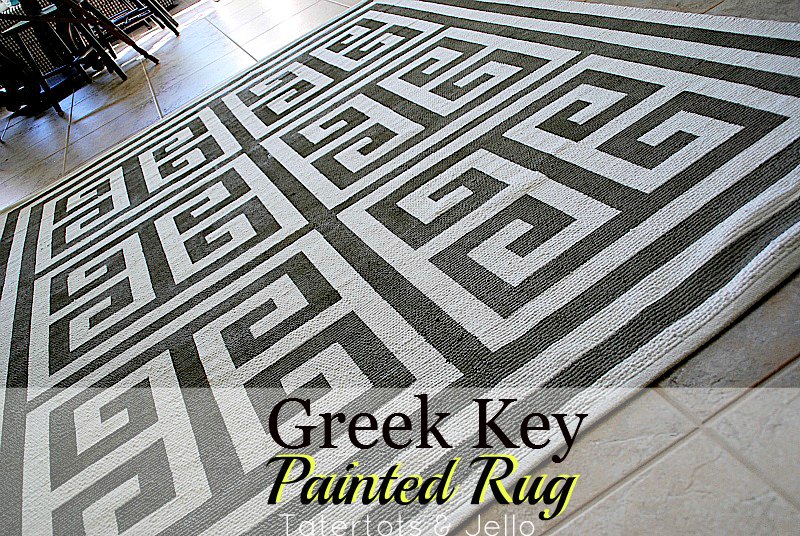 I love graphic shapes. I found a geometric rug that I loved —
but it was $2500.
So I decided to make a my own geometric rug,
and I love the Greek Key pattern.
I made a geometric rug for under $80 using a simple cotton rug, paint and ScotchBlue Painter's Tape.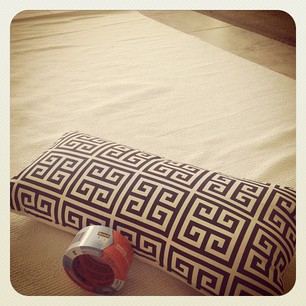 I had a pillow I used for my daughter's room with a "Greek Key" pattern. I used that pillow for inspiration. This project actually ended up testing my math skills. I had to get some help from my nice husband with the math and he helped me sketch the rug and pattern into graph paper. That made it easier for me to visualize as I taped the rug.
So now if you buy the same size Ikea rug (I used the larger Ikea ERSLEV rug, which is 5′ 11″ by 8′ 2″) and 2″ ScotchBlue tape, you should be able to end up with the same results. Be warned, it takes a while to get the pattern taped on. (It took us about two hours, not counting the first two hours of doing it wrong.)
And to save you the pain I endured, I scanned my sketch into a PDF that you can download and print. Note that I actually made a rug that's the inverse of my sketch, but it doesn't matter.
I used the 2-inch wide ScotchBlue tape and built my design on a grid made of 2″ squares. When you look at the sketch, you can see that the design consists of six identical patterns and a border around the outside. (If you have a rug of a different shape, you could just add borders or even increase the size of the grid.)
I taped off four borders of tape along the outside of the rug to make my grid centered on the rug (since it didn't all divide out neatly). And then I divided the inside section into three wide rectangles, then divided those rectangles in two so I had six identical rectangles. I then taped off the "Greek Key" pattern within those six sections. And the last thing I did was take off two sections of the borders.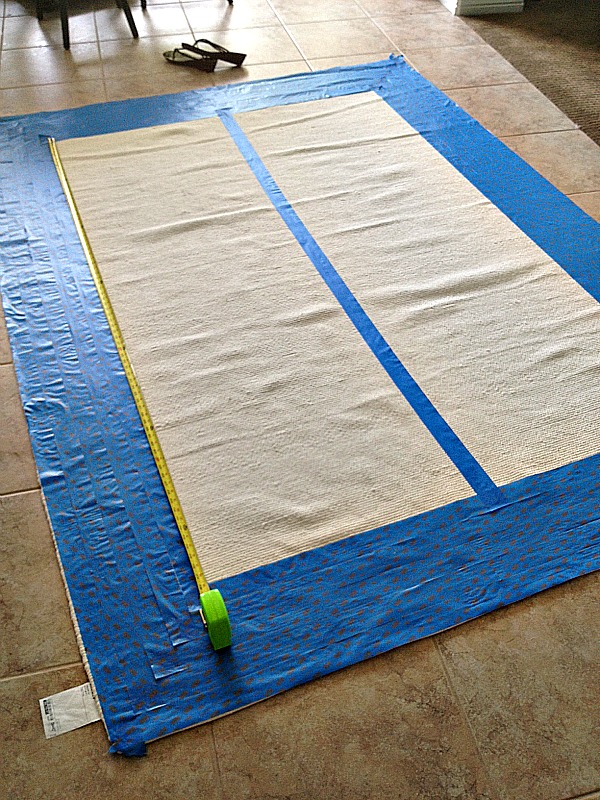 Tip: The first thing I did before I painted was I smoothed the tape down around the edges to ensure a sealed line. This keeps the paint from seeping under the tape. This rug had ridges so I had to make sure to smooth the edges down first. (the ScotchBlue tape has a feature called Edge-Lock that helps with this, and I must confess that I found that it actually DID help!)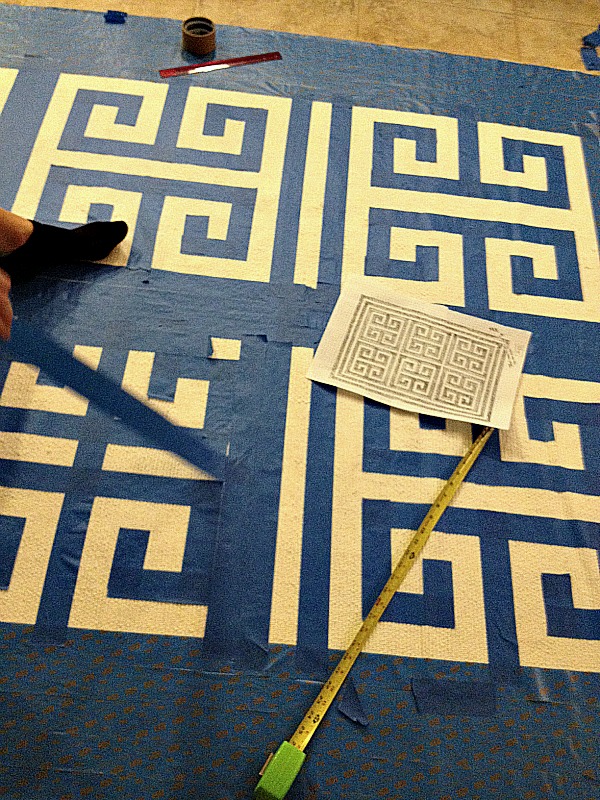 I used a smooth roller for this project. I have found that smooth rollers work best for stenciled rugs. So I rolled the paint onto the rug, rolling over the taped sections.
Once the first coat of paint was on, I let that dry.
Then I applied a second coat of paint. I think two coats of paint makes the paint darker and makes the paint "pop" against the white rug.
I let the paint dry overnight, and then when it was dry I peeled up the tape, revealing a beautiful patterned rug.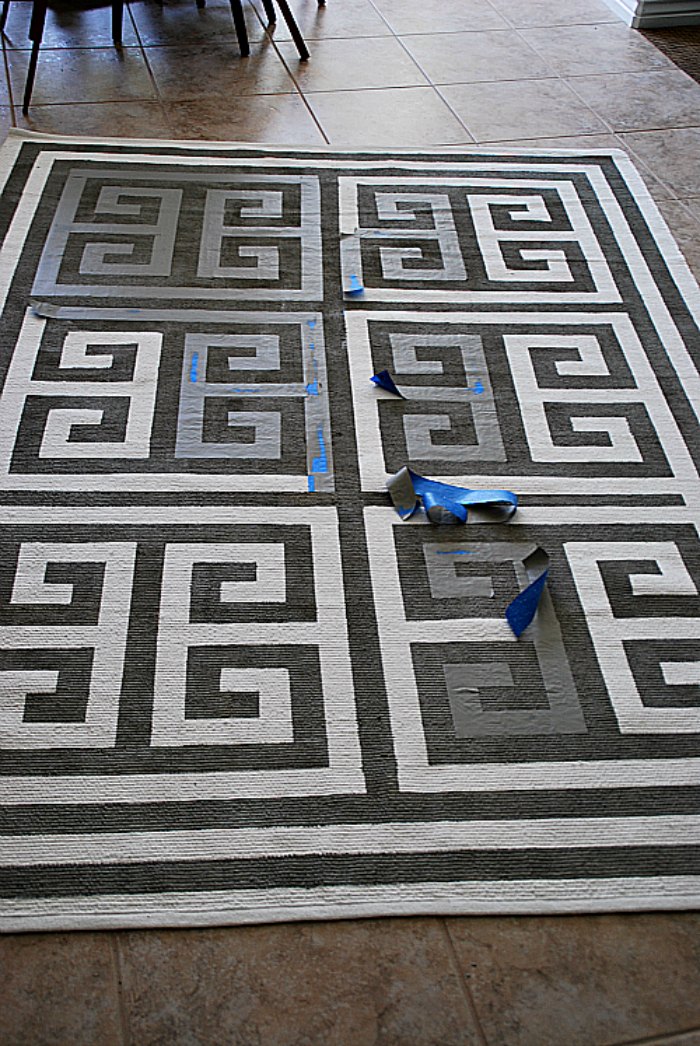 The last thing to do is to apply a sealer of some sort like Scotchguard over the top. Your rug will wear naturally — that's part of its charm!
Here's a short video on how to make the rug:

And here's how the Greek Key Painted Rug looks in my new Guest Room!!
I love it!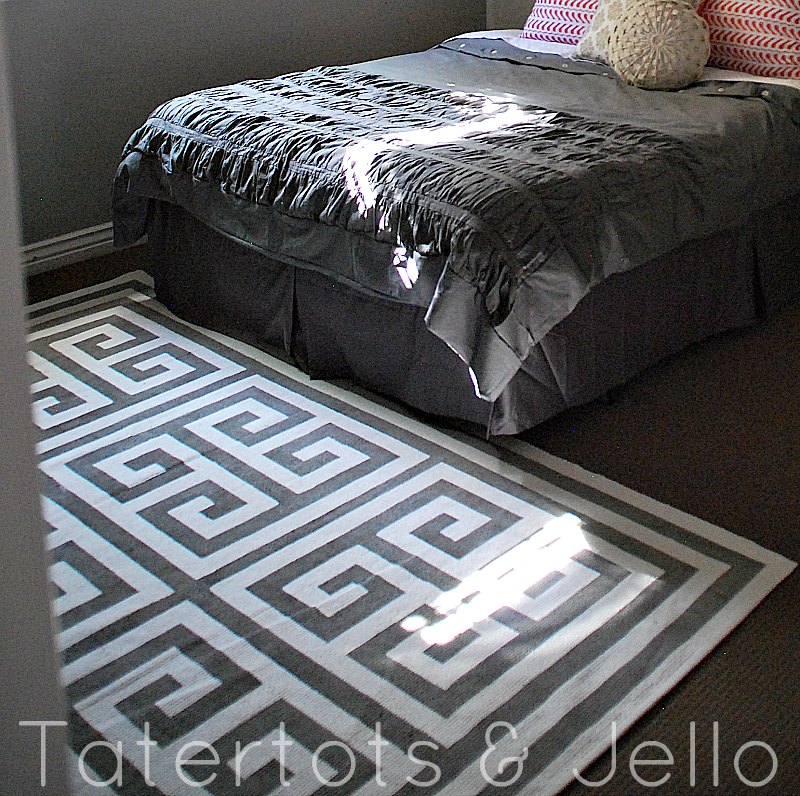 (And here's how it looked right after painting in my kitchen!)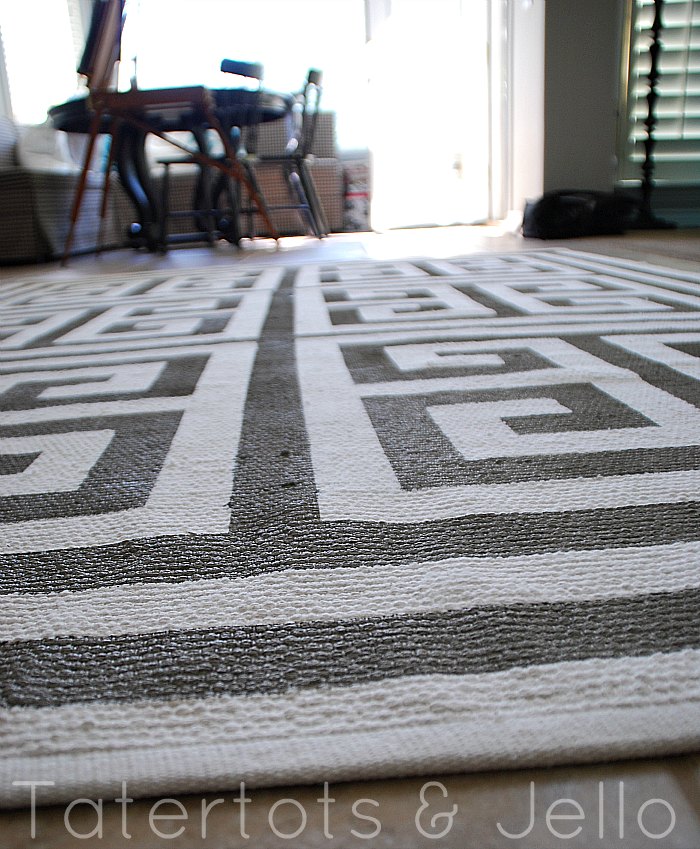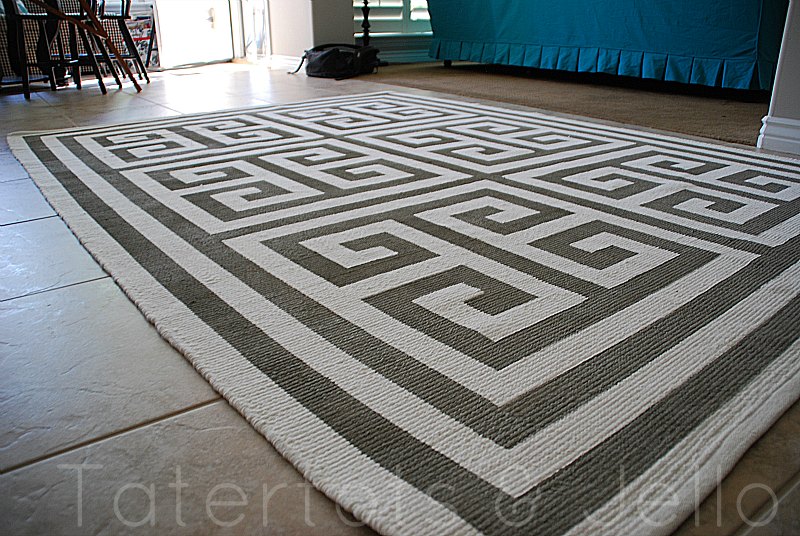 ***
And what's more, ScotchBlue is giving away
hundreds of free samples every day plus
$150 and a ScotchBlue Painter's Kit
in the ScotchBlue Ribbons Nomination Contest!

Just visit the Facebook page to nominate YOUR projects (or other people's!).
Enter your email address to enter the drawing for hundreds of free samples given away every day,
and every time you nominate a great project, you'll be entered to win prizes.
***
Have YOU tried painting a rug?
Let me know in the comments — and include a link so I can see your awesome rug!
xoxo

Note: This is a sponsored collaboration between TatertotsAndJello.com and ScotchBlue. I received compensation for this post; however the opinions — and the fun rug project — are all mine. My complete disclosures are here. And I really do like ScotchBlue tape.