I love quatrefoil
— what a wonderful shape. So steeped in history —
I may have a slight obsession with medieval historial fiction….
Anyway, I have been wanting to make something with a Quatrefoil shape for a while now.
Note — a Quatrefoil wreath is coming up soon.
In honor of
The CSI Project's first challenge — Paint
, I made a couple of painted quatrefoil projects out of an old stool and a big tray.
Come over to
The CSI Project
for the
tutorial
and
HERE
is the stencil.
Updated to add:
I had a few people ask me the color of the paint on the stool — it's
Folk Art #444 Patina.
Also, I've updated the links to The CSI Project.
I am about to remodel my bathroom and am hoping to do it in this color and white. Blissful!
I'm linking up to these fun places today: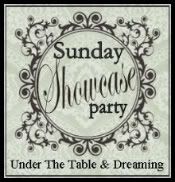 And, have a Terrific Day!
XOXO