Happy Friday!! Check out this Organizational Wall!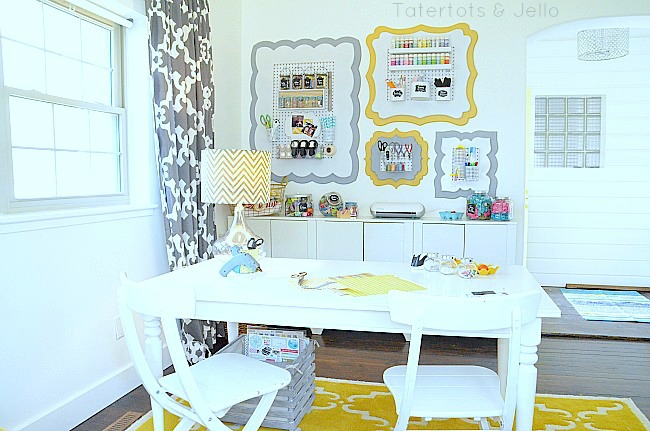 I want to make your Friday even a little happier with a $200 giveaway to an awesome company – Cut It Out Frames. This is the same company that makes the frames I used in my Family Gallery Wall. I love the shape of their frames. They come unfinished so you can paint them any color that you want. Plus, they are super affordable.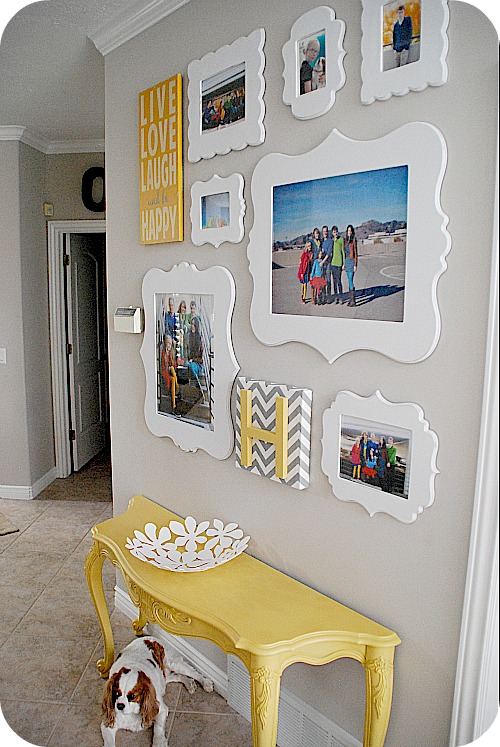 When Cut It Out Frames contacted me to tell me that they have a new product — Double Frames — and asked me if I wanted to make a project with them, I was excited. You see, I am working on a new office. It's kind of a big project, and I will tell you more about that soon, but I knew I wanted to make an organizational pegboard wall in that space. I love the look of pegboard, but I wanted to add a little pretty factor too — and I thought pegboard and scrolly frames would be so fun together!!

Here's how I created my wall, and then I have a $200 credit to give to one of you — wooo hooo!!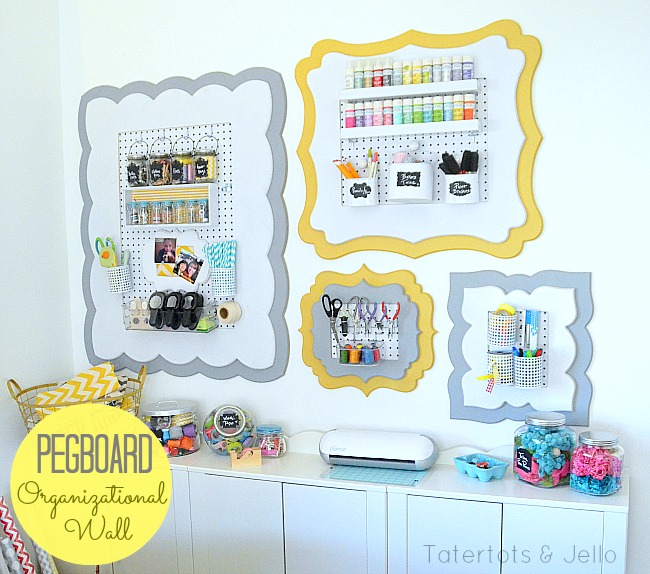 So here is my Pegboard Organizational Wall so far. (I am still working on it, but I wanted to show you what I've started. I'm sure it will be always changing!)
I started by tracing wallpaper and putting it on my wall where I thought I wanted the frames to go. That way I could move things around until I got the placement perfect. I didn't want to put more holes in my new walls than I had to.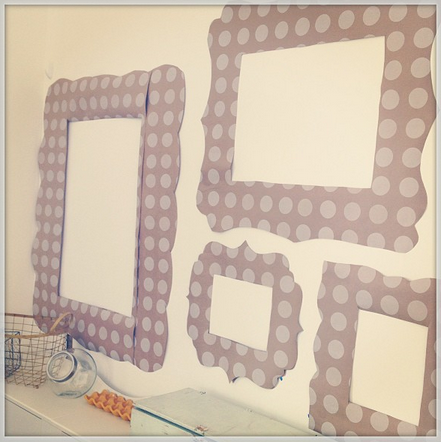 Then I painted the frames. I wanted to keep it pretty neutral – grey, white and yellow.
Then I added the pegboard. You can buy pegboard that's already white from your hardware store. And, you can also have them cut it for you!! Isn't that awesome?? Just bring the dimensions with you to your hardware store and they have big saws and can cut it for you for free. I love that!!
Then just pop them into your frame. (If you've cut your pegboard exactly right you might have to work a bit to get it in, but it's nice to have a snug fit when you will be hanging things from the pegboard!) The Cut It Out Frames have metal holders in the back to hold in glass and these also work great for pegboard.
Then you will need some pegboard hooks. You can buy a big assortment — often the most economical choice. And then if you need more of certain specific hooks, you can buy those individually.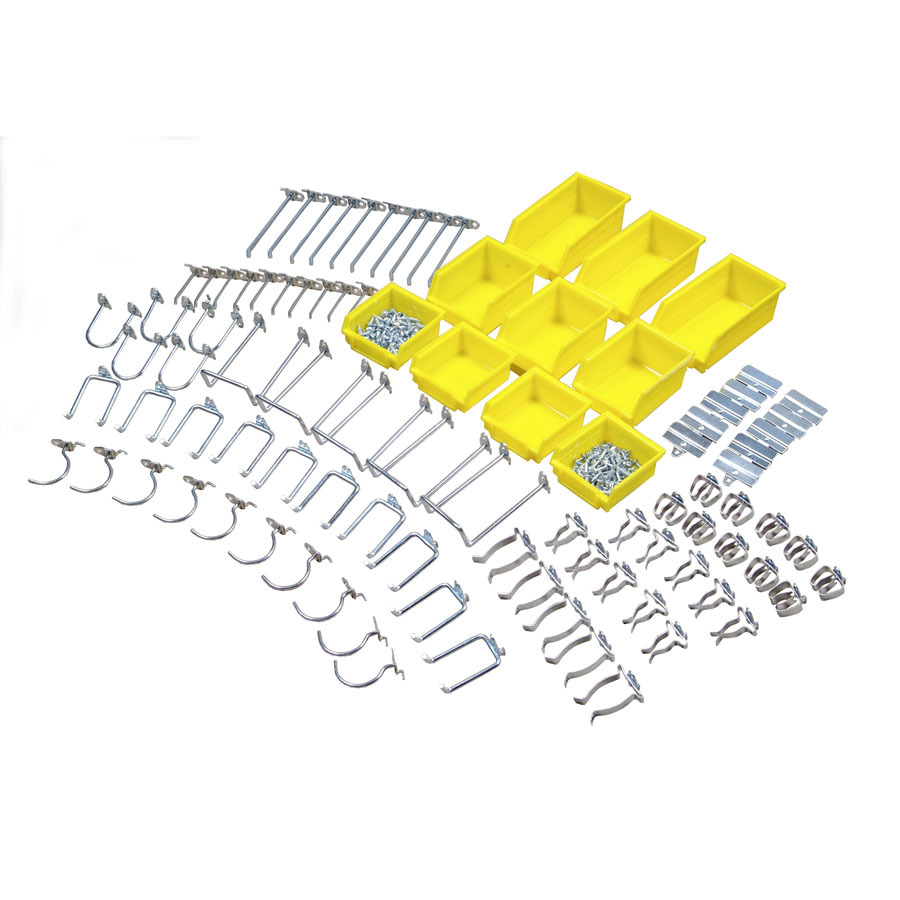 For containers for my pegboard, I used a few different things. I made a couple of shelves out of scrap wood and painted them to put my paints on. I also bought three shiny ceramic knobs from Hobby Lobby and hung them on the board instead of metal hooks. (I just screwed them in from the back using extra pegboard spacers that came in one of my pegboard hook kits.) I think they are pretty!
I also bought some metal pails from Hobby Lobby, painted them white, and then added chalkboard labels to the fronts of those. I also repurposed was pencil holders from Target. They have round holes in them and I discovered that if I put small rolls of ribbon flat inside of the pencil cup, then it's easy to pull the ribbons' ends through the holes for easy access when I am crafting. To hold the pencil holders to the pegboard, I used pegboard magnets.
The clear containers are actually plastic refrigerator organizers that I found at Target.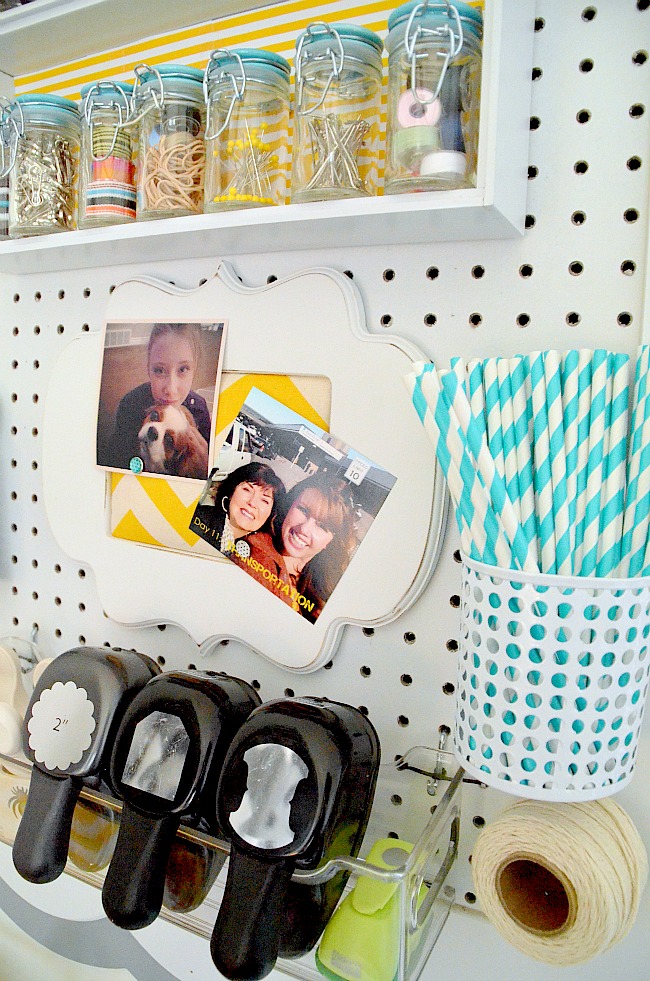 I also made a little bulletin board with some fabric and the smallest Cut It Out frame. I used Command Strips to hang it on the pegboard. I took the low cabinets from my old office and put them under the organizational wall. The flat surface of the cabinets is perfect for an assortment of glass containers where I am storing things like washi tape, ribbon, trim and a metal bin full of fabric.
I tried to hang the tools that I use most so they'd be in easy reach and easy to find, like my scissors, pliers, rotary cutting tools, pens, pencils, rulers, ribbon and baker's twine. I have bins in the cabinets underneath for the rest of my craft supplies that I don't use as much.
I really love that the wall is functional AND pretty. It really makes me happy!!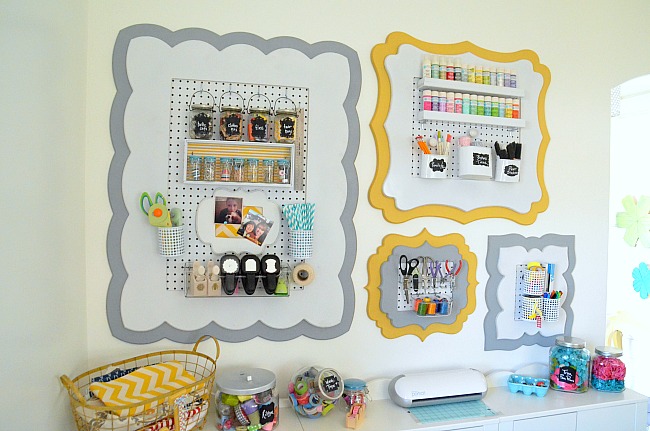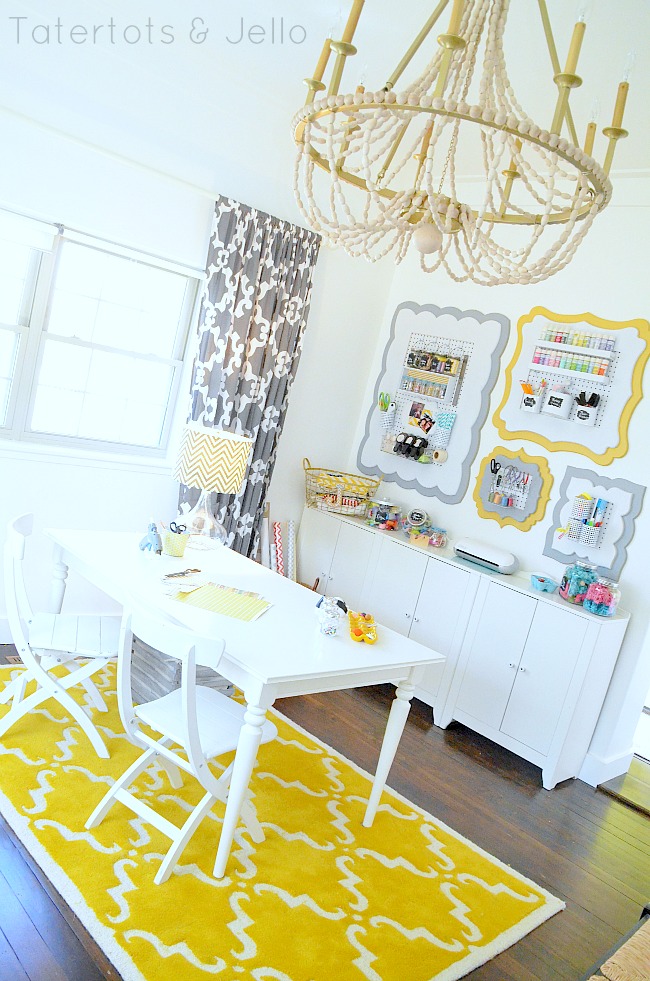 And now — here's how YOU can win $200 to Cut It Out Frames.
This credit is good for anything in their shop!! Yay!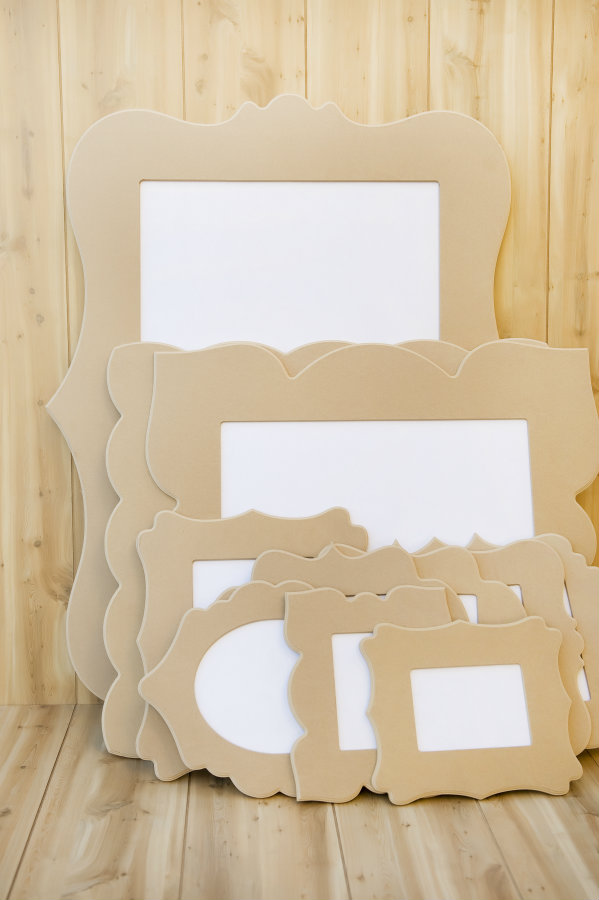 Here's how to enter:
Have you tried pegboard to organize? How do you organize your project space?
xoxo

(I received product from Cut It Out for this project. For more information, see my disclosures.)