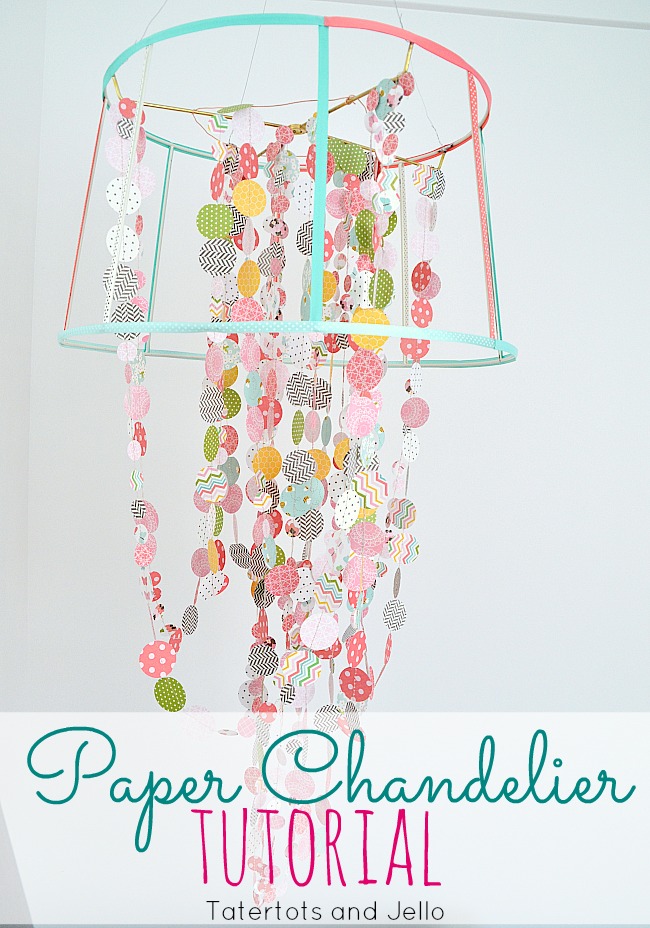 I have had such a fun time designing my new line of scrapbook paper and embellishments for American Crafts!! It's going to be a scrapbook paper line that has a modern home decor spin! I can't wait to tell you more soon!!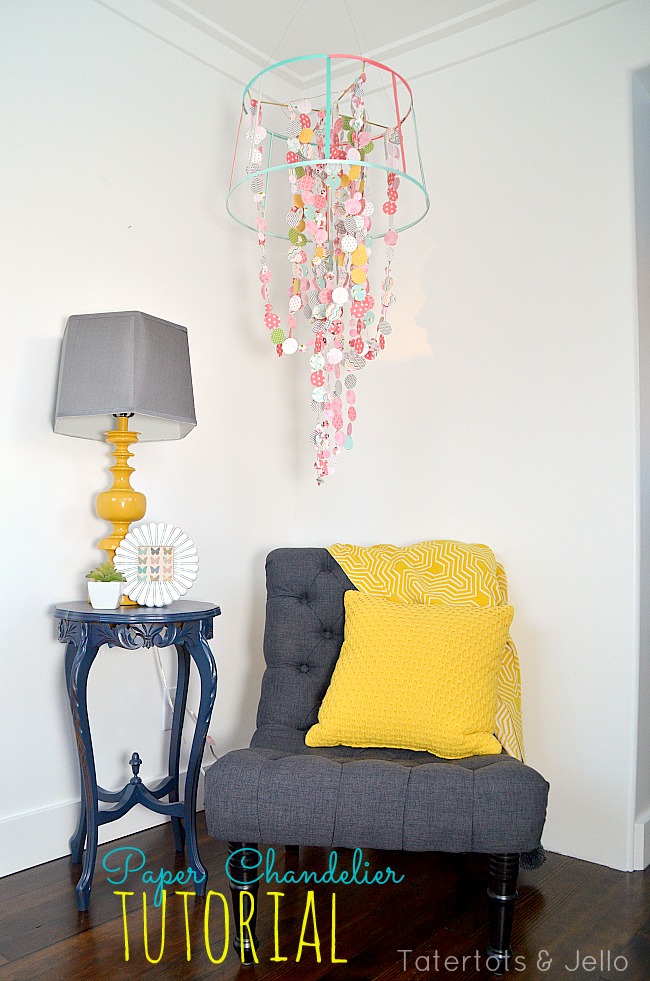 I was able to go down to the Craft and Hobby Association show – CHA a few weeks ago. And I made a little chandelier out of some pretty Pebbles scrapbook paper for the booth. I think this chandelier would be so fun in a little girls room!!
I have seen a few tutorials on how to make paper chandeliers like this. They all seemed super involved and time consuming. So I tried to stream line this project and I think I really did. I'll tell you how in just a minute.
Here's how to make our own Paper and Ribbon Chandelier: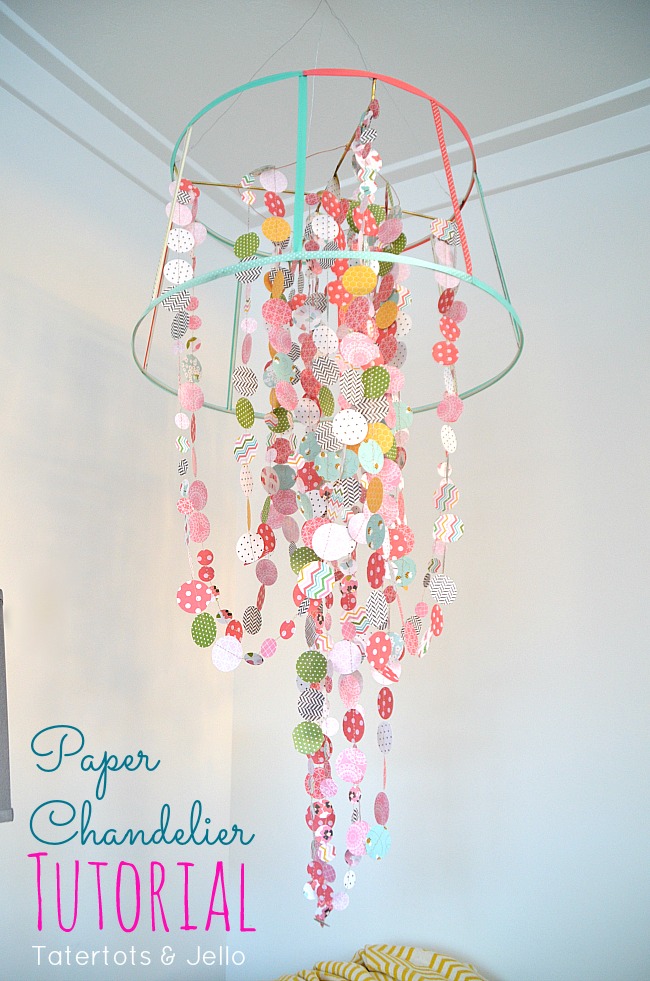 Supplies: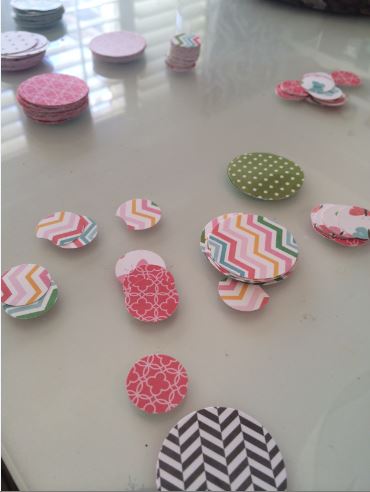 8-10 sheets of 12×12 scrapbook paper
2 different sized circle punches or a craft cutting machine
A sewing machine
Hot glue gun
Wire to hang up the chandelier
And wire to add to the top of the chandelier
A lamp shade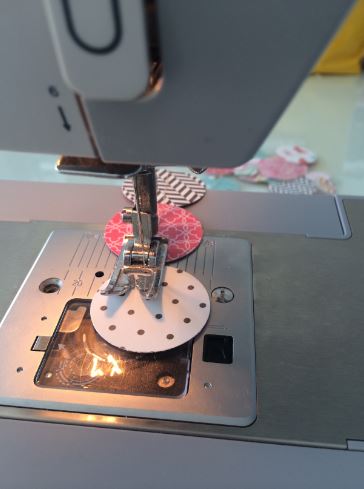 Directions:
Use your craft cutting machine or circle punches to punch out as many circles as you can from your paper.
Then sew the circles, alternating patterns and sizes with your sewing machine.
I sewed the circles in one, continuous loop that measured about 40 feet long. It seems like a lot, but you will need a lot of footage to drape the circles for your chandelier.
Once you have the circles sewn in one, continuous loop – lay it out on the floor of your home and try not to get it tangled up.
Take the fabric off of your lamp shade. You will need a shade that has spokes that holds the shade together. Many cheaper lamp shades don't have these spokes. You might need to go to a thrift store and find a vintage shade for this project.
Once you have exposed the spokes and wire of the shade, cover the wire up with ribbon. You can use glue dots or hot glue to glue the ribbon onto the spokes and wire of your shade. I used a few different colors of ribbon. And your ribbon should be thin – mine is craft ribbon and it measured about 1/4″ wide.
At the top of the chandelier, run some wire across the top in an X pattern so you will have somewhere to drape the circle length.
Attach some wire to the top of the lampshade and hang it up so you can start draping the sewn circles.
When you have covered up the wires of the lamp shade, start draping the sewn circle length to the chandelier. I just draped the circle length from the X you made with the wire at the top.I used my hot glue gun to hold the sewn paper length in place and I looped the circles evenly from all four corners of the lampshade. Then I went into the center of the lampshade and made four more loops that were a little longer from the center.
I also hot glued the lengths at the top of the shade to hold them in place.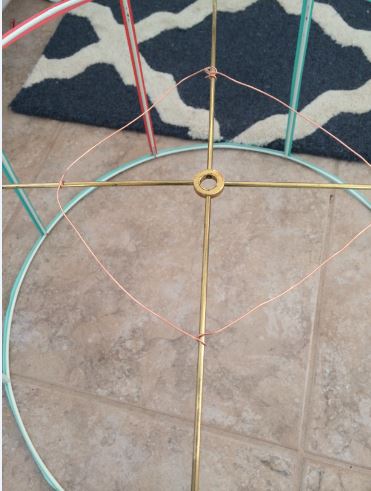 And that's it! So much easier than using individual lengths of fishing wire and hand placing the paper circles.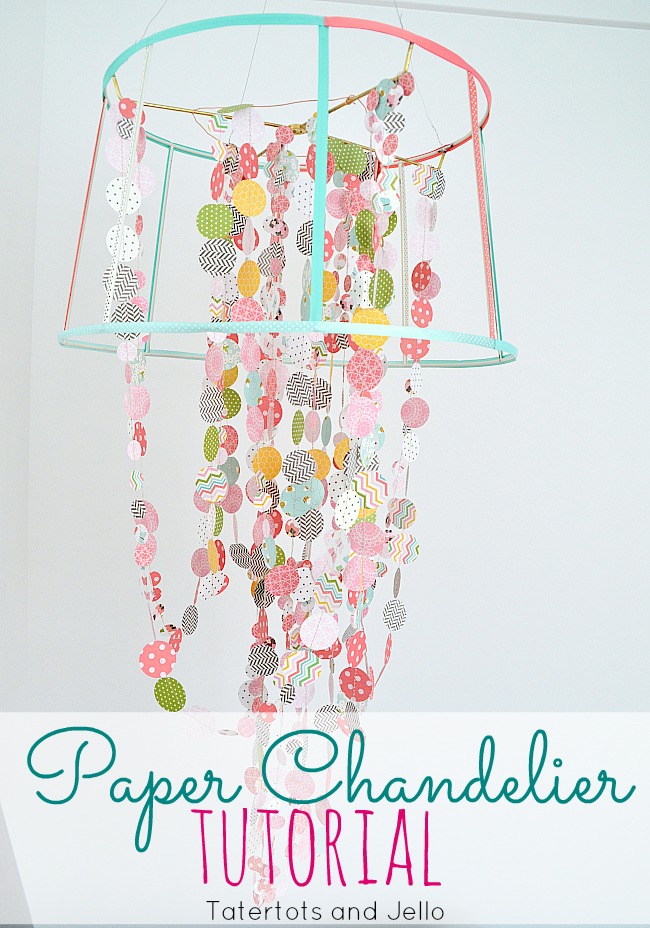 And here a a few more chandeliers I have made. I think a chandelier can really make a room!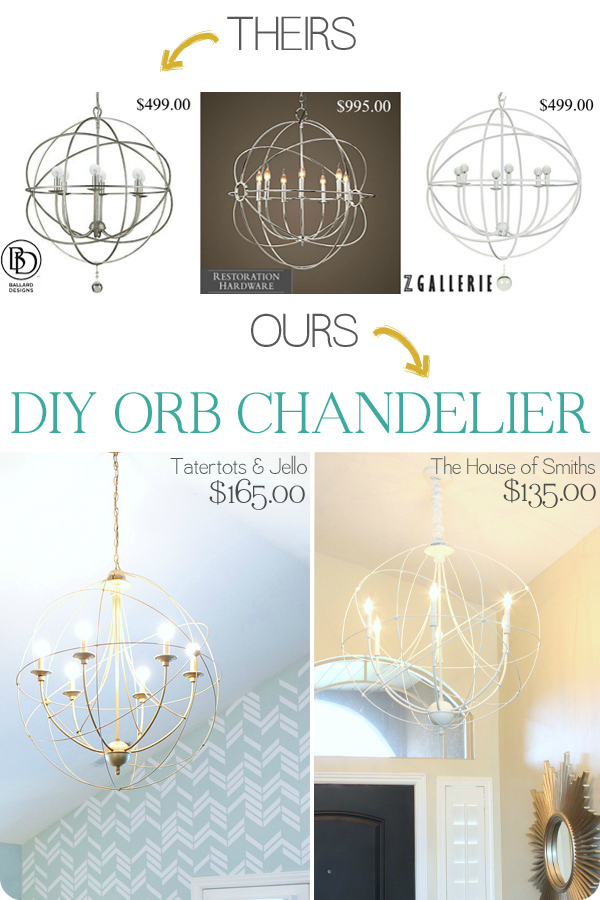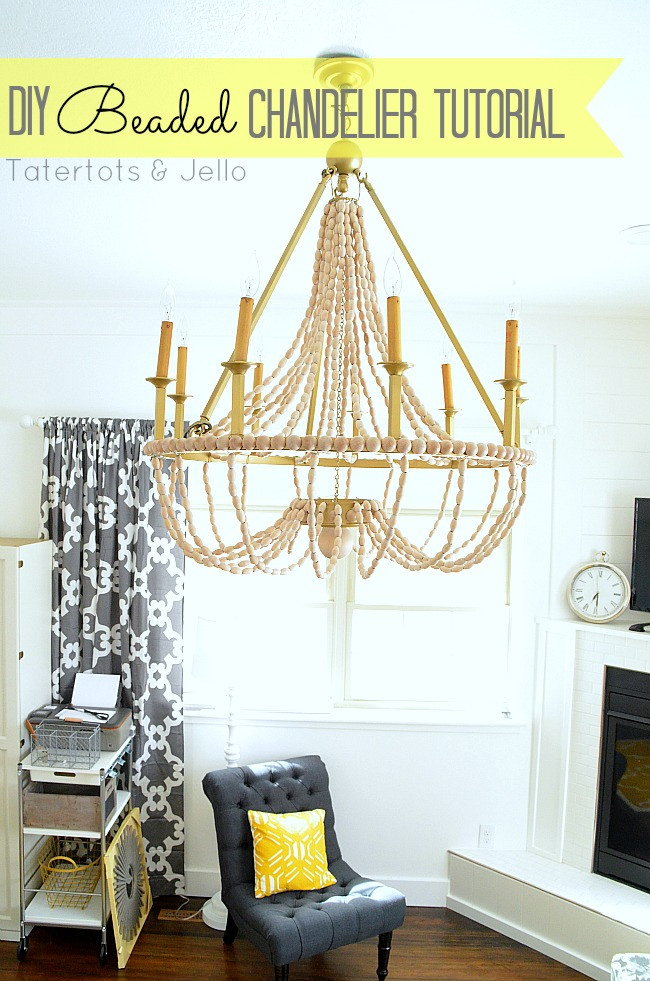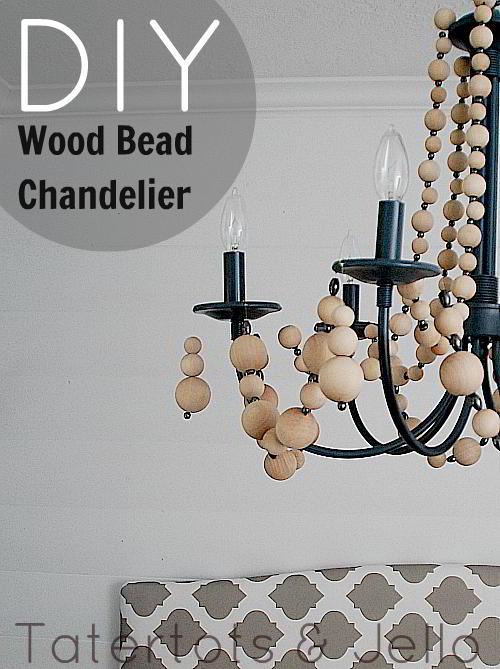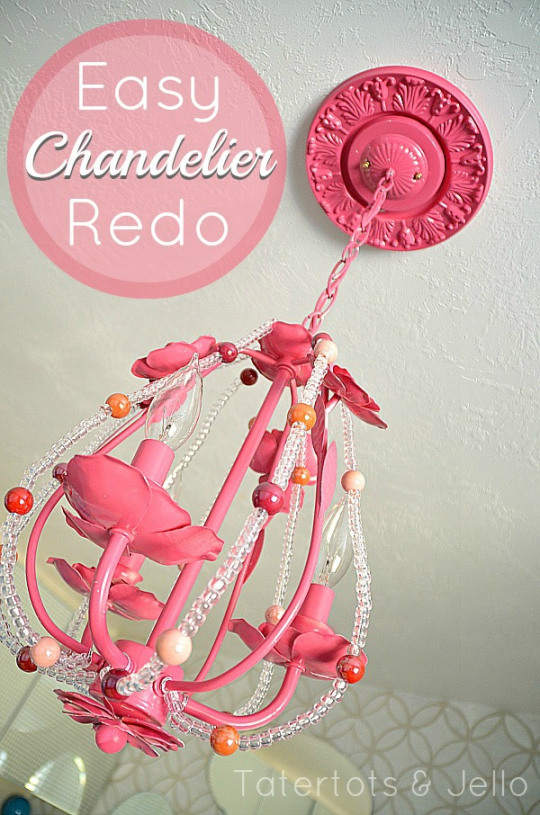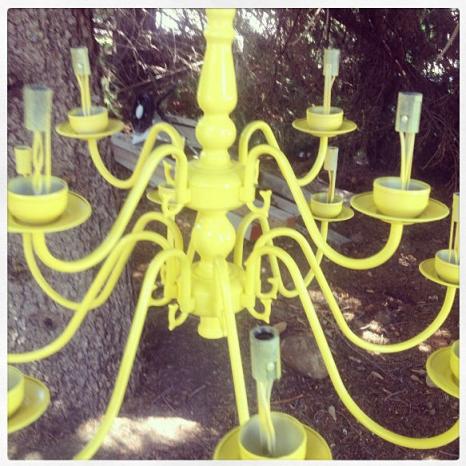 I also spray painted a brass chandelier Sun Yellow at the #1905Cottage – there's a video showing it being hung up there.
Have you redone a chandelier?
Show us YOUR idea.
We would love to see it!!!
Have a beautiful day!
xoxo