When we came home from our last Summer hurrah vacation at Disneyland, I found a big surprise waiting for me!
DecoArt sent me a box full of their Art Glass Paint, stencils and brushes. So fun!!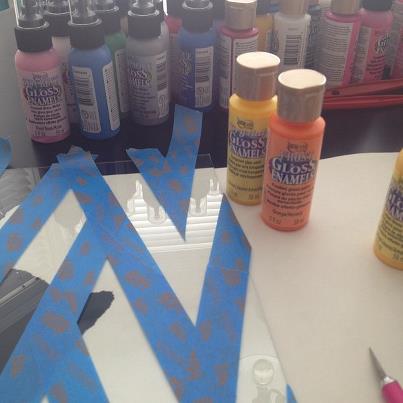 I couldn't wait to get started on some ideas. I had a few Ikea frames in my garage waiting for some inspiration. I got them out and got to work. I thought it would be fun to tape off some designs on the glass with painter's tape and then try out the different DecoArt glass paints.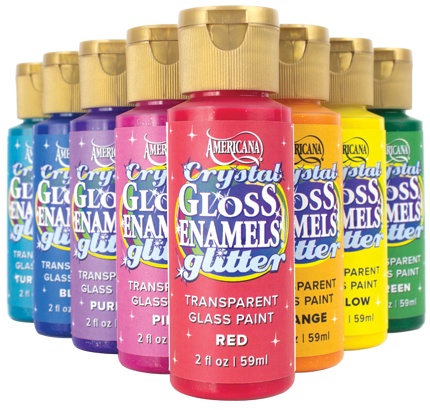 DecoArt makes several different kinds of glass paint.
Glass stain which is very clear and comes in many different colors,
Glass Paint which is a little more opaque and comes in regular and also sparkle (which might be fun for holiday projects),
Opaque glass paint which is thicker and more opaque
And the 3-d Opaque paint which is even thicker and comes in a bottle with a tip applicator. This is a good medium if you are trying to make leaded-style projects and you want to use some paint to make the leaded outlines.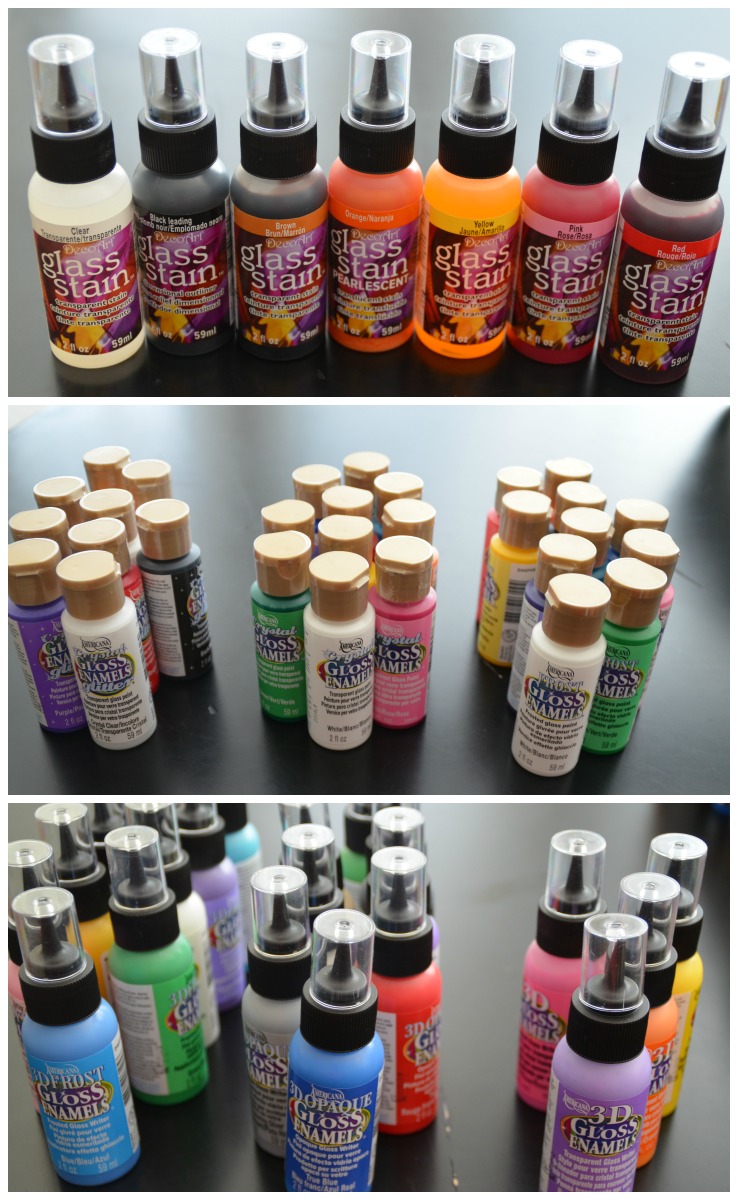 I had a great time experimenting with the different paints. And DecoArt was so generous in the supplies, I am sure to be making quite a few different projects in the next few months with these products.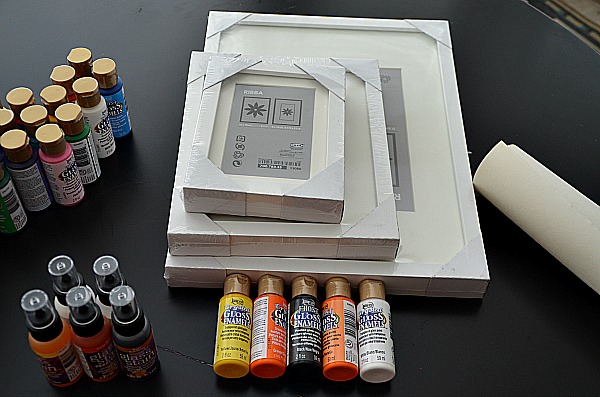 Of course, I love Chevron, but I thought it would be fun to make a bigger version of the design for a more modern look, and I also love the clean simplicity of stripes.
So I taped off the glass in the two biggest frame sizes with painter's tape. And I wasn't very precise. I really wanted a more freeform feeling for this project. So I just started taping. It was so fun. I used an x-acto knife to cut the edges of the chevron corners.
Once I had it all taped, I applied the paint. For the larger frames I mostly used the DecoArt Opaque paint. I didn't have an orange Opaque paint so for that color I used the Frosted Glass Paint, which isn't quite as opaque. I let one layer dry and then applied another layer. One tip I can give is to run your X-acto knife around the paint lines, that way when you peel off the painter's tape, the paint line will stay crisp. I had a problem with the paint peeling off the glass when I peeled the painter's tape off.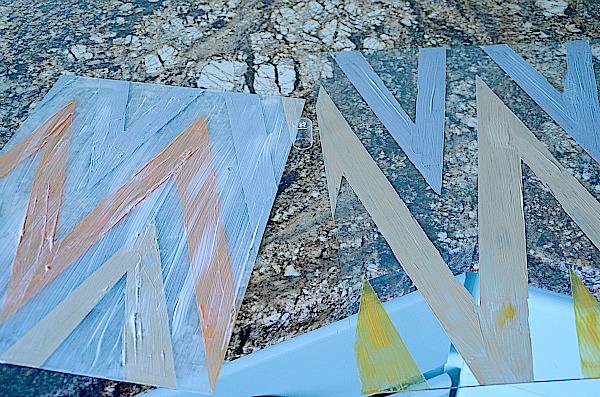 After the painter's tape was peeled off, I went over the whole back of the frame with white opaque paint on one glass and white glass stain on the other. I loved the effect of both. Both paints give the glass the effect of stain glass. The white glass stain is more translucent.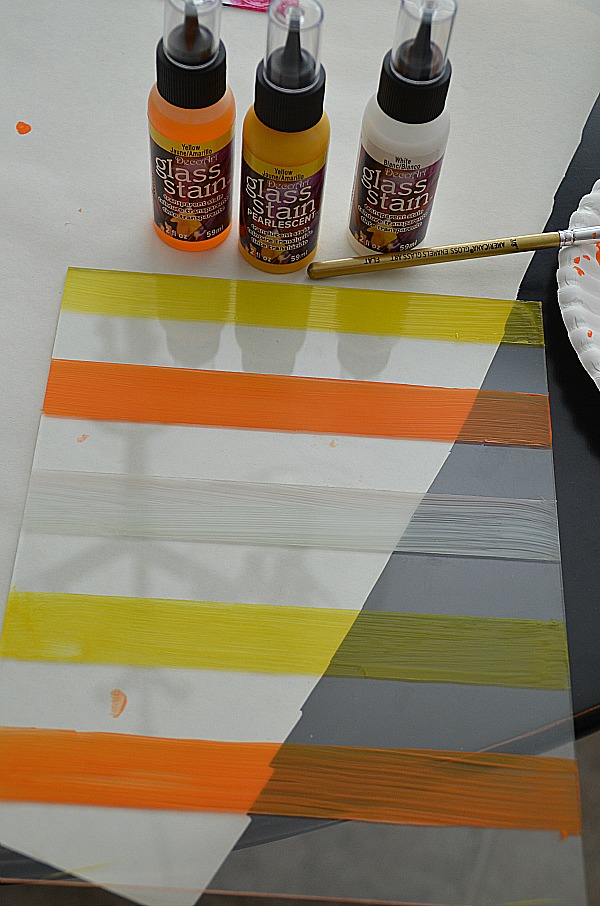 Then when I paint was dry, I put the glass back in the frames — with the painted side inside the frame — the smooth side of the glass is facing out. I lined each frame with white scrapbook paper. But it might also be fun to use a colored scrapbook paper, or even a colored paper with a small print.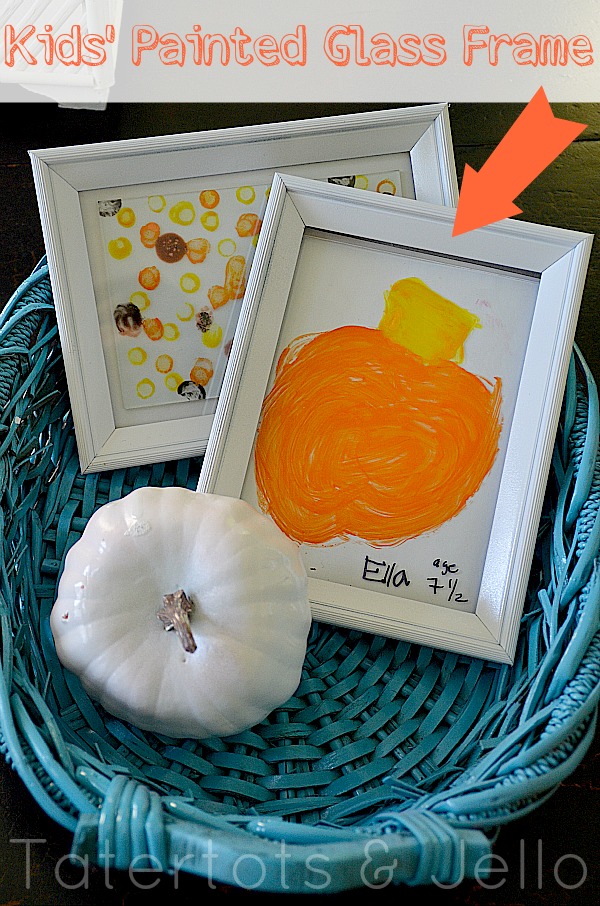 Another thing that I did which I loved, was I had my kids make some paintings on the glass. I bought a couple Dollar Store frames and took the glass out. Then I had my kids draw some things on the glass with the DecoArt glass paint. Ella drew a pumpkin and Hannah made some polka dots and finger print art.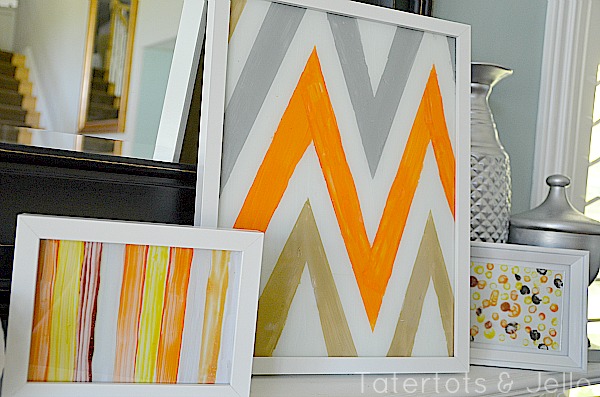 Then I labeled the frames with their ages and date. I think this is an awesome way for kids to be involved in decorating and it's also an idea to create little heirlooms. I love both of their creations so much!! It would also make a meaningful gift for grandparents. You could have your kids create little pieces of art and then wrap them up for Christmas gifts.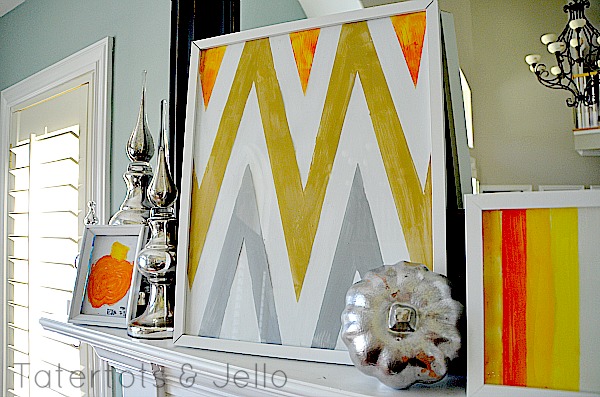 This was a fun project and I learned so much!! I love looking at my modern Fall Mantelscape. It makes me happy!!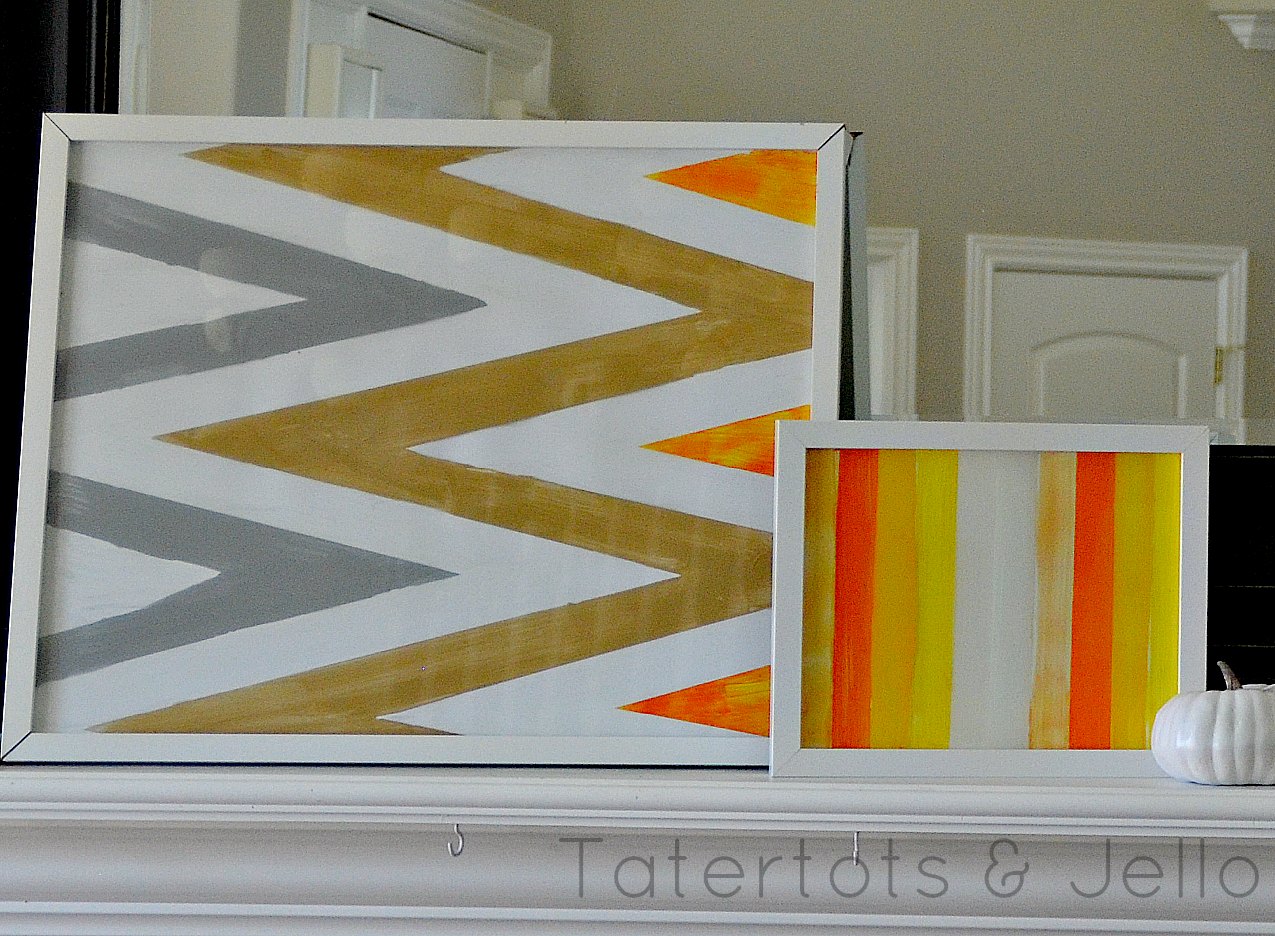 And another thing I love is that you can see the brush strokes on the glass — it looks hand-painted and is original artwork.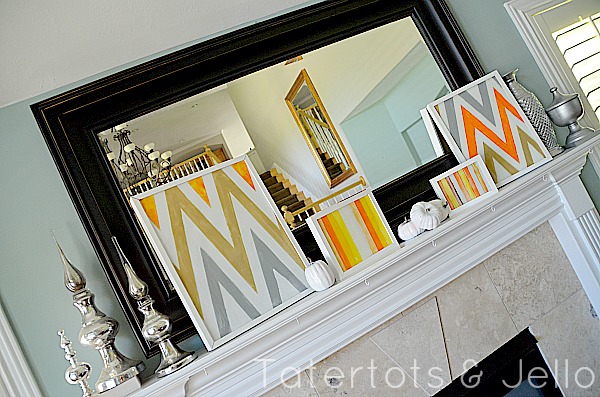 Thanks DecoArt for all of the fabulous supplies and the chance to play with the Glass Paint collection!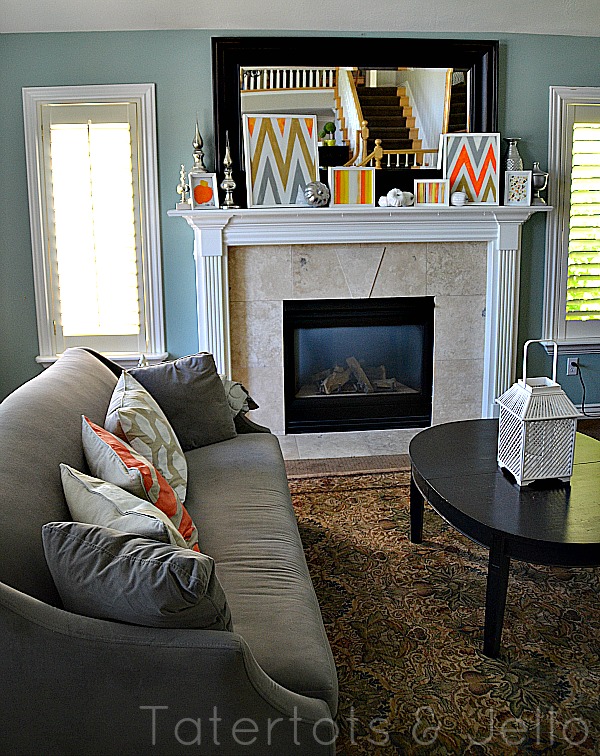 You can find DecoArt Paint at your local craft store like Michaels. And for more information and project ideas, be sure to check out DecoArt's glass painting site and follow the hashtag #decoartglass on Twitter! And there is also a cool new Pinterest Board dedicated to creative ways to use Glass Paint.
Happy Monday!!
xoxo

This post is part of a campaign with DecoArt. All opinions and ideas are 100% mine.