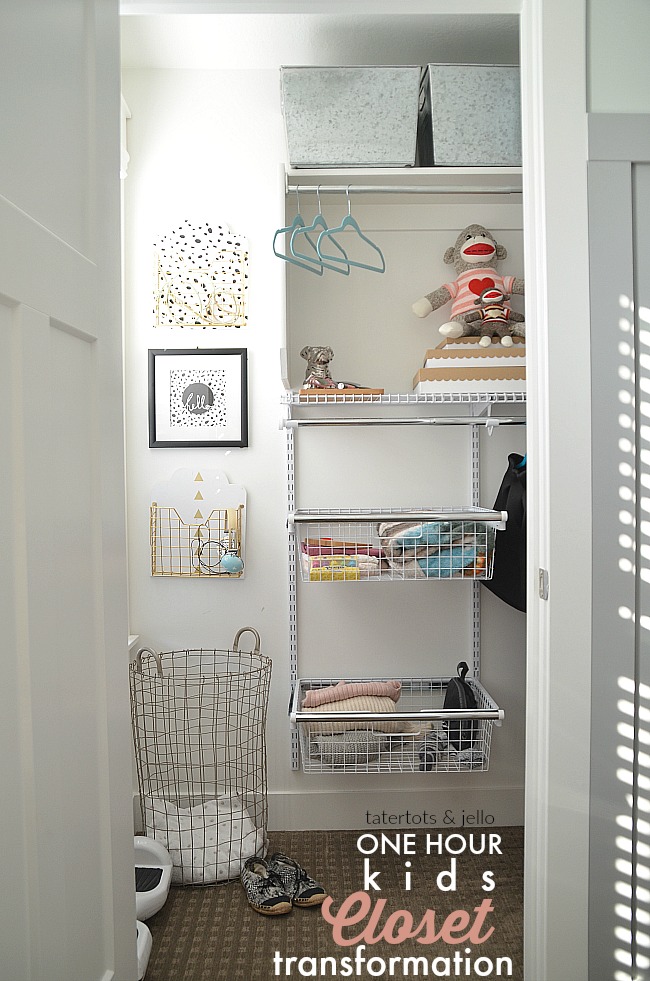 One Hour Kids Closet Transformation
This is a sponsored conversation written by me on behalf of Rubbermaid®. The opinions and text are all mine.
I am getting married in less than a month! There has been so much to do and we are so excited! Our most important focus and goal has been making things comfortable for our new blended family. One thing we have been working on is changing the guest room in our home into a bedroom for my fiancee's 9-year-old daughter. We want to make a special place for her in our home so she knows how welcome she is. As we have been making this special space for her, one of the things we have wanted to do was customize the closet in that room for her. So when Rubbermaid contacted me about trying out their Rubbermaid ® HomeFree Series™ – I was very excited. Previously this space was a place was a storage area and was pretty messy! LOL.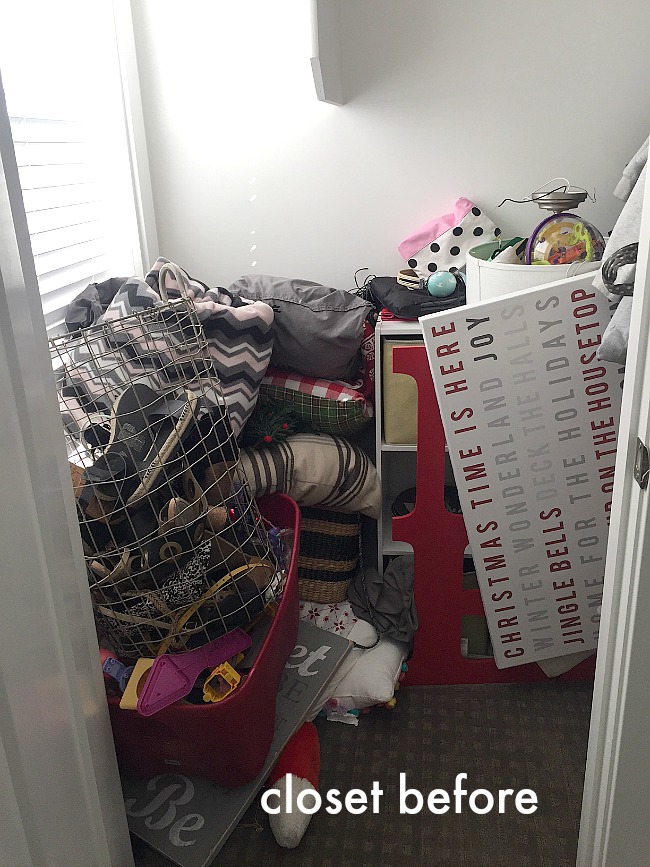 It already had some shelving so I was thrilled when I saw that Rubbermaid ® HomeFree Series™ is so customizable and easy to use. Rubbermaid ® HomeFree Series™ is a SUPER easy, kit-based closet system and it unique telescoping rods and shelves so it can fit in any space and you don't have to cut anything!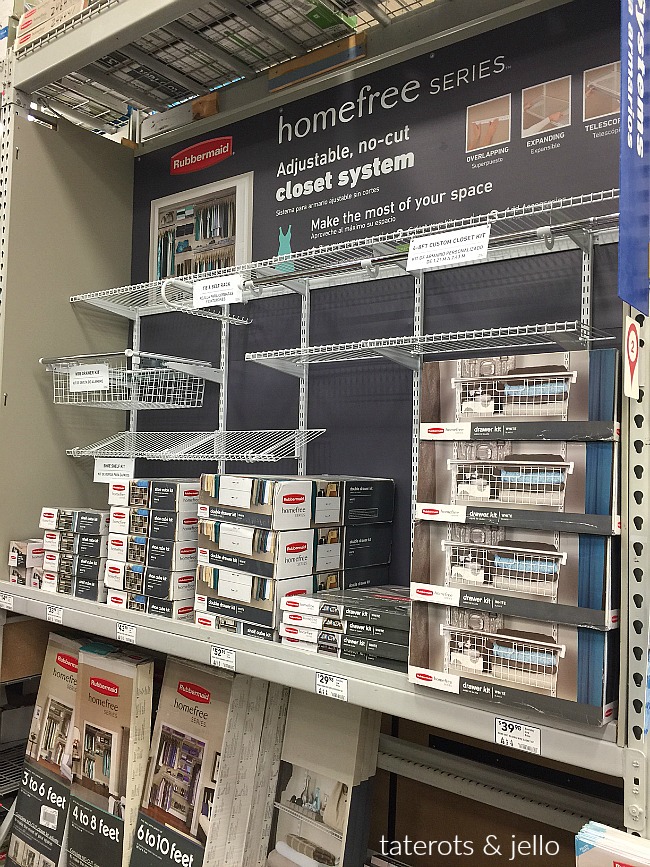 I went over to my Lowes store to check it out. The Rubbermaid ® HomeFree Series™ is in the closet organizing section of the store and the kits are easy to find. I also was very impressed with all of the add-ons for the system – like drawers, shelves and accessories. I knew it would be perfect for our odd-spaced closet.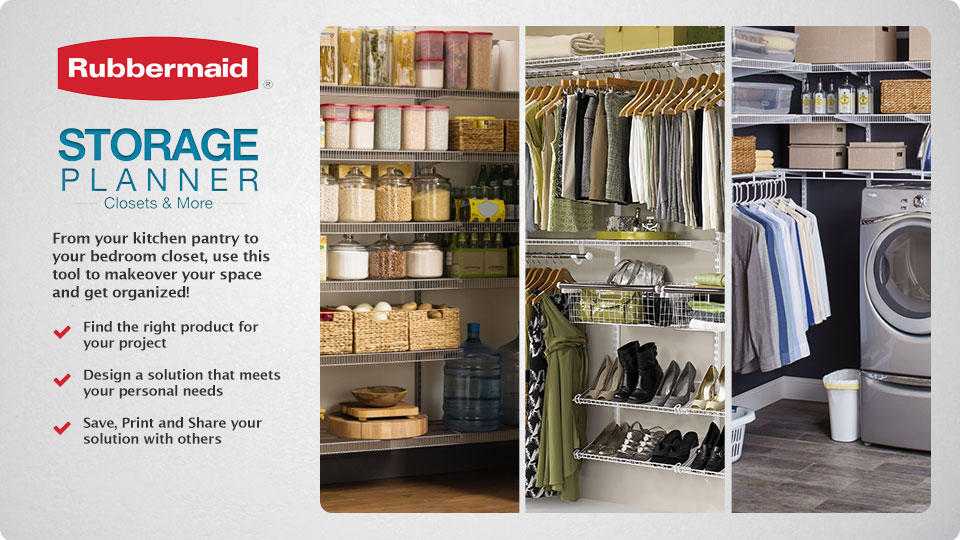 I used Rubbermaid's Online Closet Design Tool to map out my space and see what kit and accessories would work for our space.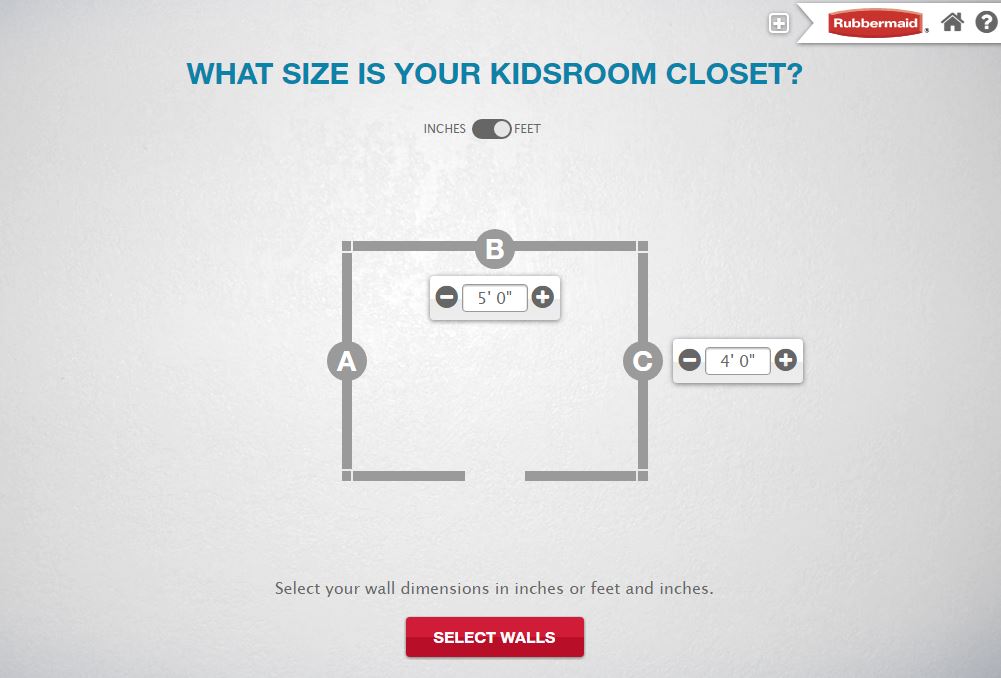 Based on the design tool we saw that the Rubbermaid ® HomeFree Series™ 3-6 foot kit would work. We wanted to use the closet for all of my step-daughter's clothes, we also purchased some Rubbermaid ® HomeFree Series™ drawers that are designed to add onto the main kit.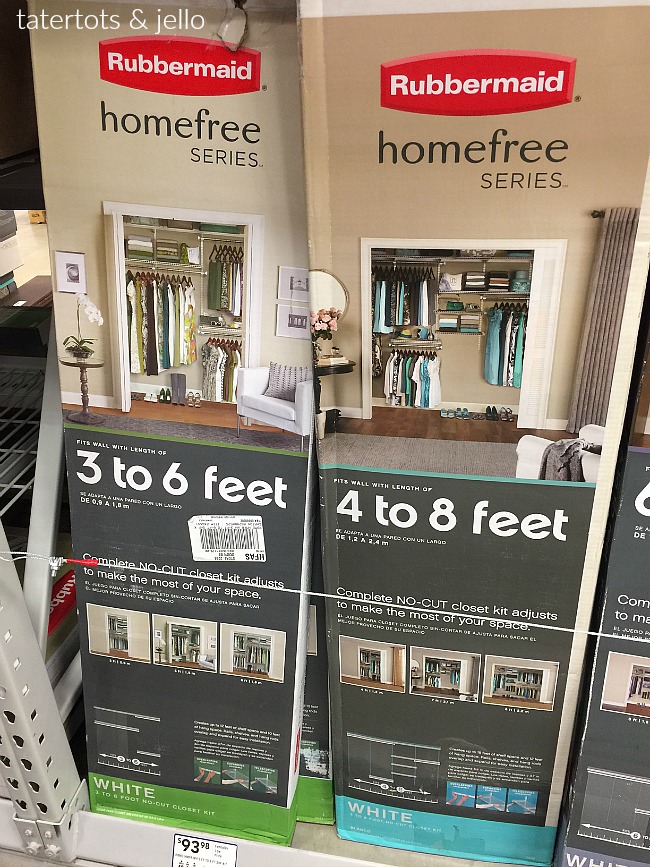 Then we came home and got to work. After we cleaned out the closet, we got the pieces out of the kit that we needed and in FOUR easy steps we had a new closet that she will love! Here's what we did.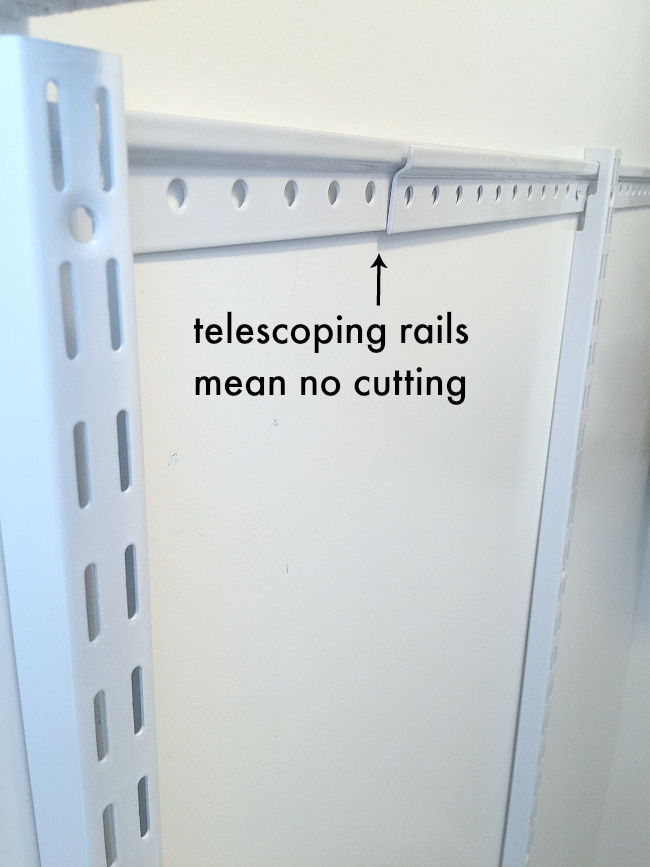 We measured how high we wanted the tallest shelf and where the long rails would go in the closet. To ultilize the Rubbermaid ® HomeFree Series™ design, the rails needed to be 22 inches apart so that the drawers we purchased would work. With the Rubbermaid ® HomeFree Series™ system you don't have to drill the rails into studs and I LOVED that. Instead there are sturdy anchors you can use if you don't have studs that will work inside your wall. You drill a hole and put the unique drywall anchors inside and they hold the screw in place. This made it really easy to put the rails where we wanted and it made the closet much more visually appealing.
We hung the vertical rails and top rail.
Then we hung the shelves and rods. The shelves and rods are telescoping so there is no cutting. All we had to do was layer the shelves together and telescope them to the right width. Then the brackets had a little lever and it holds the shelves securely. We did the same thing with the clothes rods.
The last thing we did was install the drawers. The drawers come pretty much ready to go in the package. All we had to do was attach the included brackets onto the sliding rails on the drawer frame and then put the brackets into the vertical rails and drop the basket inside the frame. Easy.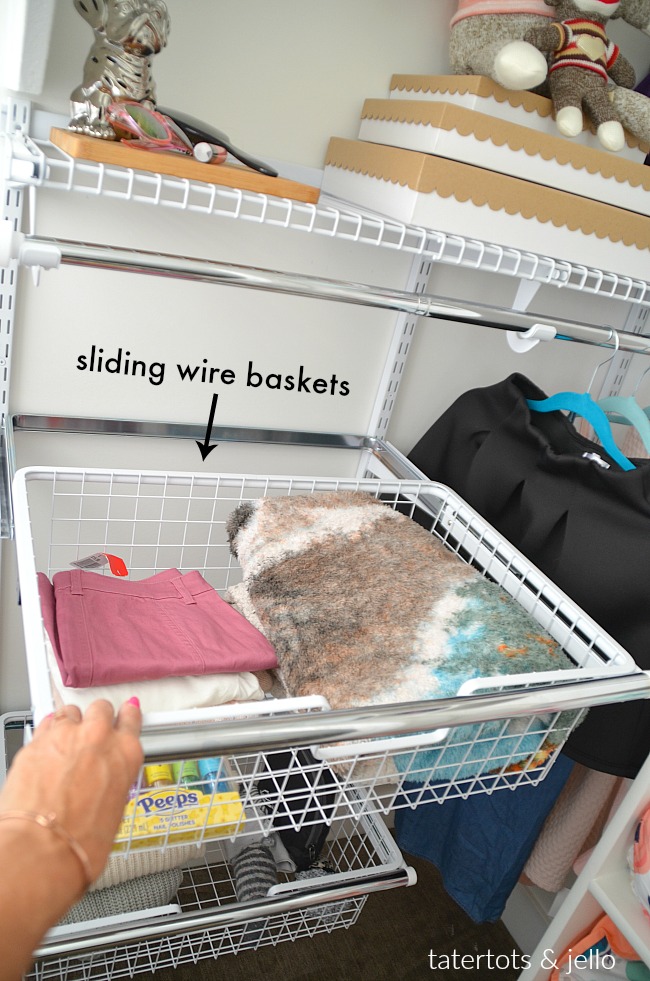 Within an hour we had a closet that will work great for my fiancee's nine year old daughter. She has two rails to hang her clothes, shelves for her toys and books and drawers for clothes that are awkward to hang like underwear, socks and pajamas.

I added a wire clothes hamper that goes along with the look of her new shelves. We can't wait to see her face when she sees her new closet!!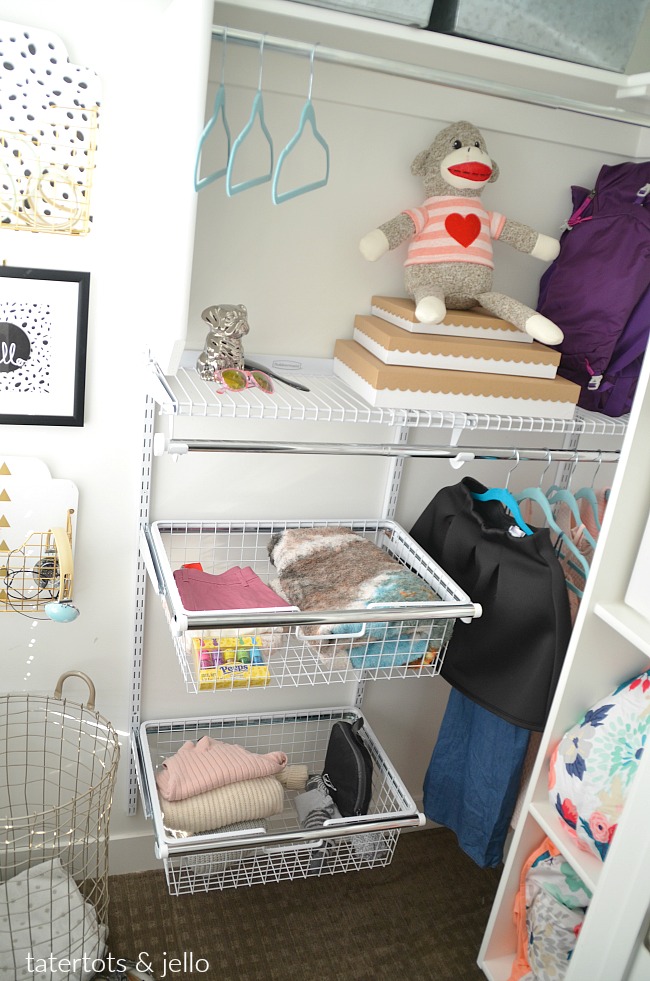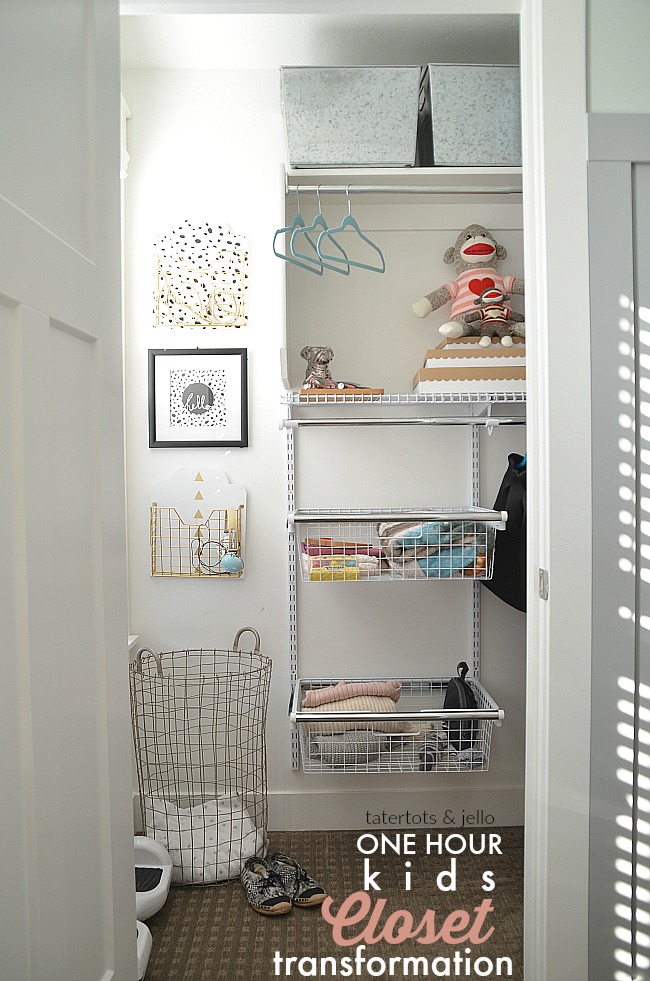 Thank you Rubbermaid for letting us makeover our daughter's new closet with your Rubbermaid® HomeFree Series™ — it was easy to use and she is going to love it!
Have a Beautiful Day!
xoxo


div id="MTQ5ODUwNjQwODIyNA==">