Do you have a neighborhood in your area that you just love? Mine is called Daybreak.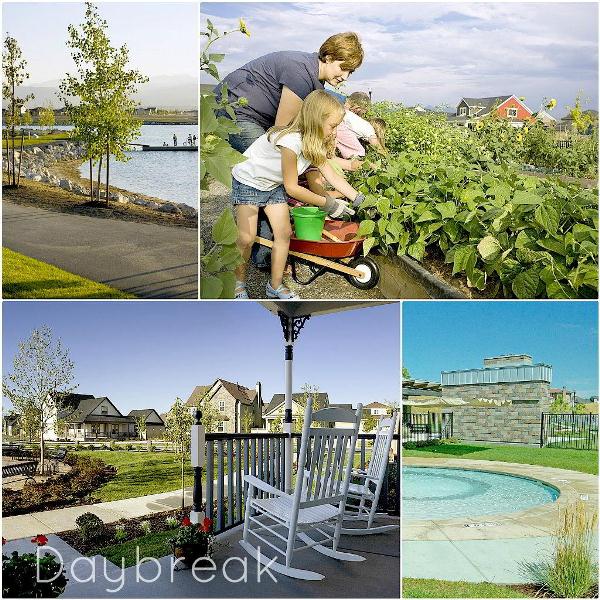 I would move there in a second if I could talk my husband into moving again. I love the whole concept of the area. Homes have front porches and are colorful. There are miles of paths and trails. A lake. Community gardens. Pools. Trendy shops and dining. Splash pads. Outdoor pavilions and more.
So when my favorite neighborhood contacted me about working on a home at Daybreak — I was over the moon!!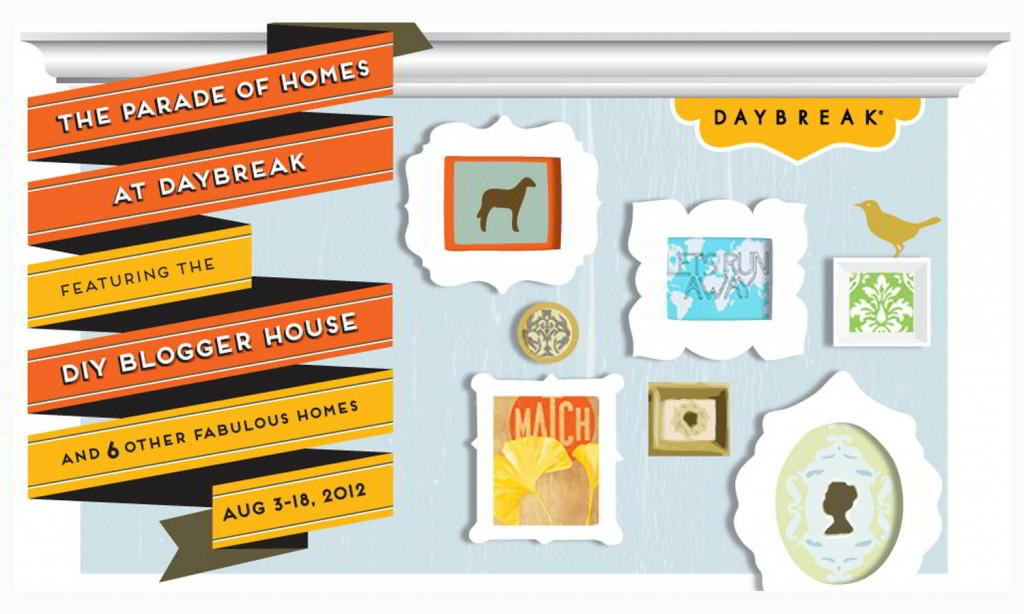 I am thrilled to be teaming up with 4 fun DIY bloggers, (Shelley, Lara, Amy, Char ) plus Bangerter Homes and the amazingly talented Interior Designer Brian Clark to build and design the first EVER DIY Blogger House for the 2012 Salt Lake Parade of Homes!
Here's the trick — we only have 90 days from the time they break ground on the house 'til it's finished. No pressure – ha!!
I have seen the plans and this house is going to be beautiful. We are working on the details for the inside and I am SO excited!! This home is going to be full of amazing cabinets, finishes and DIY projects. Plus, it's going to be for sale. Some lucky person is going to be able to buy this one-of-a-kind house. I'm already jealous.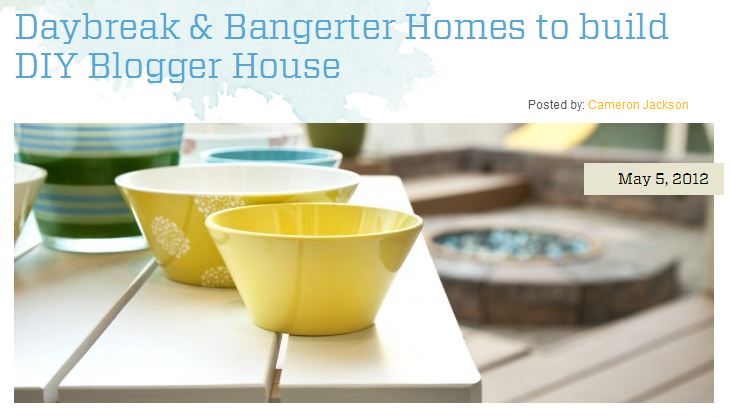 A custom home can be expensive to build if done in a conventional way. Homeowners have been personalizing their homes on their own for years and finding innovative ways to create wow and develop wonderful spaces that don't cost an arm and a leg. The DIY Blogger House at Daybreak aims to take that creative spirit and infuse it into the construction of a new home from the very start. The home will be built by Bangerter Homes and will be featured in the 2012 Salt Lake Parade of Homes. Daybreak is teaming up with the builder, and an award winning interior designer who will lead a team of 5 local bloggers to design the interior of the home. Each of the bloggers will design one of the rooms or be in charge of certain areas of the house, while the designer will ensure that the home's overall design maintains a cohesive flow and character. The bloggers will chronicle their experience and the process of designing the home on their blogs beginning in May. They will have less than 90 days to work with the home builder to develop and implement a concept in time for the Parade of Homes judging on August 1st. The home will be revealed to the general public during the Parade of Homes which begins on August 3rd and runs through August 18th. The home will be available for sale once the Parade of Homes has ended.
Here's the DIY Blogger House Team: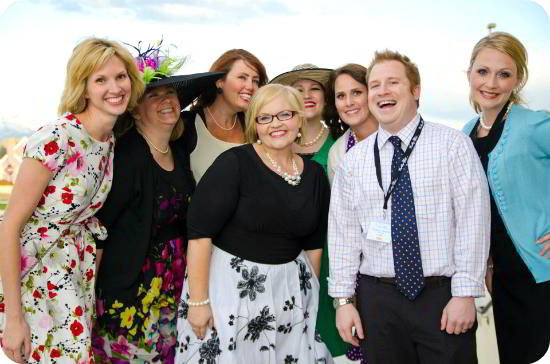 Aly, Char, me, Shelley, Lara, Amy, Cameron, Kathy
We announced the project at Daybreak's Breathing Space event last weekend.
I got to wear my Chevron Dress for the first time (Forever 21 — $22!!)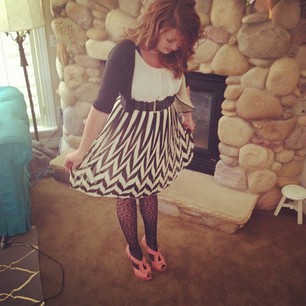 It was an amazing event and deserves it's own post, so more on that later!!
Here's a little video about the project (and yes, why is my face blown up so big? LOL)
We are still working out who will be working on which room in the house. But I can tell you that it will be gorgeous when it's done!!!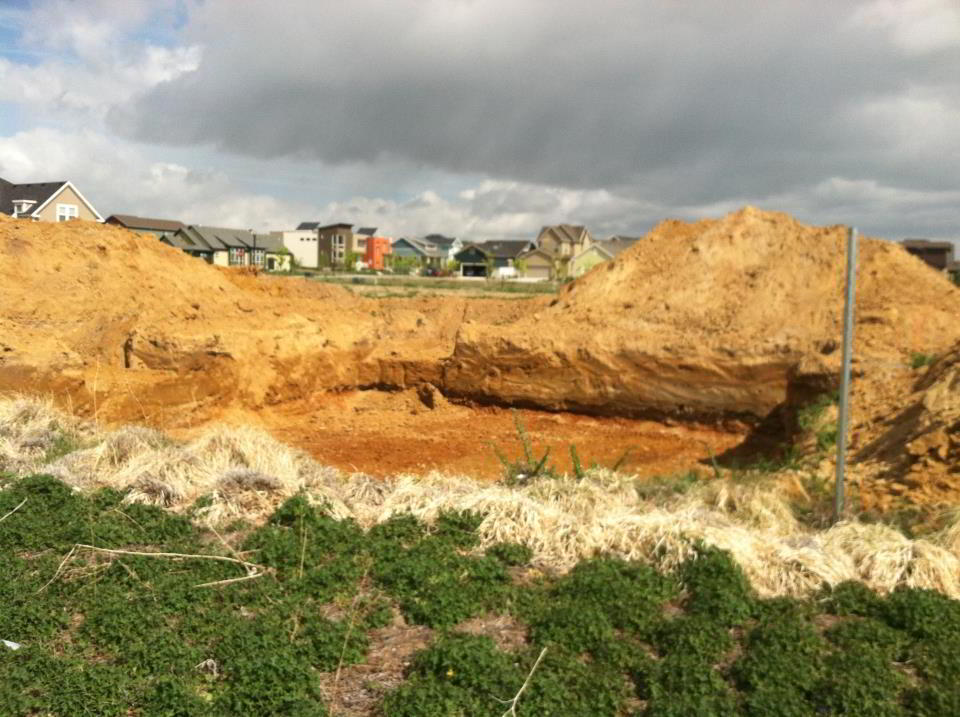 In the meantime, we just broke ground on the house Saturday. I am so excited to see the progress and I will be sharing it here.
It's going to be such a fun project and I couldn't be more thrilled to be involved!!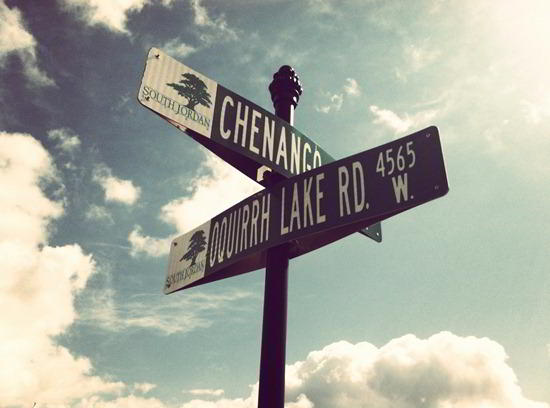 Stay tuned for more updates!!
xoxo

Disclosure: I am thrilled to be participating in this project. I am being modestly compensated to participate. All thoughts and opinions are 100% mine.