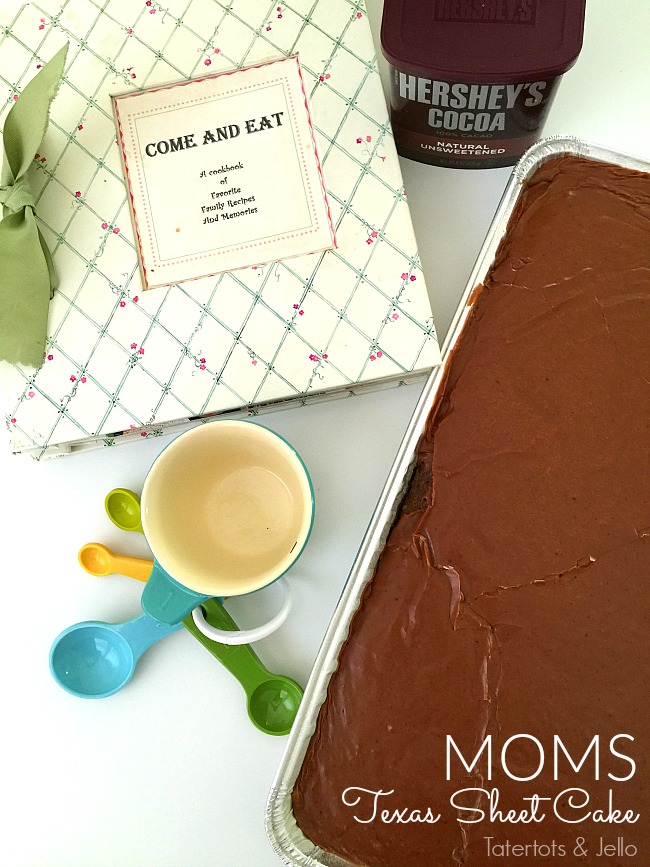 Mom's Texas Sheet Cake Recipe — it's fool-proof, easy to transport and feeds a crowd. My mom made all of her kids a recipe book a long time ago. She included all of our childhood favorites. It remains one of my most treasured possessions: I make recipes from it all the time.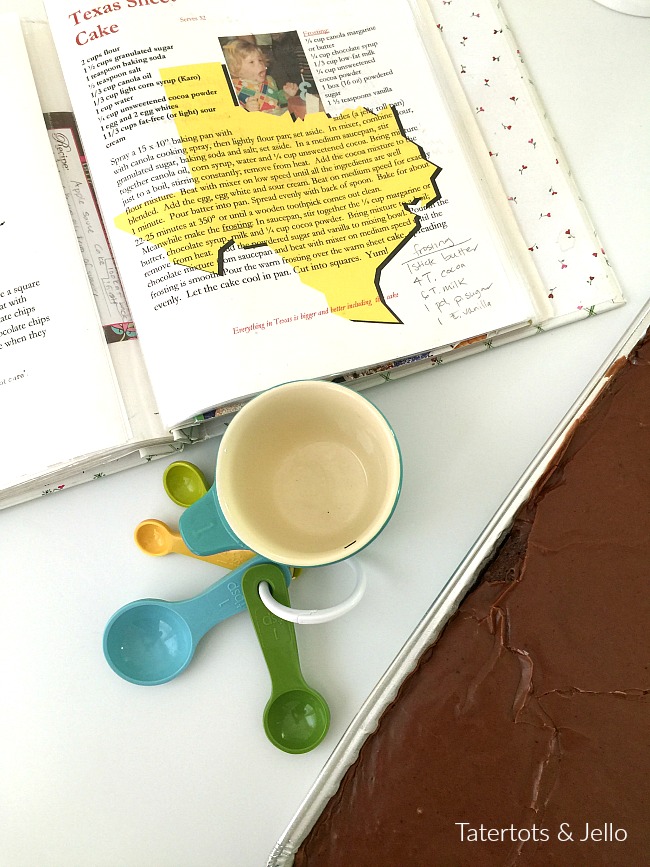 One of the all-time favorite recipes is Mom's Texas Sheetcake. This is a cake that is a real crowd-pleaser. You make it in a jelly roll pan and if you have a picnic or potluck you can make it in a disposable pan and take it with you! Every time I've made it people have always asked me for the recipe – it's THAT good.
Mom's Texas Sheet Cake Recipe
Hannah even took a piece with her to eat for breakfast the first day of school. Because – cake always makes the first day of going back to school better, right?? Haha!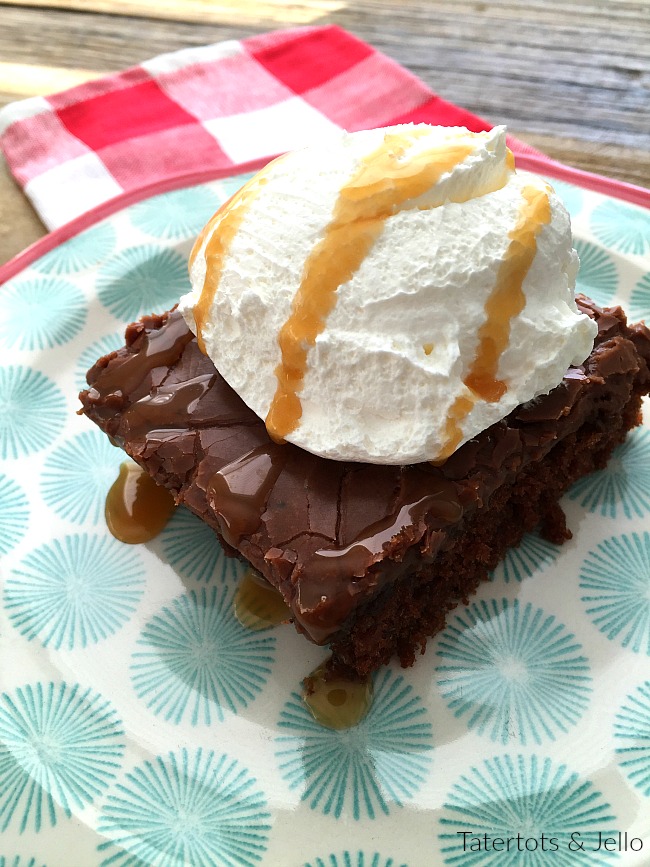 Mom's Texas Sheet Cake Recipe is perfect on it's own or you can also add whip cream or ice cream if you want to dress it up a little.
Here's the delicious recipe for our family favorite dessert — Texas Sheet Cake:
Mom's Texas Sheet Cake
Recipe Type: Dessert
Cuisine: American
Author:
Prep time:
Cook time:
Total time:
Serves: 32
Texas sheet cake is a double chocolate delight. It's easy to make and a real crowd-pleaser.
Ingredients
2 cups flour
2 cups granulated sugar
1/2 teaspoon salt
1 cup butter
1 cup water
1/4 cup unsweetened cocoa powder
2 eggs
1/2 cup sour cream
1 teaspoon baking soda
Frosting:
1/2 cup butter
1/4 cup coca powder
6 Tablespoons milk
16 ounces powdered sugar
1 Tablespoon vanilla
Instructions
Heat oven to 350-degrees.
Spray a jelly roll pan with cooking spray and then lightly flour the pan and set aside.
In a mixer, combine the flour, granulated sugar, baking soda, salt and set aside.
In a medium pan, stir together the butter, water and 1/4 cup coca powder, stirring constantly, until it comes to a boil, then remove from heat.
Add the coca mixture to the flour mixture and beat with a mixer on low speed until all of the ingredients are well blended.
Add the eggs and sour cream, beat on medium speed for EXACTLY 1 minute.
Pour the batter into the pan and spread evenly.
Bake for 22-25 minutes or until a wooden toothpick comes out clean
Frosting:
While the cake is cooking, make the frosting.
In a saucepan, stir together the butter, cocoa powder and milk,
Bring to a boil and then take off the heat and add the vanilla and powdered sugar.
Important — Pour the frosting on the cake while the frosting and cake are still hot. It will pour on the cake and set up when it cools off. Let the cake cool in the pan. Cut into squares and serve!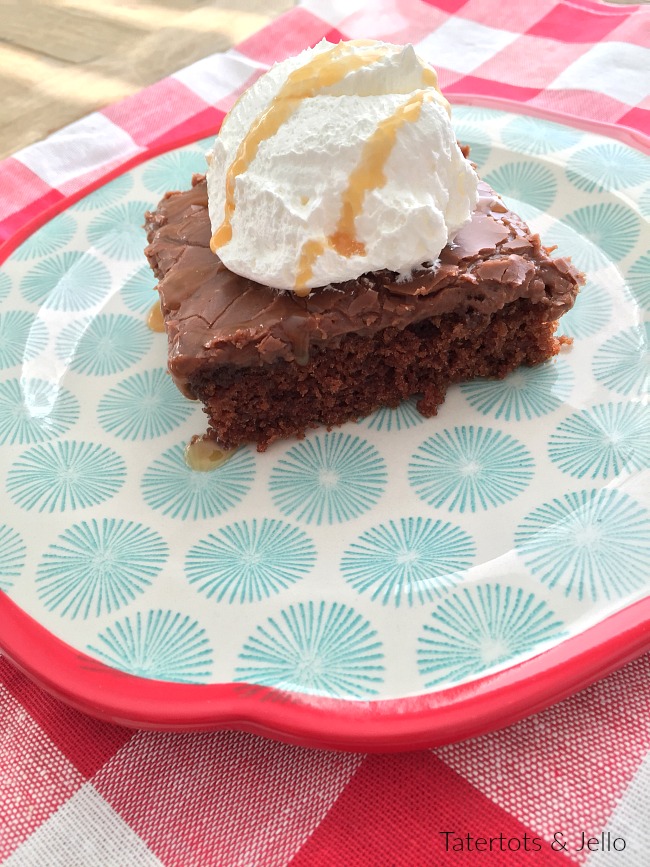 There are two tips to remember when making this cake. Don't over mix the batter and be sure to pour the frosting on the cake while it is still hot. That way the frosting spreads evenly and sets up when the cake cools off. It is practically fool-proof to make and it serves a crowd!
Have a yummy day!
xoxo