This post sponsored by Clorox.

One of the best things about being a parent is sharing "firsts" with your children. It might be first steps, it might be first words, it might be first driving lesson (gulp). But lots of those "firsts," especially with babies and toddlers, are messy firsts!
The messiest "first" I remember from our toddlers was a big mess! But it was a great "first." In 1995 (yes, last century), we brought our oldest, who was then about 18 months old or so, to Disneyland for his first visit (along with my husband's family).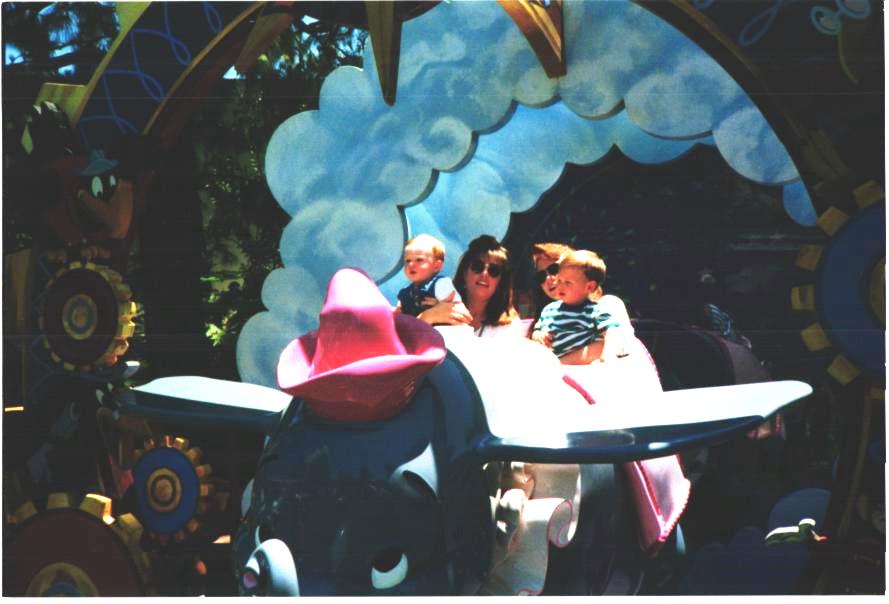 (Yes, look! We had color photography last century!)
As any visitor to Disneyland quickly learns, Disneyland is sensory overload for every sense including taste. It's easy to eat your way from one side of the park to the other. And we did exactly that on his first trip to Disneyland!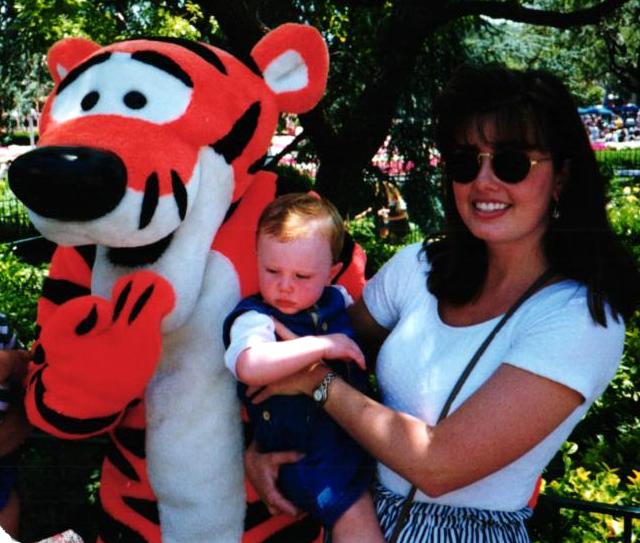 He ate Mickey chocolate-covered ice cream bars, churros, juice, hot dogs, and more. And he got them all over his new clothes we'd bought for the trip. And then, one of his favorite places to visit — every day — was the petting zoo, which is not exactly a sterile environment!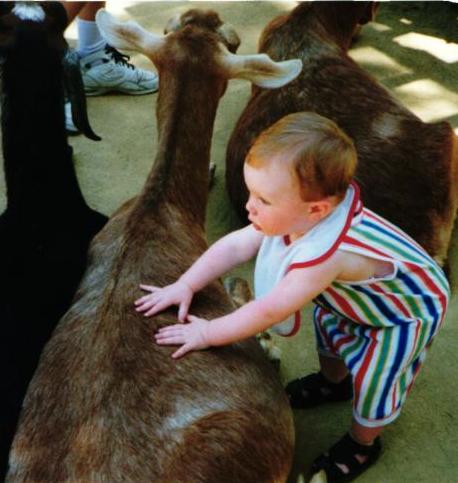 So between the food, the fun and the goats, his clothes were a mess.
It's a harsh return to reality when you return from any vacation with a suitcase full of dirty clothes that need washing …
… but we managed to salvage most of his outfits!
Many other firsts are much more spectacular than that (like first diaper blowout – yuck!).
The only way to deal with these firsts is to, of course, grab a camera. Take a few pictures so you can embarrass them for years to come and laugh about it later. After that important step, you can laugh off the first mess and clean it up. Of course, Clorox encourages you to clean up with Clorox® Regular Bleach.
One thing I discovered is Clorox's my Stain app — which would have come in handy on that Disneyland trip, you know, if we had actually had smart phones back then. (You can find it at the Bleach It Away site or in your app store.)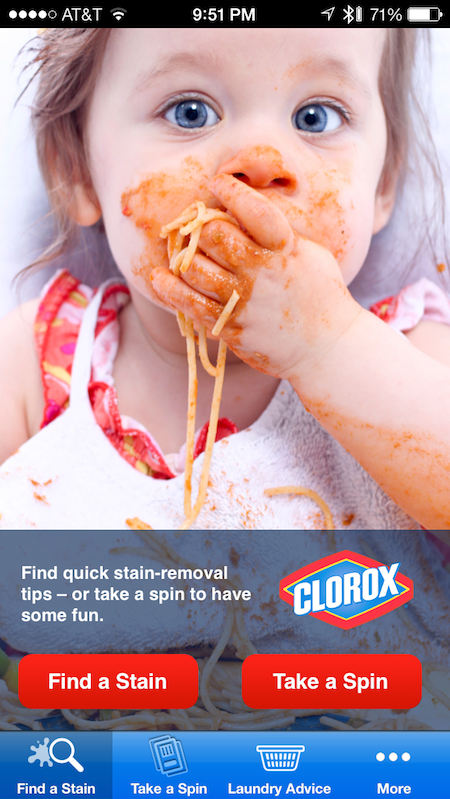 I love the "find a stain" feature — it tells you just how to remove the stain you've just created. I chose one that hypothetically speaking could be a common occurrence for our Mexican food loving family: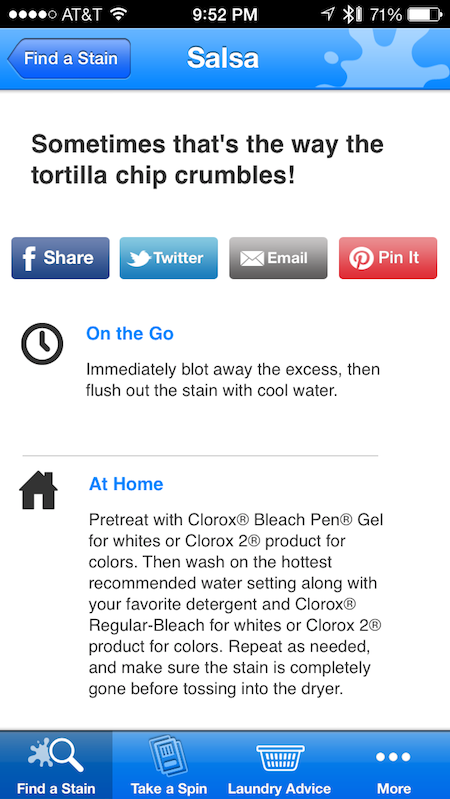 (I scrolled down a bit on the screen shot to show you the advice, but there's a pretty picture at the top, too.)
And Clorox's Bleach It Away site is a great place to celebrate and share messy moments, especially those you experience with kids! Here's how you can share your messy, bleachable moment and have a chance to win $20,000 and more:
Guess what: other parents have been there, too. It's fun to hear their messy moments and share yours, too — somehow it doesn't seem so bad when you hear about everyone else's messes, too!
So here's what to do: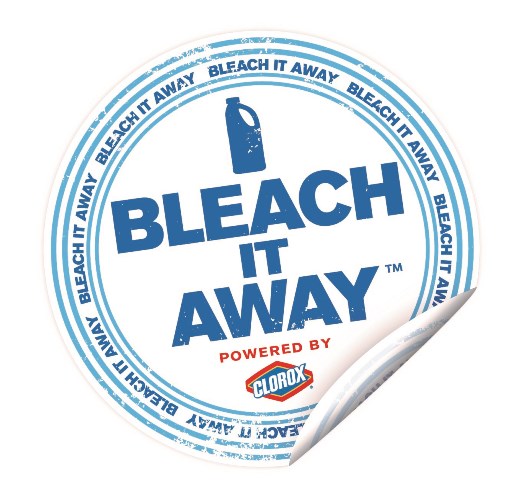 Clorox Bleach It Away wants to hear about your messy first.
Share your own unique bleachable moments and vote on others' bleachable moments at www.bleachitaway.com, for the chance to win $20,000. Submit your messy moment and you'll be instantly entered to win the grand prize of $20,000.
Come back each week to vote for the best mess in the week's Moment Showdown to determine which messes move on for the chance to win the grand prize. Clorox will also choose a second weekly "best mess" winner to win a $50 gift card and move on to the next week's Moment Showdown.
Everyone who submits their moment will instantly receive a coupon for $.50 off any bottle of Clorox® Regular-Bleach via email for the first moment they submit.
And www.bleachitaway.com has more than just messy moments: you'll find funny Clorox Someecards, cleaning and laundry tips, helpful videos, advice from Clorox's panel of experts including Dr. Laundry, and access to myStain – Clorox's free mobile app for on-the-go stain removal advice. (I think I should have an honorary title of Dr. of Laundry – LOL!)
Share your messy moments and win — and let me know what moments you shared! I want to hear about them, too!

xoxo


I am being compensated to share information about Clorox's Bleach It Away campaign and am sharing my best messy moments as inspiration. You can find out more information about this campaign at www.BleachItAway.com where you can enter your messy moment for a chance to win up to $20,000 and get a coupon for Clorox® Regular Bleach.