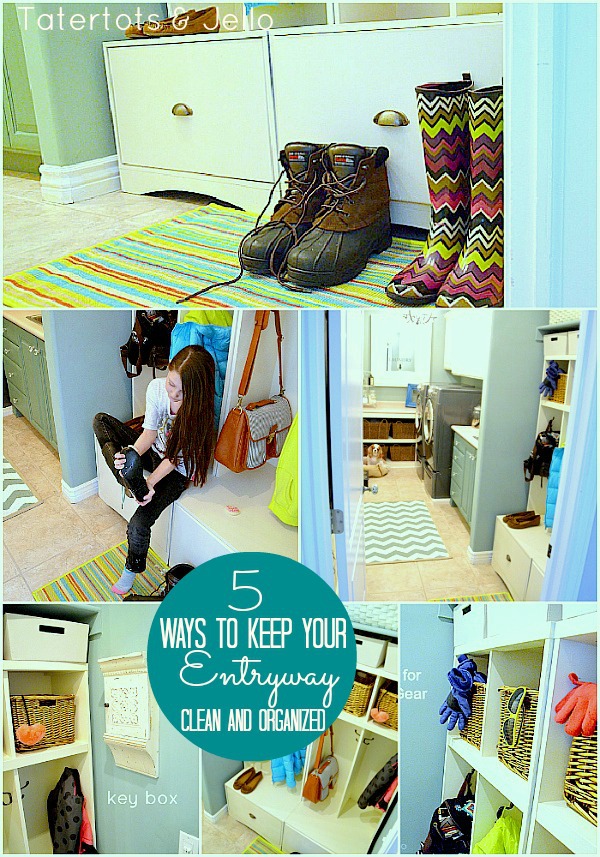 Winter can be a messy time with all of the boots, coats, backpacks and snow tracked all over the house. For many years it seemed like my entryway was constantly piled with these Winter items, not to mention the mess that muddy and salty shoes and boots made as they piled up by the entryway door. Finally I got a handle on the Winter mess and clutter.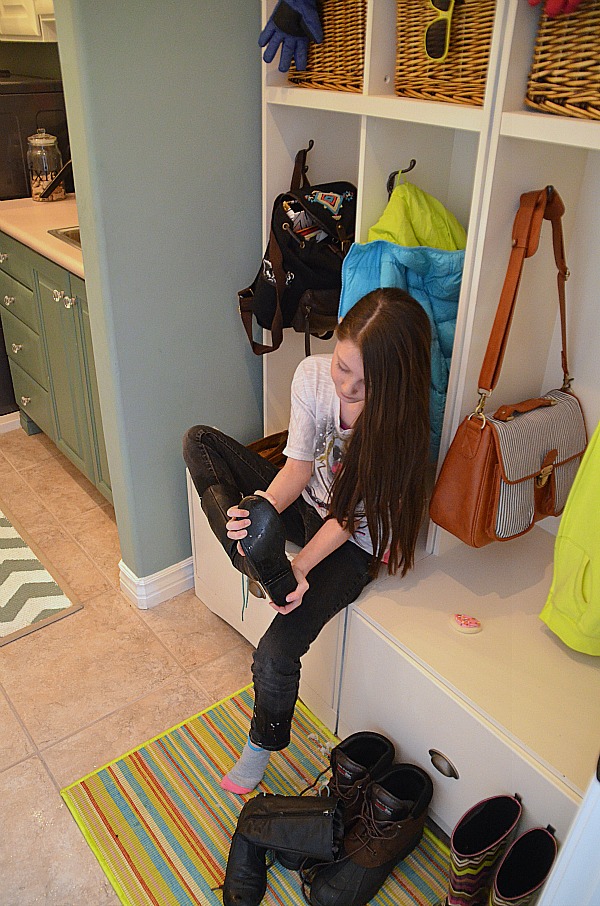 Here are FIVE ways I have found to keep my entryway organized and clean, and I thought I would share them with you. I would also LOVE to hear ideas you have found to keep your entryway clean and organized.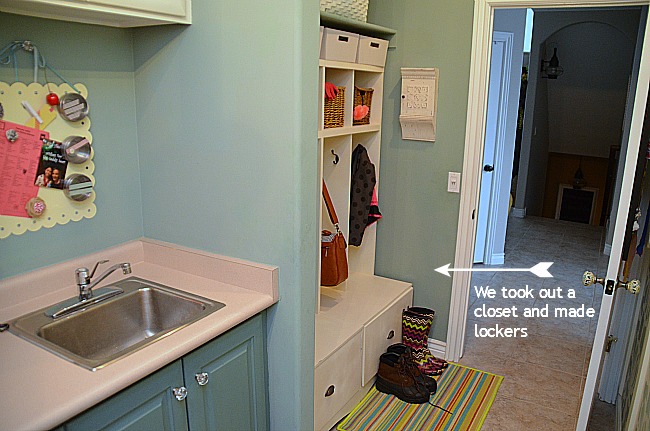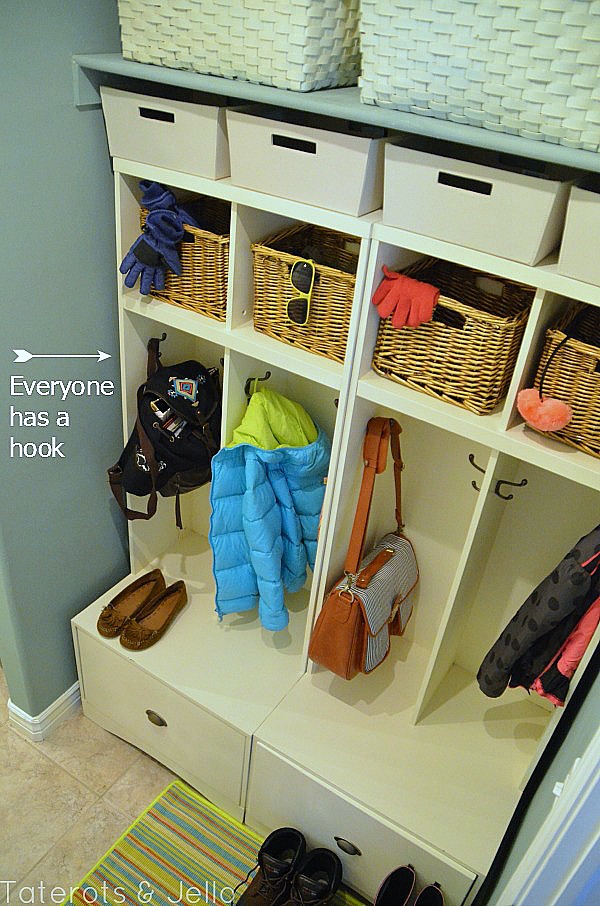 1. Everyone needs a place to keep their Winter Gear. When we bought our house, our laundry room had a HUGE closet and since the laundry room is right by the back door to our home, it was the perfect place to keep winter gear and backpacks. For many years, my kids would dump all of their things in my laundry room and it was a big mess. Finally, we took out the closet and put in some inexpensive lockers. But if you don't have room for lockers, simple hooks will work. Just make sure everyone has a hook for their coats and backpacks.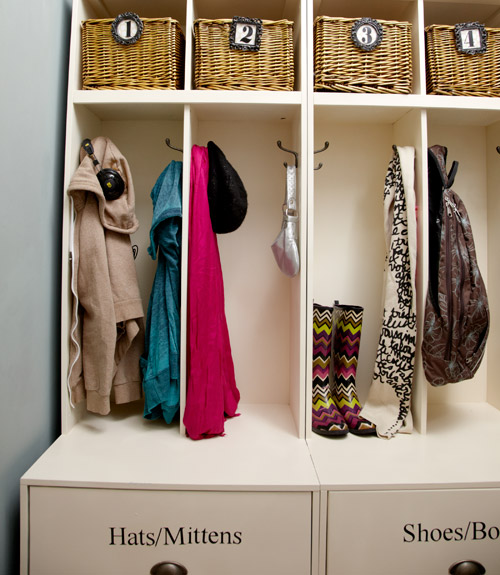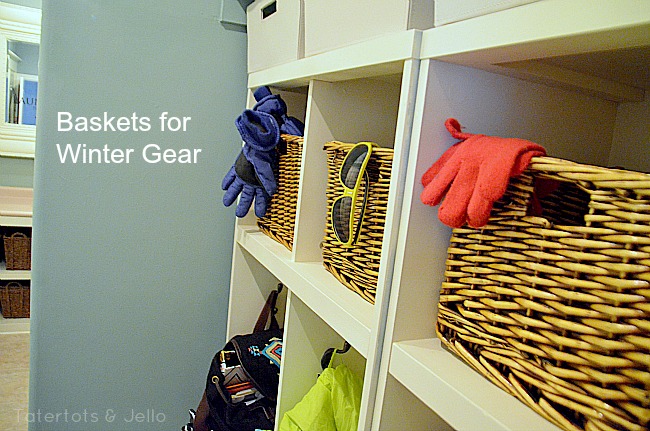 2. Another great idea is either a big basket to keep Winter acessories like hats, coats and mittens. Or, we have little cubbies above each person's hooks where the kids can keep their little items. It's so handy to have a place for each kid to keep their mittens. And makes getting out the door so much easier when everyone knows where their things are.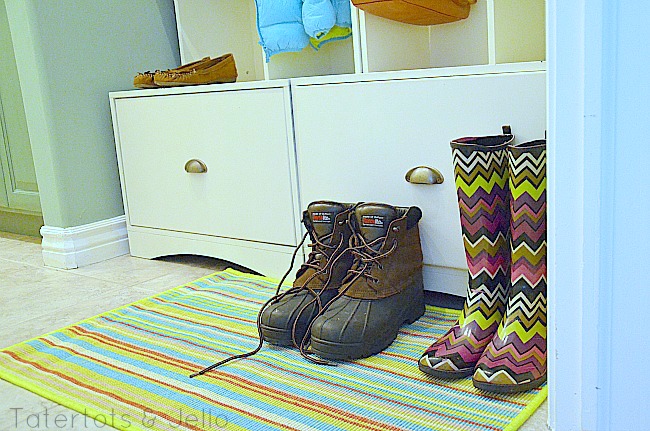 3. We get so much snow at our house, it seemed like there was a never-ending trail of salty, melting snow tracked all over the house. This is what I do now — I bought a simple $10 Indoor/Outdoor Rug and put it at the base of the lockers. Now my kids can come in and take off their boots on the rug. The boots dry off and the residue dries on the rug. When the rug is dirty, I just take it outside and spray it off, or wipe it down with wipes. Simple!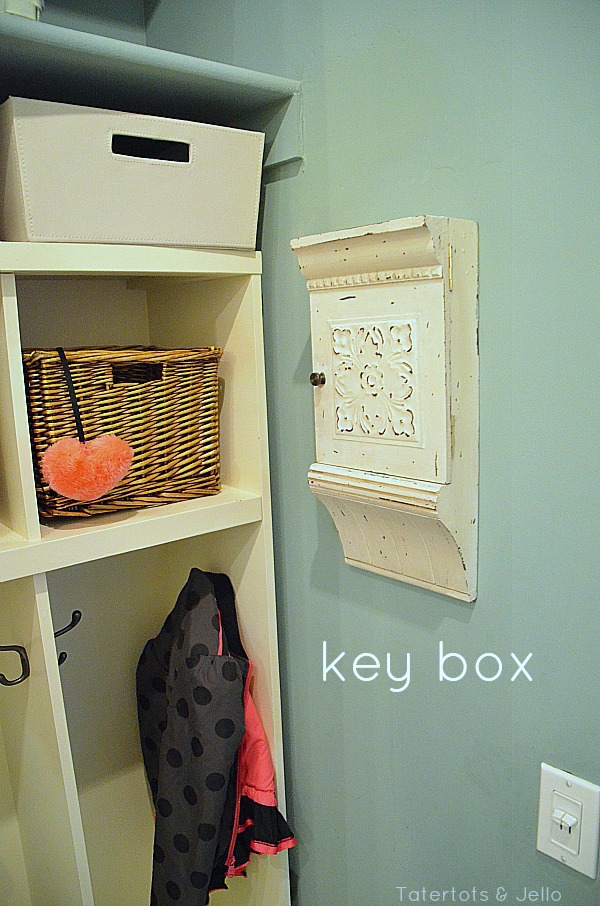 4. A Key Box. There's nothing worse than hunting around the house when you are late for an orthodontist appointment. So this really inexpensive key box I found at TJ Maxx about 10 years ago has really gotten its use over the years. We keep keys in there as well as extra remote controls for the garage openers.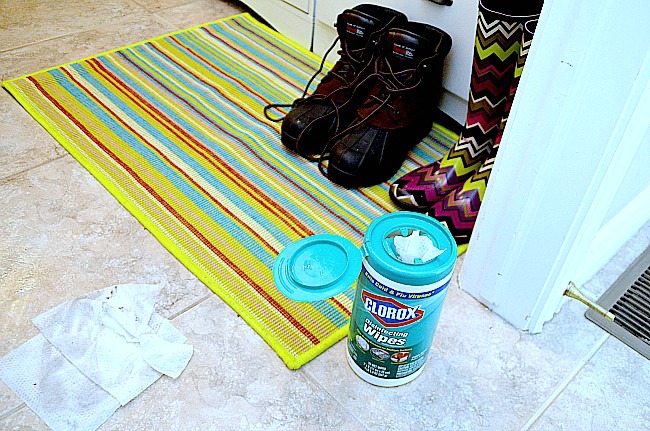 5. I keep a box of Clorox Wipes in the entryway. It makes it easy to wipe up the dried salty snow residue and mud that gets tracked in with the kids before they can take their boots off. All I have to do is a quick wipe down with a Clorox Wipe (or two) at the end of the day and we are ready to start over again with a clean slate.
These are some things I have found to keep our main living spaces less messy and more organized and clean.
What are YOUR secrets?
Let me know in the comments what works for YOUR home! I would love to know!!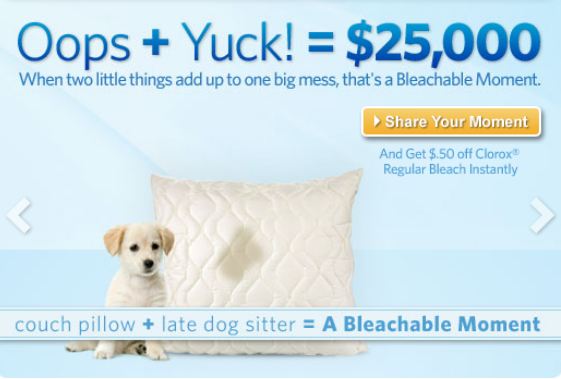 And I wanted to give Clorox a big thank you for getting this conversation started. I really do love those wipes. Also, be sure to share YOUR Messy Moments at www.bleachitaway.com for a chance to win $15,000 — how awesome would that be???
Have a Wonderful Day!
xoxo

PS — It's Friday — my FAVORITE day of the week.
WHY??
It's almost time for the Weekend Wrap Up Party.
It's time to show off YOUR great ideas.
I love featuring YOU!
I hope you can stop by for the party. It starts tonight at 6 pm MST!
I'm being compensated by The Clorox Company to talk about life's messy moments as part of the Bleach It Away Program. See my disclosures here.