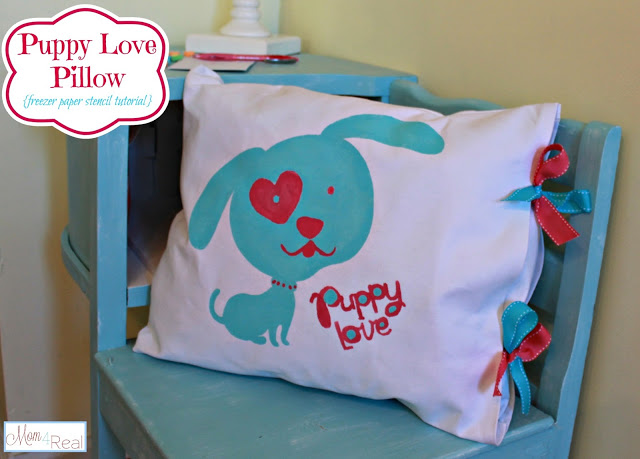 Hi all…I'm Jessica from Mom 4 Real, and I am beyond thrilled to be contributing here at Tatertots & Jello! It has been a dream of mine, so I am currently pinching myself.

Today I want to show you how to make a pillow using a freezer paper stencil.
This is one of the easiest ways to make your own custom pillows for very little money.
Here's how to make this pillow:
You'll need a roll of freezer paper (you can find it at the grocery store near the foil and plastic wrap), some duck cotton fabric or dropcloth fabric, and paint. Cut two pieces of fabric the exact same size. I wanted my pillow to be rectangular, so I cut two pieces 16 X 20 inches.
I used my Cricut cutting machine to cut out my image, but you can cut out absolutely any shape, letter, or image you like. I decided to go with a puppy and this little puppy love saying for Valentine's Day. The great thing about this pillow, is that my daughter can use it in her bedroom after Valentine's Day as well.
If you are using a cutting machine, place the shiny side of your freezer paper down on the cutting mat. Smooth out the freezer paper really well before cutting.
Once your image has been cut out, take the outer part of the freezer paper and place it shiny side down on one your fabric panels. Run a hot iron over the stencil making sure that it sticks to your fabric. You want to make sure it is fully sealed.
Once your stencil is firmly in place, take your fabric panel to a table or flat surface. I put a board under my fabric to protect the table. Place your paint (I used acrylic) in a container, and grab your stenciling brush. Get a little paint on your brush and start dabbing paint starting at the edges and working your way in. Once you have painted the entire inside of the stenciled area, allow the paint to dry, then pull the freezer paper up.
I went back in and painted the white spots pink to match the pink Puppy Love saying.
Instead of going with the traditional throw pillow that is sewn all the way around, I decided to leave one end open. I sewed two pieces of ribbon to each panel so you can tie it shut. Make sure to space them the same width apart on each panel. Once you have sewn your ribbons to the side that is going to be left open, place the panels wrong sides together and sew the other three sides together. Turn your pillow case right side out, fill with a pillow form, and tie the ends together.
Trust me, once you have made one of these, you won't be able to stop yourself…you'll be making pillows for every room in your home!
Thank you so much for having me here at TT&J! I can't wait to share more with you!
Thanks Jessica!!
I am so thrilled to have Jessica as a new monthly contributor.
She has amazing ideas!!
Here are a few that you must check out: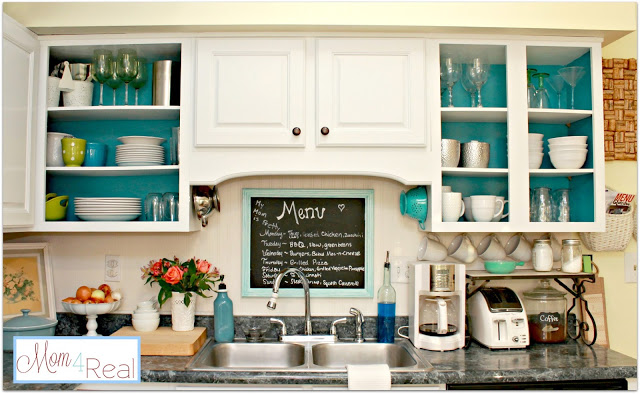 I just love Jessica's kitchen redo — and those Aqua-accented open cabinets are fabulous!!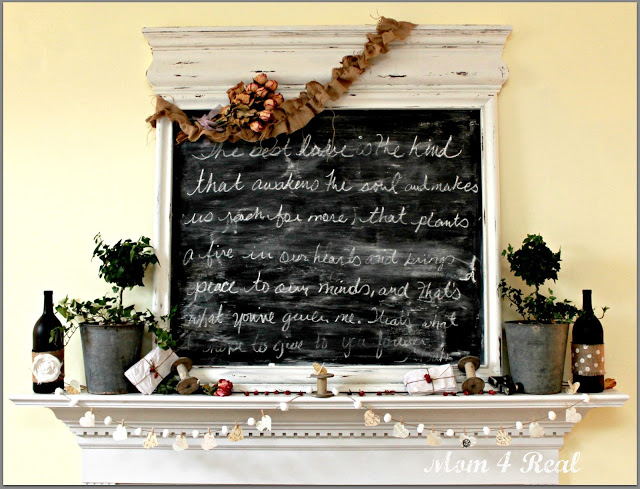 Her Notebook-inspired mantel is so pretty!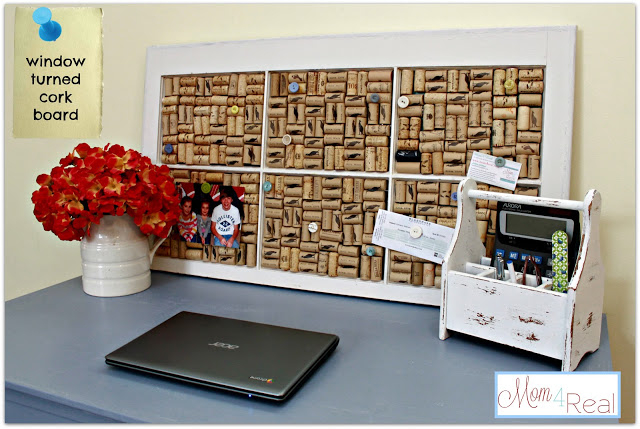 And I love this window that Jessica upcycled to create an awesome cork board!
***
I can't wait to see what Jessica has planned for 2013 – it's going to be so fun.
Be sure to follow along with Mom 4 Real!
***
Have a Creative Day!!
xoxo

PS — In case you missed it, don't miss out on winning $250 to Target from Groopdealz!!