Make Lace Glitter Crowns! These sweet lace crowns are perfect for photo props or birthday parties.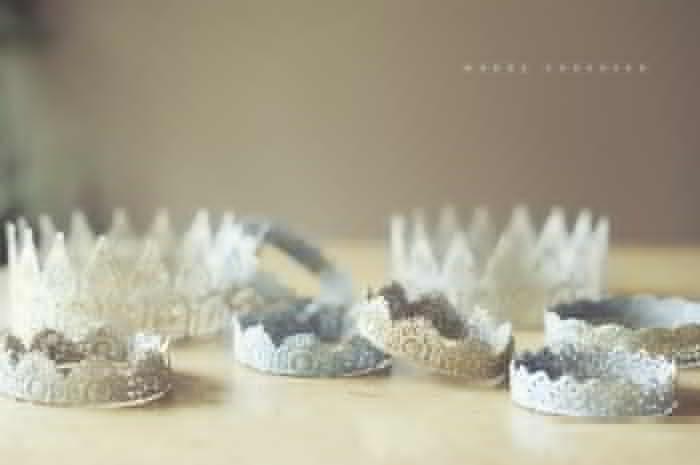 Lace Glitter Crowns
I'm not usually excited about trends when it comes to photography. I'd rather the focus be on the people in the photo rather than what they're wearing or what kind of crazy editing has been done. But when I first saw these delicate crowns on a newborn baby, I knew they would fit right in to my style. Check out these lace crowns.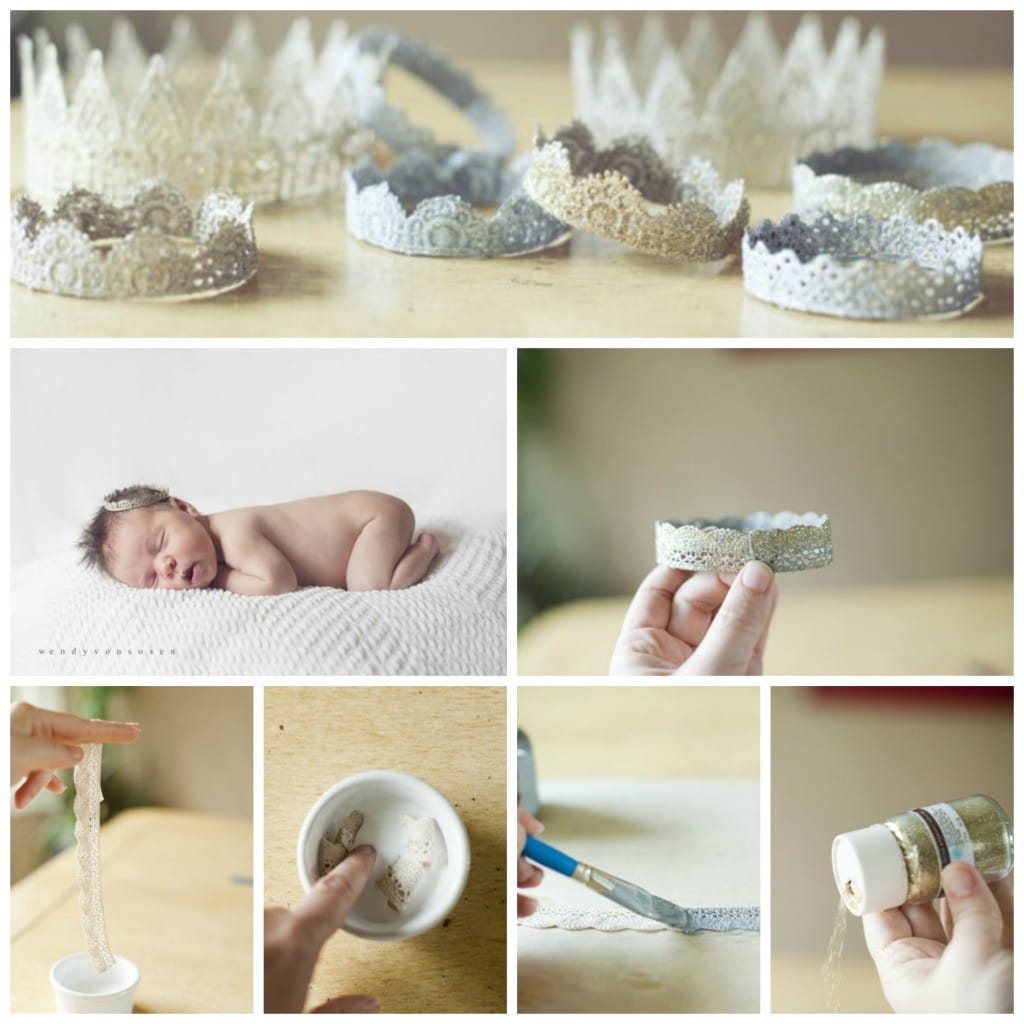 I knew I could buy them through several Etsy vendors but I wanted a whole slew of different sizes and styles so I decided to tackle this craft project myself. (Jen is rolling her eyes right now because she knows how un-crafty I am). There are several tutorials online that I used as a basis for this project but I've tweaked a few things that worked for me and will share my process with you here.

Lace Glitter Crown Supplies: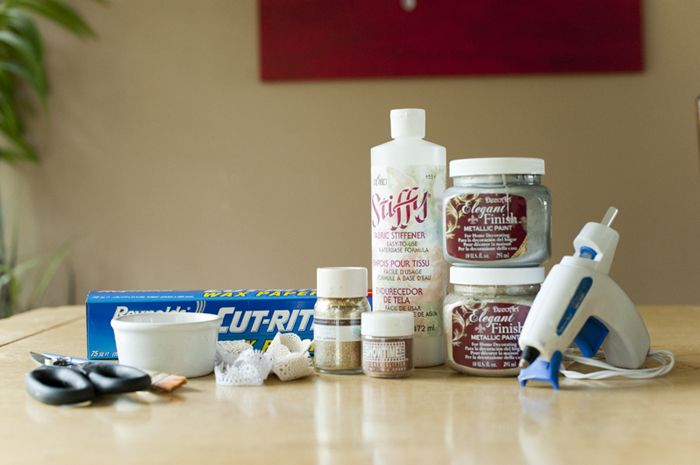 A variety of different lace (Mine were purchased at Jo-Anns. The crocheted soaks up the stiffener easier than the nylon-ish kind. Lace is sold both by-the-yard and by the spool. Check both sources.)
scissors
hot glue gun
craft paints in a variety of metallics
fabric stiffener
paint brush
wax paper
fine glitter (I love Martha Stewart's the best. I don't like the cheap kind because they tend to reflect an ugly green or purple cast)
small bowl
Lace Glitter Crown Directions:
1) Cut your lace to the appropriate size. For newborns I use 13″-15″. I made some larger ones for older girls and cut those to 20″-22″.
2) Pour your fabric stiffener into a small bowl.
3) Immerse your lace completely into the bowl soaking the entire length.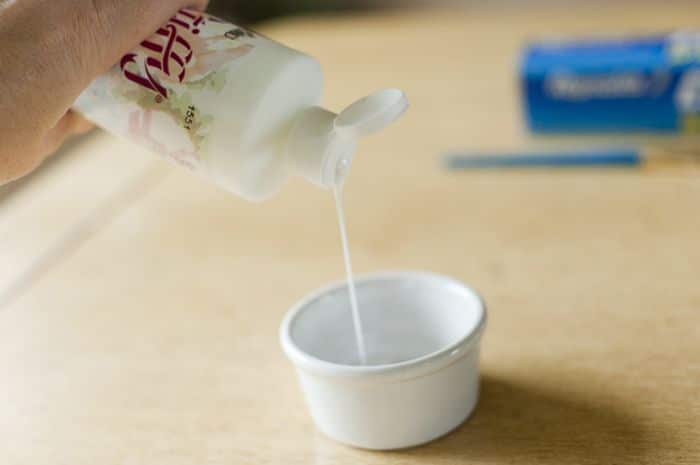 4) Wring out the lace by pulling it through your pointer and middle finger letting the excess stiffener run back into the bowl.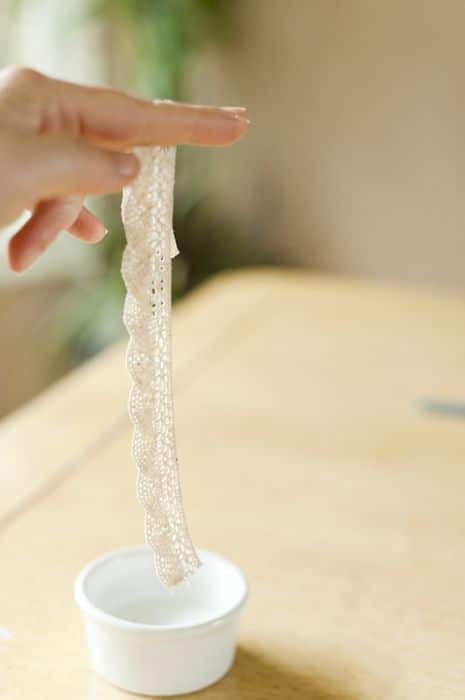 5) Lay the lace onto a piece of wax paper and dab the length with paper towel, removing the excess stiffener so that it isn't clogging the holes in the lace.
6) At this point you can either let it air dry for about an hour, OR, if you're impatient like I am, you can cheat a little bit. I turned my oven to the lowest temperature it would go (175), and when it reached that temperature, I turned the oven off. I put the wax paper onto a cooling rack and placed it into the oven and shut the door. In about 20 minutes it was dry.
7) Repeat steps 3-6 three or four times until your lace is stiff enough to stand on its side and sturdy enough to hold its shape.
8) Then peel it off of the wax paper and place it on a new piece of wax paper. You're ready to paint! Choose your color and, using a paint brush, paint the backside first and then flip it over and paint the front.
9) Optional: I love anything with glitter and wanted my crowns to have some sparkle so, while the paint was wet, I sprinkled the lace with fine glitter on the front side only.
10) You'll need to let the crown either air-dry or oven dry completely.
11) Once dry, the ends tend to be frayed and sharp with all of the stiffener on them so I like to trim them so they have a nice smooth edge.
12) Then take your glue gun and add a dab of glue to one end and attach it to the other end. Try your best to match and overlap the pattern so the connection isn't obvious.
13) Almost done! Once the ends are attached, take a cup that has a graduated shape (the top is wider than the bottom) and place the crown snugly onto it so that it forms the correct crown shape (tops is a little wider than the bottom). I leave my crowns like that for a day or so because they will continue to stiffen as they "cure".
And Viola! You're done!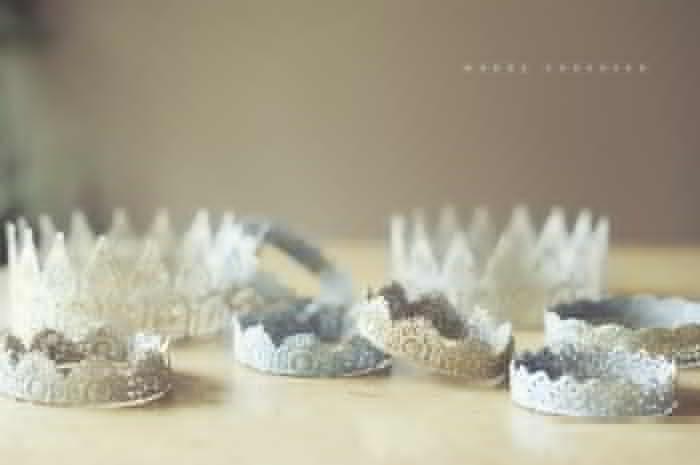 And if you're anything like me, you'll get a little addicted and want to find all kinds of shapes and sizes of lace to make into crowns.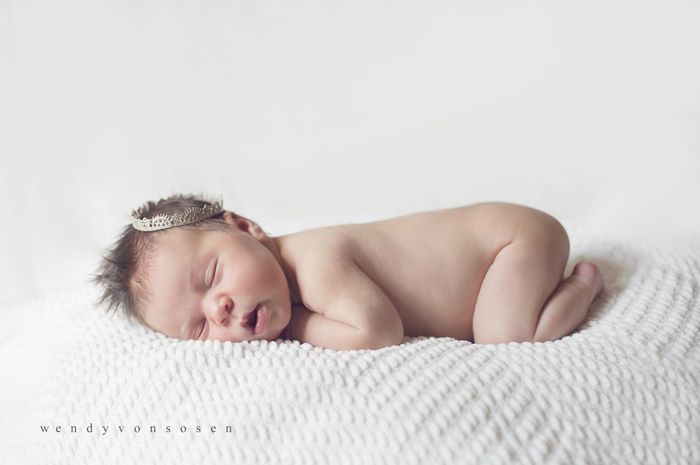 They are just the perfect delicate detail to add to sweet, tiny newborns portraits!

Good luck! And let me know if you have any questions!
Happy Weekending!
Wendy
Aren't those just the cutest??
My mom made some in a bigger size for a women's group. I think you could make them for anyone!!
And, they would make a beautiful Baby Shower Gift!!
Wendy has been busy this month with senior pictures: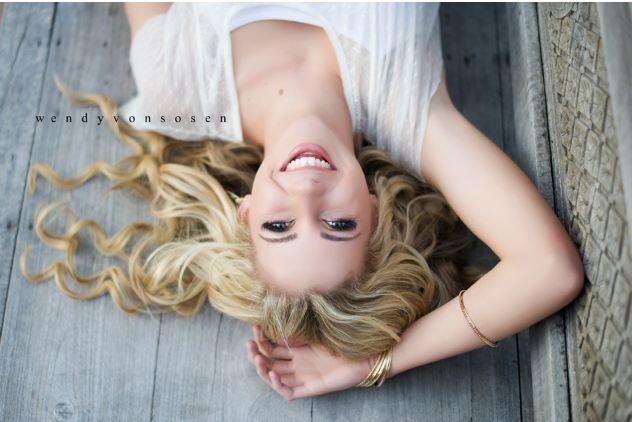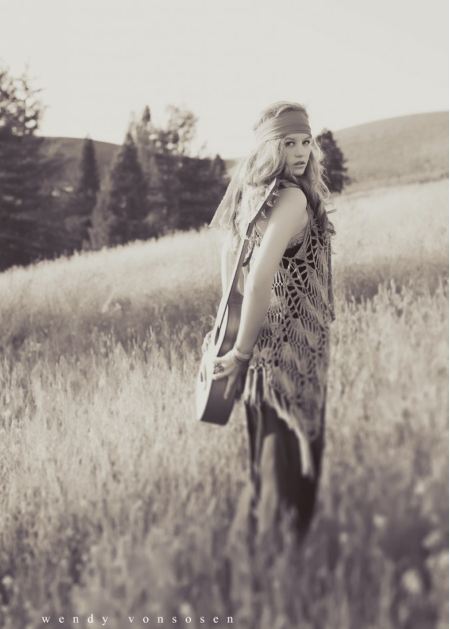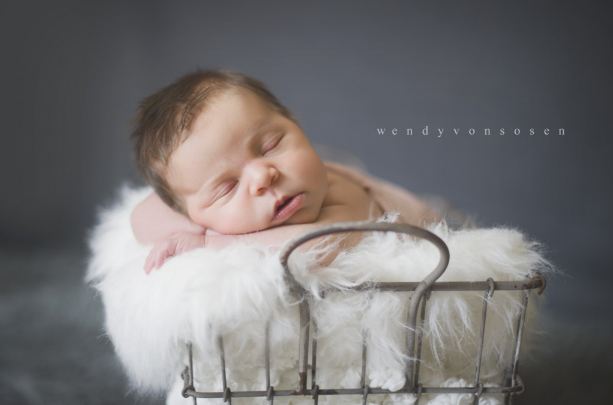 And here's one of the Senior Pictures Wendy took of my son: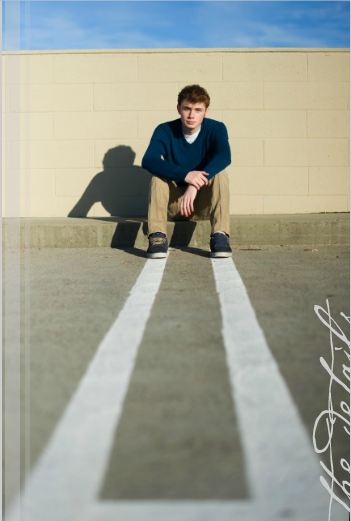 Be sure and check out Wendy and her amazing talent and ideas!!

And if you are in the Bay Area, get on Wendy's calendar for lifestyle photos for YOUR family. It's an investment that you will treasure always.
xox