Happy Friday my friends!!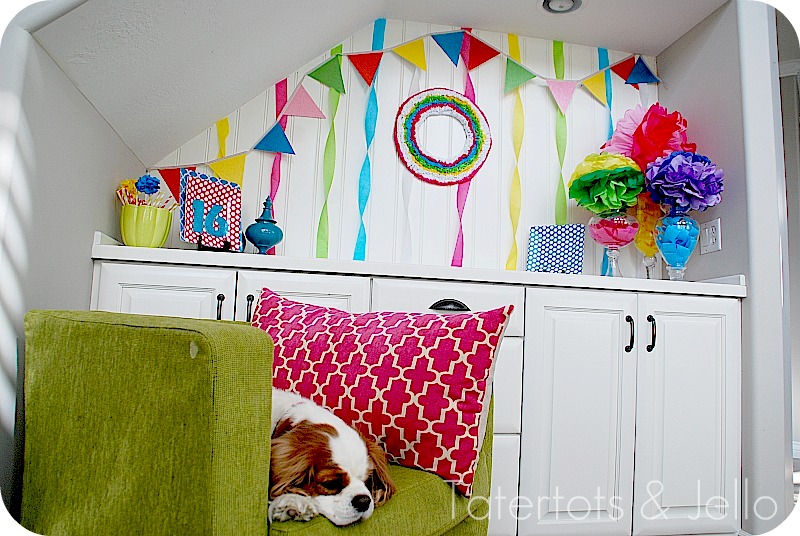 Can you believe it's Friday?? Where did this week go?? Two of my kids have birthdays coming up this week — and they are big ones. So I thought it might be fun to change out my little Beadboard Nook from Valentine's: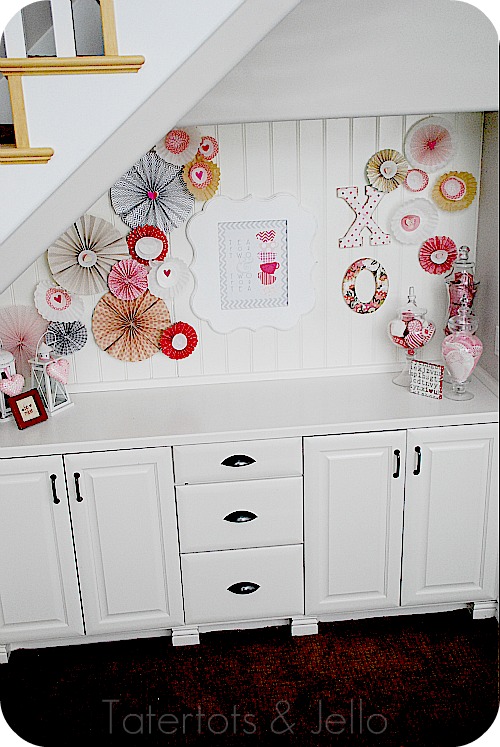 To a Birthday Vignette: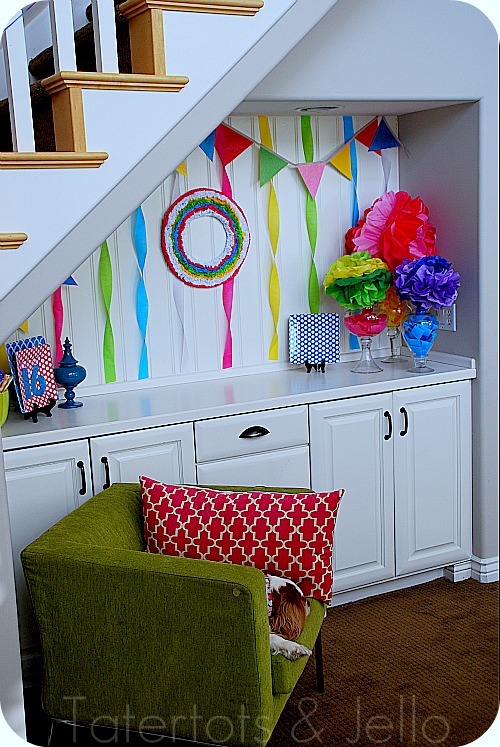 And I have been working all week on an extra special surprise. But I can't let the cat out of the bag just yet. Just in case they are reading my blog. But I have something extra special in the works. I am so excited to share it with you next week!!!
For the main part of the vignette I made a little wreath out of crepe paper and cardboard.
It's kind of ruffly and fun!!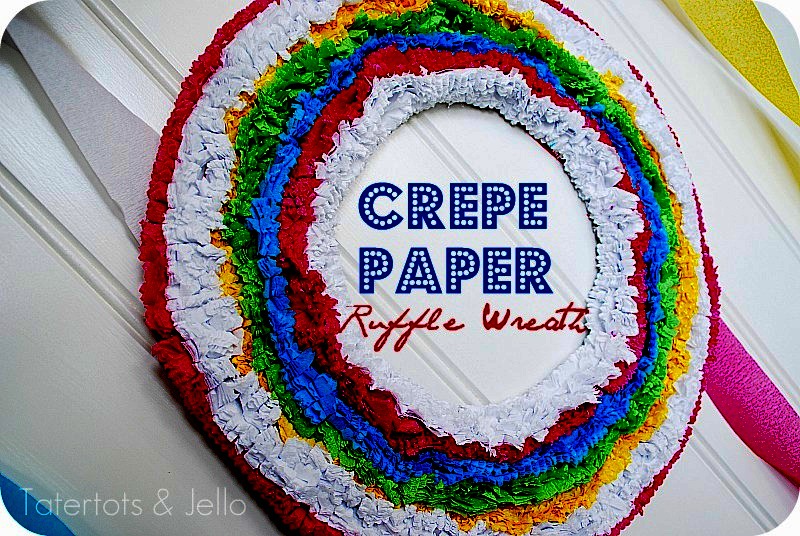 Here's what I did: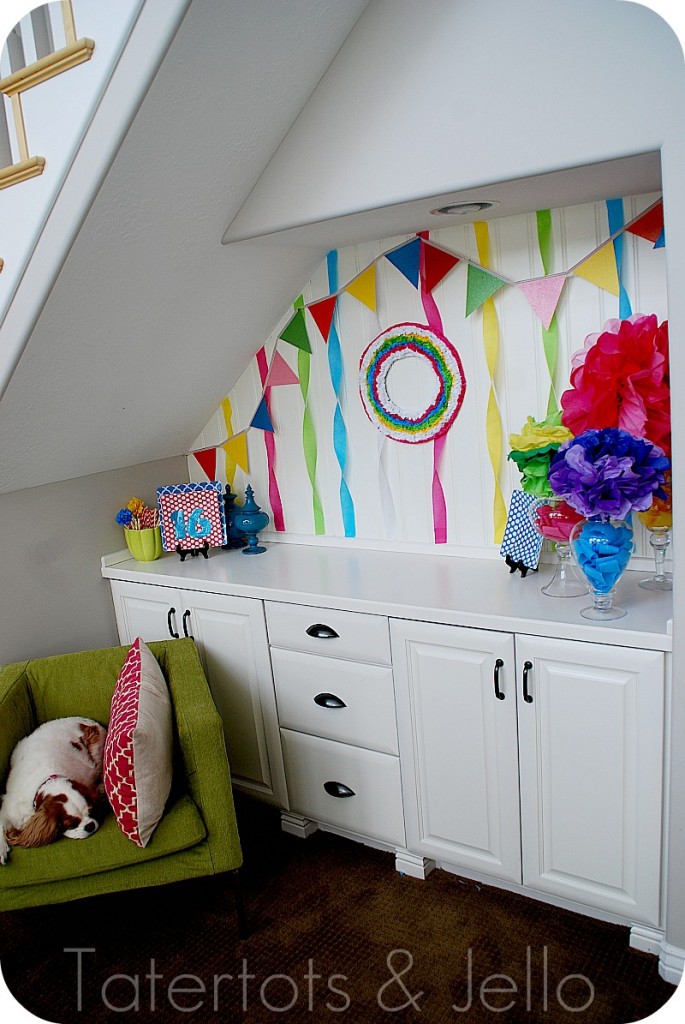 I got the idea for this wreath from the Fiskars website. There weren't many directions, so I made up my own on some my own.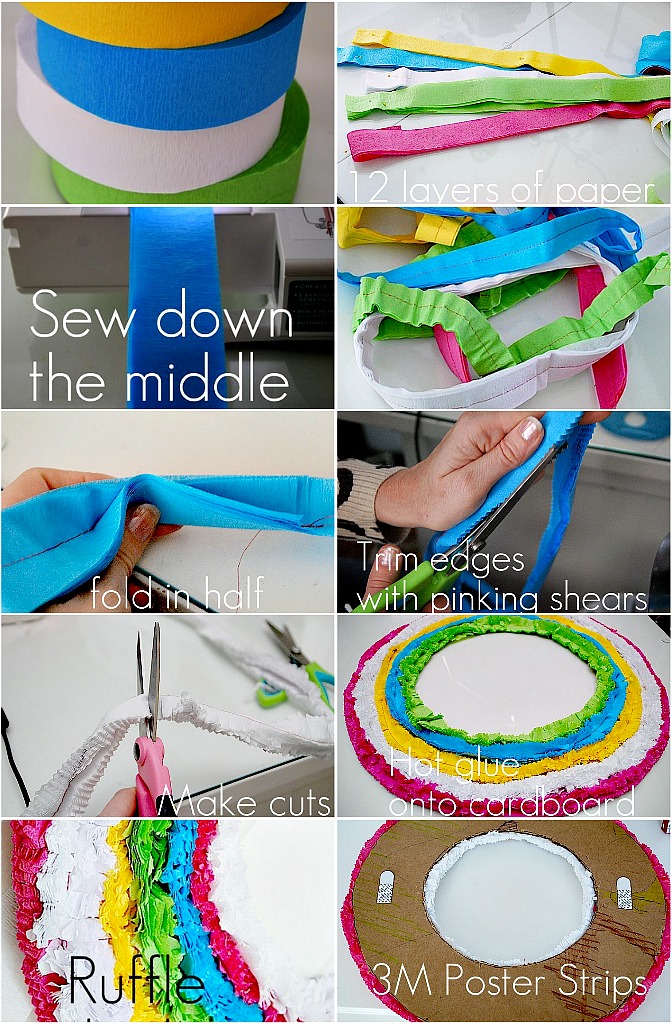 I cut out a wreath form out of cardboard. the inside is 12 inches and the outside is 16 inches.
Then I cut 12 lengths of crepe paper in each of the 5 colors. I measured the outside of the wreath circumference and added 50%.
Once the lengths were cut, I sewed them down the middle.
Then I folded them in half.
After that I used pinking shears (bought mine from Hobby Lobby for $12) and cut the top straight edge off so it would be ruffly.
Then I cut the crepe paper lengths half way through in 1 inch intervals through the entire length, making sure not to cut all the way through.
The next thing was to glue the strips onto the wreath form. I glued one color to the inside and another to the outside. Then I added more lengths until the whole thing was filled in. There were two circles in each color.
Once they were glued in, I ruffled the colors.
And then I added some 3M Poster Strips to the back and hung it up!
A couple other things I did to make the Party Vignette were: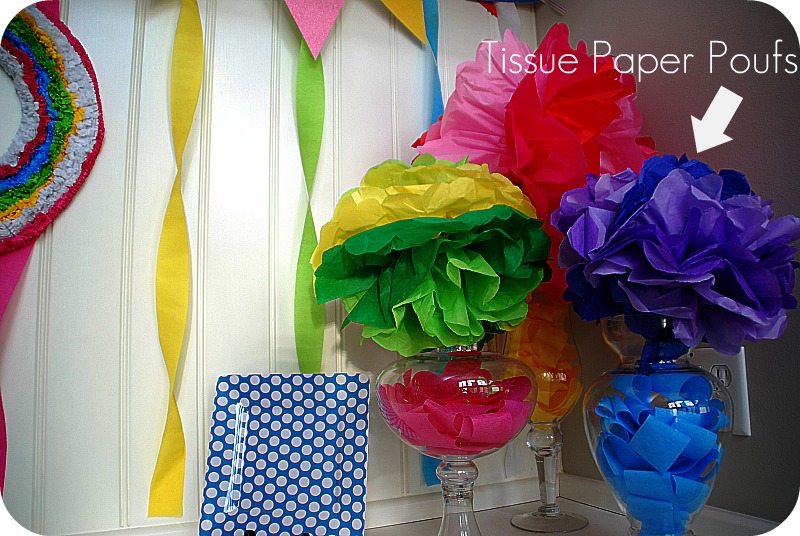 I made some Crepe Paper Poufs.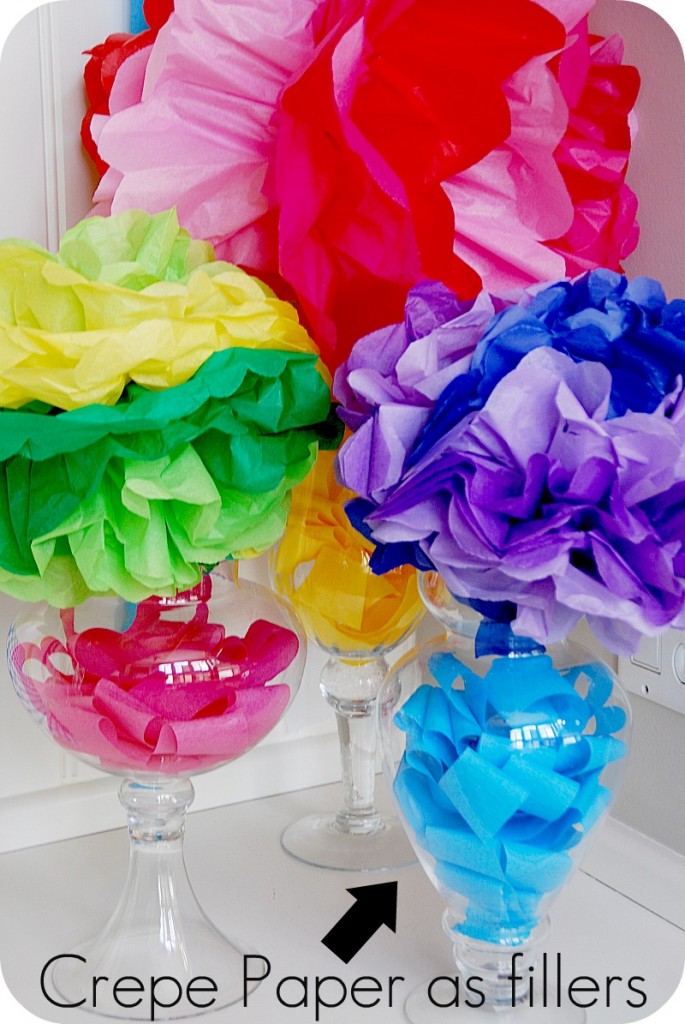 I filled the glass containers with left-over crepe paper.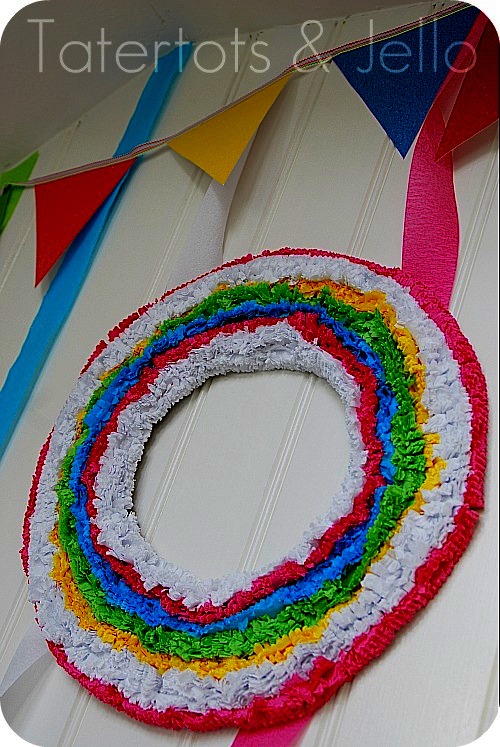 I made a Glittery Pennant Banner.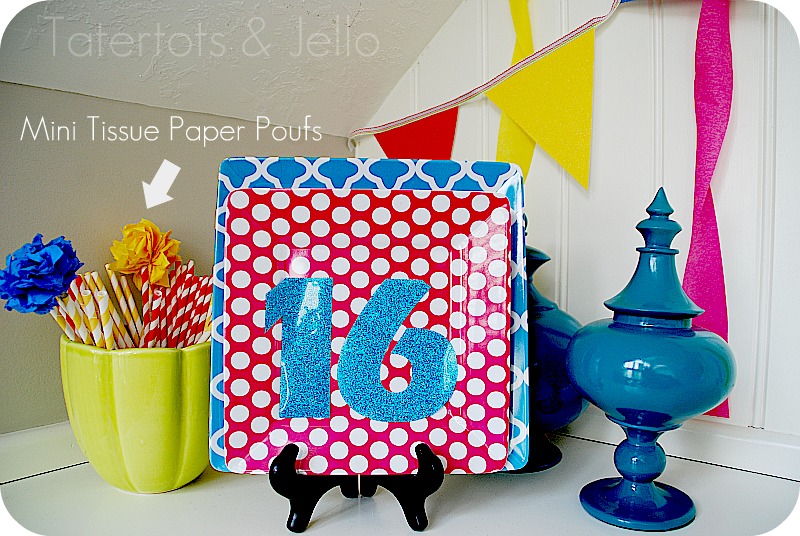 I made mini-poufs and glued them onto some striped straws.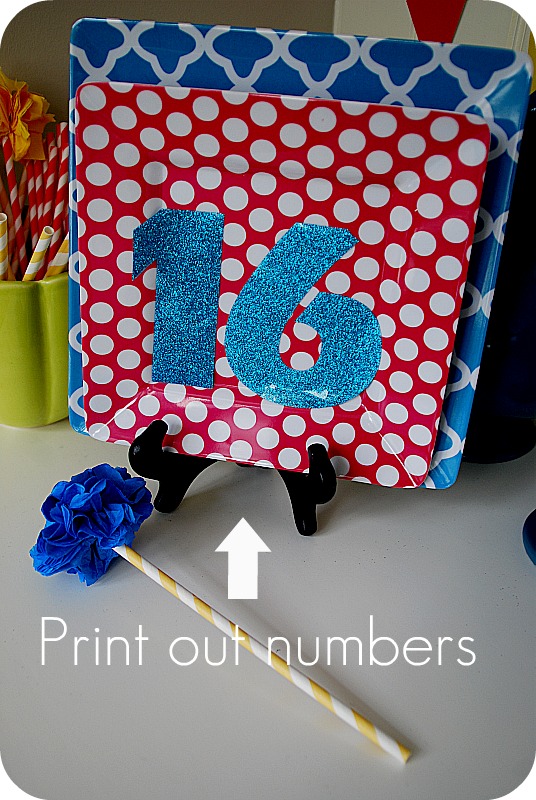 I cut out some sparkly letters and taped them onto a polka dotted plate.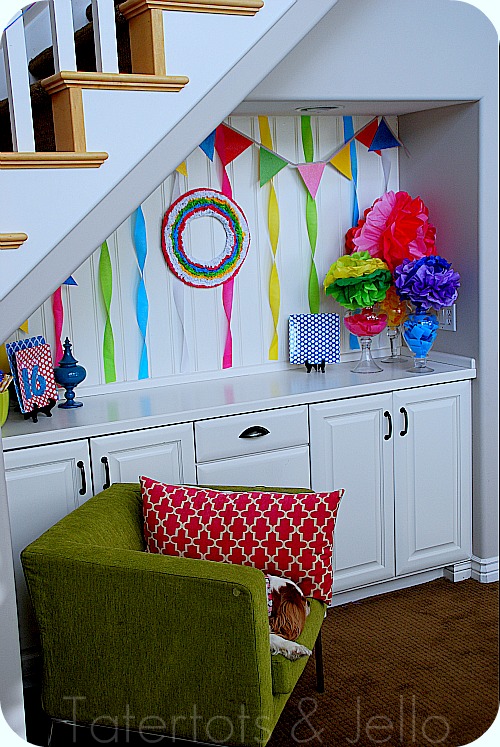 I cut some crepe paper strips and taped them on the beadboard back, twisting them for a festive effect.
The thing I love about crepe paper is it's so colorful AND so cheap. It's a great way to decorate for very little $$$.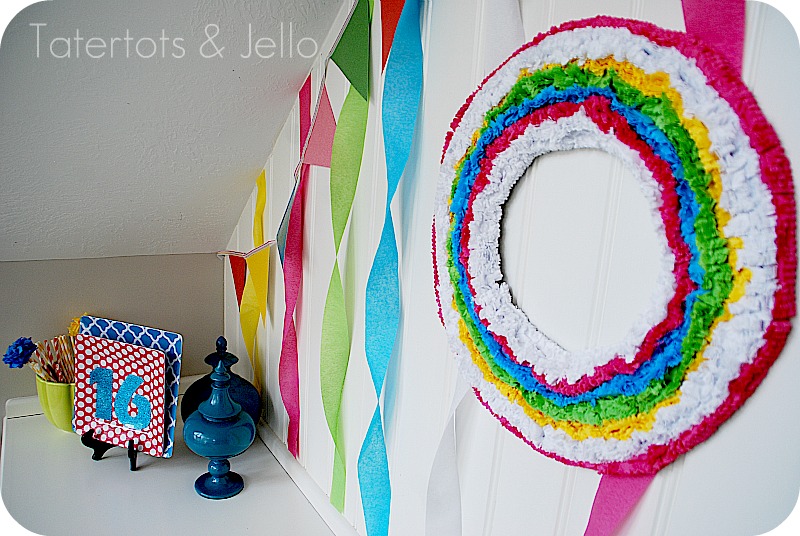 More fun party details coming up. I can't wait to share!!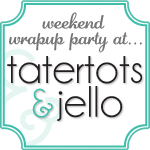 In the meantime, it's FRIDAY!!!
My favorite day of the week. I hope you can stop in for the Weekend Wrap Up Party tonight. And I am excited to say there is a really fun home decor giveaway this week. You are going to love it!!! The party starts at 6 pm MST. I can't wait to see YOUR Great Ideas!!!
Happy Friday!!!
xoxx