Last-Minute Fourth of July Decorating with Dollar Items. It's not too late to do some easy 4th of July decorating inexpensively with dollar items!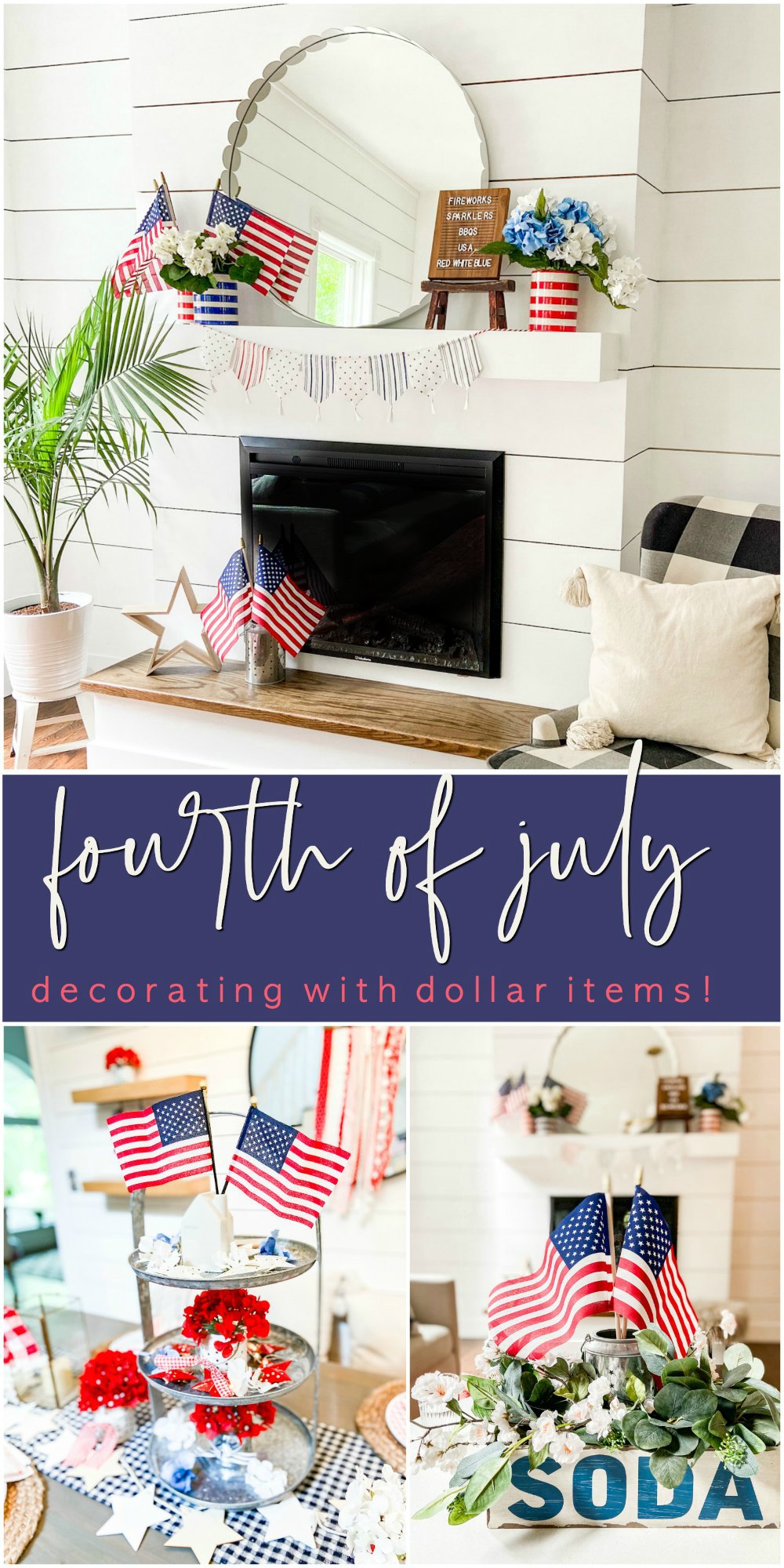 Last-Minute Fourth of July Decorating Items
This summer has flown by so fast. Maybe it's because of the pandemic and home-schooling or the remodel, but decorating for the Fourth of July hasn't happened here until this week.
Simple Ways to Bring in Patriotic Decor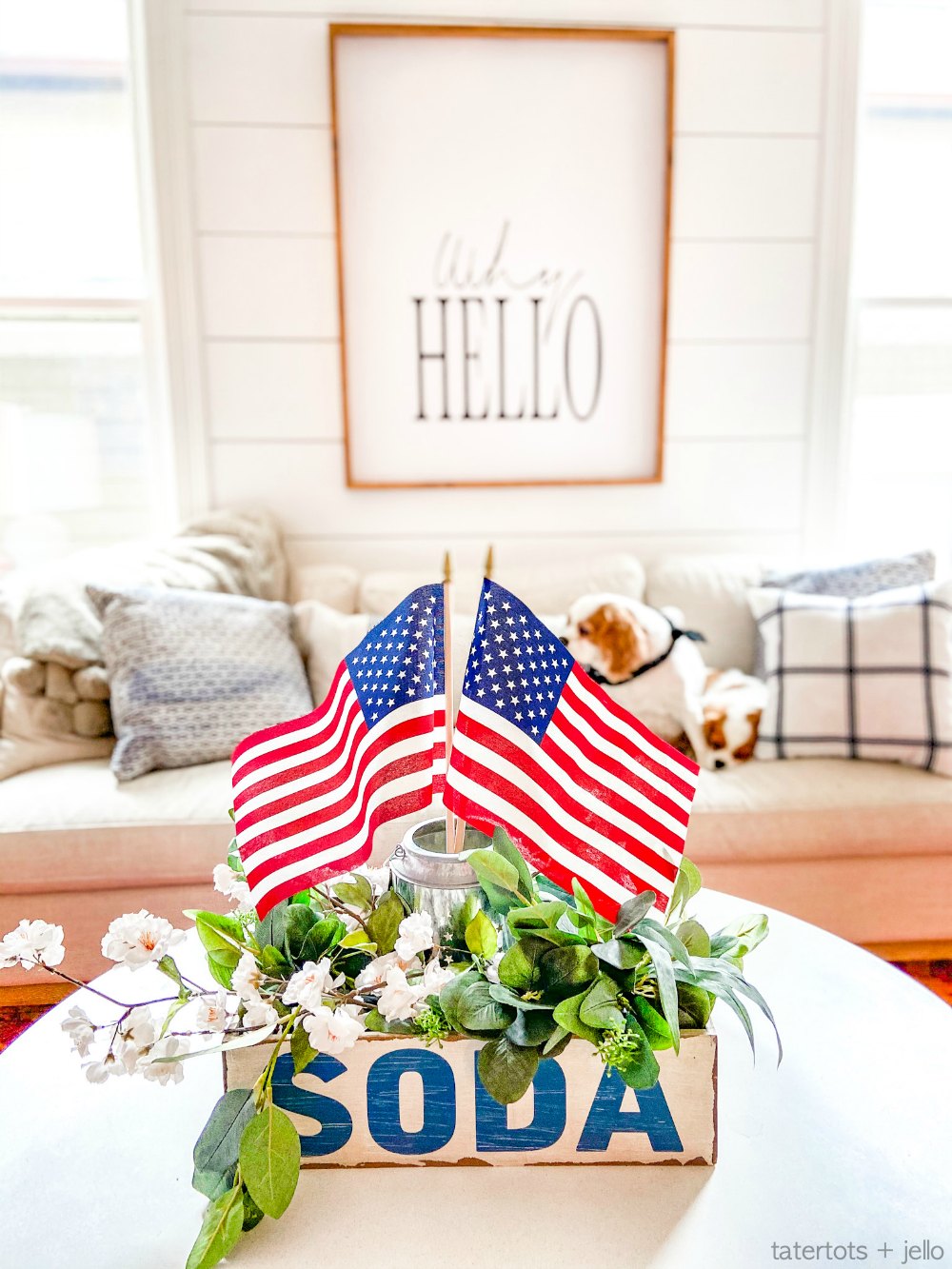 Just because the holiday is almost upon doesn't mean we can't make the holiday memorable and festive! Sometimes the easiest ideas are the best. I am all about making things easier.
Dollar Store and Dollar Spot Decor
If you are looking for easy and inexpensive items to bring in some patriotic vibes, the dollar store or Target's Dollar Spot sections are the place to visit! Our Dollar Tree has multi-pack of flags for $1! You can also find lots of great party items at the Dollar Tree. I also love Target's Dollar Spot for on-trend inexpensive seasonal ideas.
Fourth of July Mantel Using Dollar Items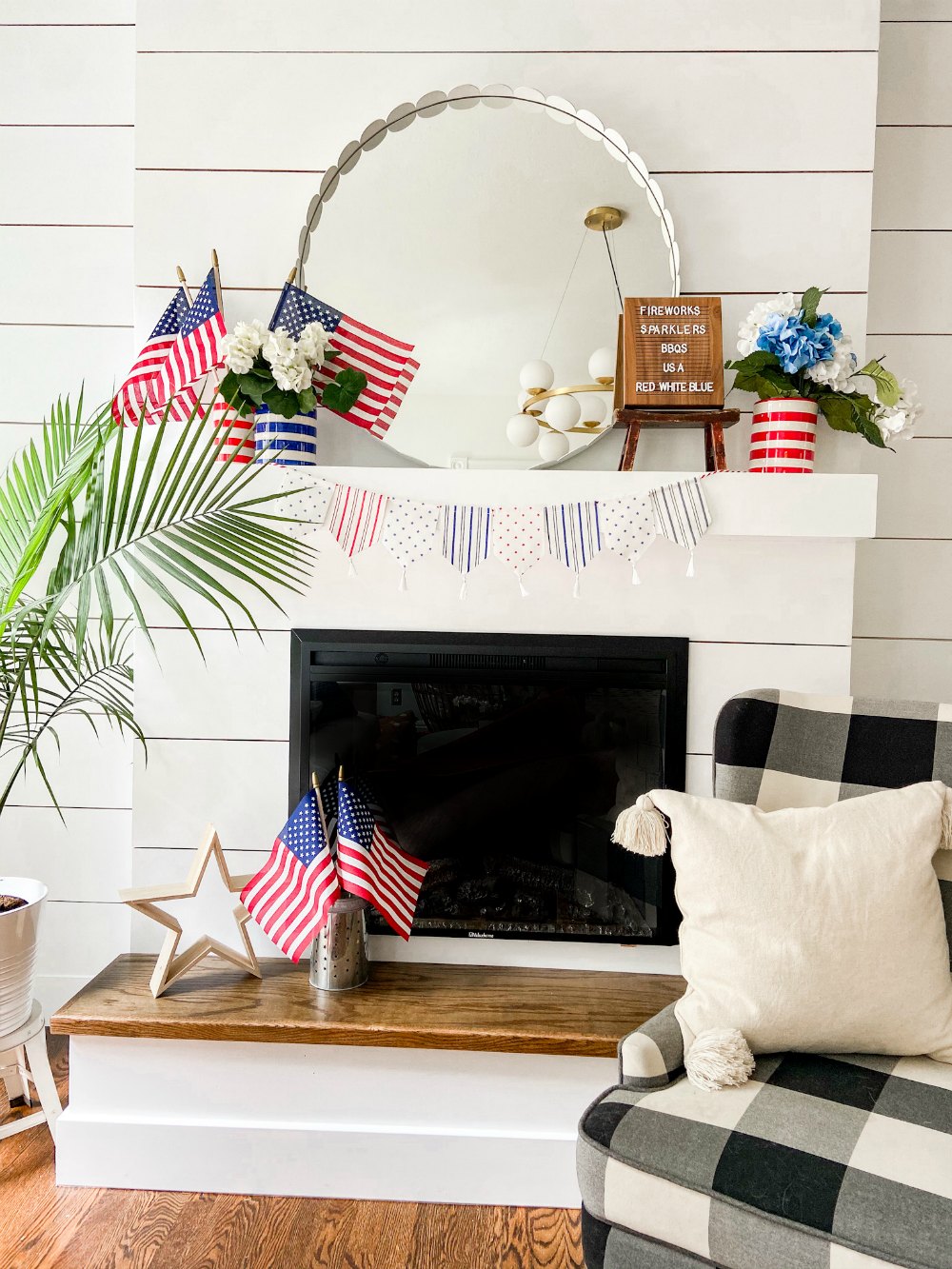 I created a cute Fourth of July mantel in minutes with just a few items I found at my Dollar Tree and from the Dollar Spot. So easy!
Hang a Simple Fourth of July Garland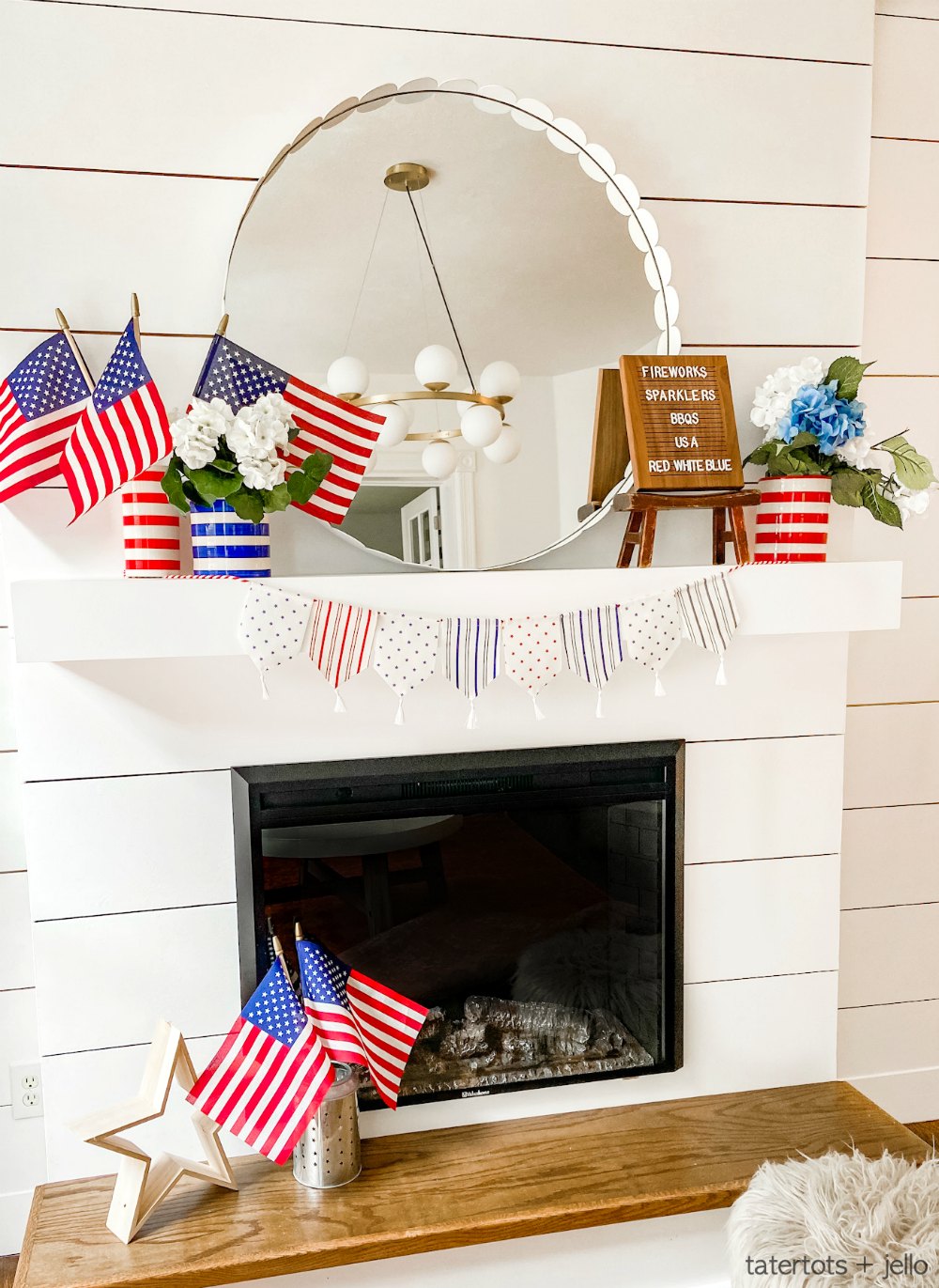 I added a simple $3 garland from the Dollar Spot. Every year Target has a new design. I still have the ones I used last year on our Fourth of July front porch. I am going to put them up this week at our new house.
Add Dollar Store Fourth of July Flags to Vases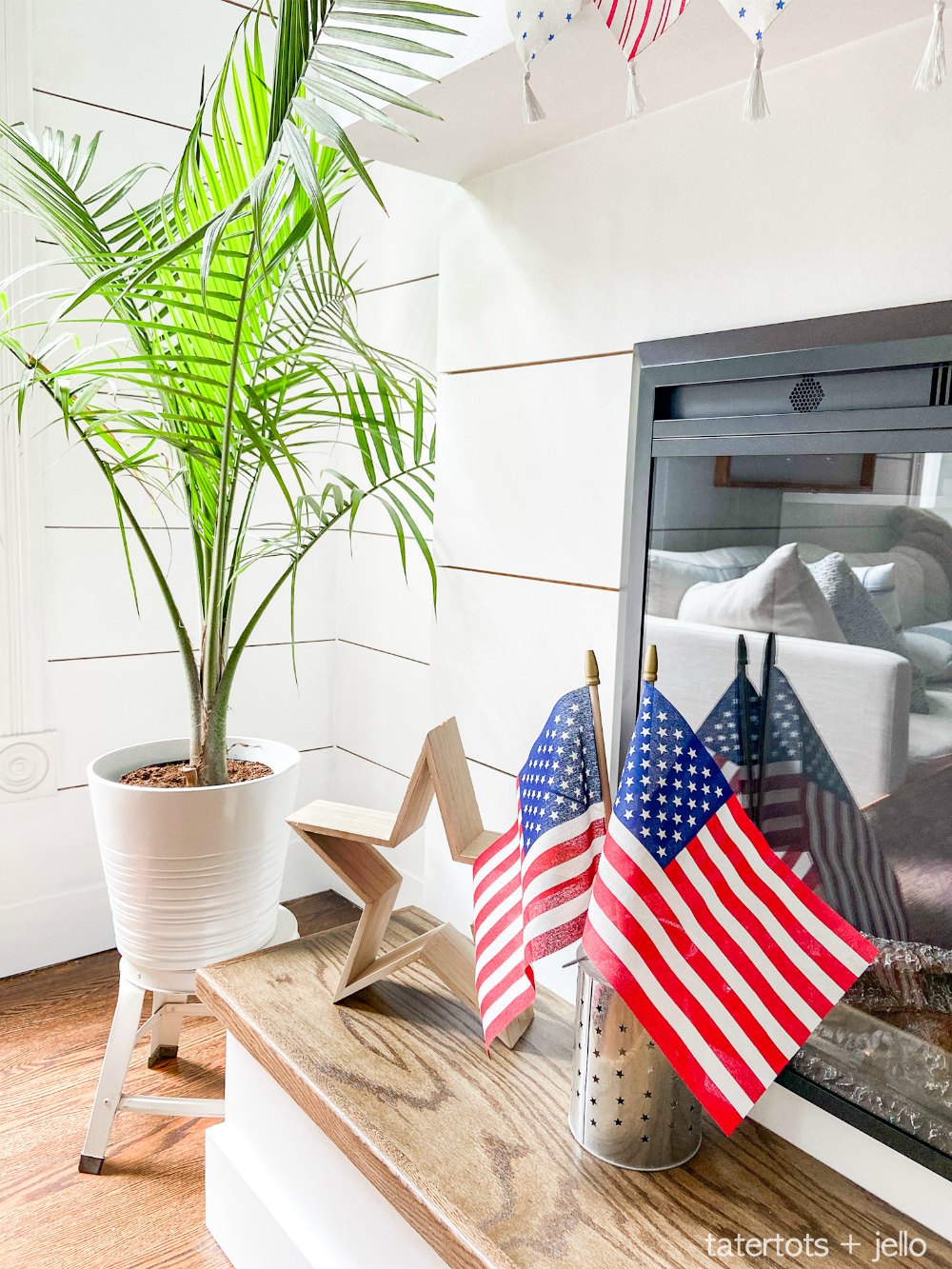 I have had these striped vases for years. I use the red ones for Valentine's Day, Christmas and Fourth of July! I just add some faux flowers and then the Dollar Tree Flags. The galvanized vase at the bottom is a Dollar Spot vase I picked up a couple of years ago.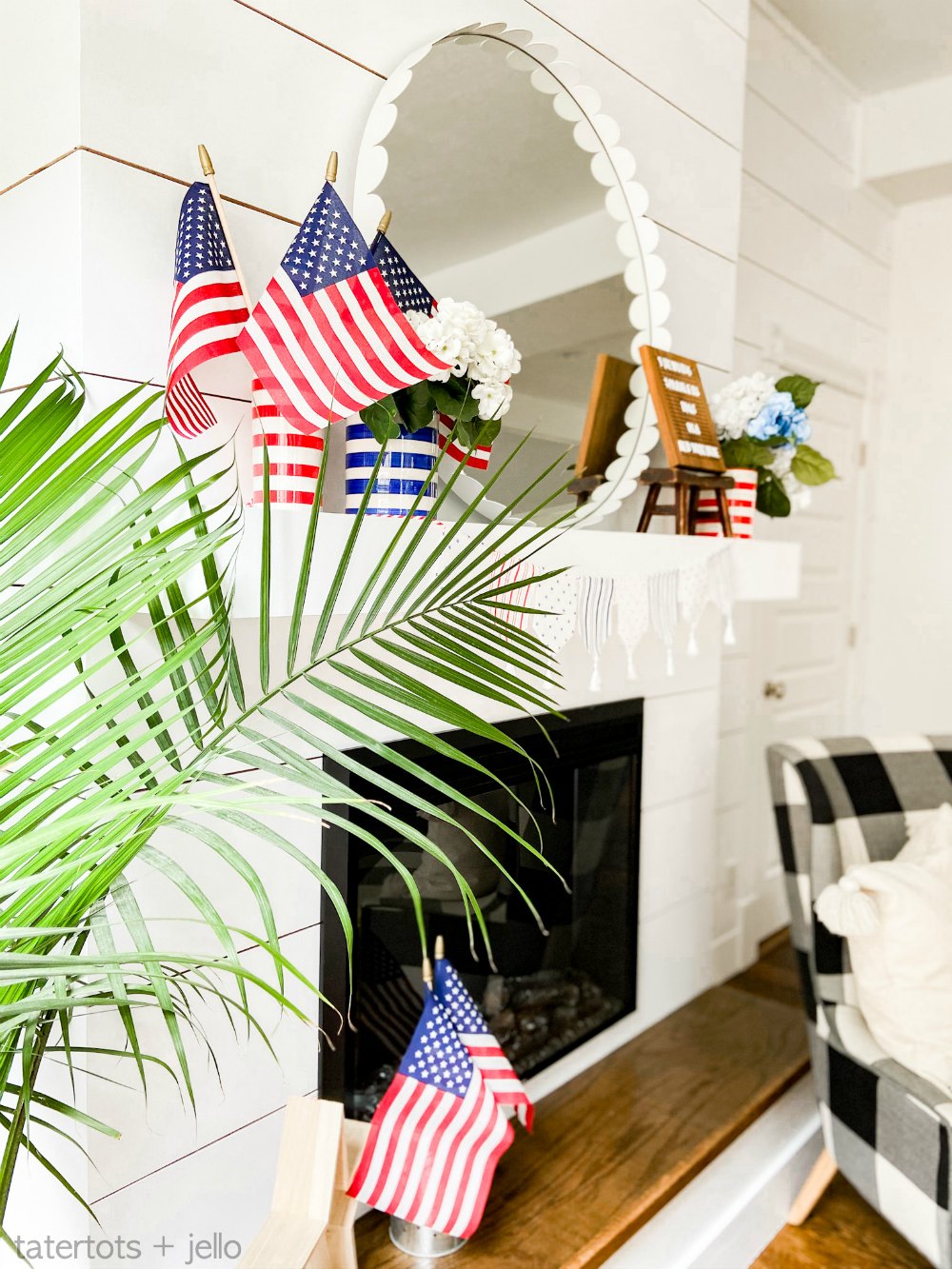 Letterboard Saying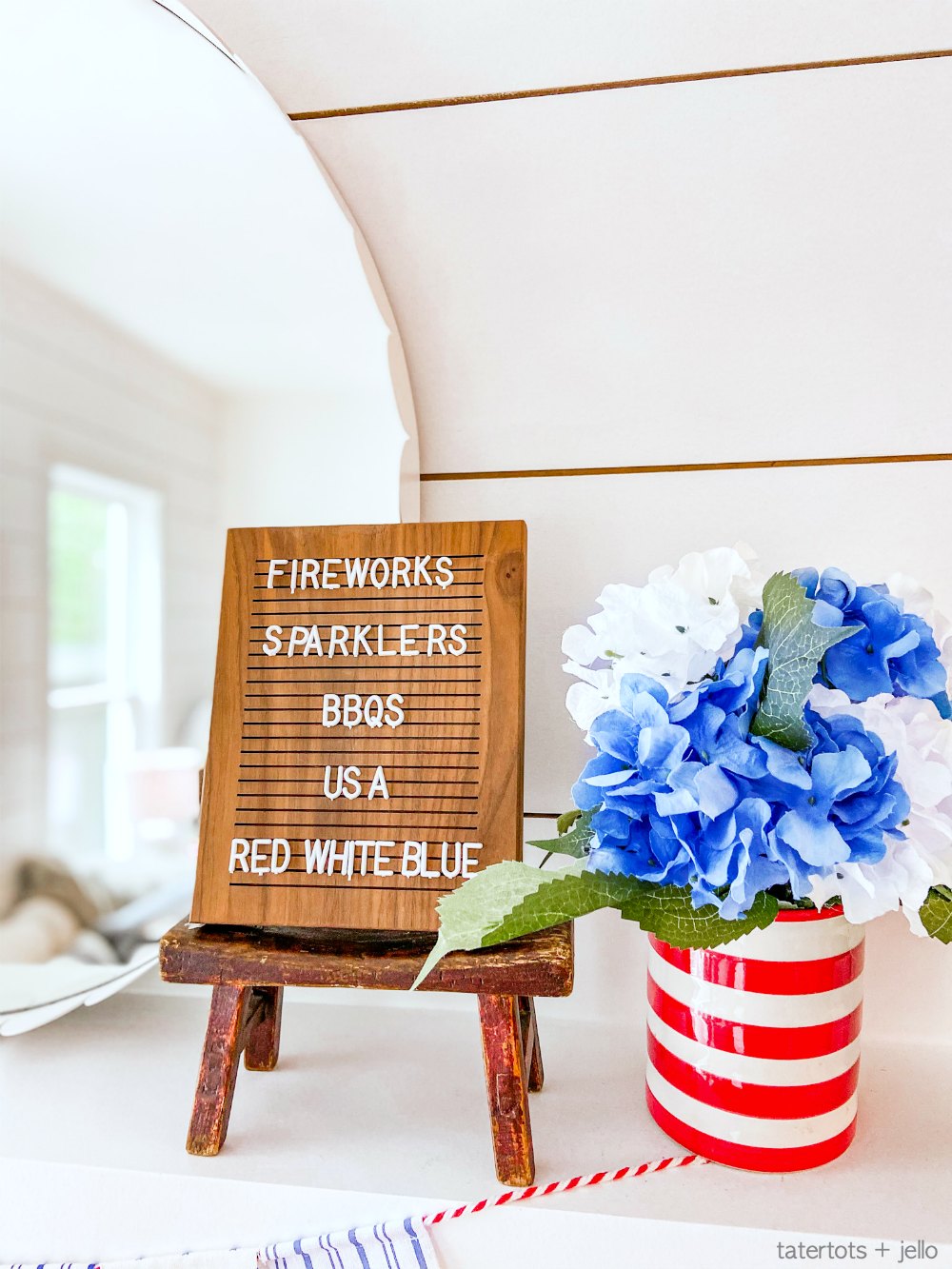 I love letterboards. This one is from my friends at Madera Modern and I love the wood look. The kids came up with some words for summer and we made a summer sayings board. This time I asked them what words brought to mind Fourth of July and we created this little board for our Patriotic Mantel!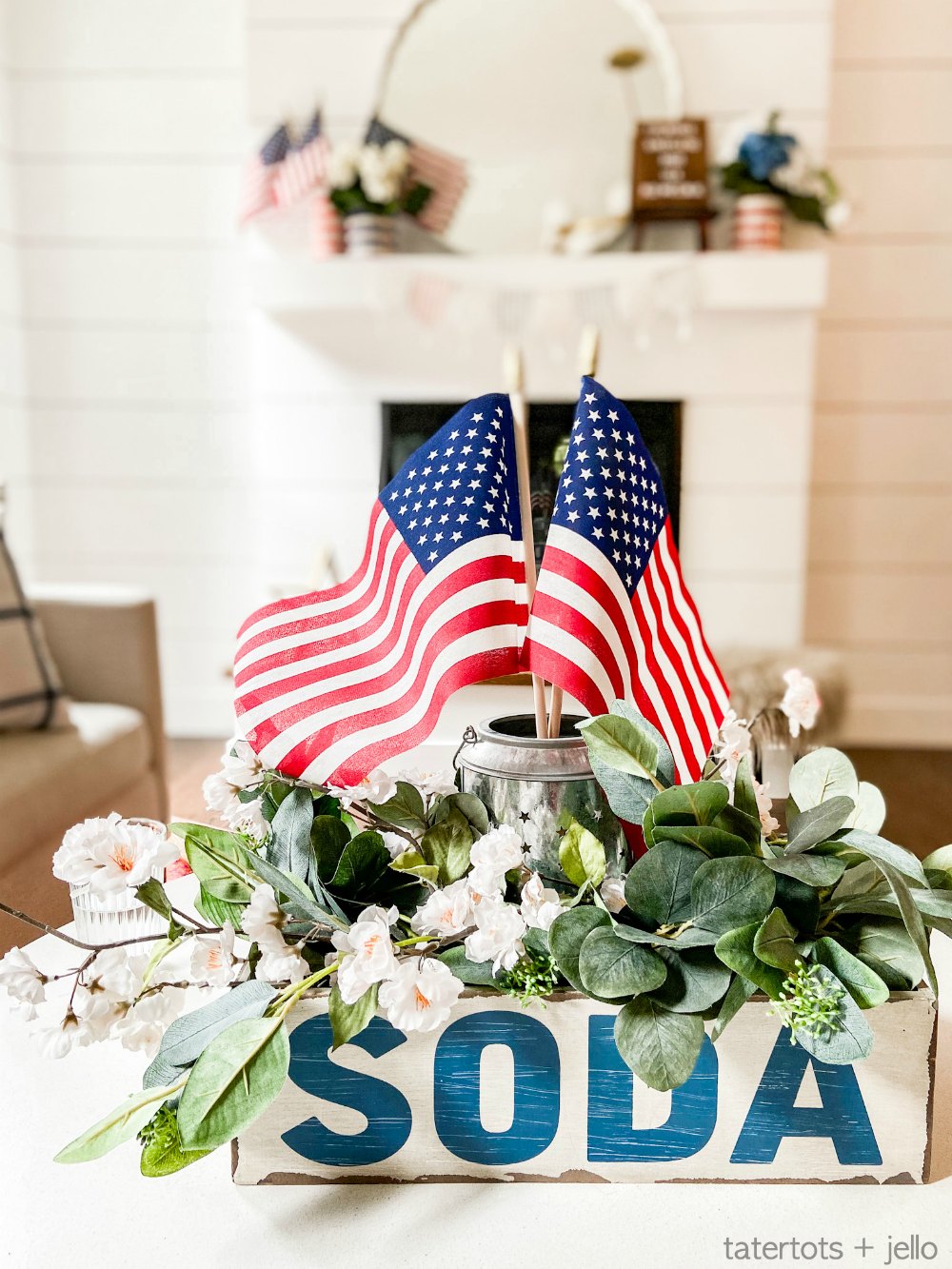 Other Ways to Use Fourth of July Dollar Items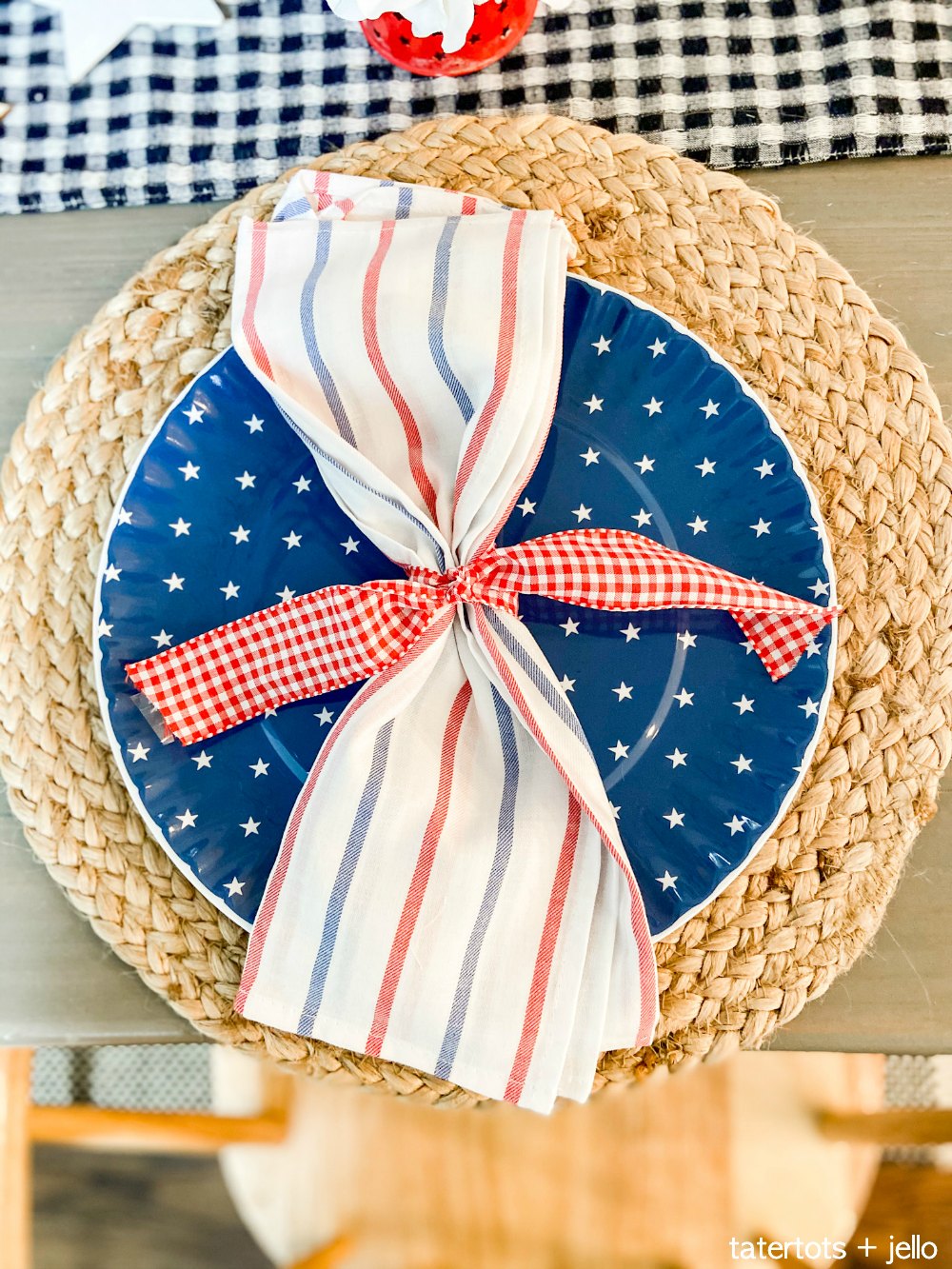 This year I also created a fun Patriotic tablescape with dollar items! I will share that tomorrow! In the meantime here are some other ways I have used dollar items to create patriotic decor in the past!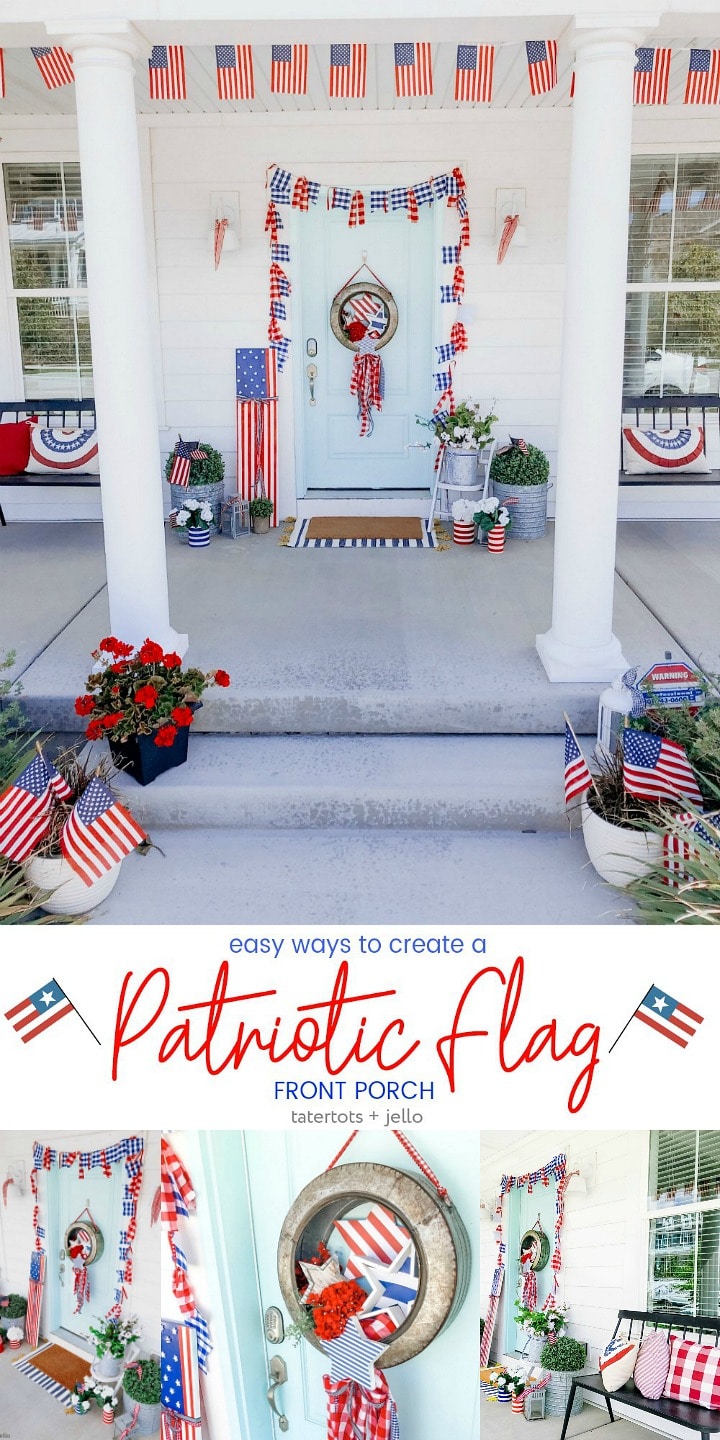 This was one of my favorite Fourth of July Porches. I used a lot of dollar items. The garland around the front door is a dollar garland that I added fabric to. The lanterns are also dollar times and the flags!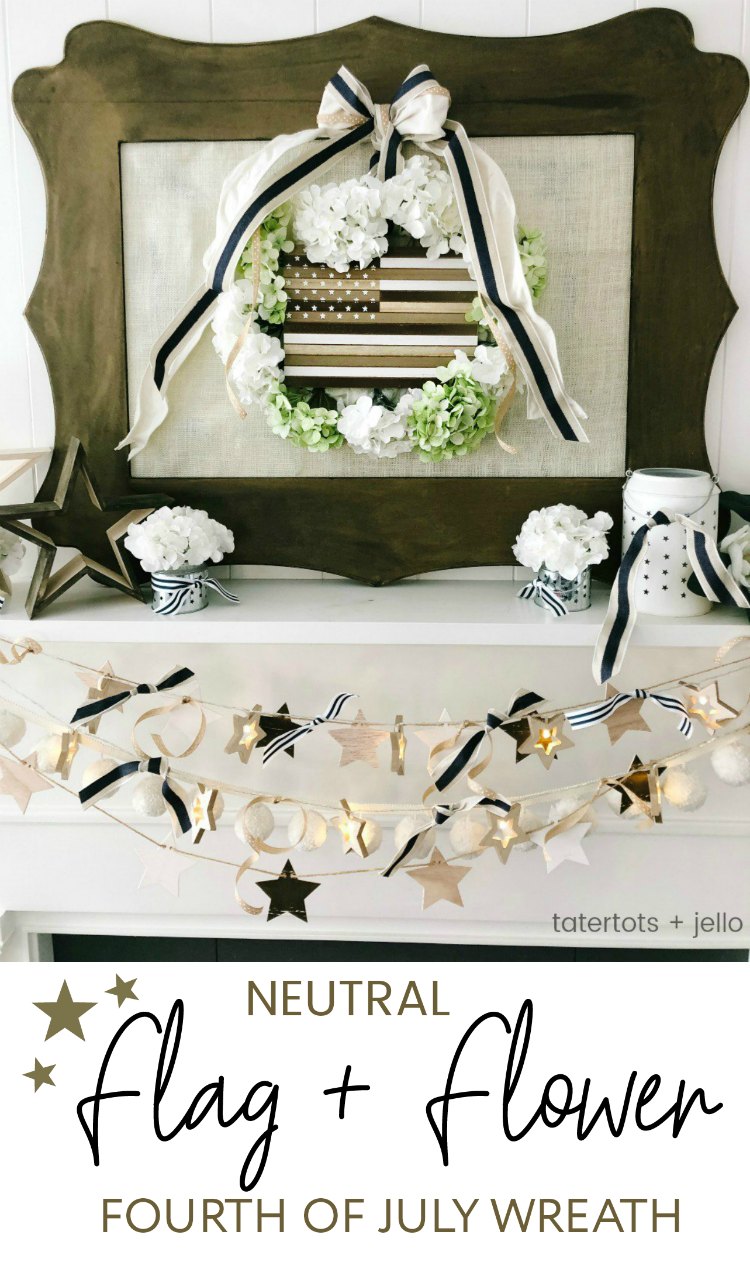 This is a mantel I created last year. I was trying to decorate around a pink rug so I wanted a neutral fireplace. I used a flag from the dollar spot as well as garlands and lanterns that were also at the dollar spot!
Pin Fourth of July Decorating Ideas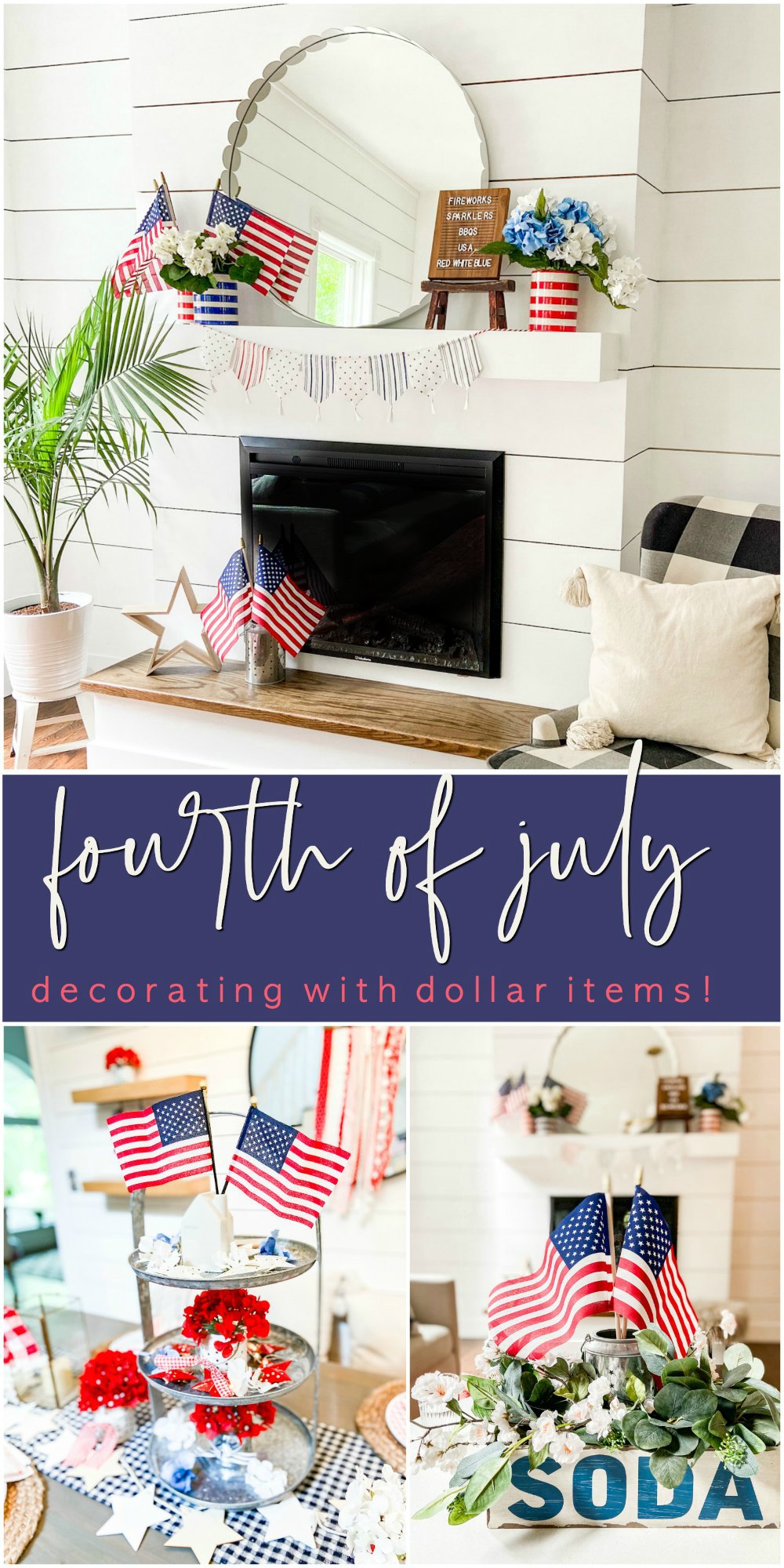 What are YOUR plans for the Fourth?
Tag me on Instagram and share YOUR creative ideas! @tatertotsandjello! I would love to see what YOU are making!
Have a beautiful day!
xoxo