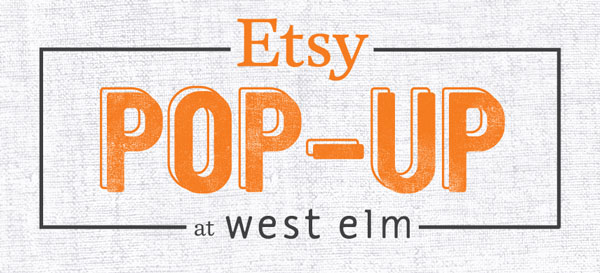 This Saturday, November 2, join me at the Salt Lake City West Elm (at City Creek), from 1 to 6 PM for the Etsy Pop-Up!
I've curated a special selection of local Etsy artists … and they'll be there in person, along with music, food, and a few surprises!
I'll be there to kick it all off, so come join me!
RSVP on Facebook and share with your friends!
Here's a peek at the great Etsy artists you'll see (and I'll tell you more about them, in order, after):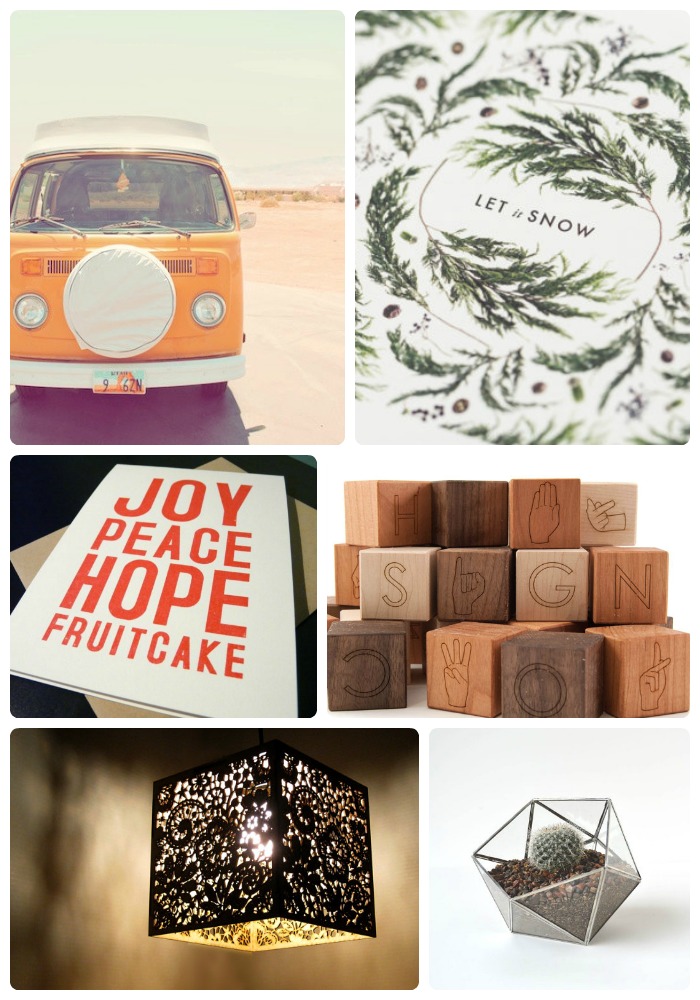 I love West Elm and I love Etsy Shops! It's like two great things in one.
One of the things I like about West Elm is their support of independent artists, and that's why I was so excited to get to work with them to curate a selection of local Etsy artists to bring to you — in person — at our local West Elm!
But there's even more: there will be DJs. There will be yummy snacks (I hear a rumor there may be macarons). And there will be a Smilebooth, oh yes.
There are tons of creative people in the SLC area — and many have Etsy shops. I'm so excited to show you these artists, artisans and amazing folks. I'm so happy they were able to participate!
Here is just a tiny hint of what you'll see, besides the fun stuff at West Elm. Every one of these Etsy sellers has much more than I have room to feature here — so come by and check it out!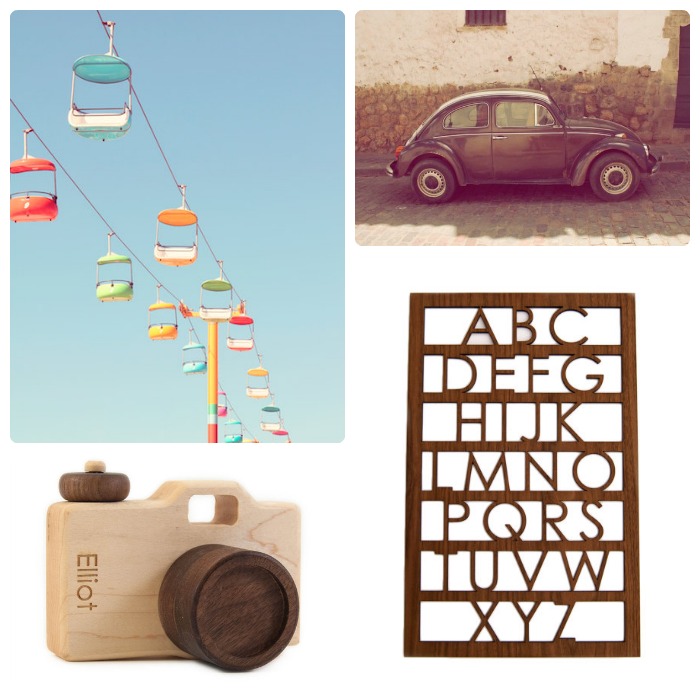 Top row: amazing photography from Diem Design by Lisa Steadman. My husband loves the image from the Santa Cruz Beach Boardwalk near where he grew up (top left).
Bottom row: Modern, organic toys from Little Sapling Toys by Kimber & Nick. I love the laser-cut alphabet art!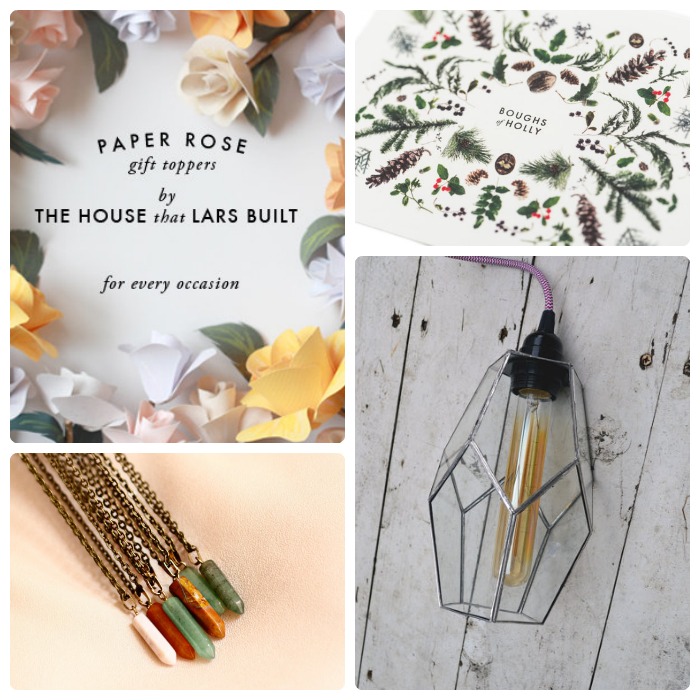 Top row: Stunning paper creations from the House that Lars Built. Those paper flowers. Those intricate Christmas cards. I love the style and timeless, clean look.
Bottom row: The creations from The Land of Salt by Erica & Amanda are so unique. The multicolored cascade necklace is just a hint of their organic/geometric stone jewelry, and the geometric Edison pendant is amazing. Plus mini terrariums and more!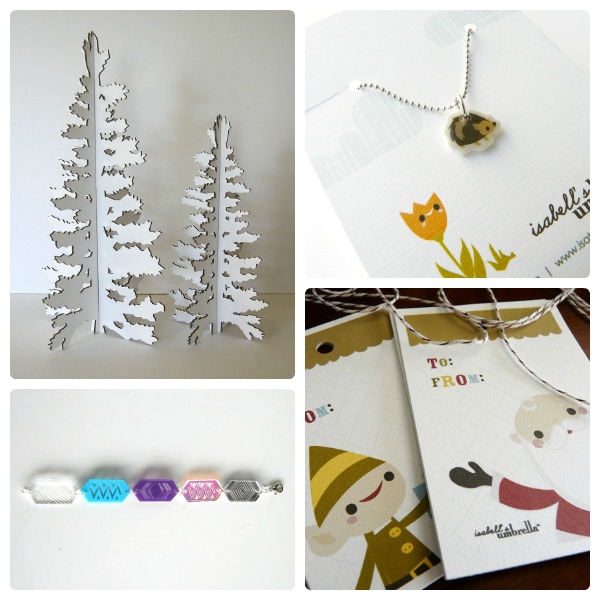 Left two: Just a hint of the variety of laser-cut decor and accessories from Fab Parlor by Haley Tessier. From the modern (and easy to store!) cardboard holiday decor to colorful and unique modern jewelry, you have got to see this shop.
Right two: I had a hard time choosing just two to feature from Isabell's Umbrella by Ashley Giessing. There's a modern style here that is still accessible, warm and friendly. Her style echoes both 60s animation (think "Rudolph the Red-Nosed Reindeer) and modern Japanese animation. It's all adorable. Accessories, stationery, and more.
I am so excited!
* * * * *
So if you're in the SLC area Saturday, please come join me! I'd love to meet you, and I'd love to introduce you to these amazing artists. Maybe you can even find some unique gifts for your holiday shopping!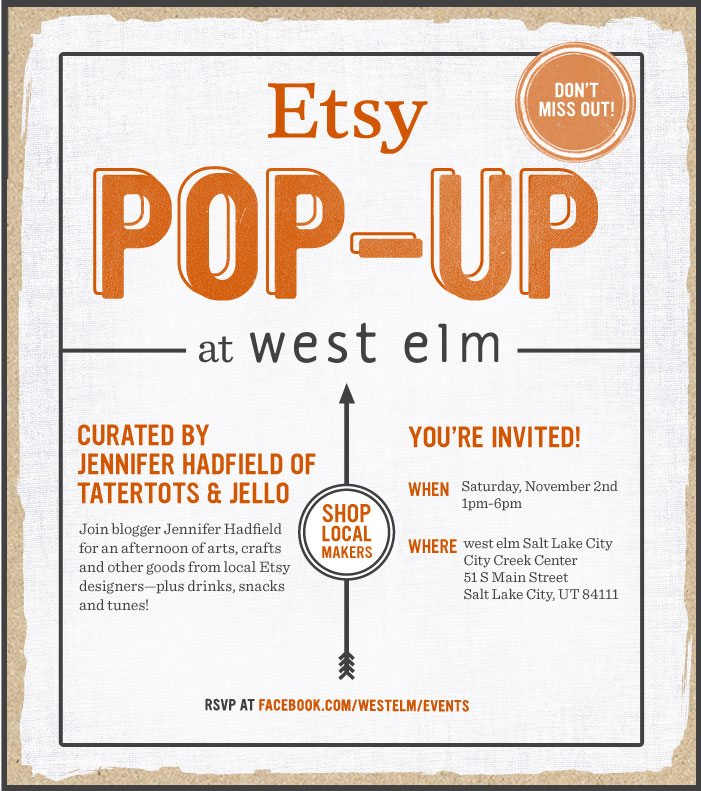 RSVP here — and I'll see you there!
xoxo

P.S.: More details at West Elm's blog!
P.P.S.: This post is not sponsored by West Elm or Etsy. I'm just doing this with West Elm because I love to support independent artists, and I also really like West Elm!