Create a focal Shiplap wall in your home from start to finish in less than 2 hours. This is an inexpensive project you can finish in FOUR easy steps.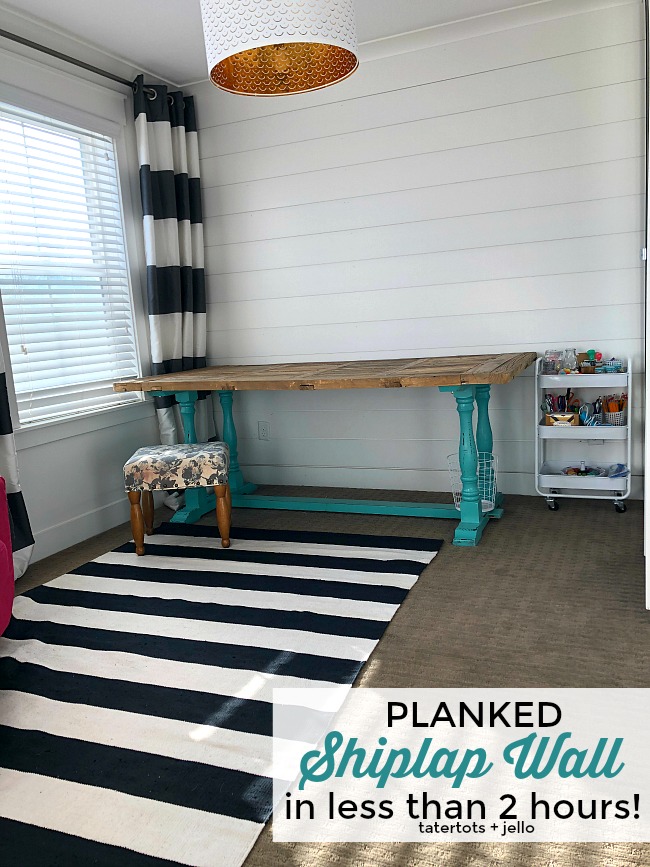 How to Plank Shiplap Walls In Under 2 Hours
I love the look of clean shiplap. We put a modern version of it in the #1905Cottage's entryway. It made me smile every single time I walked into the my home. And I probably would plank every single room in my home if I could. The truth is that creating that wall took a lot of time and effort. You can find that tutorial here – How to Create Modern Planked Walls.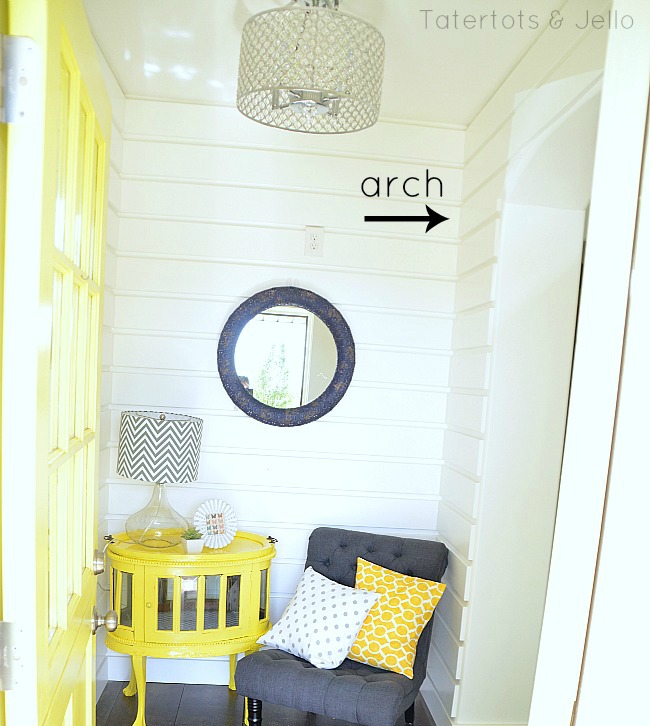 So when I was thinking of options for the main wall in my new craft room I debated between wallpaper and some sort of shiplap planking. Over the weekend I got really inspired to work on that wall and so I headed over to the hardware store and discovered the pre-finished planks at Lowes.
THEY ARE ALREADY PAINTED!!
What??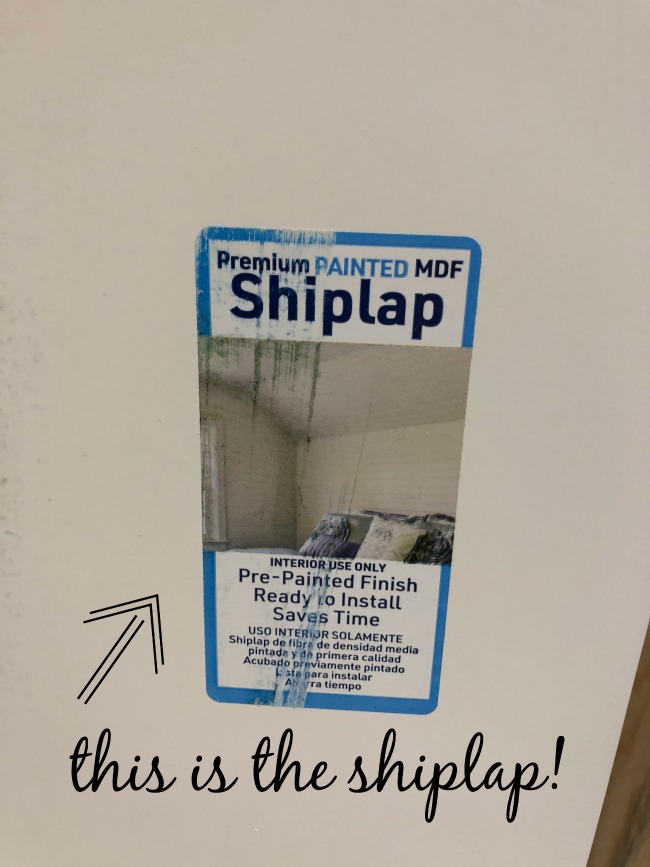 I bought the supplies in a little over an hour we had a new focal wall. I LOVE IT!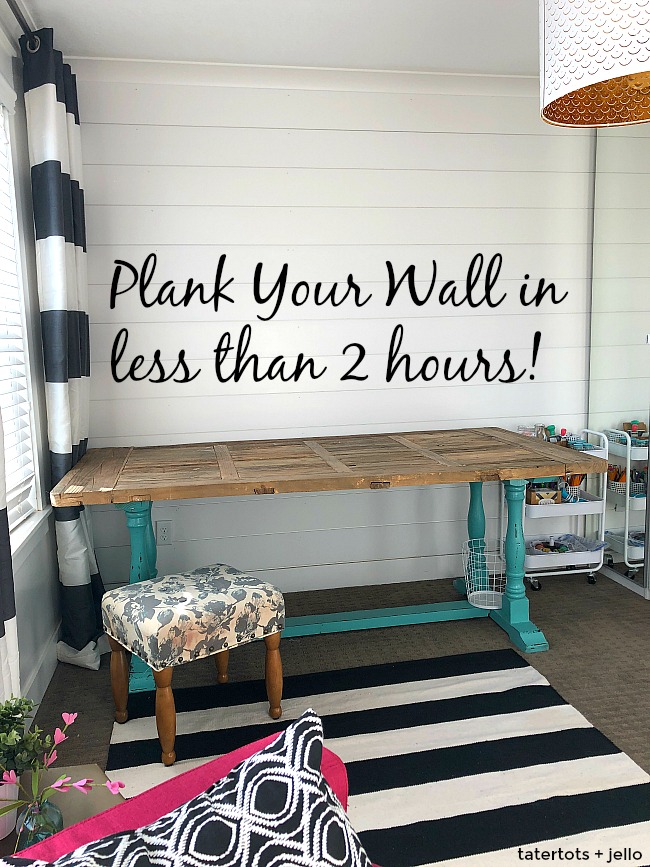 Here's how to plank a focal wall in UNDER 2 hours.
I would say an hour, because I truly think you could do this project in ONE hour, but I didn't want to stress anyone out. So I have said two hours, but I think you can get this done in 1 hour if you have all of the supplies on hand and you are prepared.
TWO things make this project about to be done in less than 2 hours:
Get your boards cut at the hardware store. They will do it for free. You need to figure out how long you need your boards before you go. My wall was 10.5 feet wide so I just had them cut off 18 inches from each board. But if your wall is longer than 12 feet you will need to have two boards on each wall. So figure that out. It will save you SO much time to have the boards cut at the hardware store. And they love doing it!!
These shiplap boards are pre-painted which saves you so much time! NO PAINTING!!!

SUPPLIES:
Planks (these are 7.25 in height and 12 feet in length)
Nail Gun and Nails (or hammer and nails)
Liquid Nails
White Caulk
Outlet Extenders
Nail setter
Jigsaw (this is the handiest tool)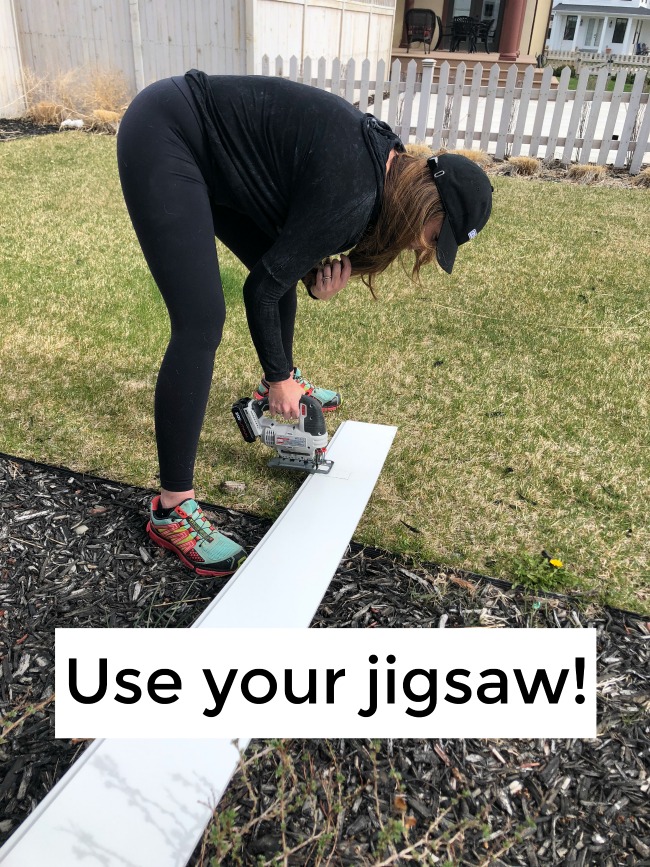 Get prepared.
Measure your wall and go to the hardware store and get your supplies. This time is not calculated in the time estimate LOL.
Measure how many planks you will need and get them cut at the hardware store!!! No really – the hardware store will cut your boards and you will have NO cutting at home (unless you need to cut around your outlets). Seriously, this will save you TONS of time!!!!
1. Add Liquid Nails to the back of each of your planks.
Put the planks on your wall one at a time. We started at the top right corner of the room and butted the planks against the molding at the top. If you don't have molding, butt them against the ceiling.
2. Nail the planks to your wall.
Find the studs in your walls and nail in at least three studs across the plank.
3. Cut around your outlets.
We used a jigsaw to cut small rectangles out of the wood in the planks that went over outlets. Make the holes big enough that the electrical outlets can be pulled outside of the hole because you will need to pull them out so they are flush with the new planks. Use outlet extenders to fit under the outlets to make them sit farther out from the wall and flush with your planks.
4. Caulk around the edges of the planks and fill in the nail holes.
Run a strip of caulk around the corner of the room to created a smoother look. I used white caulk to fill in the nail holes. If your nails are flush with the planking or sticking out from the planking, use a nail setter to recess them into the planking so that you can put a tiny bit of caulk on top of them to cover them up. I put a dab of caulk on my finger and then smoothed it into the hole and used a wet paper towel to smooth any excess caulk off of the planks. I didn't want to paint. The finish on these planks is perfect without paint strokes because they are pre-painted and I love that smooth look so I didn't want to paint at all over that finish.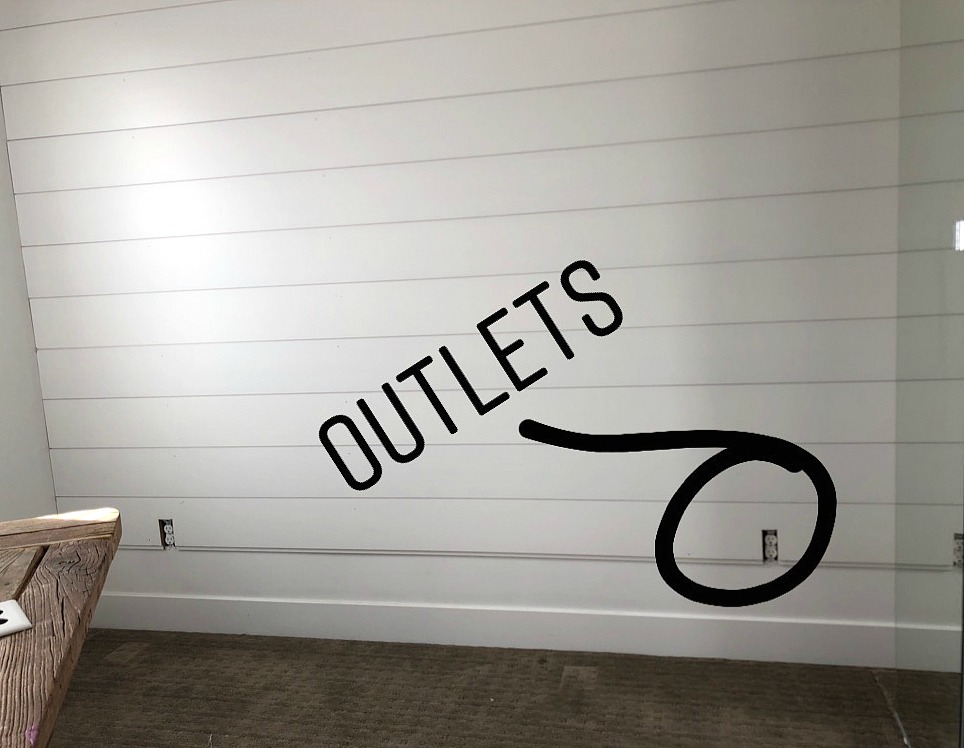 If you do have outlets and you are freaked out about how to cut holes for those in the planks, don't worry. I use a really handy Ryobi Jigsaw and it is SO easy to use! There is a guide and all you have to do is mark where you want to cut out and just follow those lines with your jigsaw guide and it works! If I can do it, YOU can!!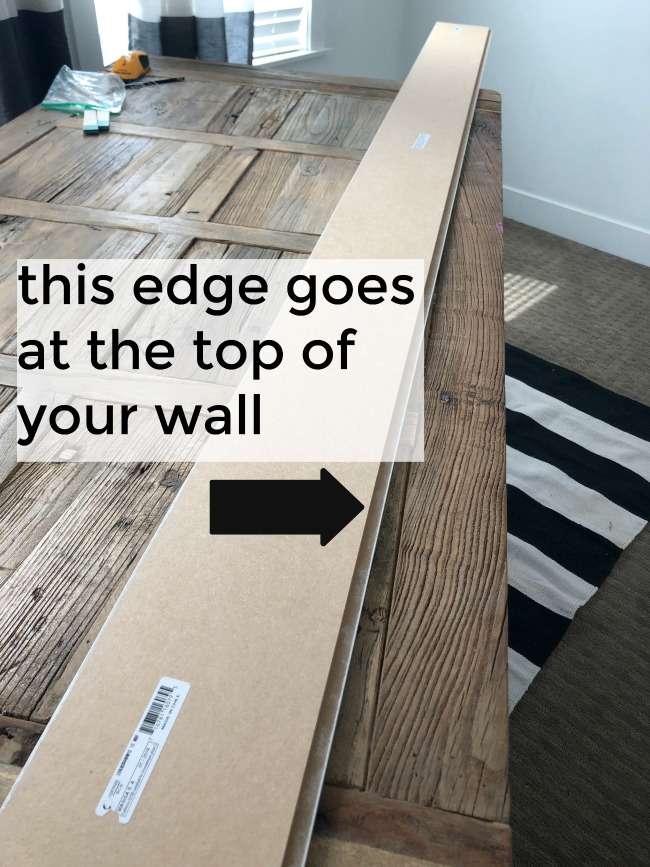 A little about these planks from Lowes. They are like traditional shiplap. there is a groove under the top and at recessed into the bottom. All you have to do is put the first plank at the top of your wall with the smooth side up (the groove is under the smooth top) and then put the next plank under and it fits right into that recessed groove. This makes it SO easy. Instead of having to use spacers, you just fit those two planks together and they fit and are designed so that there is a gap between the two planks which is consistent every single time and takes all of the guess work out of this project.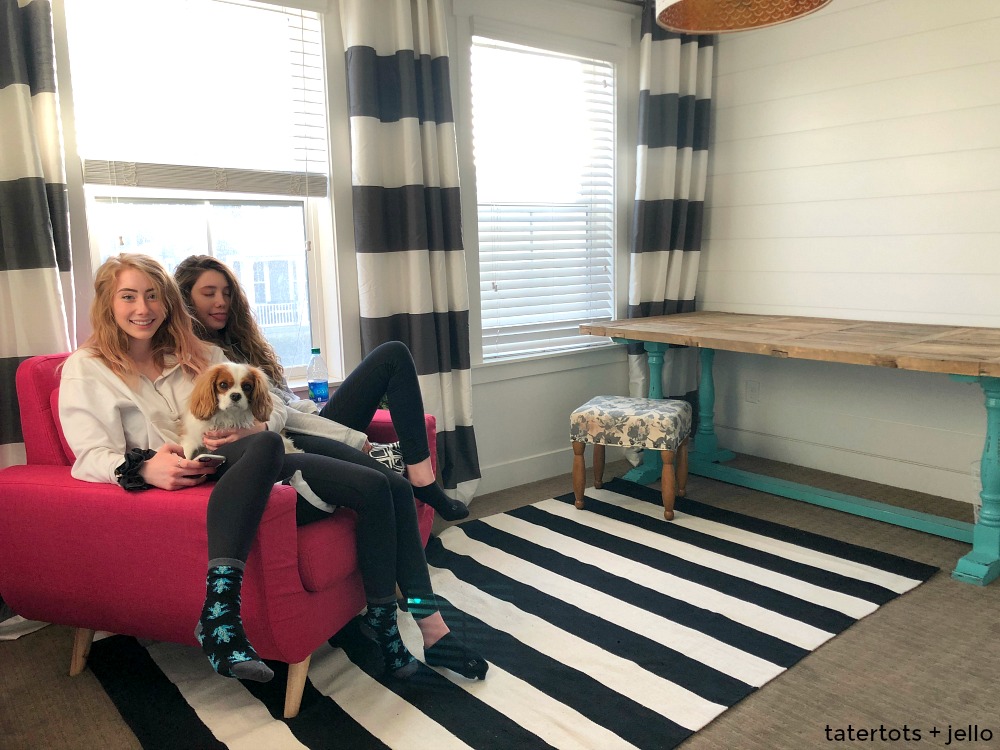 The fact that these planks are pre-painted makes all of the difference to me. I LOVE the look of smooth planks. And you can get this look if you have a paint gun, but to be able to buy the planks already painted makes everything SO easy and makes this project doable in an afternoon. I made this wall for about $150 which I think is a good value and I think it will help in resale value since it's a neutral project that most people will like.
And if you want to watch all of the behind-the-scenes bloopers and fails as I do projects – come connect with my on @tatertotsandjello Instagram! I share these things and little snippets of things I love and think are cool on my stories!
Have a Beautiful Day!
xoxo

I hope you enjoyed this tutorial. This post has an affiliate link. Affiliate links add no cost to you and help us bring you free content.