This is a sponsored conversation written by me on behalf of Walmart. The opinions and text are all mine.
How to make the BEST mini shepherd's pies. Shepherd's Pies are the perfect fall and winter food. Layers of savory meat, veggies and sauce are topped with peaks of creamy mashed potatoes. Make them in individual bowls for a beautiful presentation.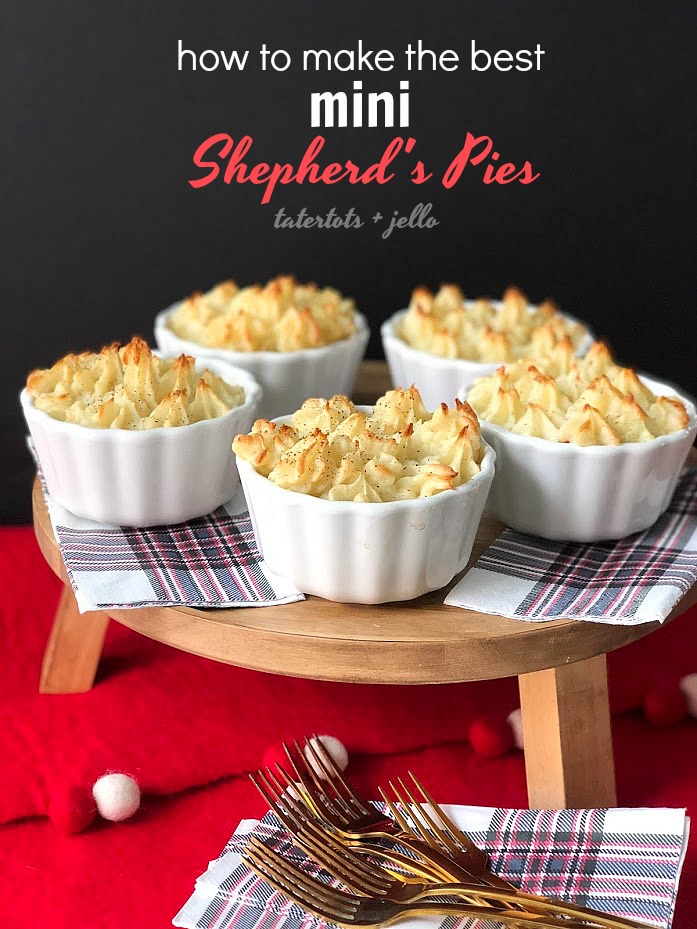 We love making Shepherd's Pie when the weather gets cold. It's so nice to come in from the cold to layers of meat, sauce, veggies and mashed potatoes. And in Utah there are several vegetables in season that are excellent in Shepherd's Pie. Did you know that you can buy locally grown produce at your local Walmart store? It's true! Walmart offers fresh produce by delivering produce right from farms to store shelves by purchasing fruits and vegetables directly from the growers. It costs less to buy directly from local growers which cuts down on shipping costs and results in healthier, more affordable food. I love that! Walmart has saved customers more than 2.3 billion over the last two years on fresh fruits and vegetables in produce sections across the country.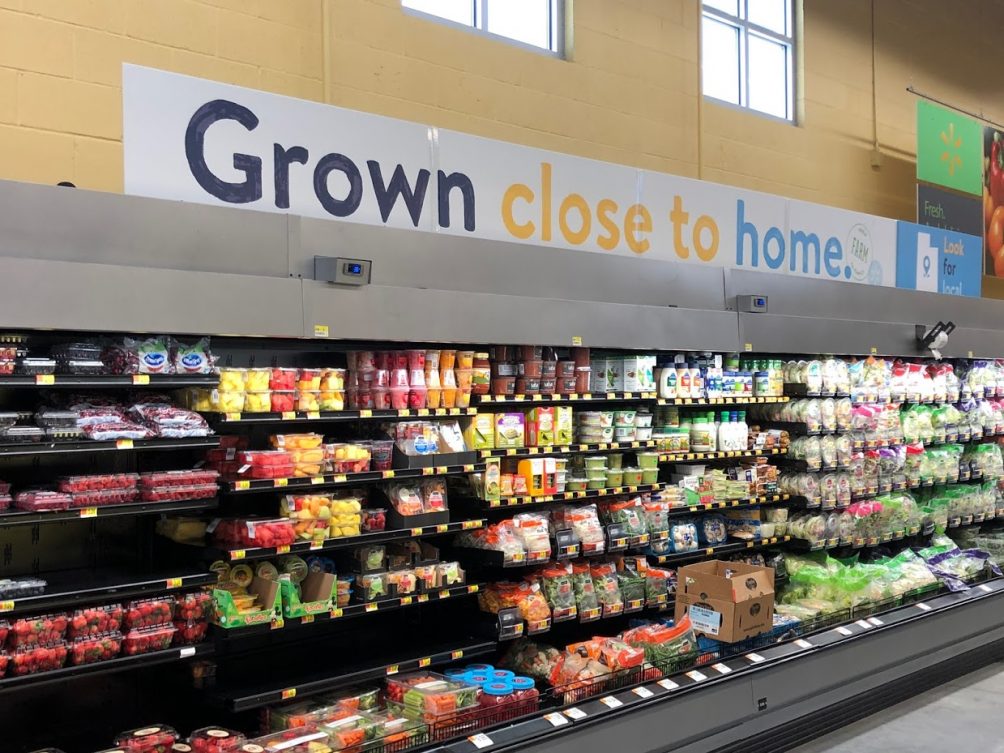 Walmart Supports the Local Community
Buying directly from the community builds local communities. I love supporting Utah growers. You can see which items in YOUR Walmart are locally grown by the signs that say "Grown Close to Home".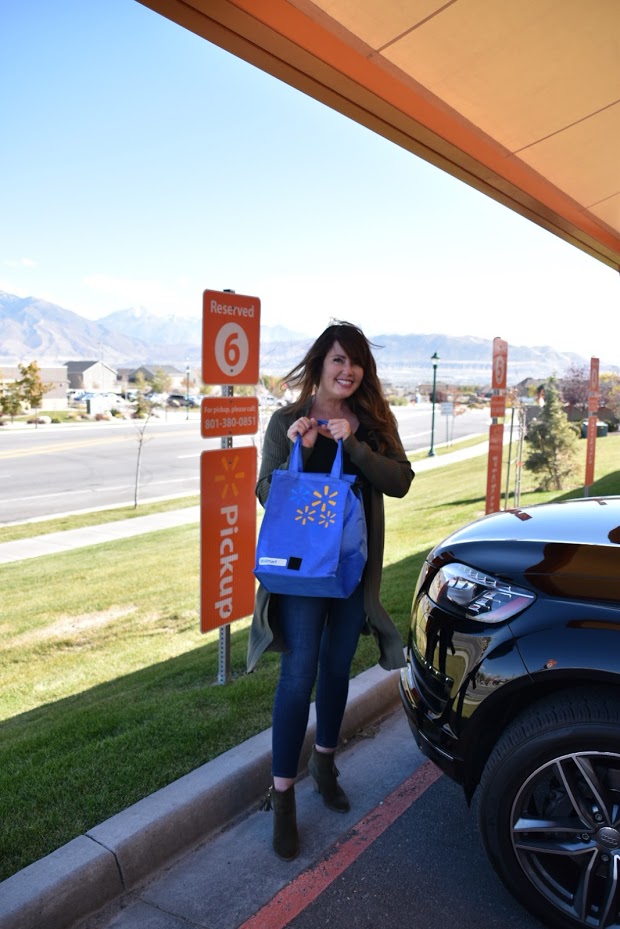 Use Grocery Pick-up to Save Time
And I also love to use the Walmart Grocery Pick-up. It saves me so much time as a mom — I can order online and pick it up the same day. This also applies to fresh produce. Give it a try – Walmart.com/grocery – it's free!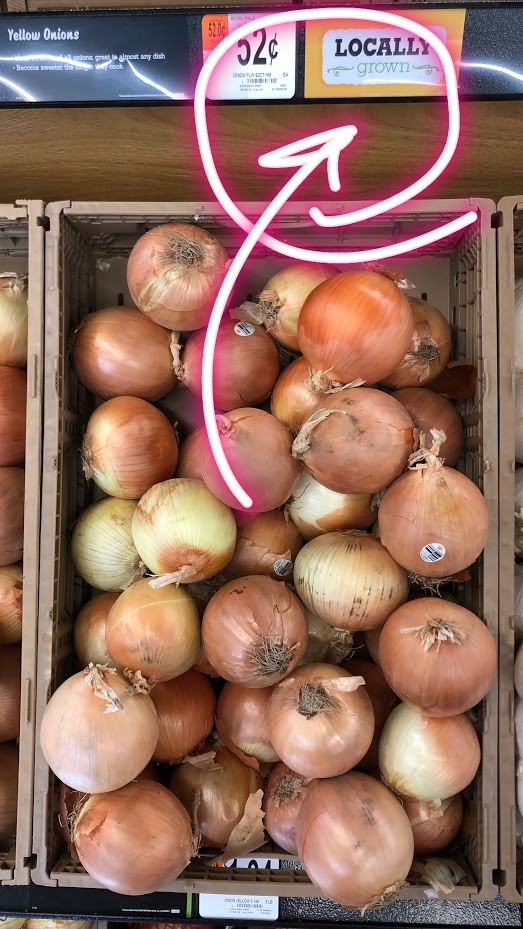 Fall Recipe with Fresh Local Produce
Walmart contacted me and asked me if I could create and share a recipe with local produce. I headed over to my local Walmart and saw that they had locally grown onions, potatoes and squash. I thought a good-old-fashioned shepherd's pie would be the perfect thing. And to give it a spin, I made them in little serving dishes. This makes the presentation so pretty but it also makes them so easy to serve for the holidays. Everyone just takes one, no need to dish anything up!
Here's how to make the BEST Mini Shepherd's Pies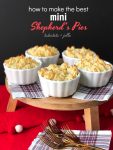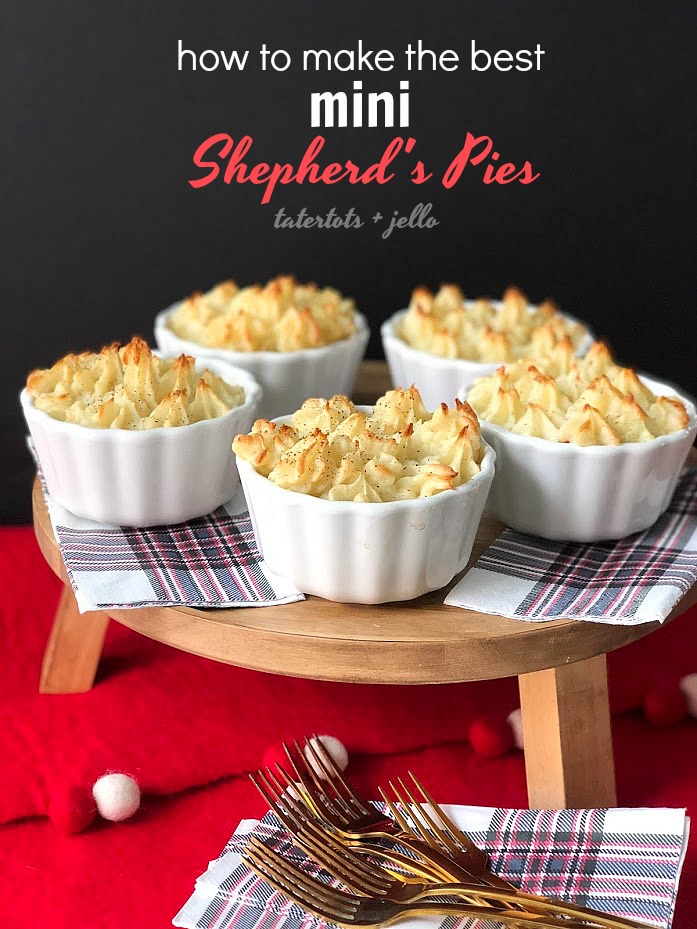 Mini Shepherd's Pies
How to make the best mini shepherd's pie. Shepherd's Pie are the perfect fall and winter food. Layers of savory meat, veggies and sauce are topped with peaks of creamy mashed potatoes. Make them in individual bowls for a beautiful presentation.
Prep Time 40 minutes
Cook Time 20 minutes
Total Time 1 hour
Ingredients
2 pounds lean ground beef
1/2 large onion, chopped finely
4 large carrots, peeled and chopped
1/2 cup tomato sauce
1 T. oregano, fresh or dried
2 T. flour
2 T. balsamic vinegar
salt and pepper to taste
10 ounces fresh or frozen peas
3 pounds potatoes, peeled and quartered
2 cups cubes squash (optional)
4 tablespoons butter
1 cup regular milk or buttermilk
Instructions
Prep all of your vegetables.

Cook potatoes. I cooked mine in my instant pot. I quartered them and then put them in the inside pot with 4 ounces of butter and 2 cups of water. I cooked it on "pressure cooker" setting for 10 minutes and let the pressure naturally release. I did this while I was cooking the meat. This will save you time.

Heat oven to 425-degrees. In a large skillet cook ground beef and onion (you can also season with salt and pepper) until beef is cooked through and onions are transparent. Take meat mixture out of pan and put in a container.

Add 1 cup of water and carrots. If you are adding squash you can add the squash in this step. Cook for 5 minutes. Add tomato paste, flour and balsamic vinegar and 2 cups of water. Stir 5-10 minutes, until the mixture gets thick. Stir in peas and cook until they defrost. Add the cooked meat mixture to the pan and combine everything together.

Divide mixture between 6 large ramekins or 8 smaller ramekins.

Drain water from potatoes and whip. You can add extra butter and milk. Add potatoes to the top of the ramekins. To make it look special you can put the potatoes in a pastry bag and use a big frosting tip. Or you can use a fork to create peaks. The peaks look cool when cooked because they brown at the tips.

Put ramekins on a big baking sheet and bake at 425-degrees for 20 minutes. Take ramekins out, sprinkle with salt and pepper and serve.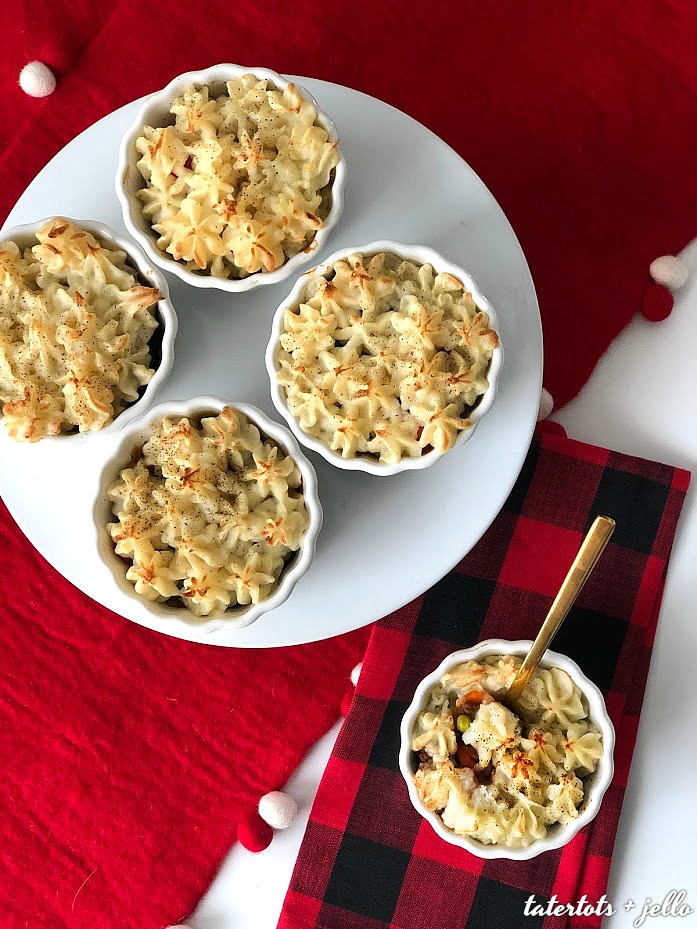 What is Shepherd's Pie
Shepherd's Pies or Cottage Pie has been a staple in the UK since the 1700's. It commonly is minced meat and onions in a gravy with carrots, peas and/or celery, then topped with a layer of mashed potatoes. Some Shepherd's Pie have a pie crust around the whole dish as well.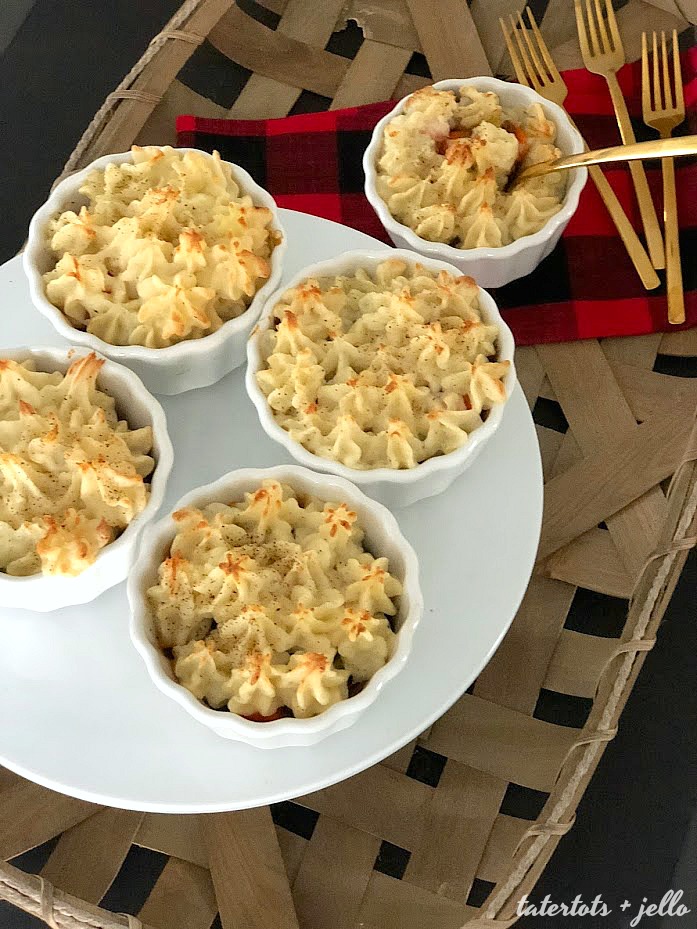 What Vegetables Can You Add to Shepherd's Pie?
The traditional vegetables in Shepherd's Pie are usually onions, carrots, peas and potatoes. Other vegetables that would be good are squash, maybe turnips, parsnips, sweet potatoes and beans. Have you ever made Shepherd's Pie? What vegetables have you tried?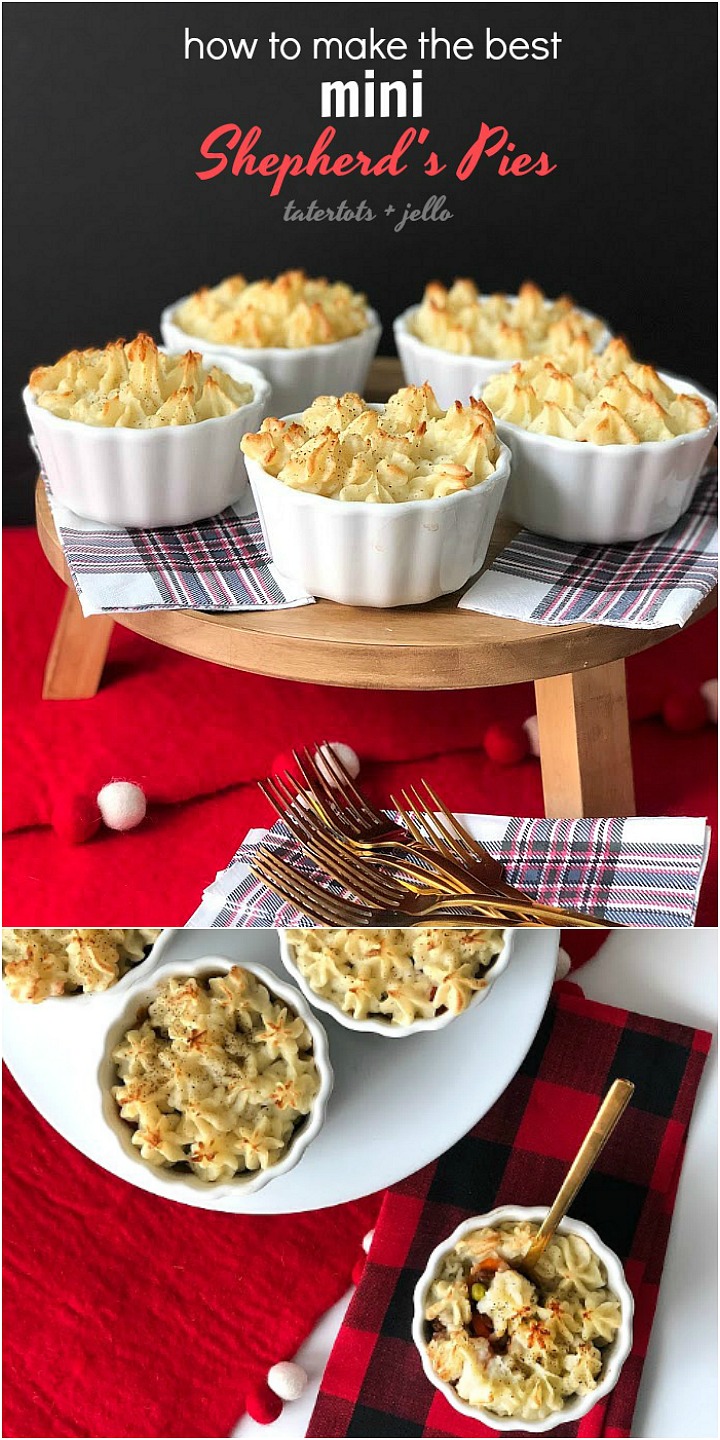 Get Locally Grown Produce at YOUR Walmart
Check your local Walmart to see what local vegetables they have in your store! And be sure to use the Grocery Pick-up Service. It's such a time saver, especially if you have kids!
You can find out more about Walmart:
Walmart of Facebook
Walmart on Instragram
Have a Yummy Day!
xoxo