How to Bleach Dye Clothes – a FUN teen or tween craft. Bleach Dying clothes is a fun summer craft. All you need is bleach to give old clothes a brand new look!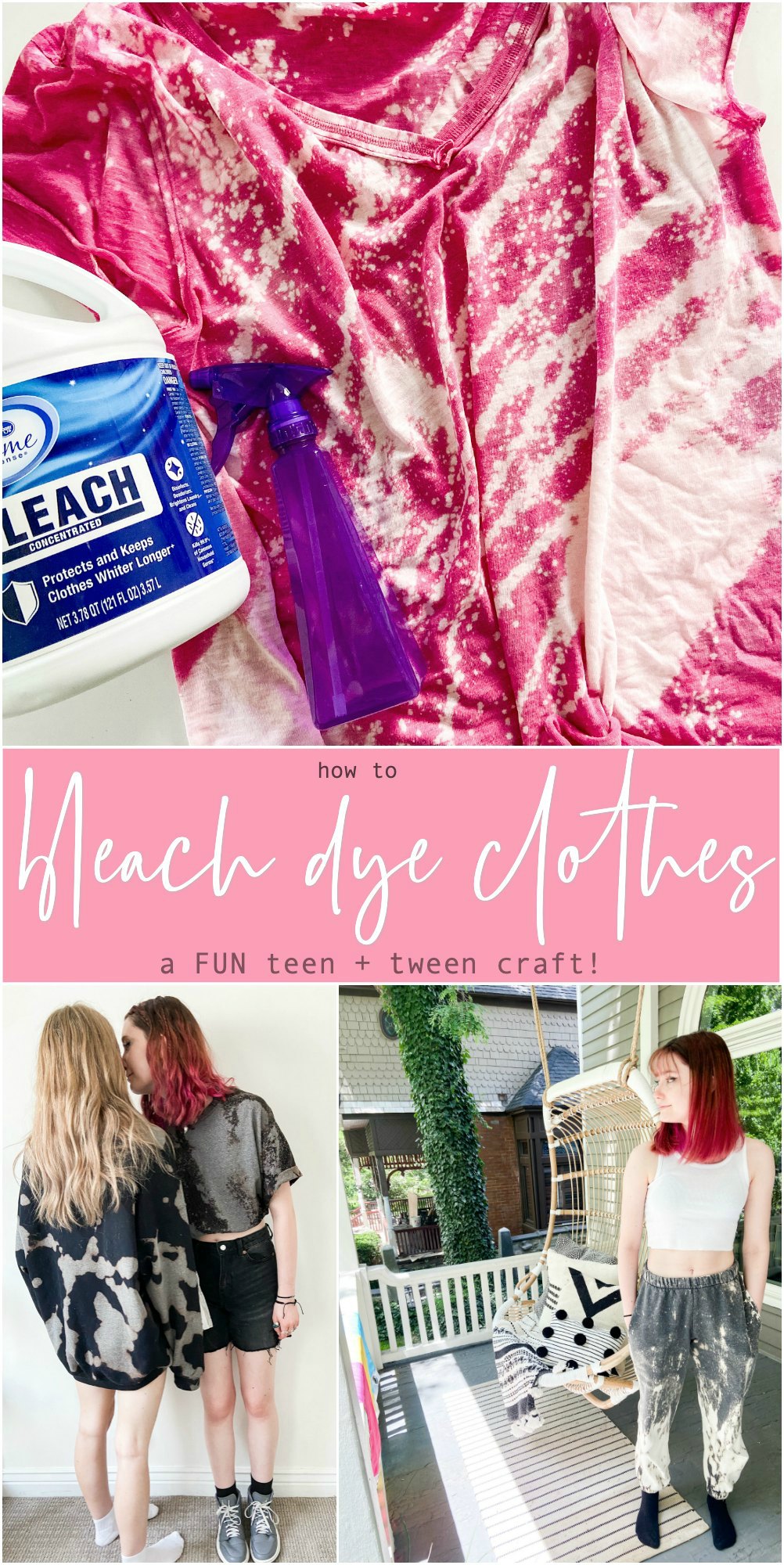 Bleach Dye Clothes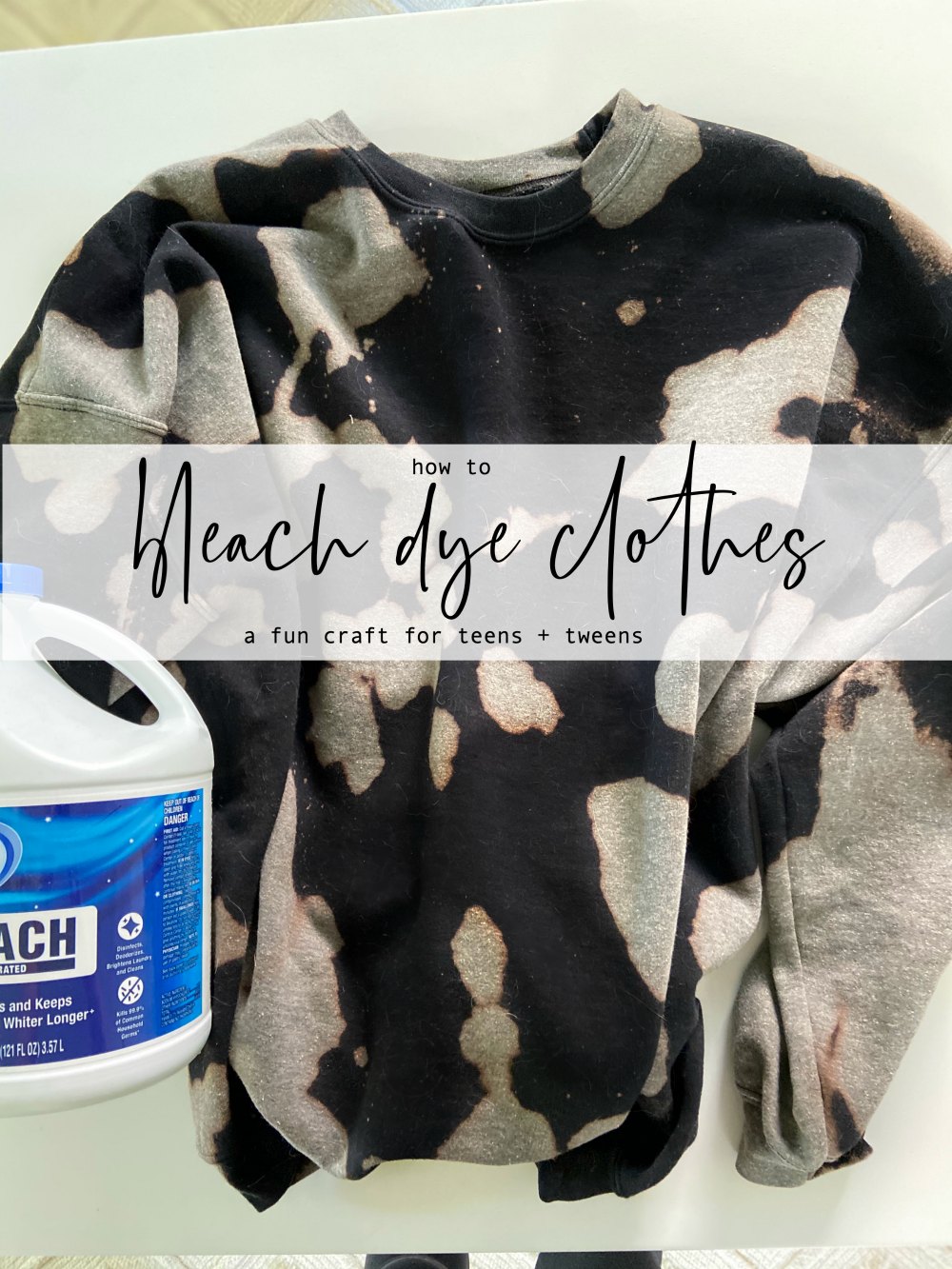 If you're kids are on Tik Tok, they've probably seen the big trend of bleach dying clothes. It's so easy to do and there are so many beautiful patterns and designs you can create.
Please note —
Do not bleach dye indoors. Bleach can be very dangerous, even fatal if swallowed. An adult must be present.
Always work outdoors in a well-ventilated area but NOT in windy conditions.
Never mix bleach with other cleaners, acids or compounds.
Always wear protective gloves when using bleach
Use only in well-ventilated areas with plenty of fresh air
Store bleach in a well-ventilated area away from children
Leaving bleach on clothing can result in holes and damage to fibers.
Give Old Clothes New Life by Bleach Dying Them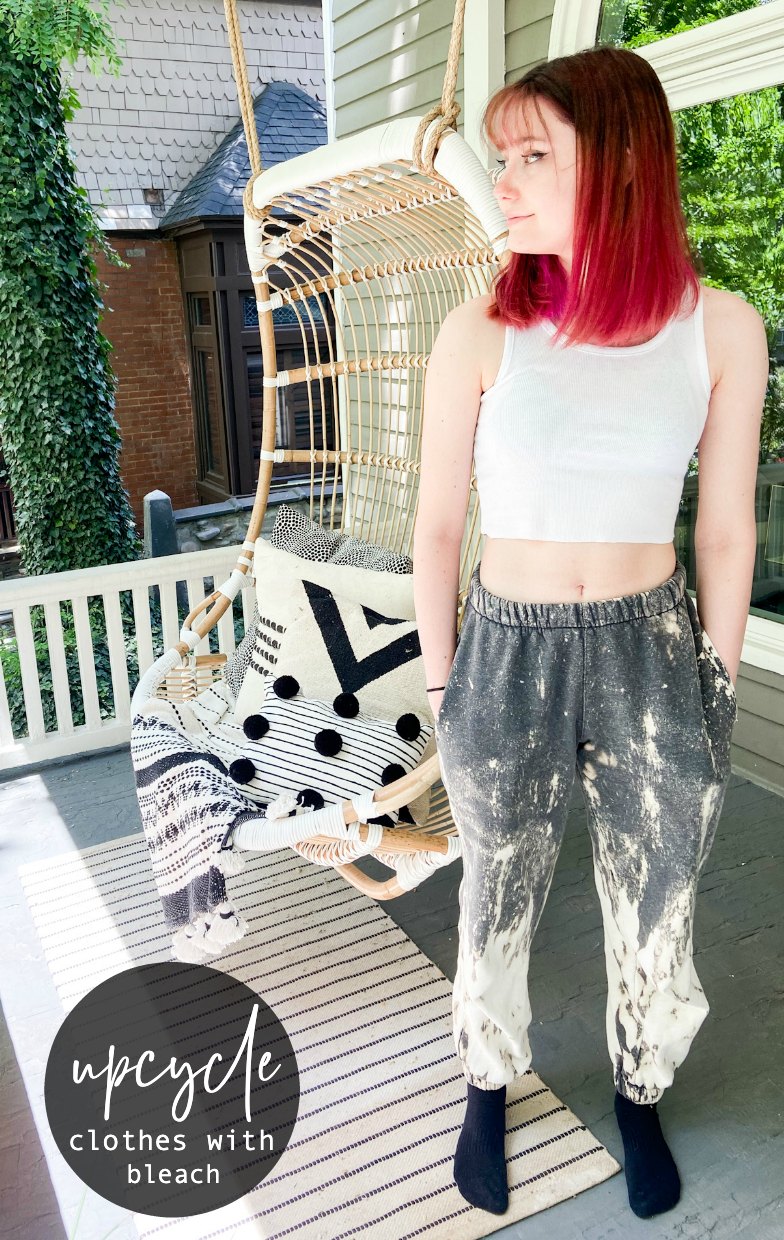 Bleach Dying clothes is a great way to take old clothes and give them a new look! Another idea is getting clothes from a thrift store and then bleach dying them.
Get a High-end Boutique Look for Less
Bleach dyed clothes are very trendy and you can find them in some high-end boutiques. But you can get the same look at home for virtually NO cost.
What Types of Clothes Do You Bleach Dye?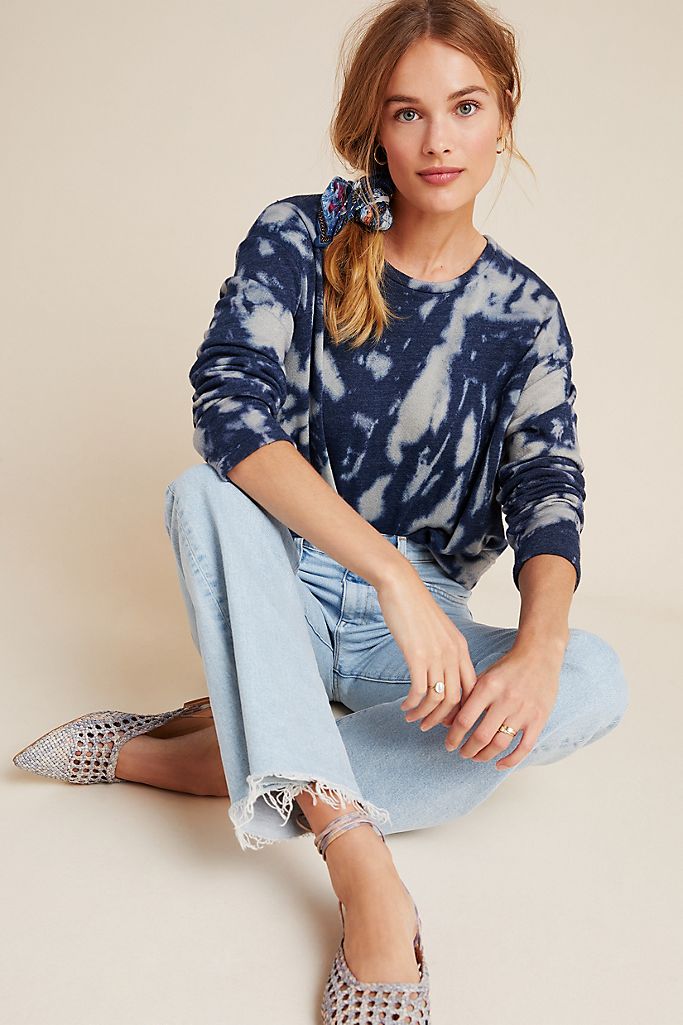 You can bleach dye almost any type of clothing. Shirts, sweatshirts, sweatpants, even jeans can be bleach dyed. Grab some old clothes and give it a try. You can also buy really inexpensive sweatshirts, shirts, sweatpants and tank tops on Amazon and bleach dye them.
How Long Does it Take to Bleach Dye Clothes?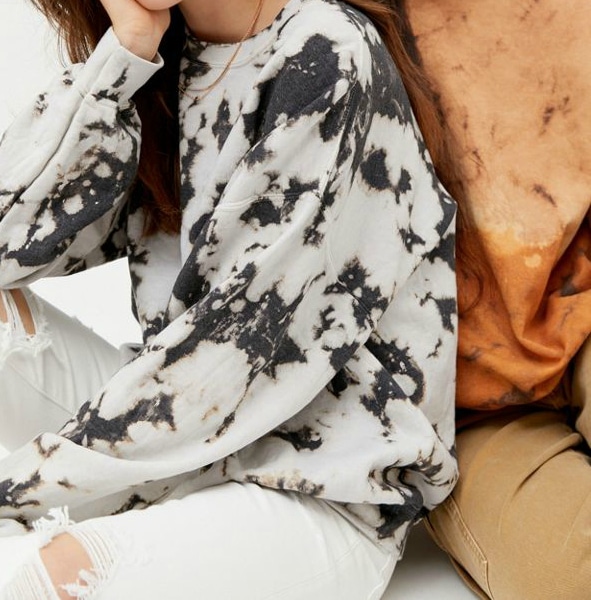 It only takes a few minutes to bleach dye clothes. You spray the clothes with a bleach/water ratio and the amount of time depends on what level of fading you are looking for. If you want a subtle dye look, you leave the dye mixture on your clothes for 1-2 minutes. If you want a bigger contrast, leave the bleach dye mixture on your clothes longer.
Steps to Bleach Dye Clothes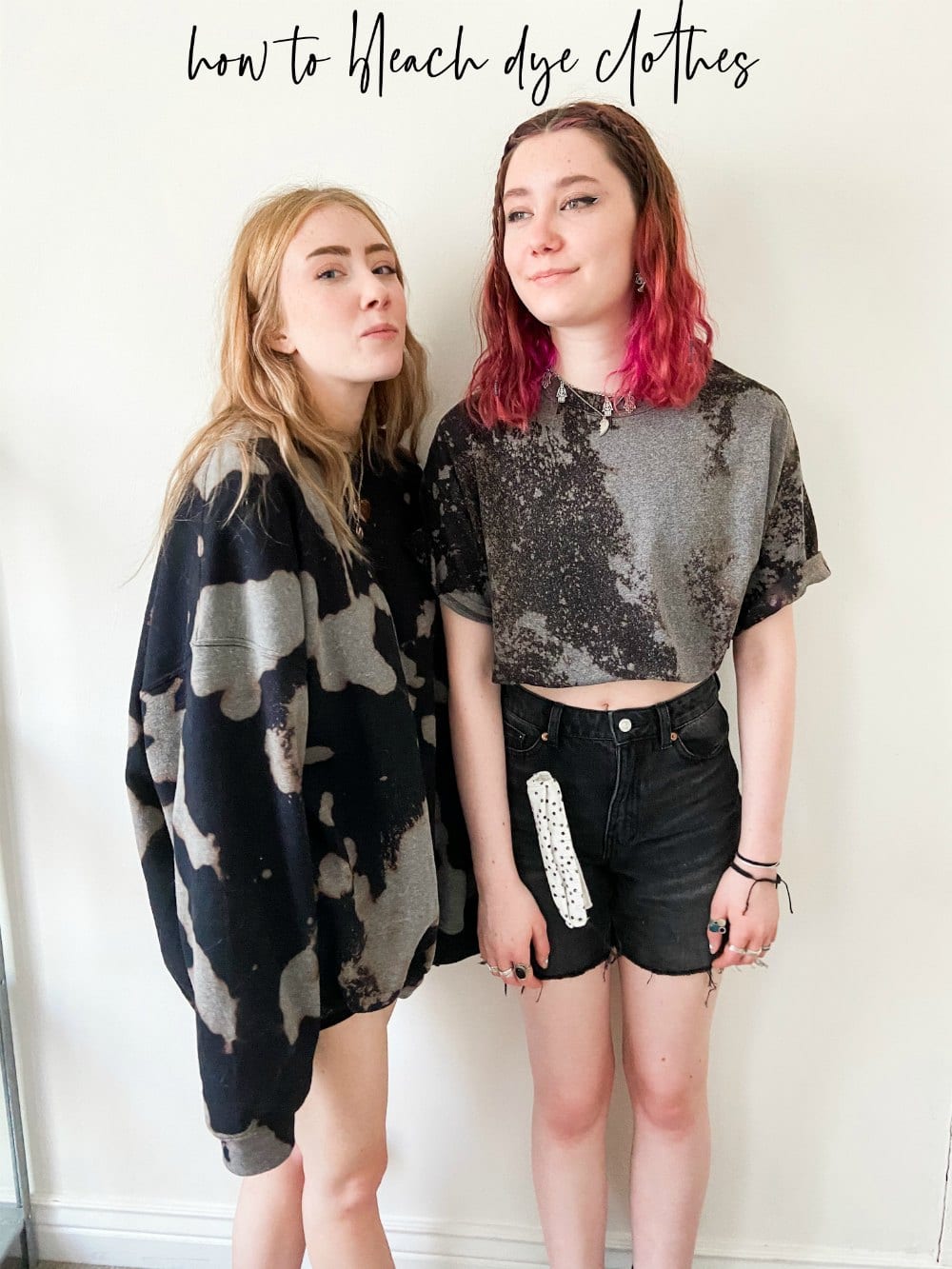 Here is the easy process of how to bleach dye clothes.
Make the Bleach Dye
You will need a spray bottle. You can find spray bottles at most grocery stores as well as dollar stores.
We used the ratio of 1 parts bleach to 2 parts water.
Shake to combine.
How to Bleach Dye Clothes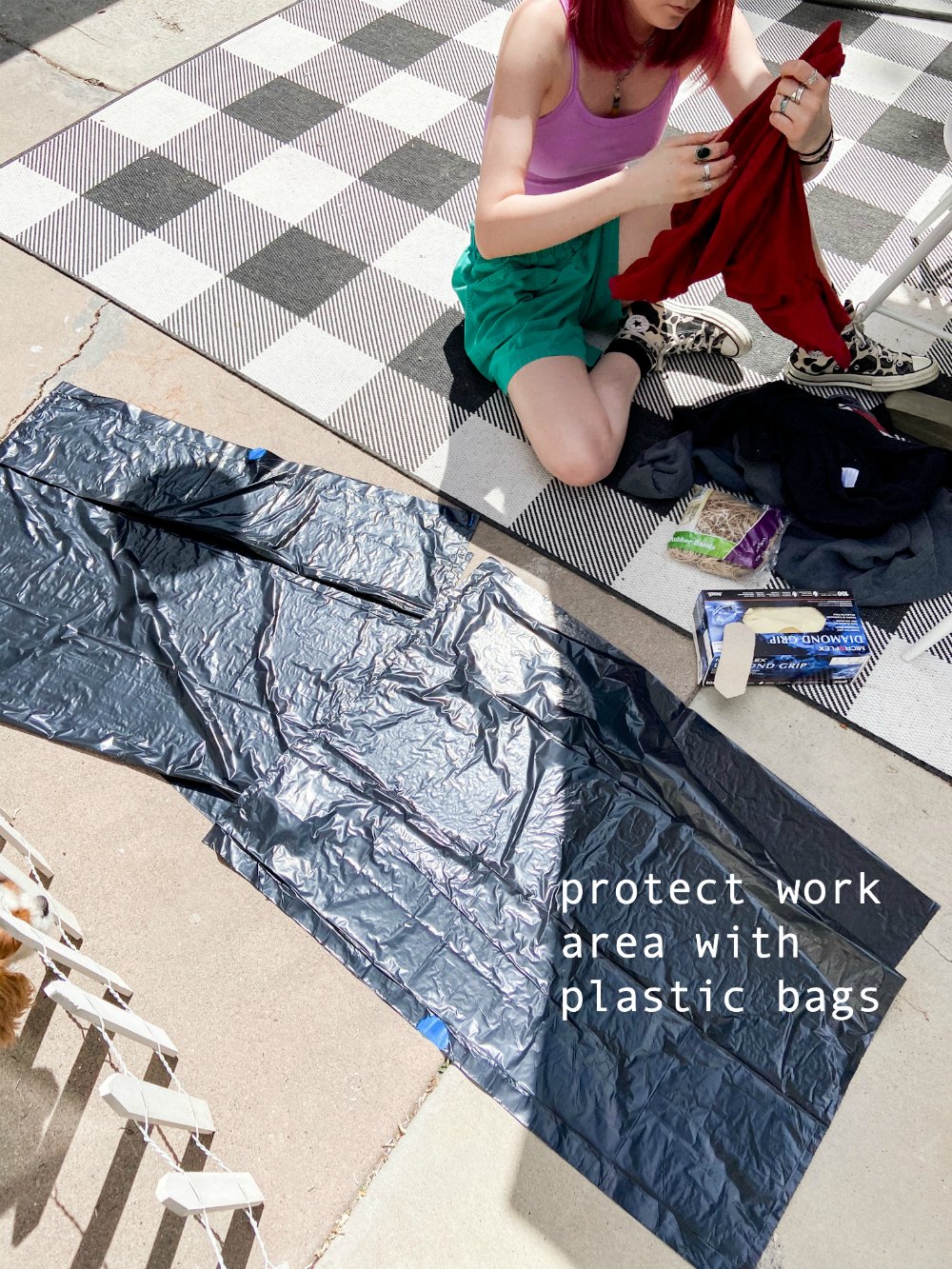 Lay plastic garbage bags on your surface. We did this outside on our patio cement.
Lay clothes on plastic bags.
Put on protective gloves and goggles are recommended.
Decide what pattern or design you want to create. (you can splatter the dye on the clothes in random patterns, or create a pattern by spraying lines or shapes on clothes. You can also roll clothes in a circle and add rubber bands to create a true tie-dye look).
Start spraying the clothes with the spray bottle. You might want to start with a piece of fabric to experiment with before you start spraying clothes. Don't leave on more than a few minutes – bleach breaks down the fibers in clothes and can result in holes.
Leave spray solution on clothes until you achieve the level of bleaching you want.
As soon as the bleach mixture bleaches the pattern to the level you want, rinse clothing in water, Then put the clothes in a washing machine and wash them to stop the dyeing process.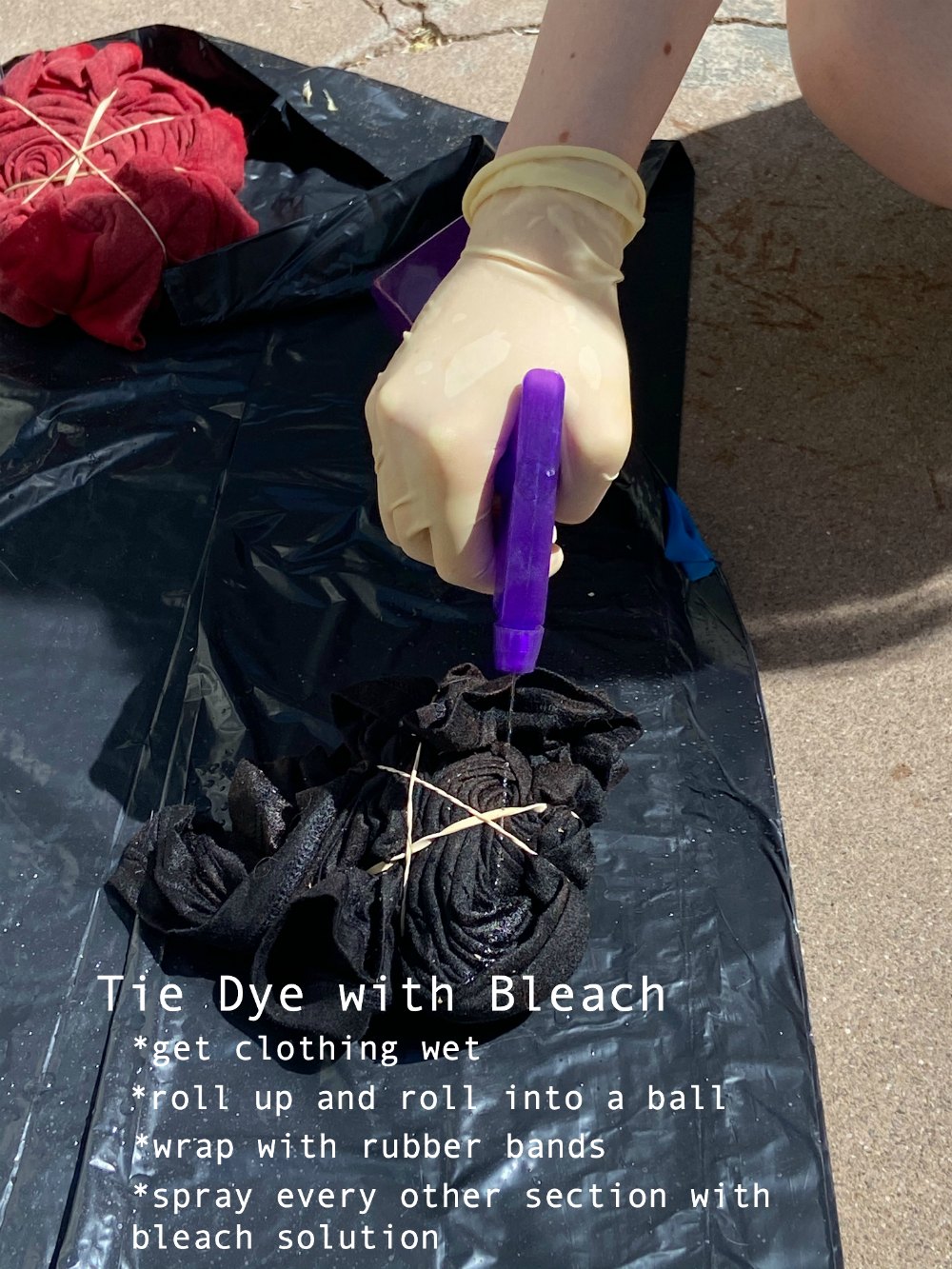 More Clothing Craft Ideas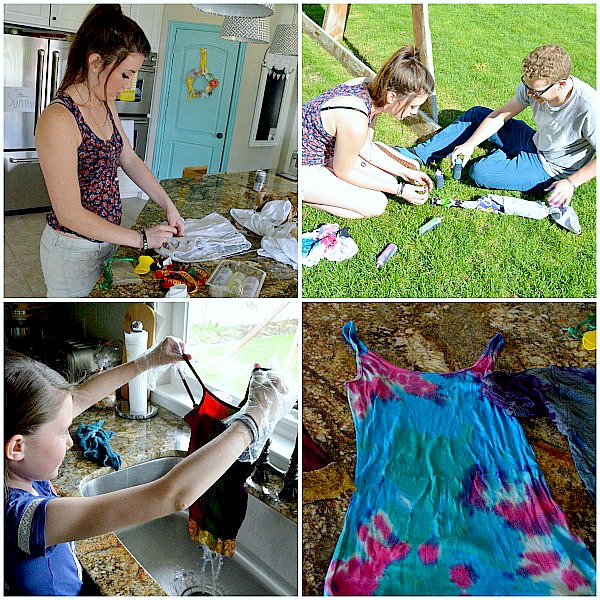 Tag me on Instagram at @tatertotsandjello and share crafts YOU are working on. I would love to see them!
Disclosure — tatertots and jello is not responsible for damage to clothing, furniture, applicances or medical injuries that might result.
xoxo