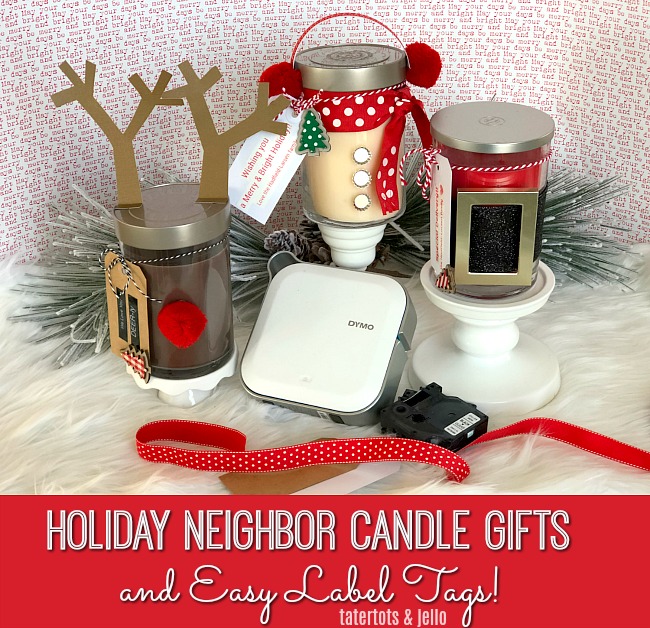 Holiday Neighbor Gifts and EASY Label Tags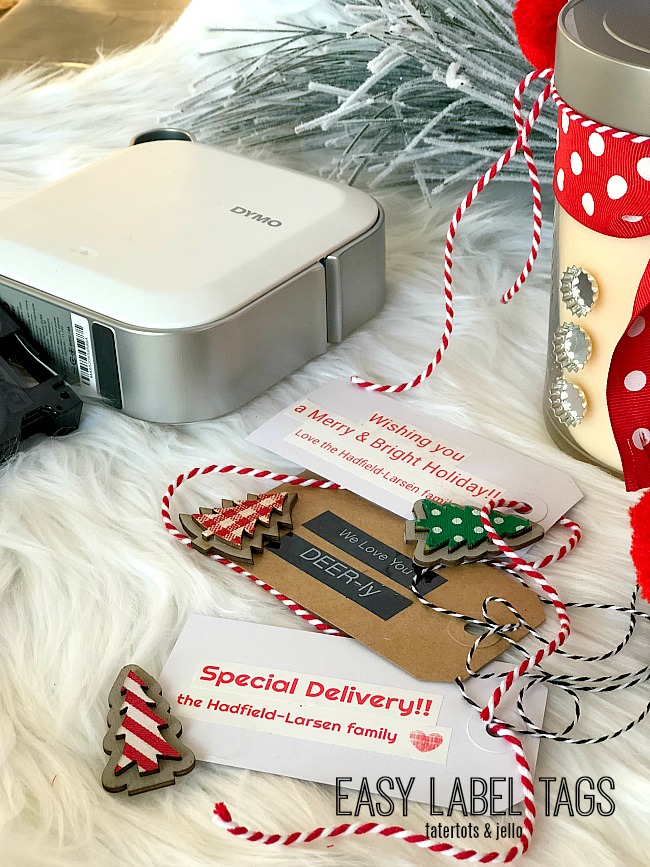 Holiday Neighbor Gifts and EASY Label Tags!
I'm always trying to come up with FUN neighbor gifts that are also useful and are not candy. We get so many treats and candy this time of the year! Everyone has seen the mason jars dressed up as holiday characters. I thought it would be cool to take that idea and use it with a candle instead! And I am sharing a super easy way to create CUTE tags using a labeler! Do you remember my Craft Room Closet I made a couple of months ago? It's one of my favorites because it's so easy to find everything! I used my favorite organizing tool – the DYMO Mobilel Labeler to make my crafting supplies SO easy to find!
Holiday Neighbor Gifts and EASY Label Tags!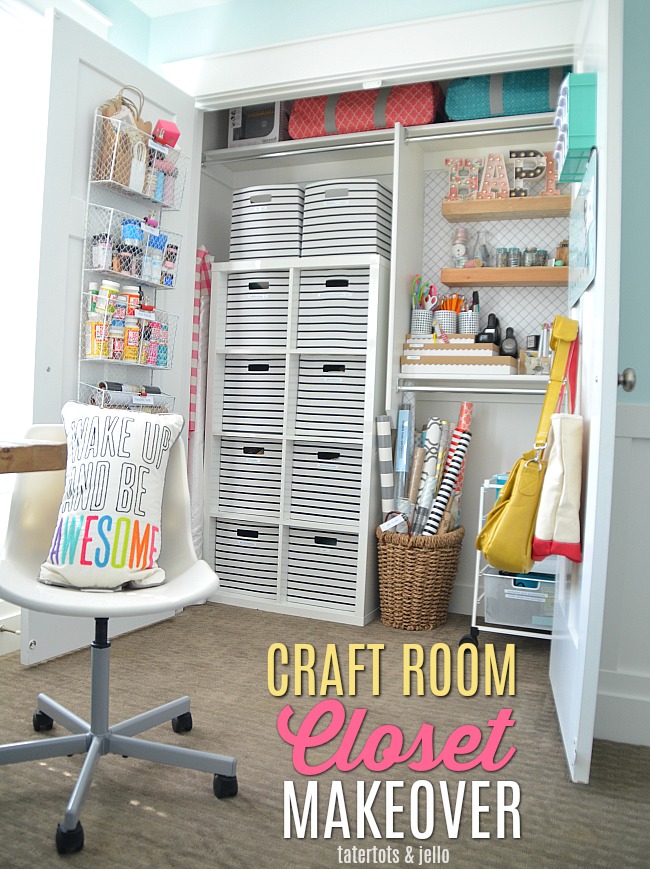 Dymo asked me if I would come up with a fun and easy gift idea using their labeler. This gift tag idea is so quick. You can make tags for ANY occasion. Here's a few reasons that I am obsessed with this labeler: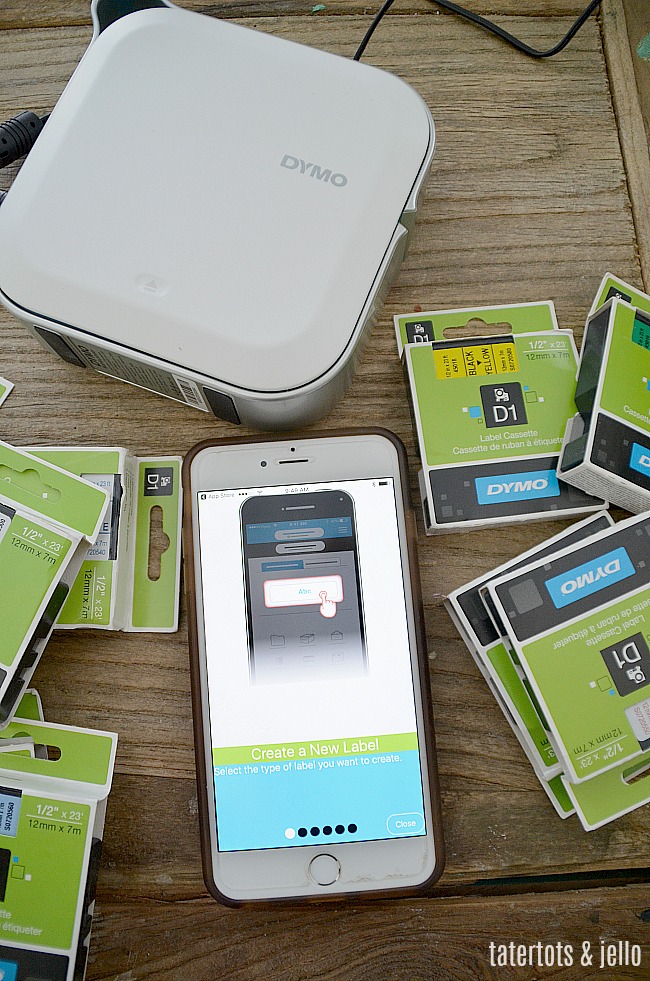 First of all, DYMO MobileLabeler is a wireless, Bluetooth compatible labeler that lets you create labels from your smartphone!! How cool is that?? When I tried it out I thought it would be pretty fabulous if it had three or four fonts, but NO this labeler has dozens of pretty fonts. And you can go in and change the size of the fonts, the colors, even insert images!! You can make labels from 1/4″ up to 1″ wide in all kinds of COLORS!! I added images to the labels too! All you have to do is save an image to your camera roll. Then there is an option where you can insert an image next to your text and you can grab it from your pictures!!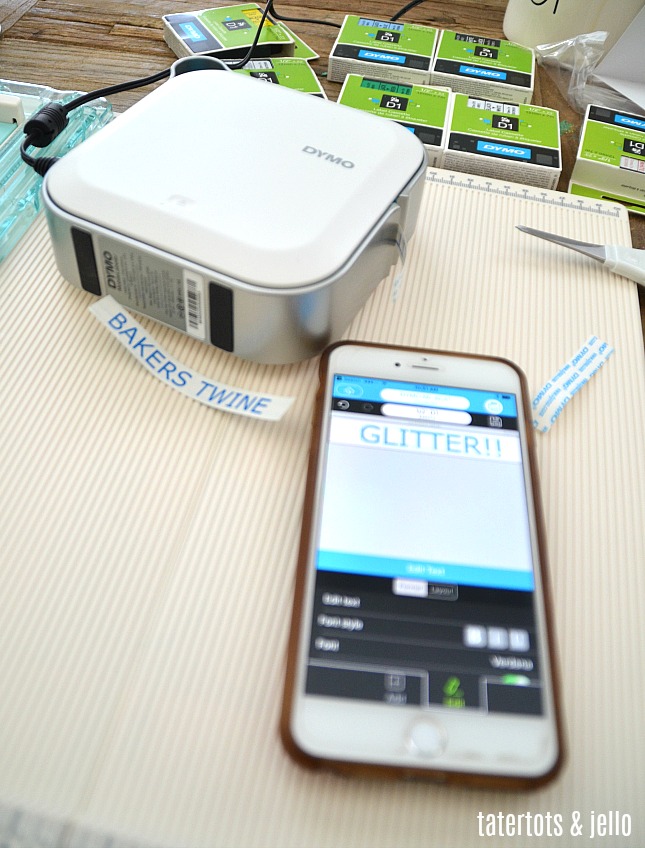 It has a voice to text feature! And it is wireless so you could be up on a ladder labeling boxes and you can tell the labeler what you want printed out and it will! That's amazing. Also, two people can also be hooked up to the labeler at once so that would be great if you are organizing something as a family project, or it's perfect for small businesses to use. It has a rechargeable battery so you don't have to have it plugged in while you are up on your ladder. And it has spell check too – It caught a spelling error I had made and I was able to change it before I printed the label out and wasted that material.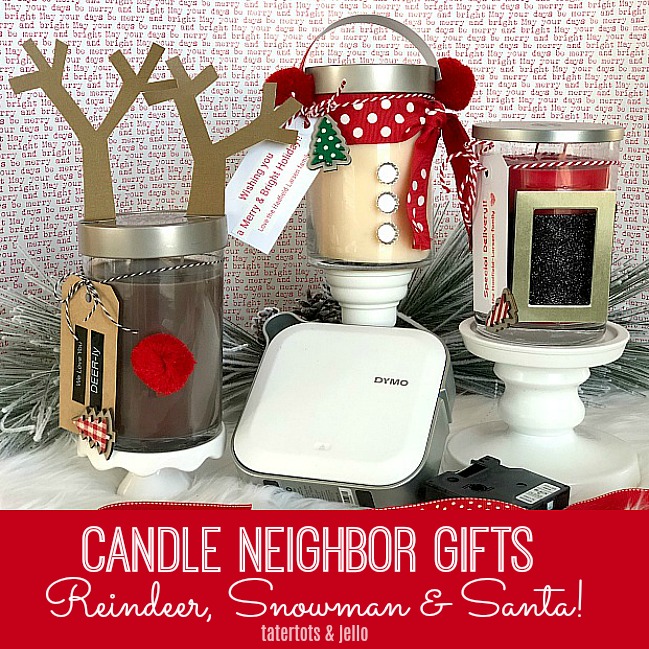 I made different labels to go with the candles — reindeer, santa and snowman!
Here's how you make the candles. It's so fast and easy AND it's something your neighbor or friend can use well after the holidays are over.
Holiday Neighbor Gifts and EASY Label Tags!
Supplies:
Candles (brown, red, white)
Cardstock – white and brown
3 buttons for the snowman
3 large red pom poms (two for snowman, one for reindeer)
Black wide ribbon for Santa's belt
gold dollar store frame for Santa's belt
Two ribbons – one for the snowman scarf, one for the earmuff top.
Ribbon to attach tags
Tags
Directions: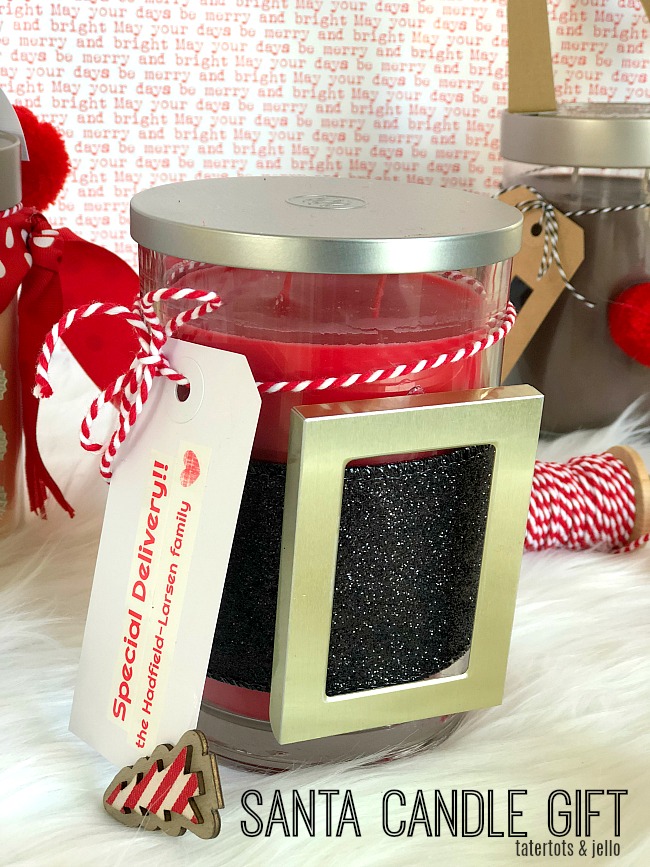 Santa:
Wrap the black ribbon around red candle. Hot glue in the back.
Hot glue the dollar store frame on top of the black ribbon.
Attach tag.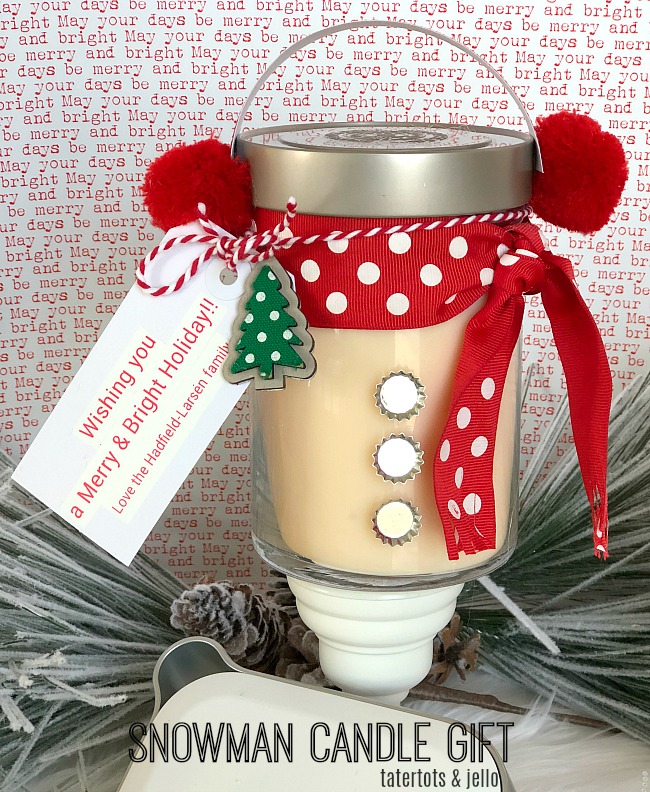 Snowman:
Cut a 6 inch wide by 2 inch piece of white cardstock. Attach a ribbon over the top.
Hot glue the cardstock/ribbon onto the side of the white candle's lid.
Attach red pom poms over the ends of the cardstock.
Hot glue buttons on the front of the candle.
Attach tag.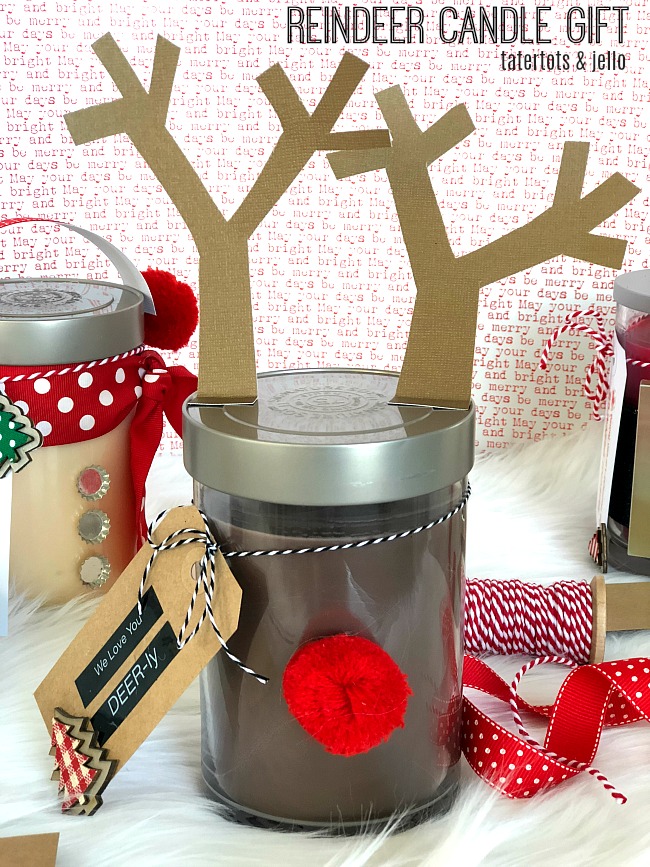 Holiday Neighbor Gifts and EASY Label Tags!
Reindeer:
Cut out two antlers from the brown cardstock. Fold the end of the antler.
Hot glue a red pom pom to the middle of the brown candle.
Hot glue the antler to the top of the lid.
Attach tag.
SO easy, right??
Be sure to follow along with DYMO for TONS of organizing ideas using their fabulous labeler – I am obsessed!! Order one for you and a friend for Christmas – you can find DYMO Mobilelabeler at Office Depot, Office Max, Staples, dymo.com, amazon.com.
Have a Beautiful Day!
xoxo
Thank you DYMO for sponsoring this post. All opinions are my own!

Holiday Neighbor Gifts and EASY Label Tags!