Hi Tatertots and Jello! It's Taryn from Design, Dining and Diapers. Anyone else love pumpkin recipes this time of year? The minute fall hits the pumpkins come out and that means in the kitchen too! With Thanksgiving quickly approaching, I thought I'd share one last pumpkin recipe before we all break out the peppermint! Today, I'm sharing my recipe for Gluten Free Pumpkin Chocolate Chip Muffins.

These are full of flavor and will melt in your mouth! Just looking at them makes me want to make another batch 🙂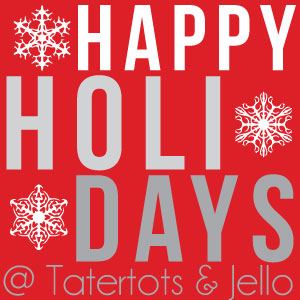 Because of my food allergies, I make all my recipes gluten free, egg free and soy free, but you could easily use regular eggs and regular mini chocolate chips instead of allergy friendly ones!
Gluten Free Pumpkin Chocolate Chip Muffins
Author:
Prep time:
Cook time:
Total time:
Serves: 14
Ingredients
1 1/2 cups of All-Purpose Gluten-Free Baking Flour
1 tsp. baking powder
1 tsp. baking soda
1 tsp. cinnamon
1 1/2 tsp. pumpkin pie spice
1/2 cup (1 stick) unsalted butter, softened
1/2 brown sugar
1/2 granulated sugar
1 tsp. gluten-free vanilla extract
15 oz can Libby's Pumpkin Puree
1 Tbsp. Ener-G Egg Replacer + 1/3 cup water (or 3 eggs)
1 bag Ener-G Chocolate Chips
Instructions
Preheat oven to 325 degrees
In a medium bowl, combine all dry ingredients together and set aside
In a large bowl, using an electric mixer, beat the melted butter, sugars, eggs and pumpkin until smooth (the batter will be thick)
Stir in chocolate chips
Using a non-stick muffin tin, fill each cup 3/4 full with batter*
Bake for 30 minutes or until you can pull a toothpick out clean
These would also make a great gift for neighbors during the holidays!
Thanks for having me over, Jen! Wishing everyone in the US a very happy Thanksgiving!
******
Thanks Taryn! Those look absolutely delicious! I can't wait to try them! Taryn has great ideas on her blog. Here are a few I know you'll love:
Check out her gorgeous Thanksgiving Table Setting ideas!
And her 2 Ingredient Pumpkin Dip would be a great recipe to add to your Thanksgiving menu!
And instead of making apple pie, try making these Apple Pie Bites!
Make sure to follow Design, Dining, and Diapers and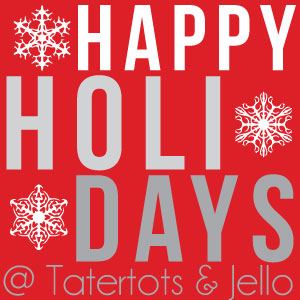 Follow the HAPPY Holidays Event at Tatertots & Jello
all through the holidays with awesome tutorials, recipes, decorating ideas and more from some amazing blogs!
xoxo