We are the Shanty Sisters from Shanty-2-Chic.com! We are so excited that Jen asked us to come share a fun Christmas project with you all! Here is what we came up with!


A very easy, thrifty and CUTE, wooden Christmas ornament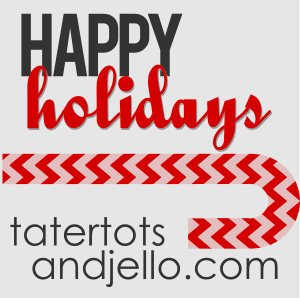 It's perfect to hang from the tree, a door knob or even a fun teacher's gift!
Here's how you can make your own!

I purchased 3 unfinished wooden blocks and 3 packages of chipboard letters from Hobby Lobby. If you wait until these items are 40% off you can get a real steal

I also purchased one package of Finial Dowel Caps in the unfinished wood section of Hobby Lobby as well.

To start, I used a favorite of ours, Rust-Oleum Dark Walnut stain on the finial caps and the wooden blocks.

Paint one coat on with a foam brush…

and wipe away with a cloth after 5 minutes.
While the stain dries, we have time to pretty up the chipboard letters!

I chose the new Glitter spray paint by Rust-Oleum in silver! It is soooooo pretty and is available in red, gold and silver!

I chose to use the word 'JOY' for my ornament and wanted a letter on each side of every cube, so… you see above I have 4 j's, o's and y's. I sprayed 2 coats of glitter making sure to let each coat dry before the next.


While the glitter is drying, you can drill holes into the blocks. I used 4-ply jute (also available at Hobby Lobby) and matched a drill-bit to the thickness.


Using my 18-Volt Ryobi drill, I pre-drilled a hole in each block, from top to bottom (don't worry, no granite was hurt in this process
)

Our letters are now dry so, flip them over and squeeze a little hot glue on the back and place one letter on each side of each cube.


Starting with the last letter (y), thread the jute through each cube. It helps to twist as you thread to keep the jute from unraveling

tie a knot at the end and cut the excess jute…

apply hot glue to the finial cap…

Make a loop, for hanging, at the top of the ornament. Tie and knot and cut away the excess! That's IT!

I hope you all love it as much as we do
Thanks so much again for letting us come share Jen!
A little bit more about the Shanty Sisters…


We are 2 sisters sharing how we transform our homes on a budget! With 8 kiddos between the two of us, we put every naptime to good use
!
From building projects like this $65 farmhouse table…


To transforming things like this $15 mirror made from a Walmart mirror…


And even offering free printables like our latest free alphabet banner!


We would love for you to come check us out anytime at our site, Shanty-2-Chic.com!

You can also follow us on Facebook!
And keep up with all of our posts by following us on Pinterest!

Aren't they just AMAZING???
My Pinterest boards are FULL of their projects. You will love their bog!! Be sure to go over to Shanty-2-Chic.com and say hi ASAP.
Have a Festive Day!!
xoxo