This Clam Dip Recipe is your easiest and best party dip ever!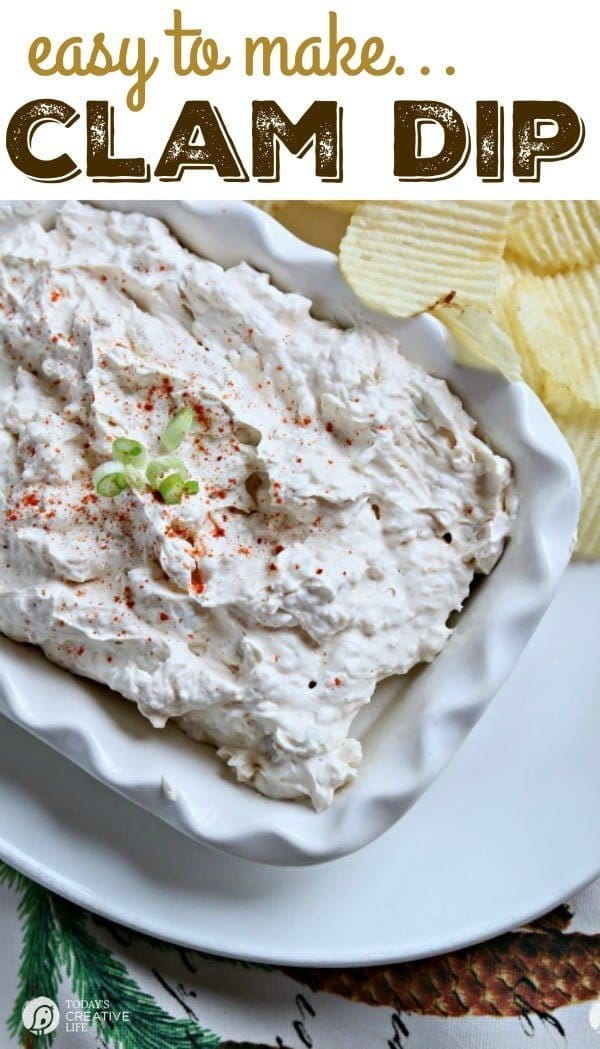 I'm Kim from Today's Creative Life, where I share all things creative.
I share whatever I'm inspired by. It doesn't have to be fancy to be perfect!
Clam Dip Recipe
It's the holidays which mean parties, potlucks and dinners! This dip is a great option to serve for any party. I'm all about party dips and one of my current obsessions is my Crock Pot Apricot Brie Dip. Yum!
I love fantastic ideas that don't require a lot of time or steps. Who does, right? This clam dip is one of those "mix it all together" recipes that turns into the most wonderful creamy party dip you'll ever need. It's a pretty forgiving recipe, so if you'd like to add ingredients, go for it!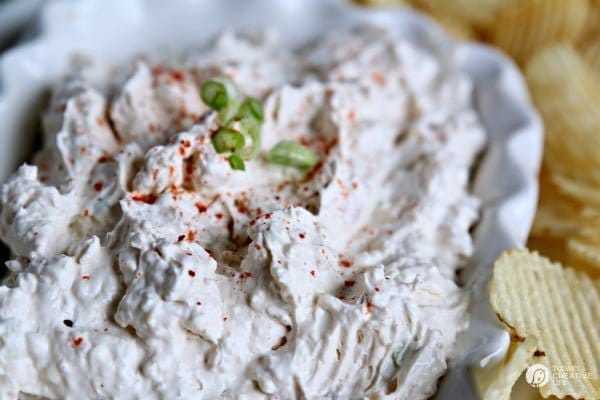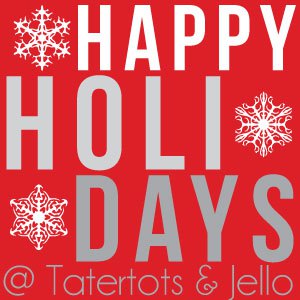 How to Make Clam Dip
The only prep that would help, is having your cream cheese around room temp. I seem to always forget that part and it still turns out, so if you also forget, just carry on and make the dip!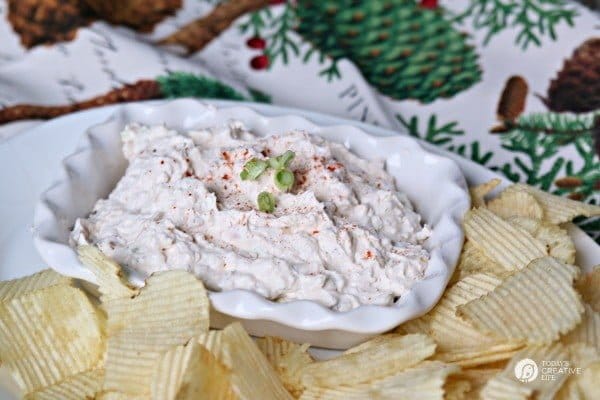 Place your brick of cream cheese and about 8 oz. sour cream in a mixing bowl. I used my kitchen aid mixer, but you could use an electric hand mixer instead. Chop up a few scallions, add Worcestershire sauce, lemon juice, pepper, onion powder, smoked paprika and a can of clams, mix it all up until it's smooth.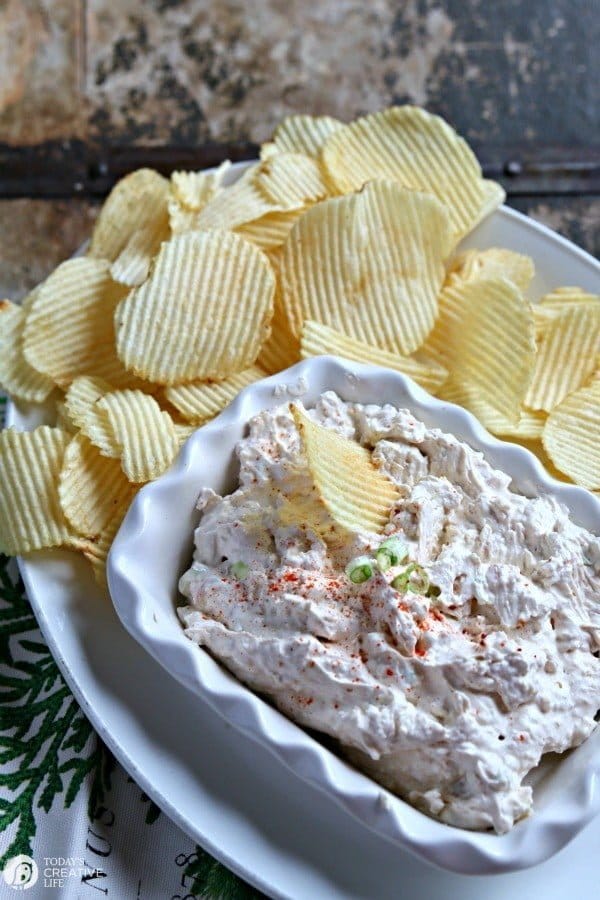 I'd take a taste, just to make sure. Keep in mind that the flavors will come alive if you allow it to sit in the fridge for a couple of hours before serving. I could eat it with carrots, but there's nothing like a salty ruffles potato chip that really adds to the overall taste.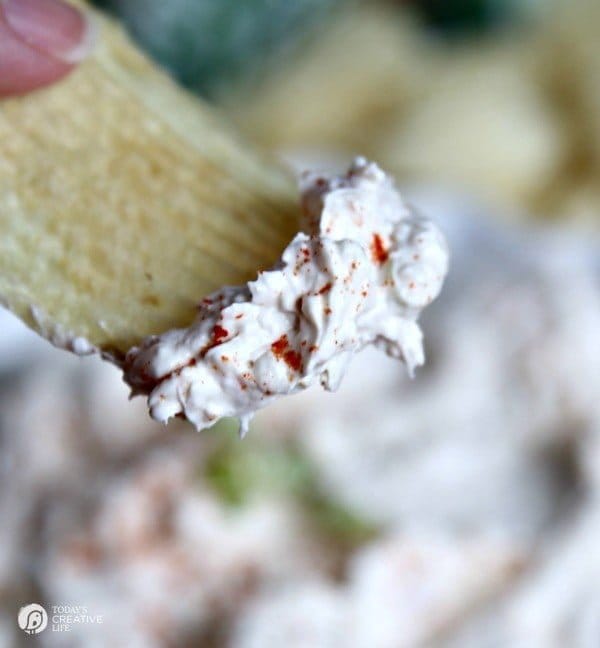 If you like a little extra crunch, you can add diced celery.
Another great option is to sprinkle crumbled bacon on top. Everything's better with bacon.
Clam Dip Recipe
Ingredients:
1 8-ounce brick Cream cheese, softened
1 cup or 8 ounce container Sour cream
1 1/2 teaspoon Worcestershire Sauce
1 teaspoon Lemon Juice, bottled or Fresh
3 or 4 Scallions or Green Onions, chopped
1/4 teaspoon Pepper
1/2 teaspoon onion powder
1/4 teaspoon smoked paprika
1 can chopped Clams, drained, but save a little juice to add to the recipe (2 cans if you really like clams)
Directions:
Place your softened cream cheese and sour cream into your mixing bowl. Mix until smooth with an electric mixer.
Add all other ingredients and mix well.
Let it chill for at least 2 hours, although I always eat some right away and it's still delicious.
Serve with a thick potato chip like Ruffles.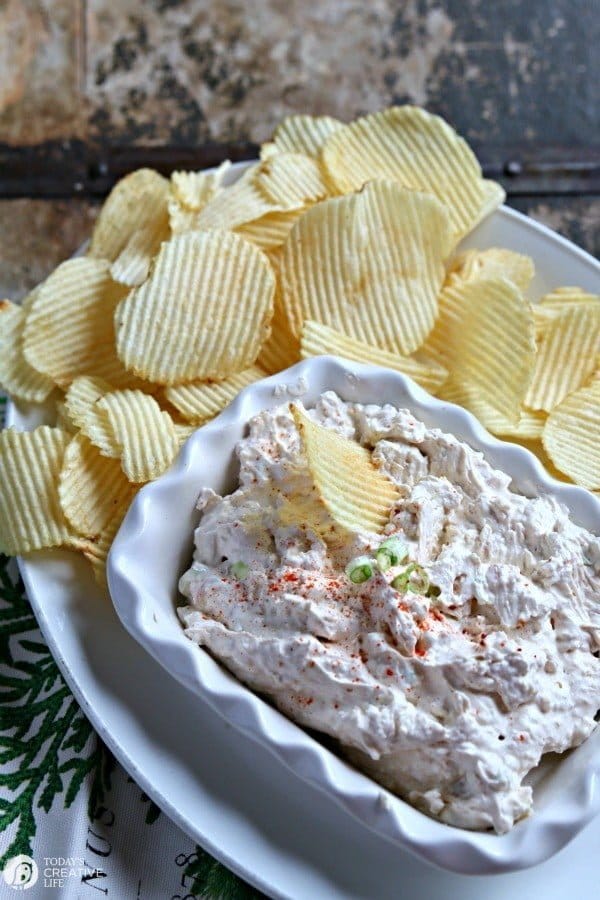 Who's ready to party?

Pinterest | Instagram | Facebook
Thanks Kim! I can't wait to try that dip. It would be so good for a New Year's Party or Christmas! Kim has amazing ideas. Here are a few more I know you'll love: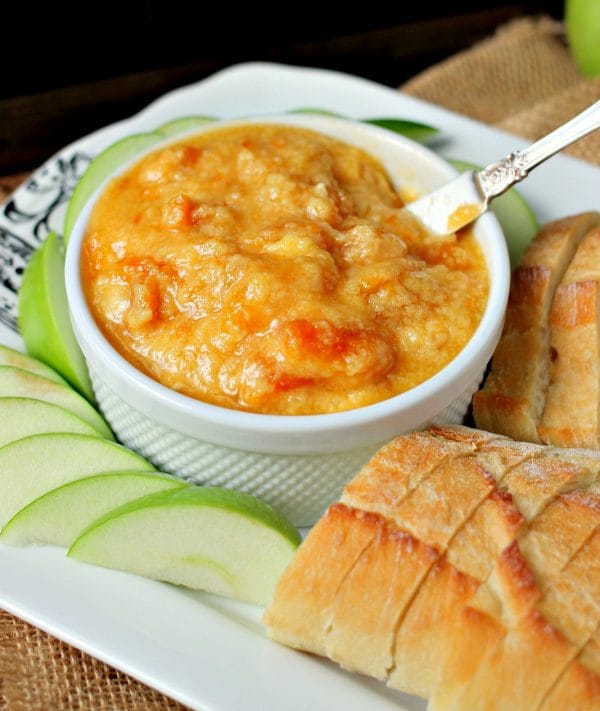 She has this Crockpot Apricot Brie Dip that I can't wait to try.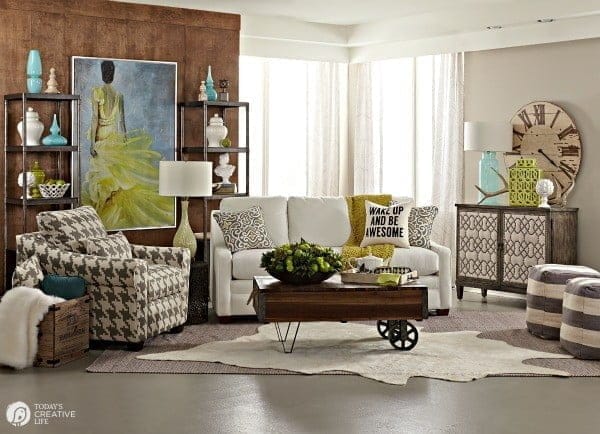 And look at this awesome post about Decorating for La-Z-Boy!
And, I love how she is Organizing with Tartan Plaid!
Make sure you visit Today's Creative Blog and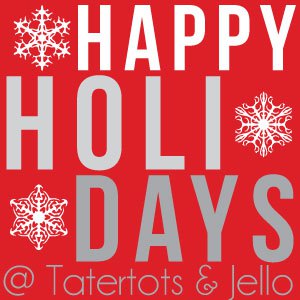 Follow the HAPPY Holidays Event at Tatertots & Jello
all through the holidays with awesome tutorials, recipes, decorating ideas and more from some amazing blogs!
xoxo