Hey all you Tatertot & Jello eaters readers!!
It is such an honor to be part of Jen's fabulous blog this today…she truly is such an inspiration to me!
My name is Kami, from Sweet Charli Boutique & Blog.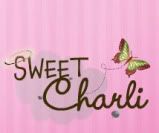 I love crafting anything from accessories, to home decor, to refashioning clothes, and baking/cooking! Come over and visit when you get a chance – I always love new lookers!
I have been on a handbag kick lately…mostly ones I can make from what I have at home. Today I am sharing my Hand Towel Tote Bag Tutorial. I hope you all enjoy it!
Thanks Jen, for inviting me over!

~Hand towel tote tutorial!~
I got my inspiration for this project from Martha (yes, Stewart – but I feel like her and I know each other on a first name basis!)
I tweeked mine a bit. Here are the original ones that were on her
website:
Here's the before and after:
What you need:
used or new hand towel
sewing machine
bamboo handles
pins
15 minutes – no, I'm not kidding!
1. Take your hand towel off of your rod and wash it!
This towel came already with these darling ruffles on it! Don't you love them? I think they came from Target.
If you don't have a towel you want to use from home, buy them super-cheap at Ross or T.J.Maxx
2. Fold in half inside out and sew about 1/2 in. seam
3. Turn right side out
4. Now get your bamboo handles
5. Place your handles on the inner part of your purse and fold the ends in over them. Make sure to eye the handles to the center of the top of the bag. Pin.
I hand-sewed the handles on since I am still a beginner sewer and all!
And you're done!
I added flowers to mine, but it looks cute without too.
I just took my little girl's old washcloth and cut into circles, then layered them on top of each other for the flowers!!
Such a great project Kami!
Here's a button for sharing the tutorial with us!
Kami's blog is full of inspiration like:
Have a Wonderful Wednesday!
XOXO