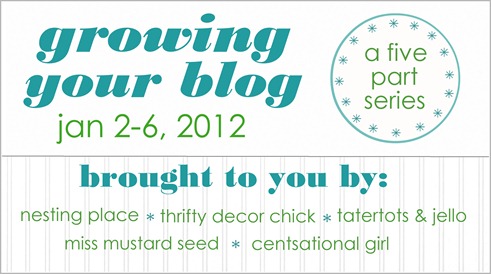 I'm so excited to be participating in the Growing Your Blog series (thanks Kate from Centsational Girl for coming up with this idea). Five of us are taking a different blogging topic this week. And I am so excited to host today's topic here: Social Media and Building a Community — something I feel passionate about.
Today's question:
How important is community to your blog?
How do you use social media to network and build your brand?
I'm going to let these fabulous ladies share their thoughts and then I will share mine at the end of the post:

Really, community IS the blog. If the community is gone, the blog doesn't even exist. Does that mean I write in order to try to please everyone? No way. I get to choose the readers based on what I talk about, I don't need to change what I talk about in order to produce a bigger or different community. It's actually a lovely self-selecting system.
Currently my favorite social media outlet is Pinterest. Pinterest was my second highest referral for 2011 and it's caused me to change the way I take photographs for Nesting Place. Knowing that once a photo is pinned it can go viral at the Pinterest site really makes me want to provide a photo or two that really tell the story of what the post is about. That could mean getting a hero shot of a room, a clear photo of the DIY ingredients or a before and after shot stacked into one picture. I wrote an entire post about what I've learned about blogging and Pinterest if you want to find out more.

Sarah @ Thrifty Decor Chick:
I think blogland in general feels like a community — that's what draws so many readers in and keeps us all around. We feel connected because of similar interests and experiences. I always want my readers to feel like they're visiting a friend's house when they come by TDC, so I try my best to make everyone feel welcome. I think social media is a great way to share a more personal side with my readers — I'm able to share random tidbits that I just don't get to on the blog.
I use Twitter, Facebook and Pinterest and use them all quite differently. I find Twitter is best for quick updates here and there throughout the day, Facebook is for more in depth discussions and Pinterest is helpful because I can see what readers and bloggers are loving (of mine and others). I still want to figure out a couple more sites — Google+ and StumbleUpon. They both confuse me, and it takes me awhile to figure out this stuff, so it may be awhile. 😉

Marian @ Miss Mustard Seed:
One of my favorite things about blogging is the community. I live in a rural area and didn't have a circle of friends, but I have since made some wonderful friends through my blog. I have found encouragement and inspiration through the DIY community and have been pushed and challenged as well. It's also helped the growth of my blog immensely through side bar links, blog rolls, features, mentions in posts, etc. I'm still finding my legs with other forms of social media like FaceBook and Twitter, but I definitely see value in them. If anything, it's fun to hop on Twitter and have a chat with one of my readers about some random topic.

Kate @ Centsational Girl:
Someone once wrote if content is king, than community is queen. I love that. Content is what attracts readers in the first place, but community is where it's really at. I've found the DIY and home decorating community to be extremely supportive, kind, generous, and welcoming, possessing the traits you'd look for in a great friend. I've had the opportunity to meet so many creative bloggers who I admire through blog conferences and even though we live far away, we've built real relationships through Skype, social media, and email. I have many friends in my personal life, but none who adore the topics I love so much as the home blogger community, and there is a real camaraderie in our circle. I'd bore my hometown friends to tears talking about paint swatches and pendant lighting, but when I talk about in among our niche, and get comments like "why yes that IS the perfect shade of blueish gray" then I know I am among my people.
I use social media for different purposes, Twitter for random chit chat and also to promote other bloggers or brands I like, Facebook to feature DIY related topics or answer questions, and Pinterest to share inspiration on a microblogging level. I haven't had time to jump on other networks like Google+ because for me I can only do so much, but social media certainly enhances the blogging experience and I discover so many cool things and connect with new people on those networks that I wouldn't ordinarily find if I was only reading other blogs.
_________________________________________________________________________________
And back to me:
I started blogging because I needed a social outlet. My husband travels a lot of the time and it filled that social need. I remember my first comment and how thrilled I was to connect with someone. It turned out to be Marie from Oak Cottage – a delightful blogger from England. That was so exciting to me. I connected with someone I had never met who didn't even live on the same continent as me but shared the same passion for creating. And we ended up becoming great friends. We even met when she came to Utah on a trip.
The community, to me, is the #1 thing. As Katie said, the content and the community work hand in hand. The connection with other people, be they bloggers, readers, Facebook visitors, or whomever, is what inspires me and makes blogging satisfying.
Building a personal brand – knowing who you are and staying true to that vision – is one of the main keys to success in blogging. Take the time to flesh this out — what are you passionate about? And create great content around that. Since I started my blog as a personal blog, it took me awhile to figure out why I blogged. I knew that I love the creative process and sharing my ideas, but I also discovered that I love sharing other people's creative ideas. Stay true to who you are and be authentic (see Nester's discussion), and focus on what you love.
When I first started the TTAJ Facebook page, I wasn't quite sure what I wanted to do with it. People said "You need to start a fan page". Then I had an epiphany — it's a wonderful place to share ideas, not just my own.
Facebook is where I get to connect with my readers — and I love that. It's an ideal place for more social interaction. It's so fun to hear what people are working on, what they are thinking, and what they are interested in reading about. People can ask me questions there and if I don't know the answer, someone in the community always does.
And Facebook is where I have connected with people and developed some of my closest blogging friendships. People that really "get me".
I like Twitter for quick ideas and sharing links, but Facebook is where we can have discussions. I can ask questions and see all of the answers. And so can everyone else: it's a platform for true community engagement.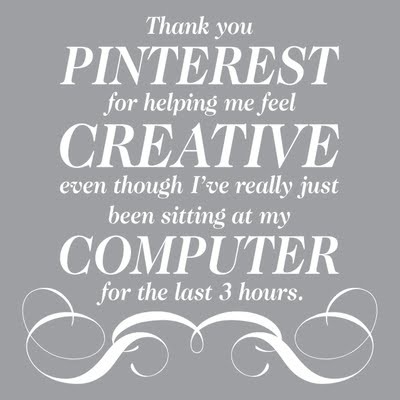 Pinterest is my new favorite plaything. I love the visual element. And I enjoy seeing all of the lovely things that trending there depending on the time of year. It's my #1 referrer now and it's also made me take better photos of projects.
Beth from Home Stories A2Z has a great Pinterest tutorial — http://www.homestoriesatoz.com/2011/01/pinterest-tutorial.html
And be sure to read Nesters post too – I loved it!!
I still don't really understand StumbleUpon, but I'm working on figuring it out. I know a lot of bloggers who have StumbleUpon as their #1 referrer. You can find an excellent post on how to use it here:
Best StumbleUpon Tips by Cheryl TidyMom — http://crafterminds.com/2011/02/best-stumbleupon-tips/
How to Write a Great StumbleUpon Post by Amy of Mod Podge Rocks — http://crafterminds.com/2011/04/how-to-write-a-great-stumbleupon-post/
Ultimately, I blog because I love to share great ideas. That's my passion. I love the creative process. And these social tools let me do it with my friends around the world. And what could be more awesome than that?
Thanks Kate for setting up this series. Be sure to read Nester's post on Blogging Authentically and Sarah's post on Monetizing – they are both so informative. And then tomorrow Marian will be posting on Photography (I need some tips there) and Friday Kate will be posting on Finding Balance (another area I could use some tips on).
Have a Fabulous Day!
xoxox