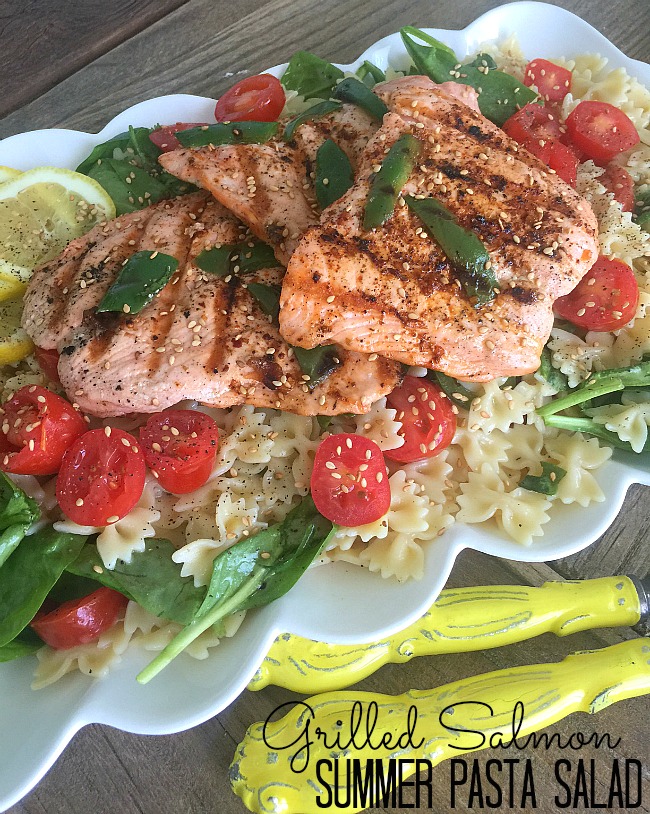 Grilled Salmon Veggie Pasta Salad . I had the kids over for a little welcome party a couple of weekends ago. My oldest two are in college. My son just graduated and both live in apartments downtown. So it's extra special to have all of my kids home together. I wanted to make something special but also something summery. My son is pescatarian and loves salmon – so I thought a pasta salad with grilled salmon would be perfect for lunch!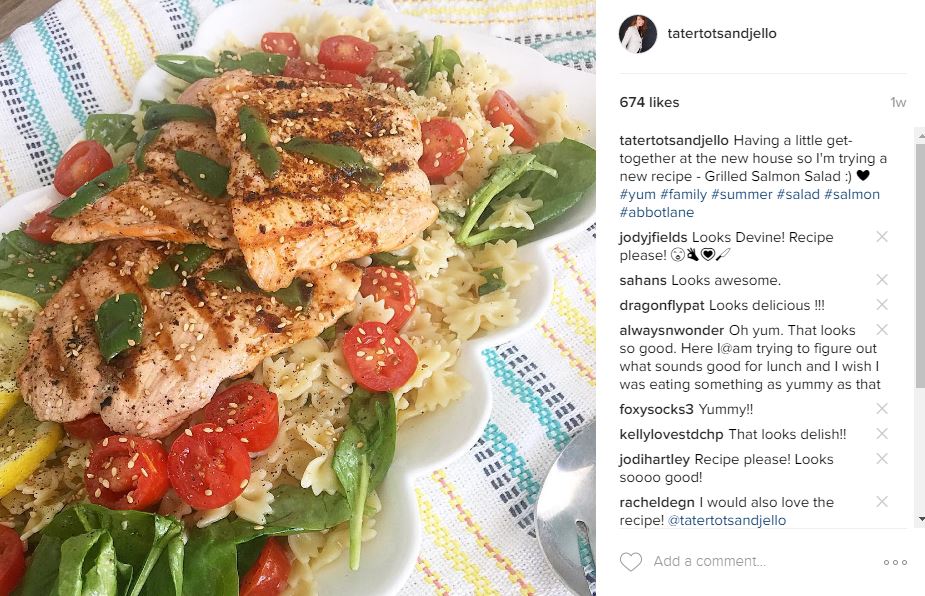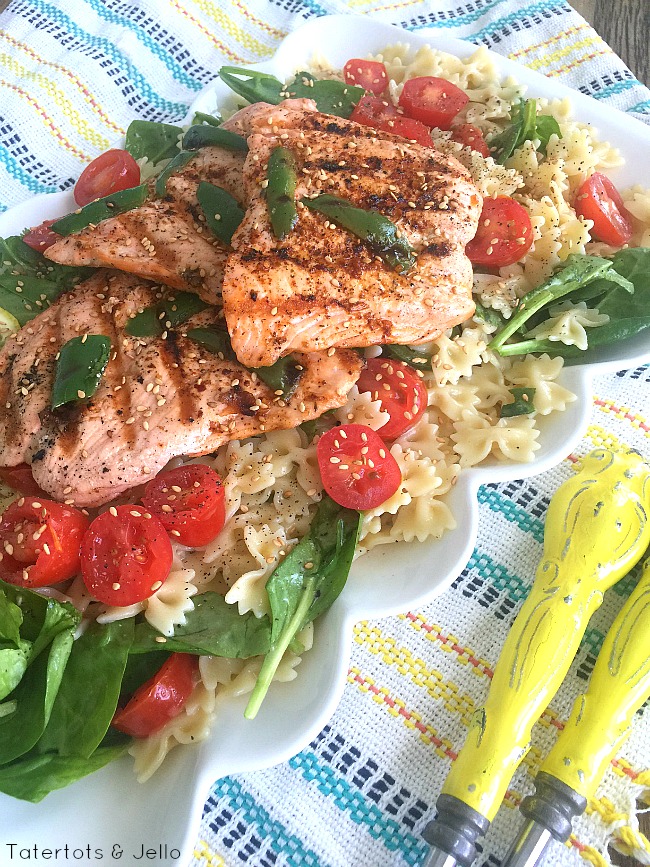 You can serve this salad cold – which is great for summer parties. Prepare it ahead of time and serve it whenever you want. It's perfect to take to a BBQ or picnic too! And my two younger daughters aren't crazy about fish – so I made a little side salad of it without fish. But you could also grill chicken and put it on top instead if that is what your family prefers!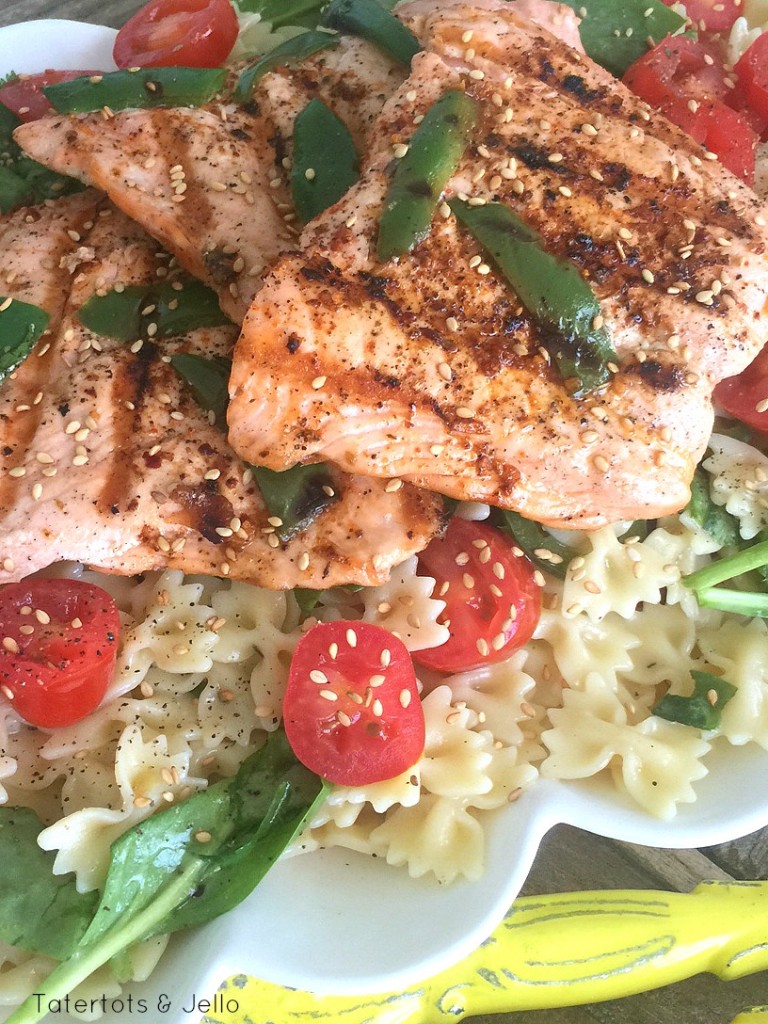 Here's the easy recipe for Grilled Salmon Veggie Pasta Salad:
Summer Veggie Pasta Salad with Grilled Salmon
Recipe Type: salad
Cuisine: american
Author:
Prep time:
Cook time:
Total time:
Serves: 8
The perfect summer salad. Serve it warm or chilled. Bowtie pasta with fresh veggies and grilled salmon is a meal all by itself.
Ingredients
2 salmon fillets
1 package bowtie pasta
1 1/2 cups cherry tomatoes
1 1/2 cups spinach
1 cup green onions, chopped
2 small jalapenos, chopped very thin (optional)
3 tsp. sesame seeds
Viniagrette
1/2 cup olive oil
1/3 cup white wine vinegar
2 cloves garlilc, chopped
2 tsp. salt
2 tsp. pepper
Instructions
Salt and pepper salmon fillets and grill for 3-4 minutes per side until cooked through. set aside.
Cook bowtie pasta according to directions. Drain and rinse and put in a bowl.
Add veggies
Add viniagrette and mix.
Put salmon on top and sprinkle with sesame seeds.
You can serve this warm or chilled. It is great to take to a BBQ or luncheon.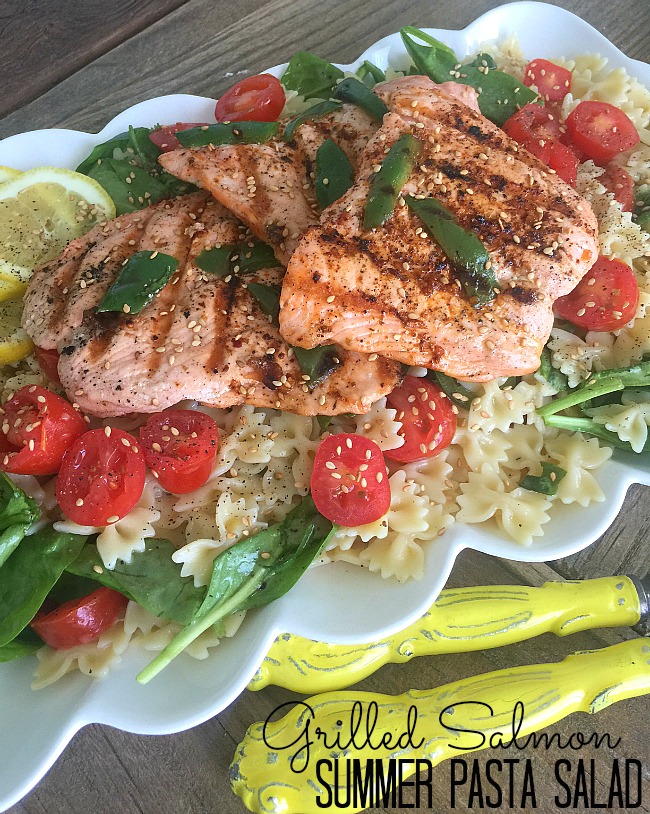 Grilled Salmon Veggie Pasta Salad.
Do YOU have a salad recipe that you love to make?
Share it with us in the comments!
I am always looking for a new salad to make!!
xoxo