Get organized with free FALL printable planner insert pages! Print off these free fall planner printables and dress up your planner! Planners are a great way to stay organized and keep on top of groceries, activities and your to-do list!
Free Fall Planner Printables
Hello! It's Traci here again from My Paper Printables with some free fall planner printables to dress up your planner and get you in the fall mood! Living in Texas, it is still warm, but with all the fall decorations starting to appear, and my favorite Pumpkin Spice Latte life is looking pretty festive.
Get Organized with Free Planner Printables
I love making printables and adding then to my planner, so why not make some fall themed planner insert pages to dress it up. And I am sharing them with you!!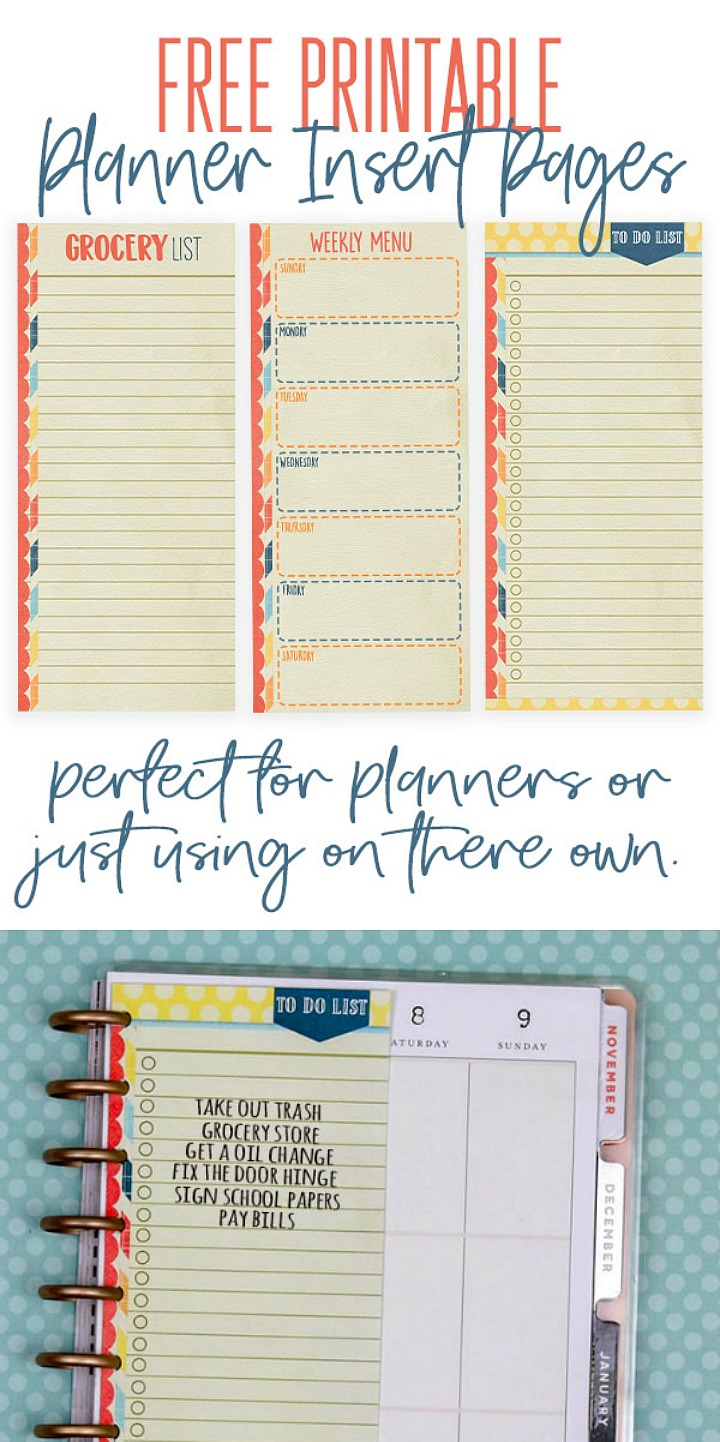 Happy Planner
Ladies, if you haven't heard of the Happy Planner then listen closely: this is the tool you absolutely must take advantage of to keep your household in order, your priorities on track, and to keep yourself sane! Upon finding the Happy Planner my life was absolutely revolutionized: truly I wouldn't have it any other way.
Keep on top of Your Goals
New Year's Resolutions are such a double-edged sword. On the one hand, it's great to hold yourself accountable to achieving a goal you truly want to get done! But on the other, they're so time-specific! I always find myself feeling incredibly dedicated to my resolution in January and February, but then I taper off through the rest of the year until the fall again, when I remember that I need to become re-motivated! What would be great is a mid-year, or fall resolution, and I think I have a great one.
Cute Fall Planner Page Inserts
I want to resolve to be more organized throughout the fall season, and I'm going to do so with my lovely Happy Planner.
Need a planner to keep you focused on your personal goals? There are a ton of planners on the market that are ready-made to help you make that happen.
Perfect For Planners Or Just Using On There Own
If you love writing down your weekly tasks to keep you on track, no matter if you use a planner or not, then grab our free printables here.
Download 1/2 Sheet Size "To-Do List" Planner Page
Download 1/2 Sheet Size "Grocery" Planner Page
Download 1/2 Sheet Size "Weekly Menu" Planner Page
Free Printable Fall Planner Pages
Over on My Paper Printables I am sharing them Full Page Planner Sheets in Classic & Big size for the Happy Planner. Hop on over and grab yours today.
Planner pages that will truly help keep your family on the straight-and-narrow. Truly, you will be the most organized mom on the block, and you'll have the cutest and most festive organization system there is! No matter what planner you choose, using a planner is an incredible asset in the pursuit of true household organization, and I want you to be able to make the absolute most of it!
If you enjoyed these free printable fall planner pages, be sure to stop by My Paper Printables where you can find tons more free printables as well as Cricut Craft Tutorials. Hope to see you soon!
You may also like…
Coffee Filter Halloween Wreath
Those Fall Planner Printables are perfect for Fall Traci! Thank you!!
Traci is an awesome contributor. I love all of her cute printables that she shares with us. Make sure to follow My Paper Printables and
Have a Great Day!
xoxo