Hello! It's Bettijo and Aimée here from Paging Supermom. We are so excited to share a tip that has been making life a little less stressful around here — last year we started using a dry erase menu for planning our family's weekly meals.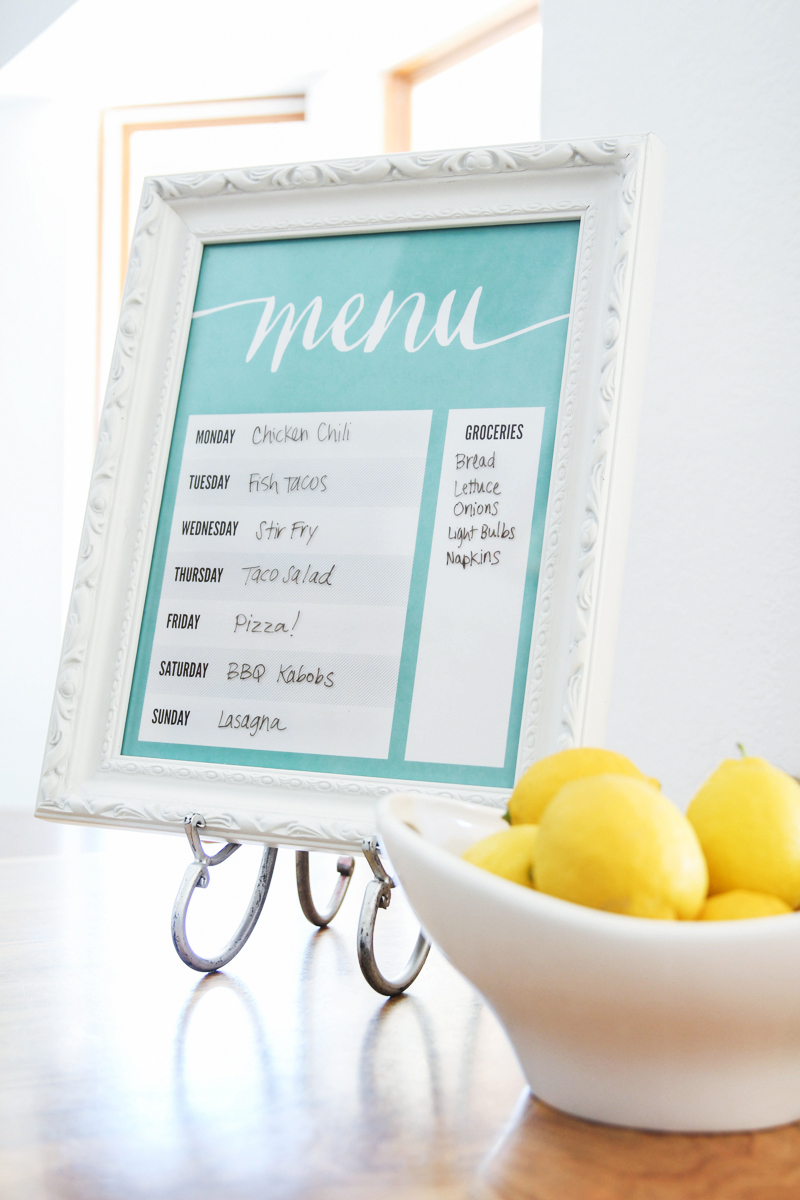 The dry erase menu we had was behind clear plastic on the cover of our recipe binder. We love the convenience of the dry erase but decided it would be nice to create a more visible dry erase menu board to post in the kitchen.
The great thing about a dry erase menu is how easy it is to change things up. It is nice for those who like to plan out their menu before
heading out grocery shopping, but I think it's even more useful for those of you, like me, who don't end up having time to plan things (hey, I'm just lucky to squeeze in a trip to the store!) However, without planning things out ahead, I'll buy what is on sale or looks good, but I kept ending up with a lot of fresh produce that would spoil because I put it in the fridge and forgot about it.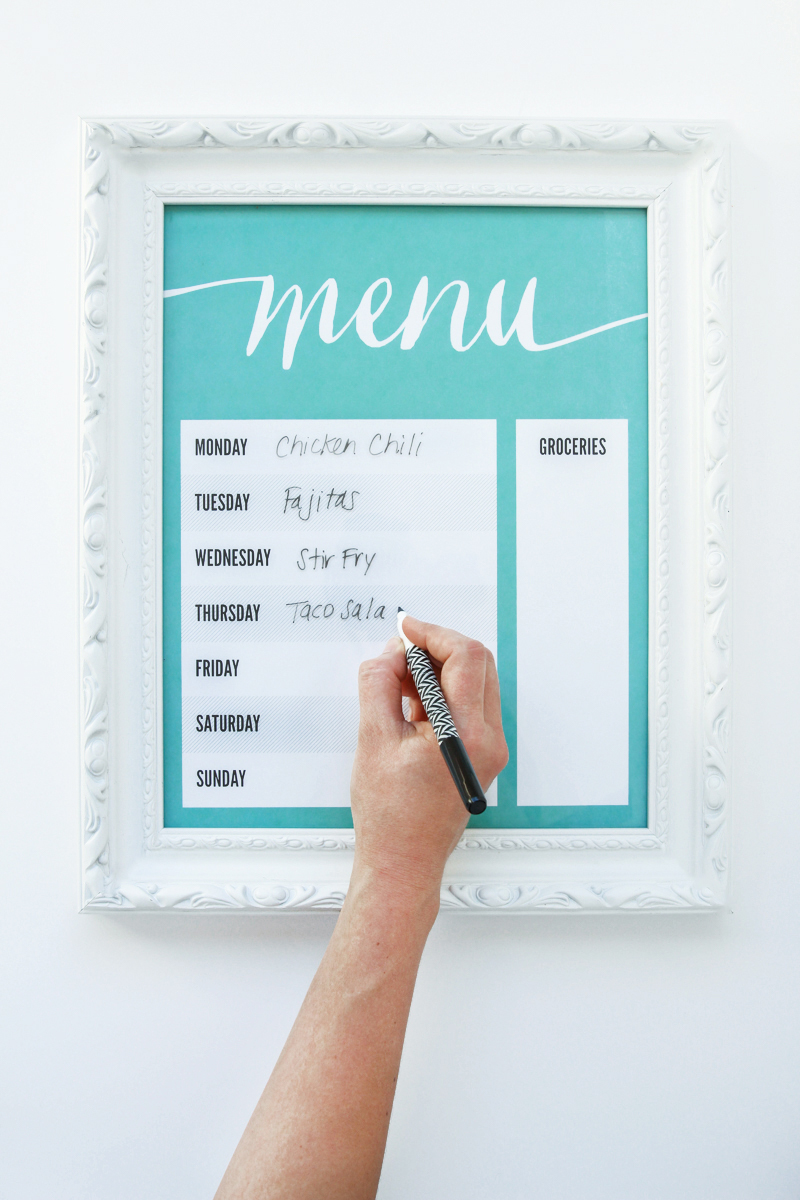 Now when I get home from the store I list out all the fresh items I bought on the menu board. I quickly pick a meal that uses that ingredient and assign it to a day — remember don't stress, the beauty of this is you can always change it later so I just write the first idea that pops into my head. For example, let's say I bought red bell peppers or asparagus. I'll put "Fajitas" on the menu and "Salmon and Asparagus."
Since it's all in dry erase if I end up changing my mind later, it's so easy to switch it out. Honestly I almost never make the meals on the day I initially assigned, but each morning it's nice to look at the available options of what meals I'm prepared to make, then pick one and go from there. I wouldn't even worry about switching out the menu so it's accurate, but my older daughters love using the dry erase marker so much that they pretty much keep it updated for me.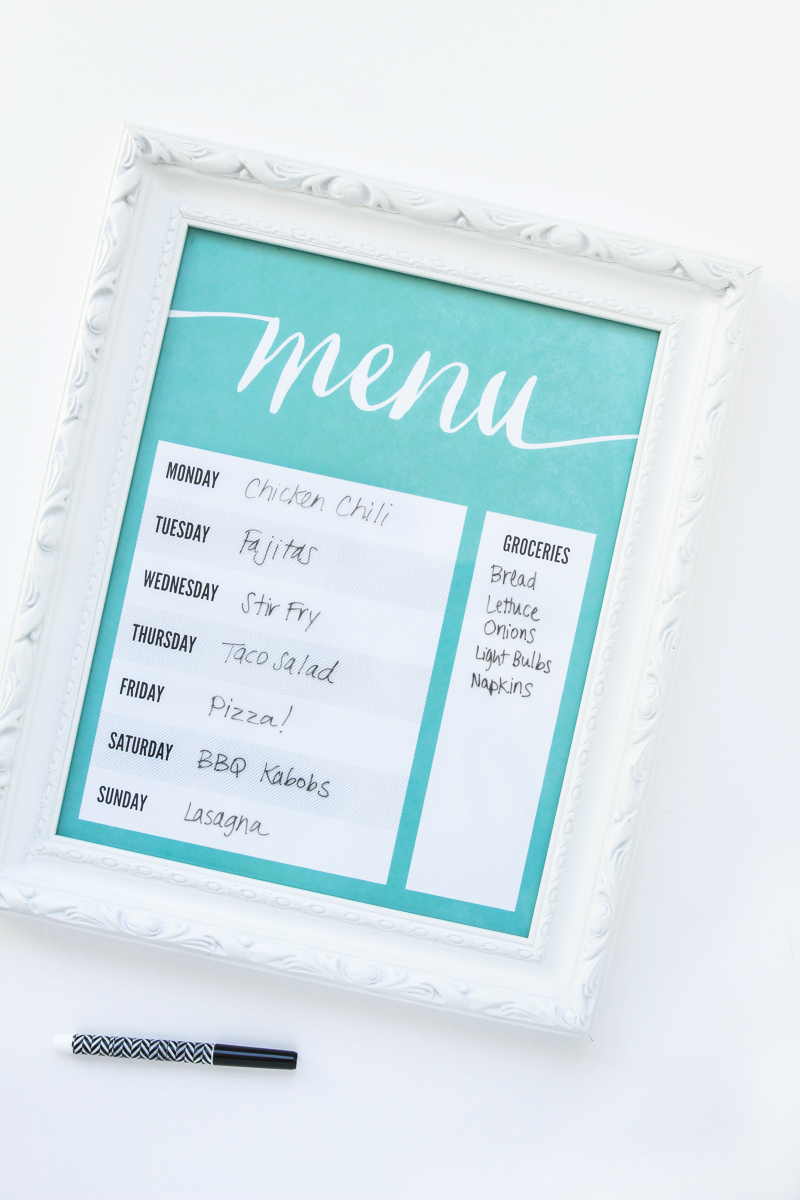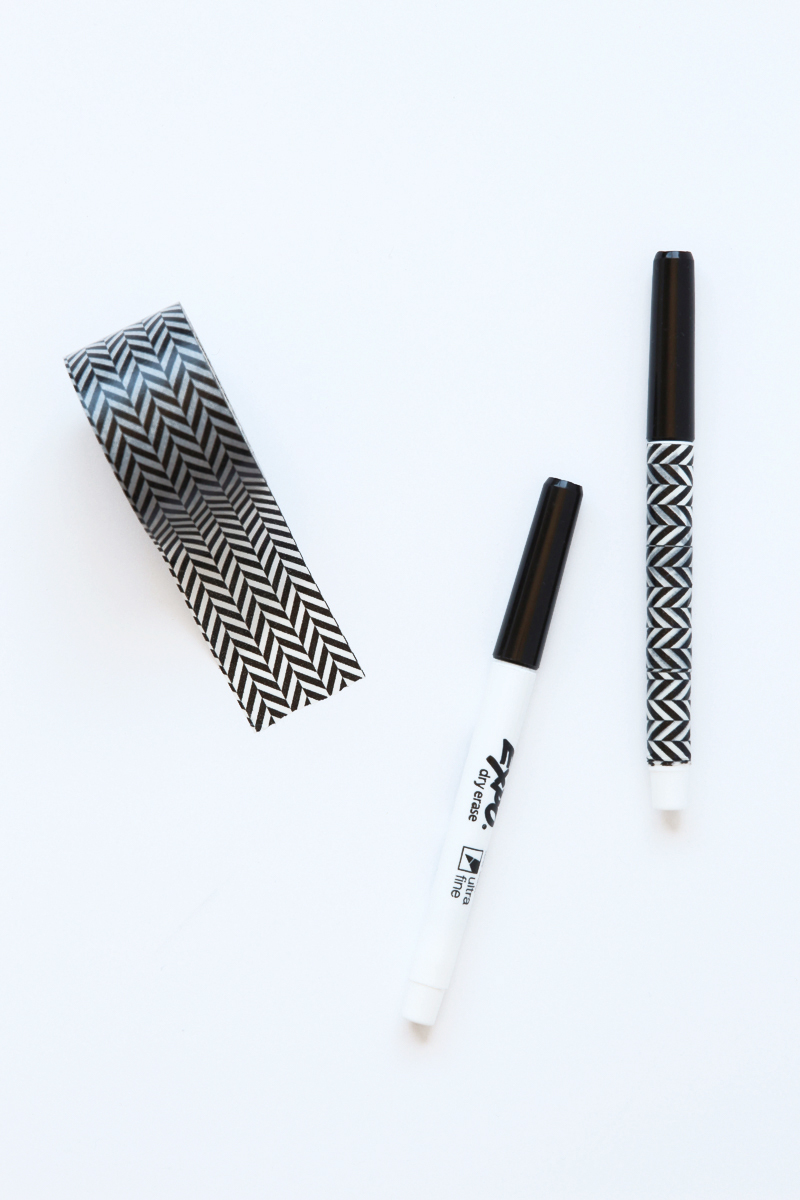 I love the ultra-fine tip dry erase markers for this job. Since the marker is on display all the time in my kitchen now, I wrapped it with a couple strips of decorative washi tape.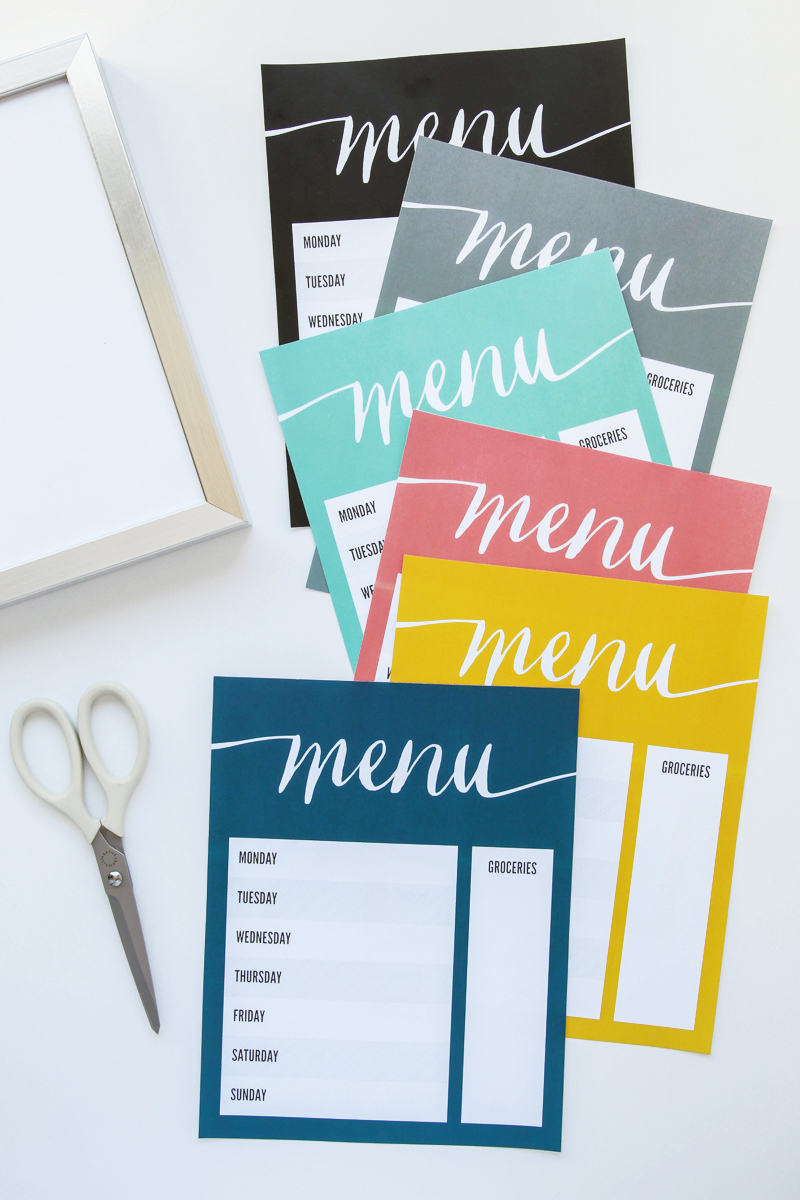 This system has helped me so much… I almost never have those late
afternoon "What's for dinner" woes that used to plague me. We really
want you to be able to do this too so we've made this free printable
in SIX different colors — hopefully there is one that you'll love for
your kitchen.
Download the file with the free dry erase menus in 11×14 and 8×10
versions.
Just print, cut and frame behind glass. Hang it on the wall or prop it
into an easel — then you're ready to go.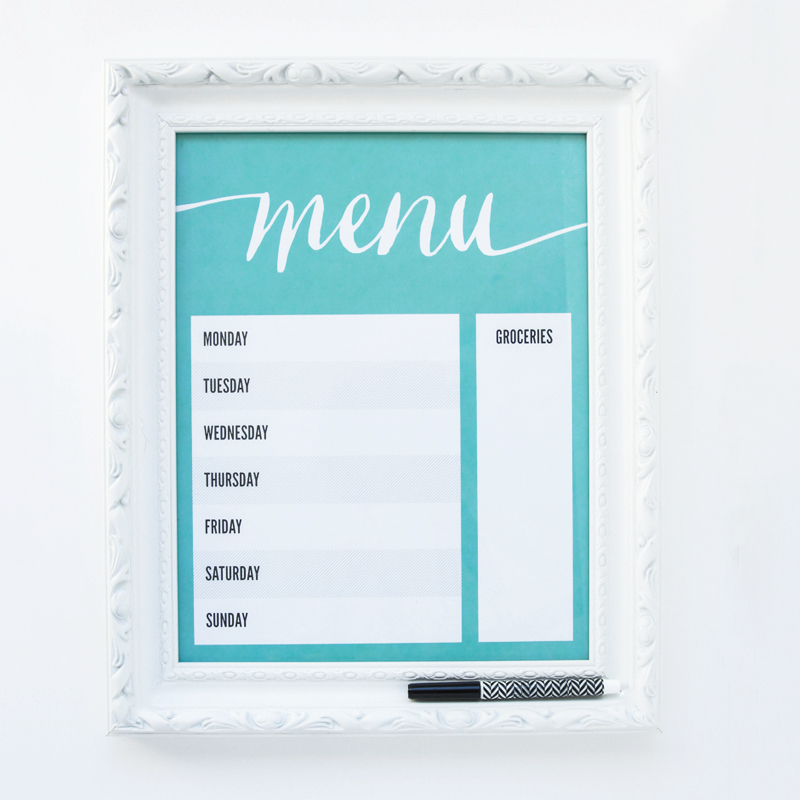 ***********
Thanks ladies! I love it! Anything that makes weekly meal planning easier is such a big help for any family! Paging Supermom has tons of awesome ideas on their blog. Here are a few I think you'll love right now: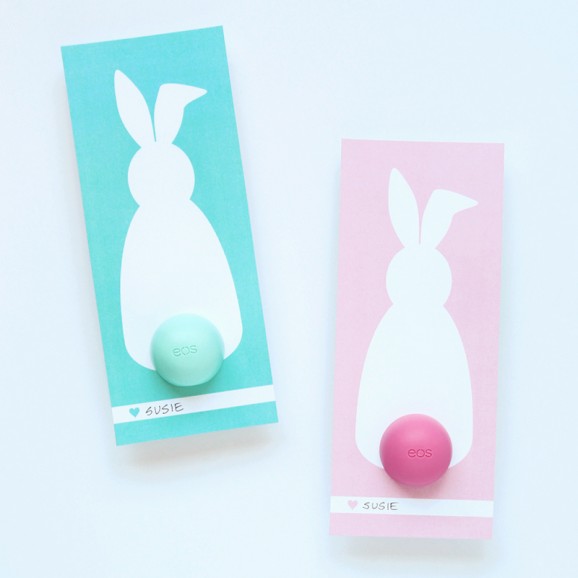 These EOS Lip Balm Bunny Printables are just adorable. My girls would love these!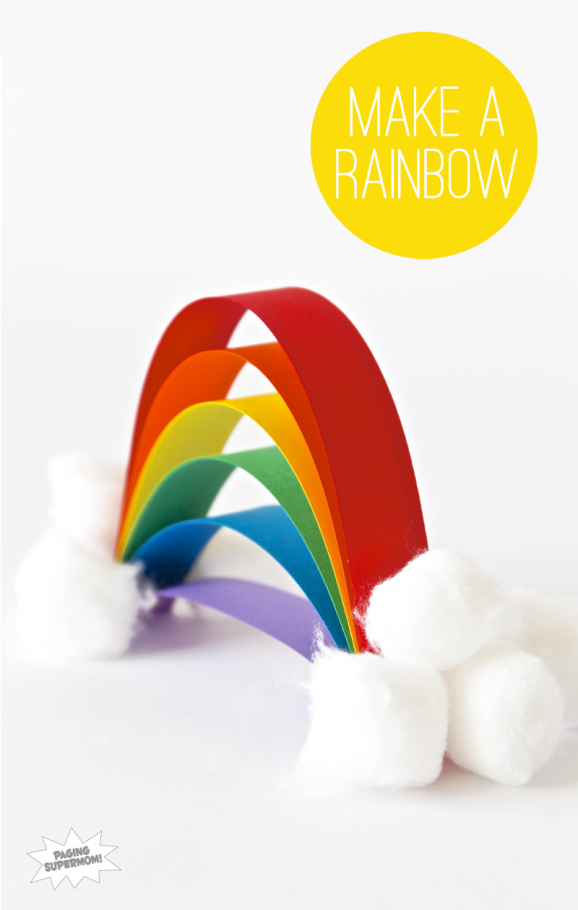 And, this Rainbow Craft is just perfect for St. Patrick's Day!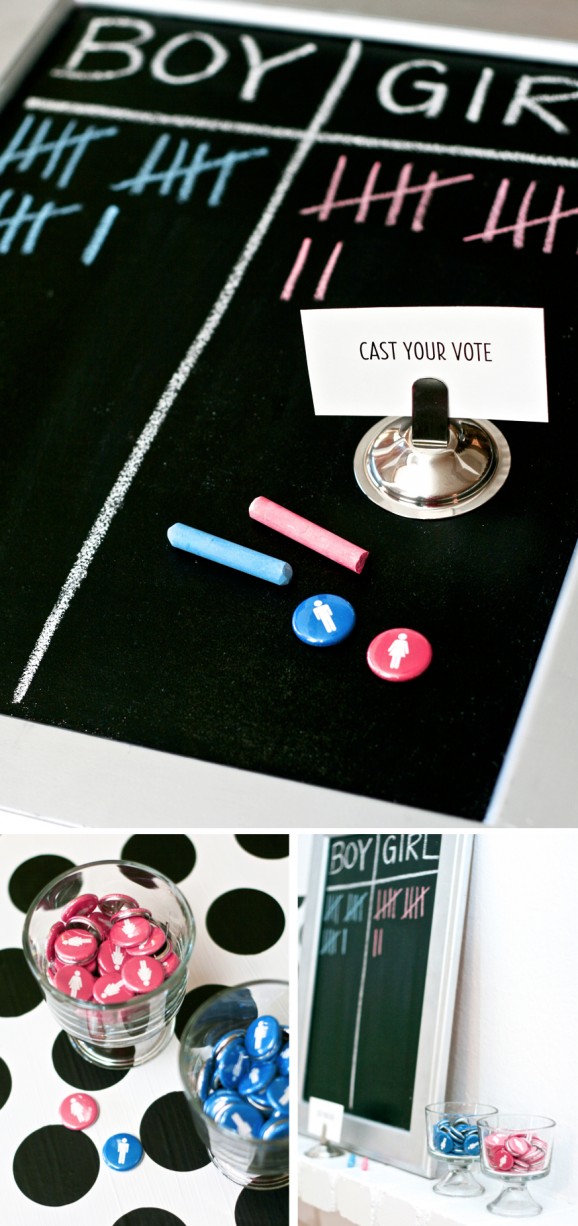 And their Gender Reveal Party Printables are so cute!
Make sure to Visit Paging Supermom and




xoxo